Annapolis is America's sailing capital, sitting along the shores of the Chesapeake Bay and it also just happens to be one of my favorite places to visit on the east coast.
If you're planning to visit Annapolis, here you'll find all the best places to go and best things to do in Annapolis so you and your family will have a great time!
Annapolis is home to the U.S. Naval Academy. It's the norm to see officers dressed in their navy whites meander through this seaside town.
Here I'll share some of the best Annapolis Maryland attractions for families and friends that are worth checking out.
You'll find options right in the heart of Annapolis, as well as some just outside the Annapolis historic district.
Located in Anne Arundel County, the city of Annapolis has a rich history and is one of the best ways to experience historic sites, special events, Annapolis tours, nature, farm fresh food, and a whole lot more.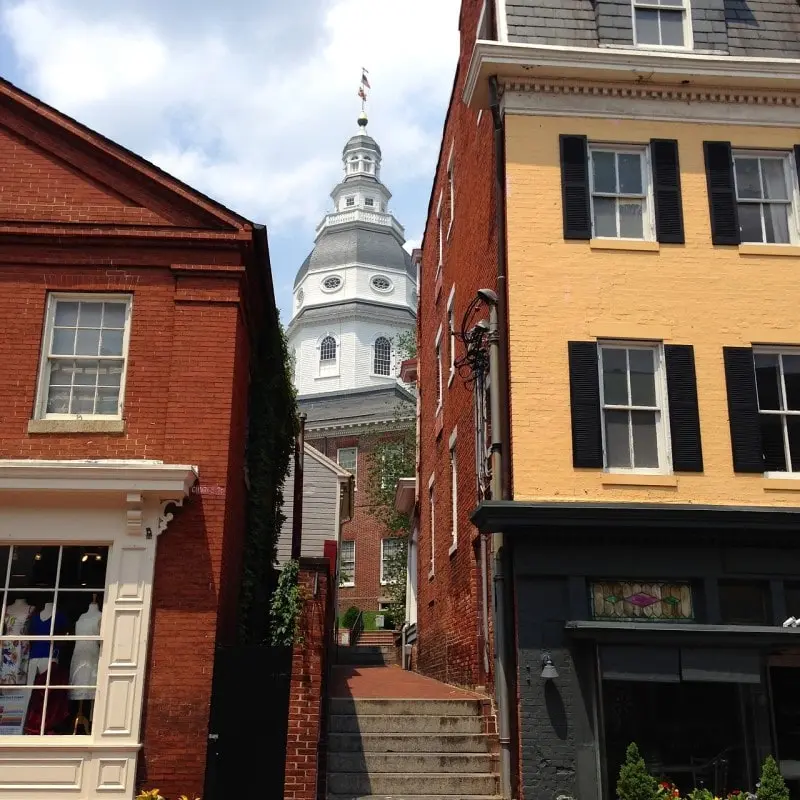 #1 Maryland State House
The Maryland State House is the oldest state capitol in the country that is still in use today and is a must-see attraction.
This oldest state house is a prominent building that greets you as you enter the historic area of Annapolis. This is where George Washington resigned as Commander in Chief of the Army.
Did You Know? The Maryland State House is quite a fascinating structure as it's the largest wooden dome built in the U.S. without the use of nails.
On any given day, you may see the Maryland General Assembly gathering or see elected officials as their offices are here.
Take a self-guided tour daily by picking up a pamphlet from the Office of Interpretation.
#2 Cross the Spa Creek Bridge
Spa Creek Bridge is just a short 10-minute-walk from the Main street, but the views from the top are truly amazing. From there, you can see the city of Annapolis, the Severn River, and the Chesapeake Bay.
From Spa Creek Bridge it's fun to watch the boats and paddleboards as you cross the bridge.
Of course safety is a concern and to keep people safe, they have made it pedestrian-friendly with sidewalks on both sides. So it's safe and enjoyable to walk or run across the bridge.
This is also a great place to take some really neat photos of the city and the bay. And of your family too of course!
#3 William Paca House and Garden
The William Paca House and Garden is one of the city's historical landmarks.
If you're a history buff, step inside the historic home, an 18th century Georgian mansion built by William Paca himself. Paca was a signer of the Declaration of Independence and Maryland's third governor.
Local tip: the spring and summer months are the best times to see the rose garden boxwoods and aptly named summer house. While the house is open daily, they are closed in January and February.
Guided tours of the home and self-guided tour of the two-acre garden range are available and certainly worth it.
#4 Hammond-Harwood house
The fascinating Hammond-Harwood House offers an educational and engaging experience for families.
We appreciated how cool it was inside when we visited in the summer and explored the various historical artifacts. Many of the items were original to the house, adding to its authenticity.
The guided tour took us through the house's history, the family who lived there, and the era it represents. The tour brings the past to life for everyone, from children to adults.
The tour guide was knowledgeable and enthusiastic, making the visit enjoyable.
#5 Annapolis Maritime Museum
Located near the water, this small museum offers a glimpse into the area's oyster industry history.
At the Annapolis Maritime Museum, environmental consciousness takes center stage. Here they show you the impact of oyster harvesting and marine life activities on the Chesapeake Bay ecosystem.
Through interactive exhibits and engaging activities, you will gain a deeper understanding of preserving our natural resources.
The museum goes back about 50-60 years into history through both educational and fun activities. You will also learn about the history of boat building here.
#6 Banneker-Douglass Museum
Named after Benjamin Banneker and Frederick Douglass, this museum is a great place to learn about African American history in the capital city.
Although it may be smaller in size, you walk away with a new appreciate of history, a chance to see heart-touching artwork and overall, we found it very educational.
#7 Go For Tea
If you're looking for a charming and well-preserved historic spot to enjoy a delightful afternoon tea, I recommend heading to Reynolds Tavern.
The place is well-kept and exudes charm and quaintness, making it an inviting destination.
During our visit, we had the pleasure of sitting outside and being by Noah Booz. His music caught our attention, and we couldn't resist walking over to enjoy the performance.
Note: Reynolds Tavern serves afternoon tea from 11 am to 5 pm. Each of their afternoon selections have a scone of your choice!
The afternoon teas are served on a "Three Tiered Serving Tray". Their selections include:
Colonial High Tea
Champagne Tea
Afternoon Tea
Queen Anne Tea
After enjoying our delightful tea, we decided to sample the Reuben and Blackened Chicken Wrap from their menu. Both options were not overly heavy, making them a perfect choice for a satisfying lunch.
#8 U.S. Naval Academy Museum
If you're fascinated with Beaux Arts architecture or want to discover where future officers are trained, head to the Armel-Leftwich Visitor Center of the The United States Naval Academy.
Do know that all adults will need ID to enter the grounds. If you are military or DOD, you and your family can drive on to the grounds. Everyone else needs to park outside the academy and walk through Gate 1.
For Children
If your children are interested in a future as a midshipman, there are a couple of opportunities:
(1) Children ages 13 to 15
They can enroll in the USNA Junior Leadership Program.
(2) Rising High School Seniors
Rising high school seniors can participate in a week-long summer seminar with the USNA.
They do have tours available including a guided walking tour to view the museum and grounds which is a nice, one-mile walk around the academy.
Alternatively, there is a one hour riding tour for up to 5 people.
#9 Thomas Point Shoal Lighthouse
Thomas Point Shoal Lighthouse is a historic treasure nestled in the heart of the Chesapeake Bay, just 1.5 miles offshore from Annapolis.
As the only screw-pile lighthouse that still proudly stands in its original location, it has become a beloved attraction.
It's important to note reserverations are required to tour the inside of the lighthouse and visitors must be 12 or older to visit.
Once you set foot at the lighthouse, you'll enjoy the panoramic views of the Chesapeake Bay.
Beyond its historical significance, the Thomas Point Shoal Lighthouse also holds allure for fishing enthusiasts and those eager to try their hand at crabbing.
With convenient public fishing piers nearby and the surrounding waters allowing crabbing, it's a haven for those seeking a memorable maritime adventure.
#10 Pennsylvania Dutch Farmer's Market
What the locals refer to as "Amish Market," is an amazing market to come eat and watch food being made right in front of you. Beware, there is so much tasty looking food, treats and fresh produce, it's hard not to try a lot.
The food is so fresh and really good!
You'll find all kinds of goodies like:
Veggies
Meats
Fruits
Candy
Breads
Desserts
Spices & seasonings
And don't forget the freshly baked pretzels!
Note: In under 2 hours you can visit Pennsylvania Dutch Country in Lancaster County and try some of their authentic Amish restaurants.
#11 Ego Alley
The hub of Annapolis is at the City Dock better known as Ego Alley. This is the place to go sit or walk the waterfront.
Its moniker doesn't refer to a commonly known alley, but from the steady stream of fancy sailboats and yachts.
UP NEXT: The Maryland Ice Cream Trail Details & Map and Misty Meadow Farm Creamery: Farm-Fresh Food & Ice Cream
Sit along the seawall with an ice cream cone in hand, feed the ducks, people watch and take in the salty air.
#12 Annapolis Harbor
Annapolis Harbor is a charming destination on the Severn River, a tributary of the Chesapeake Bay..
The harbor offers a diverse fleet of boats, including:
Sailboats
Powerboats
and tour boats
Enjoy the sight of colorful sails and the hum of boat engines.
Fishing enthusiasts will love Annapolis Harbor, with its abundant opportunities for casting a line and reeling in exciting catches.
You can take a refreshing swim in the inviting waters of Annapolis Harbor and enjoy a relaxing day at the beach.
Annapolis Harbor is a vibrant community hub, hosting various events throughout the year, including boat shows and festivals.
#13 Main Street
Located between Church Circle and City Dock, Main Street is a vibrant and bustling destination. It's a must-visit for its charming shops, delicious food options, and artistic flair.
In my opinion it is one of the coolest roads in America!
This iconic road offers a wide array of shops, where you can find everything from clothing to home decor and specialty items.
The food scene is exceptional, with various cafes and restaurants serving diverse cuisines. Don't forget to explore the art galleries and enjoy the scenic views of Annapolis Harbor.
#14 Chase-Lloyd House
Step back in time at this circa-1794 home of Samuel Chase, a Maryland Representative and signer of the Declaration of Independence.
The Chase-Lloyd House boasts unique interior design elements that transport you to a bygone era.
One of its highlights is the elegant double staircase, adorned with large windows, leading up to the second floor. The grandeur of this architectural feature is a sight to behold.
Don't forget to explore the beautiful gardens surrounding the Chase-Lloyd House. They offer a peaceful oasis in the heart of Annapolis, perfect for a leisurely stroll or a moment of relaxation.
#15 Museum of Historic Annapolis
A great place to start your time in Annapolis is the Museum of Historic Annapolis.
Located in the heart of the city's historic district, this museum has a fascinating overview of Annapolis's 400-year history.
Housed in a former bank building that dates back to 1804, the Museum of Historic Annapolis is itself a piece of history. This iconic structure is even listed on the National Register of Historic Places, adding to its allure.
As you step inside, you'll be transported back in time, surrounded by the remnants of Annapolis's past. The museum boasts a diverse range of exhibits, each offering a unique glimpse into the city's captivating narrative.
#16 Go for Pirate Adventures on the Chesapeake
​Ahoy mateys! Board the Sea Gypsy pirate ship on the Chesapeake Bay.
Your adventure begins with a moustache or mermaid painted face and pirate attire to fully embrace the culture. With your crew on board, fire water cannons at scallywags as you search for pirate booty.
Tours last 1 ½ hours and there is no restroom on board the ship. While it's a family experience including music, dancing and laughs, ages 3-8 will enjoy it the most.
Local tip: Don't forget the sunscreen and bring water to stay hydrated.
#17 Kunta Kinte-Alex Haley Memorial
The Kunta Kinte-Alex Haley Memorial in Annapolis is a touching tribute located near Main Street and the city docks.
It goes beyond a character in a book and movie, reminding us of Kunta Kinte's significance.
This memorial allows you to imagine Alex Haley's journey of discovering his Gambian roots. It's constructed in a way that encourages visitors to sit, relax, and reflect among the statues.
Sitting by the memorial, you can't help but feel the weight of history and the lives impacted by forced disembarkation just feet away.
#18 Annapolis Symphony Orchestra (ASO)
This professional orchestra offers an array of musical experiences for the whole family.
Designed for children and families, Annapolis Symphony Orchestra's family concerts are interactive and fun, featuring instrument petting zoos and story time.
Children can explore different instruments at ASO's instrument petting zoos, learning how they work and even trying their hand at playing them.
Note: For kids aged 9-12, offers a captivating summer camp where they can learn about instruments, play in the orchestra, and perform at a final concert.
#19 Take a public cruise or ride the water taxi
The Harbor Queen, a 65-foot-long tour boat, has been sailing the Annapolis Harbor for over 45 years.
The Harbor Queen offers a variety of narrated cruises, providing fascinating insights into Annapolis's history and landmarks.
You'll be treated to breathtaking views of the city and the renowned United States Naval Academy. It's an educational and enjoyable experience for kids and adults.
#20 Attend a Festival
While there are a number of festivals in Annapolis, I'll share with you a couple of my favorites.
First Sunday Arts Festivals
From May to November, Calvert & W Streets come alive for the First Sunday Arts Festival. The pedestrian event features artists selling wares from glass bowls to tie dye t-shirts.
You'll find lots of entertainment including:
Music
Dance
Magic shows
Lots of food trucks
We came to also enjoy the festival and patiently waited to enter the downtown area due to the crowds as this is one popular festival!
Parking tip: Park next to the festival at the Whitmore Parking Garage and Gott's Court Parking Garage on Calvert Street.
Annapolis Chocolate Binge Festival
Held annually on the first Sunday of December in Annapolis, this festival is a chocolate lover's dream. And yes, I happen to be one of them!
​Indulge your love for chocolate at the Annapolis Chocolate Binge Festival, with activities such as:
Chocolate tastings from over 50 vendors
Dip your favorite treats in a chocolate fountain
Gingerbread house decorating contest
And more!
It's a fun-filled day of chocolatey delights for the whole family.
#21 Go Out for Coffee & Books
Old Fox Books & Coffeehouse is the epitome of a bookstore straight out of your favorite stories, with shelves upon shelves of books just waiting to be explored.
Step inside and feel a hint of fantasy and wonder in the air. Old Fox Books & Coffeehouse has a magical back garden that adds to the enchanting atmosphere.
Kids love this place, and so will you. They can immerse themselves in books while you enjoy a cup of coffee, tea, or snacks.
Experience the vintage charm as you're greeted by the scent of old books. The owner is kind and helpful, always ready to recommend a great read.
#22 Mission Escape Rooms
With four themed rooms and a team size of 1-10 people, you'll have 50 minutes to solve puzzles and escape.
During our visit, my kids and I had an absolute blast as we worked together to unravel the mysteries of the Legend of Sasquatch.
Not only did we have an incredible time, but we also discovered the true power of teamwork.
The four themed rooms have different difficulty levels:
The Bureau is a spy-themed room with a difficulty rating of 9/10.
The Legend of Sasquatch is a wilderness-themed room with a difficulty rating of 6/10.
Once Upon a Crime is a fairy tale-themed room with a difficulty rating of 7/10.
Battleship is a new room that is currently in testing.
It's the perfect bonding experience for families, combining fun and teamwork.
#23 Eat Seafood
​When in Annapolis, eating seafood is not a suggestion, it's a requirement. In the past, I've dined at Buddy's Crabs & Ribs and O'Brien's Oyster Bar and Restaurant.
Local tip: Annapolis is well known for their steamed crabs so don't miss out!
This time, the family wanted to dine al fresco and Masons Famous Lobster Rolls made the cut for my husband and I.
There are several choices and I was satisfied with the Connecticut Roll which was simply lobster chunks served warm with butter with a side of Cape Cod chips.
Littles can order grilled cheese or a hot dog, but bigger appetites may like the lobster grilled cheese.
#24 Enjoy Some Delicious Ice Cream
Ice cream is a big deal along Ego Alley. There are about a half dozen options for ice cream in downtown Annapolis! It wouldn't be right if I didn't try a sampling of what some of the competition has to offer!
Let me share some great options:
Annapolis Ice Cream Company
​Meet the ice cream shop voted as the best in Annapolis. Could it be that they use 17% butterfat making their cream so lip smacking good?
The reason could be the enormous gallery of artsy spoons checking in at 80,000+ strong.
NEARBY: Alex's Snowcones & Ice Cream
Kids and fans alike can decorate their own spoon to add to the Annapolis Ice Cream Company collection. Stuffed penguins gaze over rotating daily flavors such as:
Banana Chocolate Chip
Cinnamon
Vanilla Heath Bar
Storm Bros. Ice Cream Factory
The Storm Brothers are what ice cream dreams are made of. Since opening 45+ years ago, the homemade flavor menu features seemingly endless flavors including:
Creamsicle
Minto Oreo fudge
Superman
Dark chocolate raspberry truffle
Strawberry cheesecake
You can also get soft serve, sugar free, floats, sorbet and frozen yogurt.
Local tip: Bring the Benjamins as they only accept cash.
#25 Enjoy live music
Rams Head On Stage offers a great setting for a show, although the seating can be tight, so be prepared to meet your neighbors.
The venue is clean, the food is tasty, and the staff is friendly. In my opinion, the live music here is top-notch. It's an excellent place to enjoy live entertainment in a cozy setting.
When you book a show, you can also order food and drinks at your table, adding to the overall experience.
The atmosphere is awesome, and the entertainment will not disappoint.
They often bring in great musicians, so keep an eye out for upcoming events. Rams Head On Stage truly offers something for everyone.
#26 Historic London Town
London Town & Gardens, an intriguing destination located just 8-miles from Annapolis. Here you can enjoy the river views and wander through well-maintained forest and garden areas on scenic walking trails.
Along the way you will explore modern replica old town buildings and discover a large exterior brick building that has been updated while preserving its historical charm.
Kids love the play areas designed just for them.
Did you know? Annapolis is only a 2-hour drive from Ocean City where there are lots more fun things to do?
Inside the visitor center, you'll find a decent-sized informational display offering helpful insights into the town's history and significance.
Discover the fascinating story of this tiny town that lasted less than 100 years and faded away due to natural changes, with only the brick building remaining as a reminder of its past.
The staff at Historic London Town & Gardens are enthusiastic and friendly, ready to answer your questions and make your visit memorable.
#27 Go Shopping
​Not only is Main Street the area for great food, there are some shops that beckon you to enter. The Historic Annapolis Museum Store located near the Waterfront is a great place to find local gifts.
Kids and adults alike will have fun trying on fashion forward clothing at Hats in the Belfry.
My daughter has been into graphic novels lately so a visit to Capital Comics was a must.
#28 Chesapeake Beach Water Park
Chesapeake Beach Water Park is an absolute blast with the kids! For me, I'll take the lazy river (it takes you through a cave too)!
They have:
2 larger water slides for kids and adults 48 inches and above
3.5 foot wading pool
Shallow depth pool with an umbrella fountain
Kiddie pool
#29 Annapolis Waterworks Park
Annapolis Waterworks Park offers long and enjoyable trails that are perfect for hiking.
Despite its proximity to the city, the park provides a serene escape into nature. You'll be amazed at how peaceful it feels.
The park offers stunning views of the reservoir from different perspectives. You can enjoy the lake level view or take in the higher views for a more scenic experience.
#30 Play With Kitties at a Cat Cafe
Kittens In Cups is one of our favorite cat cafes in the DC area.
Here you can sit and play with cats and kittens. Plus, they have a bunch of cat toys laying around to keep you (and the cats, of course), entertained.
You can grab a snack or coffee and relax with the cats. They also have some fun events like painting and cat yoga that are fun to attend.
#31 Annapolis Summer Garden Theatre
The Annapolis Summer Garden Theatre is a must if you're in Annapolis during the summer months.
This is an outdoor theater show that is based on a Broadway musical. This is a great place to see live music and enjoy this unique place.
The theater is right in the heart of Annapolis so you can easily walk around downtown Annapolis before the show.
The quality of the show is top notch and I saw a number of season ticket holders there too.
#32 Have a picnic
We love to picnic at Jonas Green Park is right on the Severn River with beautiful views you can't beat.
When we're done, we love to walk along the water next to the bridge and rocks.
The Reading and Butterfly Garden also has beautiful gardens that are perfect for a picnic.
#33 Enjoy Some Good Food
There's more than enough great spots for excellent food in Annapolis. Here I'll share a couple of places that we find ourselves returning to again and again.
Carlson's Donuts & Thai Kitchen
Trust me when I say that these are the BEST donuts you'll have in a long time. The moment you take a bite, they will simply melt away in your mouth, leaving you craving for more.
The combination of a slightly savory dough with the sweet glazes and icings is a match made in heaven.
But Carlson's Donuts & Thai Kitchen is not just about their delectable donuts.
It's also a go-to place for the local community of Annapolis when it comes to Thai cuisine. Their Thai kitchen serves some of the best Thai food you can find in the area.
You must try their:
Koa Pad Thai
Drunken noodles with tofu
Crispy duck
Thai milk tea
Grumps cafe
They offer good food at reasonable prices, perfect for families on a budget.
Grump's Cafe provides excellent service and timely food, ensuring an enjoyable dining experience for you and your family.
The atmosphere is fun and inviting, with kids enjoying the various signs on the walls, adding to the quirky charm of the place.
Don't miss their amazing Benedict chicken waffle – a savory delight that hits the spot for any chicken and waffle lover.
#34 Take a Trolley Tour
Towne Transport offers a 60-minute Historic Annapolis Tour, focusing on the city's largest and oldest buildings, with special attention to the Georgian style.
They have exceptional customer service and a knowledgeable tour guide, who is well-versed in architecture, history, and the local economy.
You'll enjoy an interactive and fun experience, while learning about the city's architectural heritage and enjoying the company of a friendly and entertaining tour guide.
#35 Chesapeake Children's Museum
This cute little museum offers a wide range of activities and exhibits for children of all ages.
From building blocks and legos to exploring animals, art, the dentist's office, and even a supermarket, there's something here for everyone.
The museum's location adds to its charm. It may seem a little out of the way, because of its unique and quirky atmosphere.
Once you're inside, be prepared to spend a couple of hours because your kids will have so much fun playing and exploring.
The Chesapeake Children's Museum is perfect for hands-on learning and imaginative play. It's an interactive space that encourages creativity and discovery.
#36 Play Ping Pong at The Dock
Whether you're looking for a place to relax, grab a tasty treat, or enjoy some outdoor activities, City Dock has it all.
There is an abundance of seating and shade, perfect for unwinding and savoring an ice cream cone or a delicious sandwich.
But that's not all!
City Dock offers a delightful surprise for visitors: free table tennis right by the water at the end of the dock.
It's a unique and enjoyable experience that both kids and adults will love.
#37 Rent a Boat
Renting a boat is perfect for families seeking to explore Annapolis is a unique and exciting way.
Annapolis Electric Boat Rentals provide all the training and temporary licenses you need.
Don't worry if you're a boat novice – they'll make you feel like a pro in no time. The whole process is easy and accessible for everyone.
This is a fun way to explore Annapolis from a different perspective.
#38 Great Frogs Winery
One of our favorite wineries in Maryland and Virginia, Great Frogs Winery is in my opinion, a guarded Annapolis secret.
This beautiful place has some of the best wine and you can see how well their plants are cared for. The winery is such a nice experience and is located right in this beautiful city.
Beyond Historic Downtown Annapolis
Beyond the historic downtown area, Annapolis also has some other activities for families.
#39 Sandy Point State Park
​If you want to go to the beach, but don't want the hassle of crossing the Bay Bridge, venture to Sandy Point State Park.
There is an inexpensive admission fee to enter, with weekday admissions being lower and it's also lower for Maryland residents. The admission fee is per vehicle.
Local tip: head out early to this bay beach, but beware of jellyfish.
#40 Quiet Waters Park
The name rings true. Quiet Waters is a quiet, serene park where you'll find:
Flowering trees
Fountains
Hiking trails
Playgrounds
Pedestrian bridge leading to a gazebo
And this just so happens to be the perfect place to find picnic areas.
Local tip: Just a short drive from Annapolis is the National Security Agency's National Cryptologic Museum which shows how cryptology has been used to shape history. It's fun, free and a nice treasure hunt for the kids – they get to write in invisible ink, send coded messages and more fun.
Here you can also rent bicycles, canoes, kayaks and pedal boats at South River, take in an outdoor concert in the summer and ice skating in the winter.
Note: Cash is the only form of payment accepted to enter the park. Make your first stop at the visitor center to pick up a map of the area.
Where to Park in Annapolis
We lucked out and found metered street parking right by the Dock. The caveat is the max is a 2-hour stay. You can pay the hourly fee with credit, coins or the phone app. There is also a parking garage just off Main Street.