There is nothing better than eating at an Amish style restaurant with food made by Amish cooks, right in the heart of Amish country. These family-style restaurants serve authentic PA dutch cooking and will leave you full and pleased.
So here we're going to share all the best Amish restaurants with the best Amish cooking you'll find in Lancaster.
I promise you won't find any chain restaurants here. Only our favorite PA dutch foods, family style restaurant, friendly service and meals made by Lancaster County's finest cooks.
#1 Bird-in-Hand Family Restaurant
We first went to the Bird-in-Hand Family restaurant on Old Philadelphia Pike after visiting the one-room schoolhouse at the Amish Farm. The food is so good here! Most of the food they make from scratch using the freshest ingredients and you can definitely taste the difference.
When you're done with your meal, head outside to the petting zoo where you can see the farm animals.
Local tip: The Bird-in-Hand Restaurant even has a gift shop inside in case you need to pick up any souvenirs from the area
Another local tip: Amishview Inn is also on Old Philadelphia Pike and gives you great views of the Amish farmland right from your window.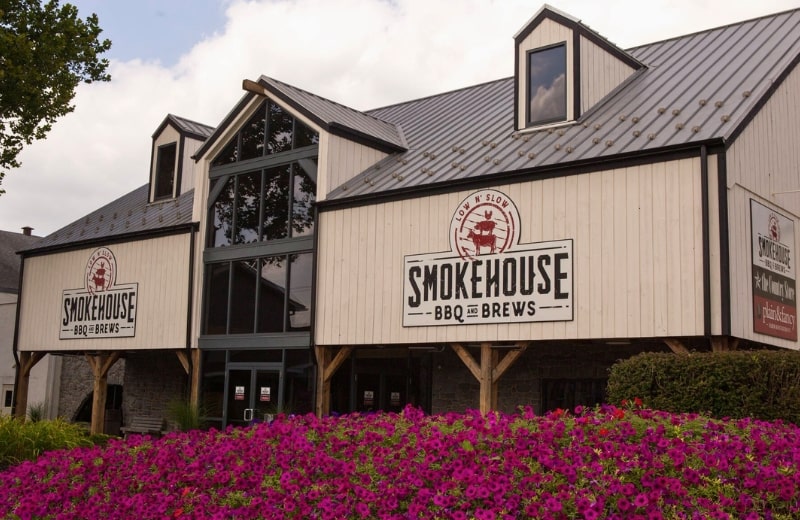 #2 Smokehouse BBQ
Distance from Lancaster: 20 minutes
I recently had the pleasure of visiting Smokehouse BBQ, and it was truly a hidden gem.
Just a short 20-minute drive from Lancaster, the wooden tables and chairs added to the welcoming ambiance, and the friendly staff embodied the traditional Southern hospitality that made me feel right at home.
The slow-cooked meats are to die for, with juicy brisket, succulent ribs, and savory pulled pork, all cooked to perfection over wood for several hours.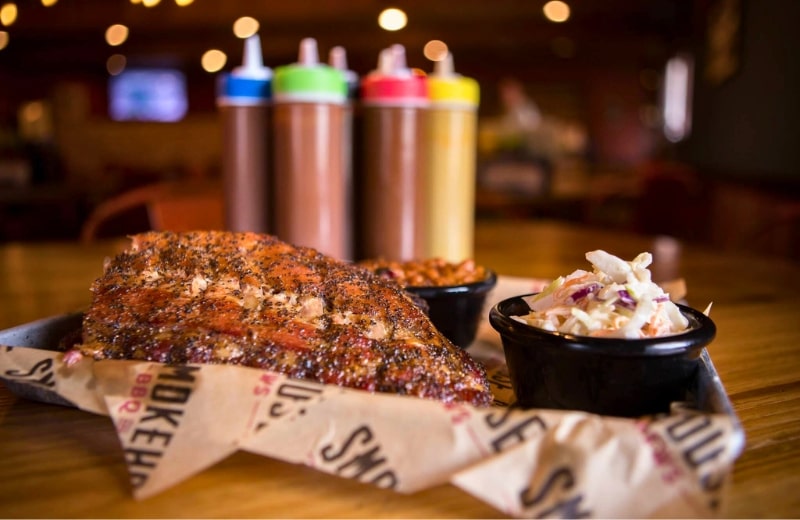 You'll want to try their:
Slow-smoked pork
Brisket (try the brisket cheesesteak)
Amish barbequed chicken
Chicken & turkey platter dinner
Sandwiches
But that's not all – the sides like mac and cheese, baked beans, coleslaw, and cornbread are the perfect complement to the meat dishes.
Smokehouse Barbeque is a great spot for a casual meal with family or friends.
#3 The Bread Pedaler
The Bread Pedaler is a small, Amish-owned restaurant. The food here is so fresh and delicous!
We've been a number of times. The first time we went, we came for breakfast. I ordered the Bread Peddler and my kids ordered the french toast. The pork belly tacos were really delicious too.
MORE DELICIOUS EATS: 21+ Fun Places to Eat in Lancaster PA (Families & Adults)
They also have a great selection of:
Homemade breads
Shoofly pie
Whoopie pies
Noodles
And more
We couldn't help but take home some goodies with us.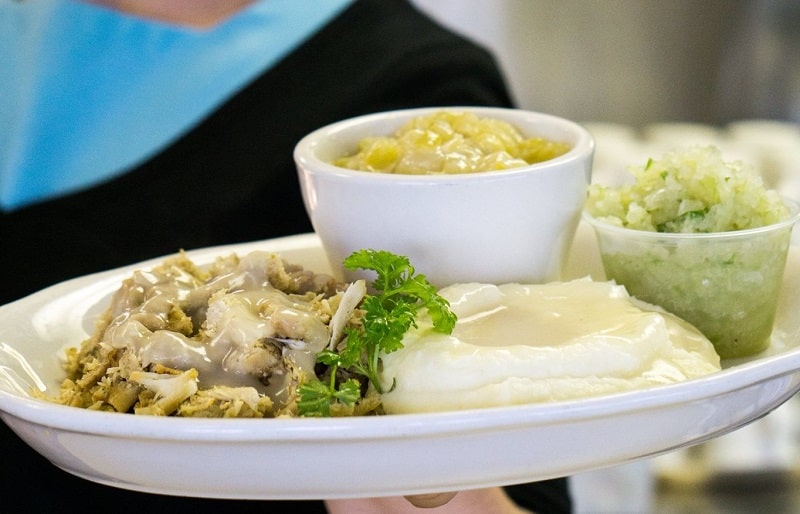 #4 Katie's Kitchen
Distance from Lancaster: 15 minutes
Katie's Kitchen is a hidden gem we discovered during a recent family outing, just 15 minutes away from Lancaster.
It is an ideal spot for families to enjoy a delicious meal together with its warm atmosphere and homemade dishes that include delicious fried chicken.
Some of the delicious authentic Amish cooking you can expect to try are:
Hot roast beef & cheddar
Prok & sauerkraut with mashed potatoes
Slow baked BBQ chicken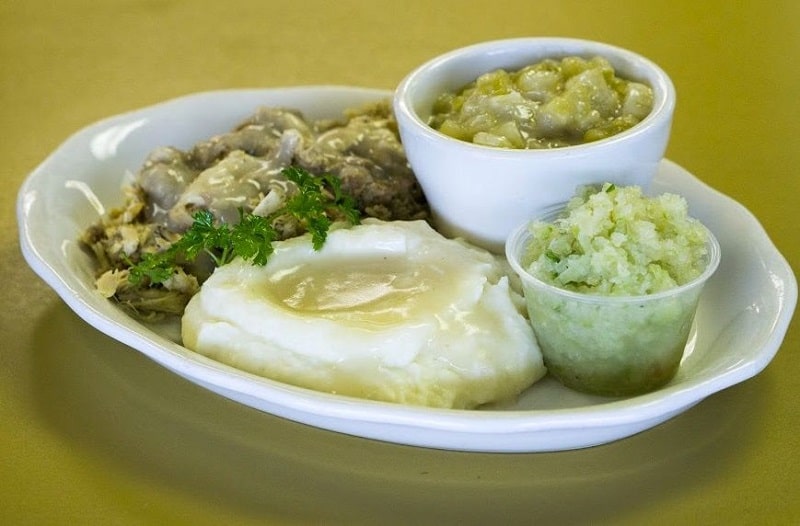 Make sure not to fill up so you have room for dessert. They have some absolutely delicious homemade Amish desserts including some homemade soft-serve ice cream.
This is just for take-out though with a little bit of outdoor seating so if you only have a little time but you still want great food, this is a great option.
Local tip: if you want to try some absolutely delicious homemade ice cream, visit Lapp Valley Farms. They also serve some homemade potato chips for the best sweet and salty pair.
#5 Dienner's Country Restaurant
Distance from Lancaster: 20 minutes
Dienner's Country Restaurant is a family-owned business that takes pride in serving the best of Pennsylvania Dutch cooking.
We absolutely enjoyed the warm and inviting atmosphere, and the fact that the food is made in small batches.
Their extensive menu offers made-to-order items and and they also have their famous breakfast, lunch, and dinner buffets.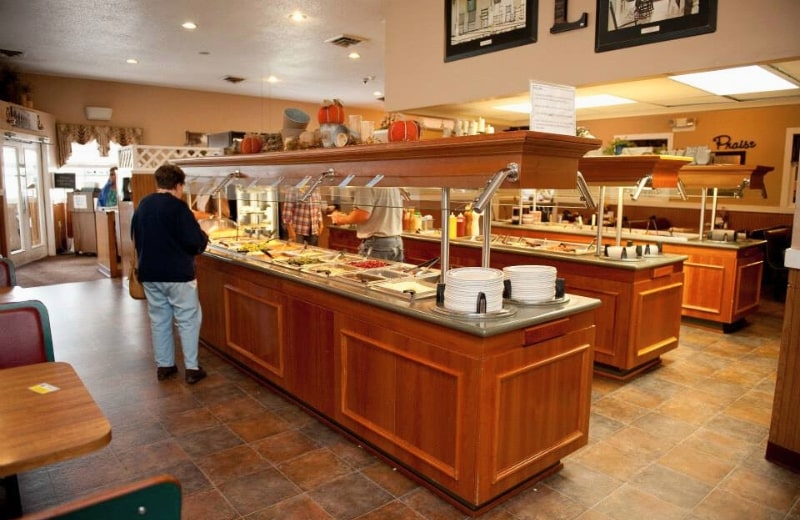 The buffet spread included:
Rotisserie chicken
Ham
Beef and gravy
Mashed potatoes
Buttered noodles
Sweet corn
Sweet potatoes
Broccoli
Carrots
Stewed tomatoes
Rolls
Chicken and beef gravy
And more.
They also have a soup and salad bar, dessert bar, and homemade pies which you don't want to miss!
Local tip: The prices are extremely reasonable and even the kids eat free with the purchase of the buffet.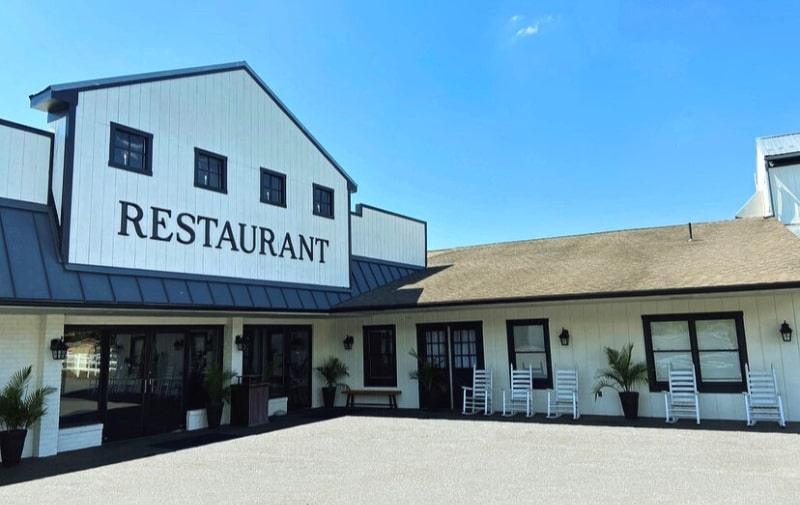 #6 Hershey Farms Restaurant & Inn
Distance from Lancaster: 20 minutes
On one of our visits to the Lancaster area we actually stayed at the Inn here in The Carriage House, which is one of their unique accomodations.
During our stay was the first time we tried the Hershey Farm's restaurant which serves authentic Pennsylvania Dutch cuisine. The restaurant is now currently closed as it's being completely redesigned and will reopen in 2024.
They also have a grand dinner smorgasbord where the food changes by the day and season.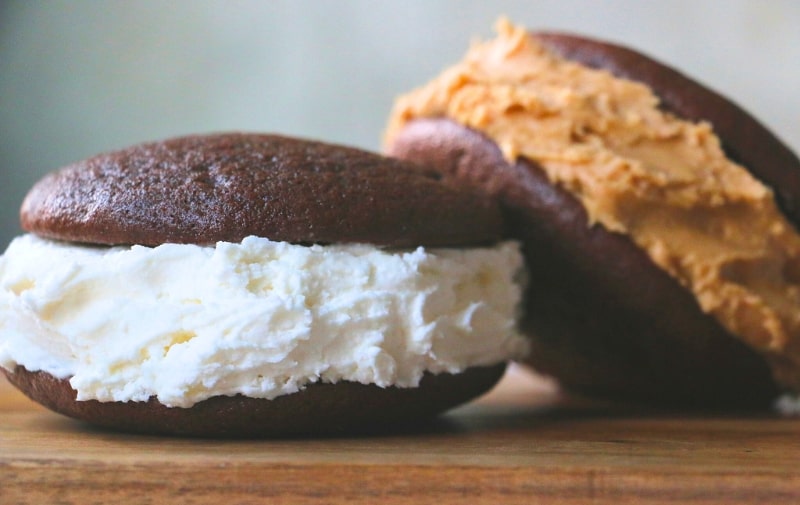 Just a small sample of the delicious food you'll be able to try includes:
Freshely baked bread & rolls (with a variety of butters including apple butter)
Red beet eggs
Succotash
Candied sweet potatoes
Rice pilaf
Brown buttered noodles
Amish filling
Chicken: rotisserie, lemon pepper, stuffed, golden friend, honey BBQ, spicy and others
Creamy beef and chicken gravys
Baked ham and turkey
Pot roast
And a whole lot more
And of course you can't forget dessert which is made fresh daily! They have Shoofly pie, cheesecake, chocolate cake, whoopie pie and lots more.
Did you know?
Hershey Farms Restaurant & Inn hosts an annual Whoopie Pie Festival with over 400 flavors of different Whoopie pies.
The bakery, boutique, country store, and outdoor market are worth exploring.
Friendly farm animals and scenic walking trails make it a perfect destination for families with children. We even got to attend their annual Whoopie Pie Festival, where we indulged in over 400 different flavors of Whoopie pies.
#7 Lititz Family Cupboard Restaurant & Buffet
Distance from Lancaster: 30 minutes
The Lititz Family Cupboard Restaurant & Buffet came highly recommended by me so I finally got down there to try it out.
They have a variety of homestyle Pennsylvania Dutch dishes and American favorites, such as:
Fried chicken
Roast beef
Homemade apple dumplings
Shoofly pie
You should definitely try their Sunday brunch buffet too!
Local tip: On your way from Lancaster you'll past the Lancaster Science Center which is a blast for kids and adults.
#8 Plain & Fancy Farm
Distance from Lancaster: 20 minutes
The biggest thing to know about the Plain & Fancy Restaurant before you decide to go is that they only serve groups of 20 or more.
So if you have a large group, there's no worrying about being able to get a table here.
They offer a family-style dining menu with:
Fried chicken
Meatloaf
Mashed potatoes and gravy
Brown buttered noodles
Coleslaw
Rolls
And of course deserts and drinks for everyone.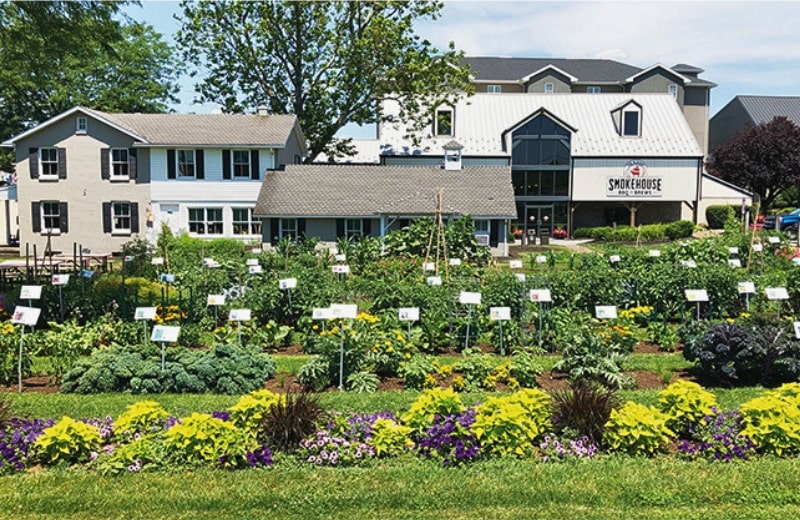 As the name suggests, this is also a farm and there are so many activities here which is another big reason to come. At the farm you'll find:
Aaron & Jessica's Buggy Rides
The Amish Experience Theater
Country Homestead and Farmland Tour
Country Store
Gardens
Farm Animals
And the Inn
Even if you don't have a large group, you're able to come enjoy the activities at the farm.
#9 Oregon Dairy Country Restaurant
Distance from Lancaster: 30 minutes
Also in Lititz is, the Oregon Dairy Country Restaurant was is an amazing place to try Amish food!
This restaurant has a lot of rustic charm and the farmhouse-style decor and freshly baked pies will make you feel right at home.
The menu was full of irresistible homestyle dishes, but the Broasted Chicken stole the show with its perfect crispy and juicy flavor. And the apple pie? A slice of heaven!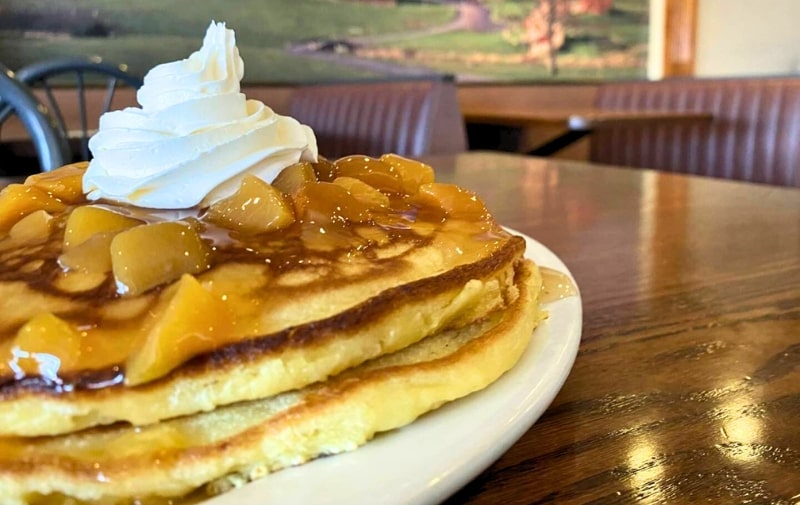 While you can order meals here, they also have a breakfast, lunch and dinner buffet which includes:
Hot bar
Soup
Salad
Dessert
Dip of ice cream
Refillable drink
As a bonus, the restaurant is located on a working farm, so you'll get to see the animals up close in the petting zoo. Plus, there is a playground for the kids, bake shop and farmers market on site.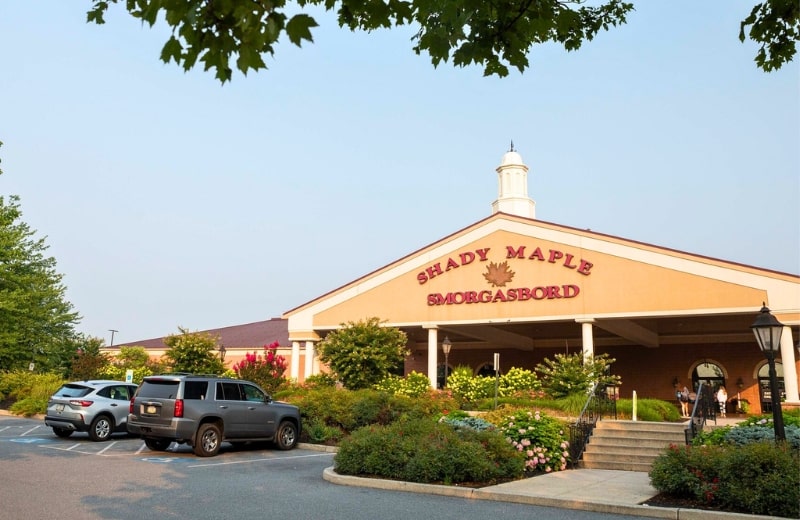 #10 Shady Maple Smorgasbord
Distance from Lancaster: 35 minutes
Shady Maple Smorgasbord is Lancaster County's largest smorgasbord. In fact, there are 200 feet of deliciously authentic pennsylvania dutch cooking.
The large dining room holds this massive smorgasbord and seating area so you can easily see what is available.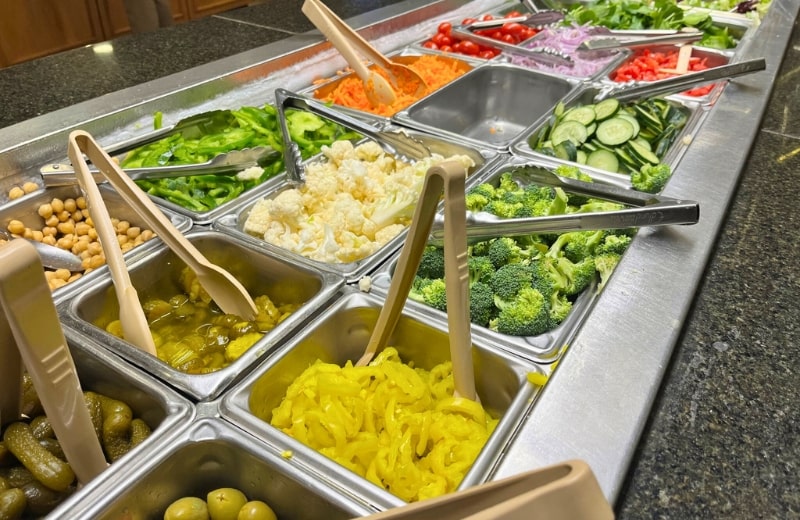 The buffet line was a feast for the eyes, with platters of mouth-watering fried chicken, roast beef, and baked ham. The savory sides like chow chow and scrapple were too tempting to resist, and the homemade soups were a delight.
And the selection of classic Pennsylvania Dutch treats like shoofly pie and apple dumplings for dessert was heavenly.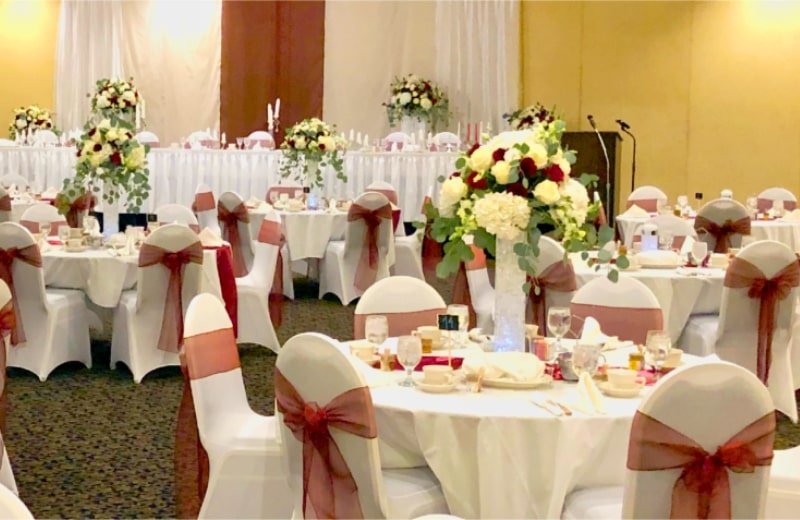 #11 Yoder's Restaurant & Buffet
Distance from Lancaster: 35 minutes
Mrs. Yoder's Kitchen is the spot to go for homemade Amish food served as a buffet.
The buffet options were seemingly endless, and I couldn't resist trying everything from the broasted chicken to the Pennsylvania Dutch potato filling. Plus, the fresh salads were a perfect complement to the hearty entrees.
There are both hot and cold items on the buffet and there is a large salad bar with plenty of fixings.
This definitely isn't the largest buffet but the quality of food is good and the desserts are beyond delicious.
Local tip: if you're visiting for your birthday, you can get free meal for your birthday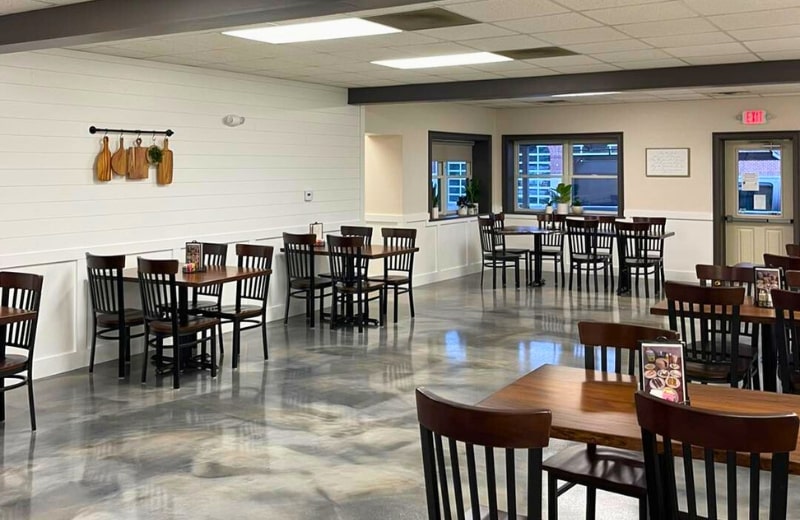 #12 Hometown Kitchen
Distance from Lancaster: 30 minutes
Hometown Kitchen is a unique and amazing restaurant just 30 minutes away from Lancaster that made me feel like I was dining with my own family and friends.
What sets it apart is that Amish women prepare the food like Amish cooks and traditional Amish recipes, including bread, soups, desserts, and homemade dishes such as chicken pot pie, roast beef dinner, Amish wedding meal, whoopie pies, shoofly pie, and more.
This cozy and welcoming restaurant is a favorite among both locals and tourists, with delicious dishes made from locally sourced ingredients that tasted like they were made with love.
I have to say, their Amish breakfasts have some of my favorite breakfast items so this is often where I go for breakfast.
#13 Zook's Homemade Chicken Pot Pie
Distance from Lancaster: 30 minutes
You'll never believe what they have at Zook's Homemade Chicken Pot Pie. Yep, some super delicious chicken pot pie!
This family-owned business makes their pies completely from scratch with locally sourced ingredients. I tried the classic chicken pot pie, and every bite was bursting with flavor! But it's not just the food that's amazing.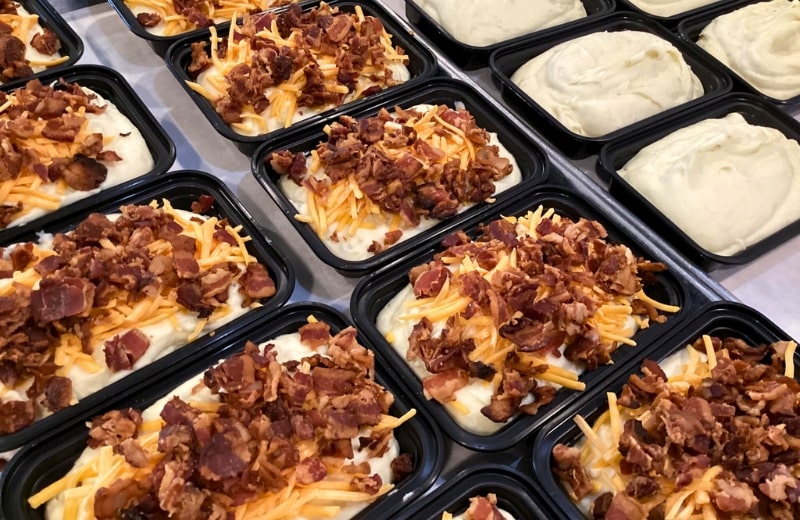 Enjoying the Amish Restaurants Near Lancaster PA
Lancaster, PA has a rich history and tradition of providing high-quality, authentic cuisine to visitors from all over the world. From hearty farm-to-table dishes to delicious baked goods, Amish restaurants in Lancaster offer a unique and satisfying dining experience that is hard to find elsewhere.
Whether you're looking for a hearty breakfast, a light lunch, or a full-course dinner, there are plenty of dining option to choose from in Lancaster.
Many of the Amish restaurants in the area offer farm-fresh ingredients and homemade recipes that have been passed down through generations.
More Fun Near PA Dutch Country

Discover many local Amish restaurants with farm-fresh ingredients & passed down homemade recipes
Need your Lancaster visit planned for you? We've got you covered with this list

Discover many local Amish restaurants with farm-fresh ingredients & passed down homemade recipes

Discover many local Amish restaurants with farm-fresh ingredients & passed down homemade recipes

Discover many local Amish restaurants with farm-fresh ingredients & passed down homemade recipes