Pennsylvania has some of the most thrilling amusement parks in the United States. From the classic Hersheypark to the exciting Knoebels Amusement Resort, the Keystone State has a variety of amusement parks to offer visitors of all ages.
Whether you're looking for a family-friendly destination or an adrenaline-filled adventure, there is an amusement park in Pennsylvania that is sure to make your visit a memorable one.
Here we're diving into 19 different PA amusement parks and what to expect at each so you can pick the right one for you and your family or friends.
So if you're looking for a great adventure, good times and a fun-filled day, these parks may be just what you need.
#1 Hersheypark
Hershey, PA
One of the most well-known and best amusement parks in Pennsylvania is Hersheypark. In fact, Hersheypark is Pennsylvania's largest amusement park with 121-acres.
Hershey park has great rides so everyone, no matter what age, can find fun options. From kiddie rides to classic rides and thrilling roller coasters, there is a lot to do. It also features:
Roller coasters
11-acre water park
An 11-acre zoo with 200+ animals
Hershey's chocolate tour ride
Concerts & shows
Ferris wheel
And lots more
One thing I appreciate about Hersheypark is how many trees they have throughout the park. Not only does it add some beautiful, green scenery, it also provides lots of nice shade for when we visit during the summer months.
They also have fun seasonal events for Halloween and Christmas.
#2 Knoebels Amusement Park & Resort
Elysburg, PA
Knoebels Amusement Park & Resort is a free-admission amusement park (they have free parking too!). In fact, this is the largest amusement park with free admission that you'll find in the entire country.
As you can imagine, this makes the park quite popular. While the admission is free, you do need to pay to ride. You can choose to buy a ticket book and pay only for the rides you want or you can buy an all day pass which gives you unlimited rides all day long.
This is especially great if you have adults in the group who don't want to ride or if you have young kids that won't be riding a bunch.
While this awesome park has over 70 rides including kid-friendly rides, family rides and your expected thrill rides (like the freefall ride
Did you know? Knoebels has free admission, free park and even lets you bring your own food into the park.
which drops 120-feet), there is so much to do here beyond just the rollercoasters and similar rides.
They have other games, attractions and even educational tours including:
Old time photos
Arcades
Mini golf
Flying frogs
History museum
Mining museum
Bald eagle habitat
They also have what's been called the best wooden roller coaster in the world, The Phoenix.
Make sure to ride one of their award-winning rides, the Haunted Mansion (one of the best dark rides), The Phoenix (one of the best wooden coaster).

Knoebels was in the final spots for the Golden Ticket Awards for best guest experience, best park and even top 50 wooden roller coasters.
What makes this amusement park unique is its impressive history, being the only independent, family-owned park in the North America.
You'll need 2 days to explore the park if you want to ride everything the park has to offer.
#3 Land of Little Horses Performing Animal Theme Park
Gettysburg, PA
If you're an animal love, I'm not sure what sounds much better than a miniature horse theme park!
This interactive animal theme park is located in the heart of Conneaut Lake Park and is definitely a family-friendly destination.
There are so many fun and unique things to do here like:
See a variety of amazing animal shows (like pig races, mane event and herd release)
Meet some of the miniature horses and see how they train them
Go on a pony ride ($)
Groom a horse yourself
Bottle feed baby horses ($)
Take pictures with a unicorn ($)
Rock mining ($)
Go on a wagon ride around the park
Take a train ride
Feed the animals
Some of the mini horses even roam around the park which is fun! You'll leave having learned more about the different species of horses and definitely some new memories.
You should plan to spend about 3-4 hours for your visit in order to see everything at the park.
#4 Camelbeach Mountain Waterpark
Tannersville, PA
Camelbeach Mountain Waterpark is Pennsylvania's largest outdoor water park and it's a great place to cool off in the summer months.
The park has something for everyone from wild wave pools and water slides to lazy rivers and mini-golf.
MORE PA FUN: 9 Best Indoor Water Parks in Pennsylvania
If you end up staying at the resort, there are so many more attractions besides just the waterpark including: laser tag, escape room, rock climbing, indoor ropes course, bumper cars, mountain coaster, zip lines, treetop ropes course, skiing and more.
Some of our favorite attractions are:
The 8-track water slide
FlowRider sessions
Toddler interactive area
Lazy river
Wave pool
Dune rider
And other rides for multiple people
Camelback also has the "Triple Venom" slide which are super fast and fun.
Local tip: DelGrosso's Amusement Park is just a short drive away for those looking for even more fun or want to be able to visit more than one amusement park on the same trip.
#5 Costa's Family Fun Park
Hawley, PA
Located in the Pocono Mountains, Costa's Family Fun Park is a great spot for family fun when you just need something fun to do for an hour or two.
Some of the fun things you can do are:
Go-karts
Water slides
Mini golf
Bumper boats
Batting cages
Laser tag
Gem mining
An arcade
They even have a children's playland that has the mini golf course (with 3 holes), playground and other attractions for the kids.
You can purchase a wristband that includes the waterslides (or not) and it gives you 2 go-kart rides and unlimited laser tag, mini golf, bumper boats and other activities.
If you just want to do a couple of activities, you can also purchase individual tickets for just those attractions.
The do have food (hot dogs, burgers, salads) as well as snacks available.
#6 Crayola Experience
Easton, PA
Crayola Experience is a family-friendly attraction with a lot of interactive activities that parents and kids can do together.
If you have kids who love arts and crafts, this is definitely a great place to come.
Crayola has 3 levels of activities and there is enough to keep kids of different ages engaged.
Some of our favorite parts are:
Make your own custom crayon sticker
2 indoor playgrounds
Make a crayon mold
Gem mining
Melting and molding a crayon
My toddler loved getting to take his own picture and then color it.
You'll definitely want to plan on spending several hours here. While you'll, of course, learn more about the process behind creating crayons, there are many other attractions like:
The Chaos and Creativity Show
Adventure lab
Activity studio
Big blue
Crayon factory show
Modeling madness
And lots more art and interactive activities
And don't be surprised if you happen to bump into some crayola characters walking around!
Tip: Make sure to Crayola Experience is to be sure to purchase tickets online for discounted prices.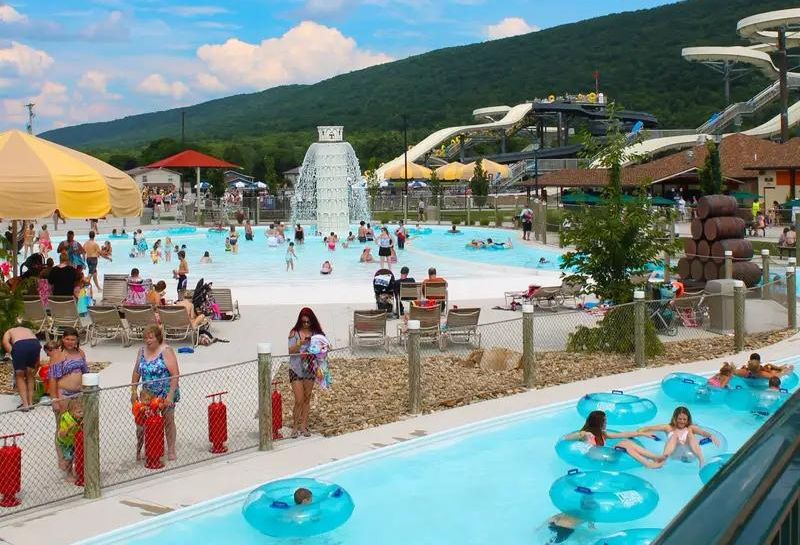 #7 Delgrosso's Amusement Park and Laguna Splash Water Park
Delgrosso's Amusement Park is a family-owned park that has been around for over 70 years.
Originally it was called Bland's Park, after Bland Family Farm, the owner's farm.
It is located in Tipton, Pennsylvania, and is known for its variety of amusement rides, classic games, water attractions, and delicious food.
UP NEXT: 5+ Pennsylvania Hot Air Balloon Festivals (Full Details)
What you'll find:
Thrilling rides
An arcade
A kiddie pool
Mini Golf
Great food at the park
They also have one of the not many century-old carousels that is still in operation. It's old-fashioned, hand-painted, hand carved and the horses even have nylon hair.
MORE AMUSEMENT PARKS: 9 Virginia Amusement Parks
This park is different because its prices include unlimited rides, which is a great value for families.
Local tip: come early to get the most out of your day here
#8 Dorney Park & Wildwater Kingdom
Situated in Allentown, Pennsylvania, Dorney Park & Wildwater Kingdom is the perfect combination of thrills and relaxation. The park offers a variety of both roller coasters for all ages, as well as a waterpark.
Some of our favorite attractions are:
Aqua Racer
Aquablast
Hydra
Kids Cove
Lightning Falls
Talon
White Water Landing
​There is something for everyone to enjoy at this amusement park, from thrill seekers to families looking for a relaxing day out.
Visitors can expect plenty of activities and attractions, great food and live entertainment.
What sets Dorney Park apart from other amusement parks is its unique combination of thrilling rides and beautiful surroundings. For the ultimate experience, visit during the summer months, and make sure to check out the Planet Snoopy section.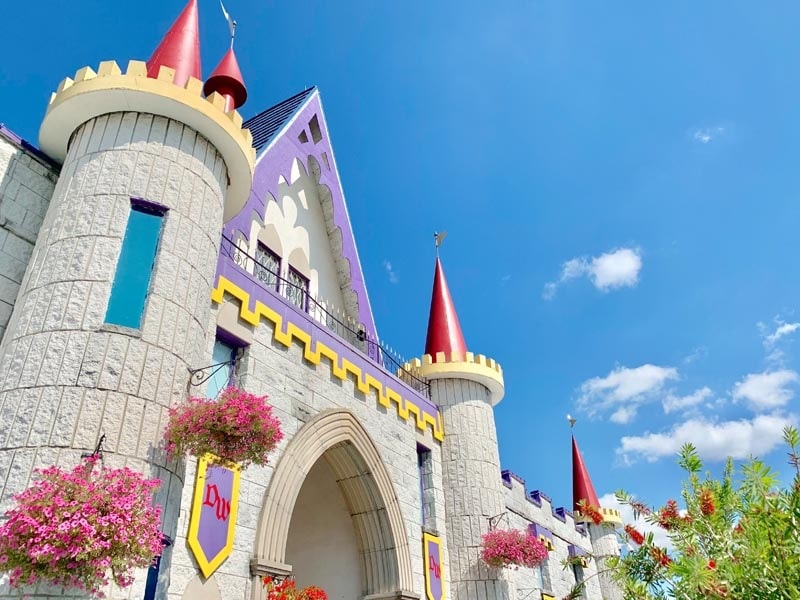 #9 Dutch Wonderland
Located in Lancaster, Dutch Wonderland is a family-oriented amusement park that promises hours of fun. I'd recommend this park for kids ages 2 to 13. There are a couple of attractions for the teens and adults but it mostly caters to t he younger crowd.
Here you'll find 30+ rides and attractions including:
The Duke's Lagoon water play area
Exploration Island
Live entertainment
Mini Golf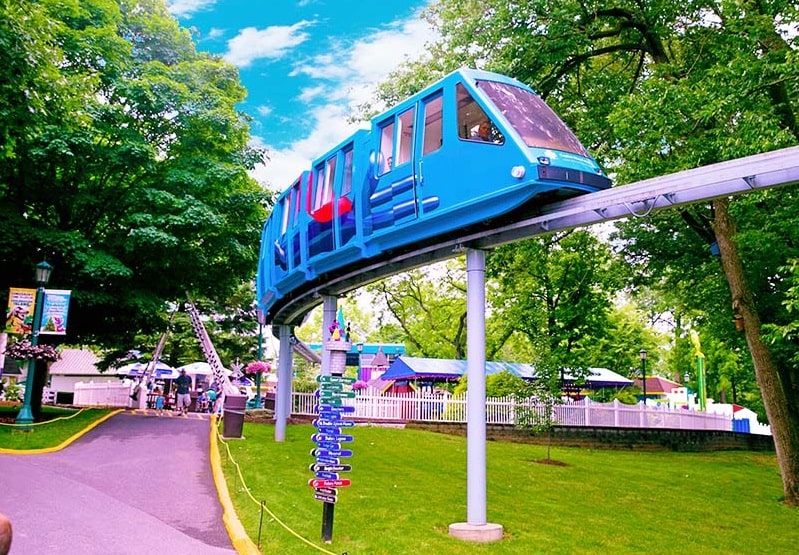 This park is not too big and not too small so it's a great place to bring the young children. There's also plenty of attractions for the smaller ones to keep them entertained.
If you're coming with little kids, there is only a short walk between most rides so it's really helpful for not wearing out the little ones too soon!
They have some nice misting towers which are very appreciated when it's hot out!
#10 Idlewild & Soakzone Park
Idlewild Park is the closest amusement park to Pittsburg and also happens to be Pennsylvania's first theme park. It also happens to be one of our favorite places to go in the state.
This isn't one of the parks you go to for the big thrills. It's a place to slow down, enjoy your family, the rides and the scenery. It has special old time charm!
Everything is well run from the easy parking lot to the rides themselves. The rides are well-maintained, the staff is great and we never get bored there.
It's the perfect for family-friendly fun as they have rides and attractions for everyone from the littlest visitors to adults.
At the longest-running park in the state, some attractions you'll want to see and experience are:
Raccoon Lagoon: with 12 rides perfect for kids 5 and under
Story Book Forest
Daniel Tiger's Neighborhood
Olde Idlewild: with plenty of rides and attractions
The waterpark too of course! It has a lazy river, slides, a wave pool, a dragon ship and even another area for the toddlers. Just make sure to bring plenty of suncreen!
One thing we really love was the Story Book Forest which took us through a real forest where we saw characters and different scenes from fairy tales and nursery rhymes.
#11 Kalahari Resorts & Convention Center
Kalahari Resorts & Convention Center in Pennsylvania offers something for the entire family with:
An indoor waterpark
A spa
Dining
Shopping and so much more
Zip lines
The waterpark itself has water slides, a lazy river, pools and hot tubs.
There are also plenty of activities for kids like mini golf, arcades, and go-karts. What makes this place stand out is its African-themed attractions like the:
Wildlife safari
Animal shows
A Serengeti night walk
#12 Kennywood
West Mifflin, PA | Website
Kennywood is a 40-acre iconic amusement park and is actually a National Historic Landmark. It is known for its selection of classic wooden roller coasters and modern steel rides.
Kennywood is also home to Phantom's Revenge, which is the fastest coaster and has longest drop in the world. If you're a thrill seeker, this one is definitely for you!
This park also includes:
Water rides
Arcade games
Live entertainment
Plenty of food options
Midway games
They also have a nice picnic area so don't forget to bring a picnic!
Several of the amusement parks have gift shops where you can pick up memorabilia for your favorite rides, toys, shirts, hat, and different items you may not expect like glitter tattoos.
This park is unique due to its wide range of traditional rides and attractions and of course it's historic sites.
Make sure to check out the historic Jack Rabbit coaster and the gorgeous view from the Skycoaster!
#13 Lakemont Park
Located in Altoona, Lakemont Park is a classic amusement park. It features:
A variety of rides and attractions including roller coasters
Water rides
Games
Miniature golf
At over 100-years-old, you can enjoy the legendary Leap-the-Dips classic wooden roller coaster, which is the world's oldest roller coaster still in operation.
Can you imagine people in the early 1900s riding this? Think about what the park would have looked like and how the people would have dressed in the early 20th century.
Other attractions include:
A log flume ride
Bumper boats
Batting cages
A pool complex
Visitors can also take advantage of discounts and special deals throughout the year. A park is a great option for families looking to have a fun and affordable day out.
Lakemont Park offers something for everyone and is worth a visit. Its proximity to Delgrosso's Amusement Park makes it an ideal choice for a weekend of amusement park fun.
Local tip: check out the Skyliner Skydiver for an adrenaline rush!
#14 Sesame Place
Langhorne, PA
Sesame Place is an iconic amusement park that all little kids love. It's the only theme park that is dedicated to a TV show.
It is a magical theme park that brings the world of Sesame Street to life. Kids and parents enjoy the exciting attractions, shows, and water rides at Sesame Place.
You'll find:
Unique character experiences
A splashy waterpark
Live entertainment
Engaging interactive activities, and more
And it's not uncommong to Elmo, Abby Cadabby and other characters roaming around the park just waiting to say hi and take a picture with you.
For all the kids who love Cookie Monster, make sure to have them ride Captain Cookie's High C's Adventure ride.
This park stands out from the rest due to its focus on providing a safe and nurturing environment for children of all ages. For a fun experience, don't forget to visit Sesame Place for more family-friendly activities.
#15 Waldameer & Water World
Located in Erie, Pennsylvania, Waldameer & Water World is an amusement park and waterpark for the whole family. This is where we love to go on a hot day in the summer.
There's something for everyone here, from toddlers to thrill seekers and I can't stress how many things there are to do here!
They have 100+ rides, slides and other attractrions.
So why visit? They have:
Over 40 rides
500,000 galloon wave pool
2 family areas
Roller coaster
Logs flume
Food stands
Games
And more
After visiting one of the PA hot air balloon festivals, my little ones love the Balloon Race ride theme after hot air balloons since they're not big enough to ride in real ones.
Visitors can expect to have a great time on rides, experience life entertainment and relax at the beach or swimming pool.
#16 Conneaut Lake Park
Located in western Pennsylvania, Conneaut Lake Park is an amusement park with a wide variety of family-friendly attractions.
The park itself has a boardwalk beachfront, gorgeous views, mini golf, and a tiki bar. This is where locals come to go swimming, do water skiing, jet skiing, fishing or just relax next to the water.
And then there's the amusement park…
This isn't a huge park but it is still a great smaller park when you don't want to be exhausted from visiting a huge amusement park.
Fun Fact: Up until 2022, the park was home to Blue Streak, a wood roller coaster over 80-years-old.
Some of their popular attractions are:
The Devil's Den
Paratroopers
Trabant
Beetle Bailey Jeeps
Jumbo Jumper
In 2023, they are doing some construction at the park so check to see what may be closed and what new may be available.
#17 Great Wolf Lodge Water Park
Great Wolf Lodge Water Park, in Scrotrun is a great place to visit for those who enjoy swimming, slides, and fun water activities without the sunburn!
This indoor water park is where we go to beat the heat and still enjoy all the fun of the outdoors.
While you can come for just the day, it's fun to stay overnight in one of their suites.
During your stay you have access to:
The water park
MagiQuest
Oliver's Mining
Ten Paw Alley (bowling)
Howlers Peak Ropes Course
Arcade
Build-a-Bear workshop
Mini glow golf
Visitors of all ages are sure to find something exciting to do.
The park also features interactive activities such as the Howlin' Tornado water coaster, which allows up to six people to ride down a five-story funnel.
Local Tip: Buy tickets online before you go to save money.
#18 Fun Fore All Family Fun Park
Fun Fore All Family Fun Park is an amusement park in Cranberry Township.
While you won't find any thrilling roller coasters here, this family-friendly park offers plenty of fun activities and attractions for all ages including:
Go-karts
Rock wall
Mini-golf
Batting cages
Bumper boats
A giant game room
A laser tag arena
Arcade
If you want to enjoy unlimited activitires, you can purchase 2, 3 or 4 hour play passes so you can do it all for the time period you choose.
#19 The FunPlex
While not technically in Pennsylvania, The Funplex is in New Jersey, only a 30-minute drive from Philadelphia.
Despite being out-of-state, many people from Pennsylvania head here as it's very popular and for good reason.
The park is open all year long and has both indoor and outdoor activities including:
Rides
Water park
Bowling
Mini golf
Inside fun zone
Arcade
Diner style cafe
Attractions, and activities
If you live close enough by, an annual membership is definitely worth it!
Some of their fun rides are Fun Force, Happy Swing, Galleon of Fun, Fun Twister, and Air Shot.
Local tip: if you want to visit without the crowds, go on weekday mornings if possible.
Special Events at PA Amusement Parks
Many of the amusement parks hold special events and seasonal attractions.
So even if you've been to an amusement park before, visiting on a special event day can give you an entirely different experience that is a lot of fun.
Each holiday season also tends to bring special themed events so you can enjoy the rides, see decorations and participate in seasonal activities that you wouldn't otherwise experience.
Tips for Visiting the PA Amusement Parks
Make sure to wear comfortable walking shoes
Some amusement parks let you bring your own food while others don't so make sure to check the park's outside food policy before going
In the case of inclement weather, make sure to check the park's website, social media or call them to verify the park will remain open before heading there
If you live close enough for a day trip to an amusement park, you may want to consider a season pass as it often pays for itself within just 2 or 3 visits
Look for discounts here, on the park's website or even on brochures at other location attractions
Frequently Asked Questions
What is the largest amusement park in Pennsylvania?
The largest amusement park in Pennsylvania is Hersheypark, located in Hershey, Pennsylvania. It covers over 121 acres and features over 70 rides and attractions, including 14 roller coasters.
Does Pennsylvania have amusement parks?
Yes, Pennsylvania has several amusement parks. Some of the most popular ones include Hersheypark, Knoebels Amusement Resort, Dorney Park & Wildwater Kingdom, Kennywood Park, and Dutch Wonderland. See the full list here.
Does Pennsylvania have a Six Flags?
No, Pennsylvania does not have a Six Flags amusement park. The closest Six Flags to Pennslyvania is in Jackson Township, New Jersey. While there are no Six Flags parks in the state, Pennsylvania is home to several other popular amusement parks listed here.
How many theme parks does PA have?
Pennsylvania has 19 theme parks and amusement parks including bigger ones like Hershey Park, as well as smaller, quieter ones.