The apple picking season in Virginia begins in August and lasts until October. Because some of the orchards grow more than 20 different varieties of apples, picking options vary from week to week.
Virginia has a long history with apples, and there is even an apple festival in Winchester. In fact, prior to the Civil War, Virginia was the nation's leading apple producer.
People often think of apple picking as a fall activity, but don't wait too long or you'll miss out on some of the best u-pick varieties. Even if you don't plan to pick until October, it's a good idea to start checking orchard updates and planning your visit earlier.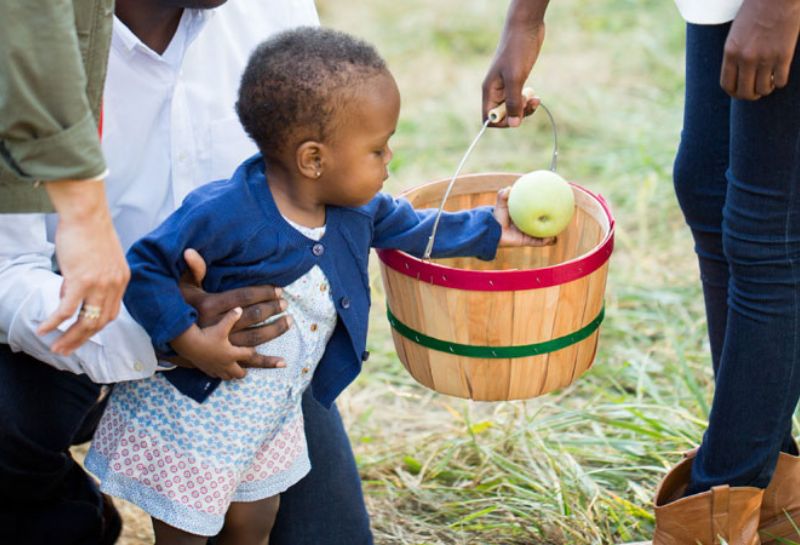 The best time to pick apples in Virginia is typically from early August through late October, sometimes even into early November.
Of course, nature can change the exact timing so it's best to check with the orchard or local farms you wish to visit before going. Start watching for notices from local orchards in late July so you know exactly when to visit for fresh apples.
Weather and crowds can alter what is available in the orchard from day to day. Follow the links to find out what is available for picking at the orchard you intend to visit. Here are 31 of the best places in Virginia to find fresh and delicious apples.
#1 Stribling Orchard
Markham, VA | Website
Stribling Orchard is a great place to go for apple picking with the whole family. Stribling Orchard is a small, family-run business with the most beautiful and massive apple tree in Virginia. In fact, the orchard is run by the sixth generation of striblings.
The orchard is famous for its crisp and tart apples, as well as colorful apples that are ready to pick, and for its spectacular fall color, which includes:
Pink Lady
Golden Delicious
Granny Smith Apples Crumble
Fresh-pressed apple cider
Apple butter
Local grass-fed burgers
Stribling Orchard is also a great place to observe the changing of the seasons. They are committed to providing the customers with high-quality produce, and they are proud to be recognized as one of the best orchards in the country. To travel long distances by foot, wear a good pair of hiking or walking shoes or boots.
#2 Hartland Orchard
Markham, VA | Website
Hartland is a traditional family farm and orchard. It is well-known for producing high-quality fresh fruit at reasonable prices. This is such a wholesome, family fun farm to take the family to pick apples and have lots of fun with the family.
There are several apple varieties available here, as well as fresh honey and cider. Cherries, peaches, and blueberries are among the other crops.
Hartland Orchard has apples available from early in the season to late in the season. In other words, there is almost always something ready for picking! Everything from Lodi to McIntosh, Gala, Fuji, York, and Granny Smith can be found here, making it one of Virginia's best apple orchards.
Our Kids Review: Hartland Orchard Apple Picking
#3 Carter Mountain Orchard
Charlottesville, VA | Website
Carter Mountain Orchard in Charlottesville, Virginia is without a doubt one of the most beautiful in the state. There are many more activities for children. The Virginia apple orchard is well-known for its diverse apple varieties, which include Ginger Gold, Gala, Red Delicious, Golden Delicious, Fuji, and Granny Smith.
The sweet, delicious apples can be used in a variety of ways, including baking, making sauces and jams, and more. Check out the apple orchard during peak season if you want to take some delicious, organic apples home to enjoy.
This orchard is also famous for producing apple cider donuts, apple pies, ciders, and you must try the Bold Rock Hard Cider. There is live music on Wednesday and Thursday nights.
Prices are reasonable and If you are visiting during the summer, please dress comfortably and wear a hat. It will undoubtedly help you to enjoy picking. Pets are not permitted, so please do not bring them.
Check out their upcoming events here
#4 Hollin Farms
Delaplane, VA | Website
Hollins Farms, located on the eastern slope of the Blue Ridge Mountains near Sky Meadows State Park, is well known for allowing visitors to pick their own vegetables and fruit. This fourth-generation family farm is known for its impressive array of apples, which are grown in a variety of climates, including the mountains of West Virginia and the hot, humid climate of Virginia.
Apples are one of the most popular fruits to pick, with the best season being September and October. Check out the website for more information on the best fruits to pick during each season. There are so many different apple varieties to pick from, including Gold Rush, Fuji, Pink Lady, Mutsi Crispin, and Golden Delicious, that you will have a great time picking.
From apple sauce and apple pie to apple cider, and even apple juice, you'll find everything you need for an apple picking here. Hollins also offers a variety of apple-based products, such as apple butter, apple cider, and apple-infused ice cream for those who want to go the extra mile.
Also Read: Hollin Farms: Pick Your Own Fruits, Vegetables (& Peanuts!) in the Country
#5 Mackintosh Fruit Farm
Berryville, VA | Website
Locally grown fantastic farm where you can pick fresh fruits and vegetables ranging from berries to brambles, apples to peaches, and everything in between. Right now, the best apples in the country.
Mackintosh Fruit Farm provides self-picking produce as well as online orders and local farmers markets. This farm's delicious crops can be obtained in a variety of ways, making it an excellent option for apple picking in Virginia.
Throughout the growing season, apple varieties are available. Visitors can help themselves to Galas in August. Cultivars like Honeycrisp, Fuji, Spartan Crisp, Criterion, and Queen's Blush arrive in September. Pink Ladies and Evercrisps are available in October. The admission fee is reasonable and affordable per person. There is on-site parking.
#6 Great Country Farms
Bluemont, VA | Website
All year, this farm offers "Pick Your Own" strawberries, peaches, cherries, blackberries, potatoes, apples, and pumpkins. The farms in Virginia listed below are well-known for their apple production and have been nominated for the title of best apple farm in Virginia.
You can get the chance to pick your own apples from late August through early October. The available varieties include Gala, Jonagold, Candy Crisp, Ruby Jon, and Fuji.
A plethora of activities for small children, including multiple slides, farm equipment, play areas, chickens, pigs, roosters, and turkeys, as well as pumpkin donuts, apple cider, hot dogs, and other food options.
#7 Marker-Miller Orchards
Winchester, VA | Website
This farm providing a variety of fresh fruits and vegetables for three generations for sale in market as well as pick-your-own. They have a large selection of jams and jellies, as well as fruit wines and honey. A fantastic location for the entire family.
Apple varieties grown in the orchard include Empire, Gala, Ginger Gold, Honey crisp, Idared, Lodi, and Rambo. These options have a variety of flavors ranging from sweet to tart and sprout at different times throughout the season, so there are always apples ready to pick.
Throughout the year, Marker-Miller Orchards also hosts events such as festivals. However, you are welcome to come by at any time during September or October to pick your own apples. During the summer, visitors can purchase additional produce. Before you go, check their picking schedule to see what's available and be prepared.
#8 Morris Orchard
Monroe, VA | Website
Morris Orchard, located in Monroe, Virginia, is well-known for being family-owned and operated. The fruits and vegetables available for purchase are among the freshest and highest quality available.
Among the best fruits to be found here are apples, peaches, blueberries, and blackberries. The best cider in the world they have it all. The cider is truly divine. After tasting the rich blend of apple varieties, you will never drink grocery store cider again and the cider donuts are so popular on October weekends.
Come enjoy the orchard's fresh air and natural beauty, and pick your own apples for the ultimate in fresh-from-the-orchard flavor. If you're looking for the best apples in Virginia, Morris Orchard is the place to go.
Check out the schedule for more information on when specific apple varieties will be available for picking.
#9 Dickie Brothers Orchard
Roseland, VA | Website
A family-owned apple orchard at the foot of the mountains with a good selection of apples. The cool mountain air gives apples great color and flavor as they grow alongside Little De Priest Mountain on the eastern edge of the Blue Ridge Mountains. They invite the customers to "Pick Your Own Apples" and experience nature's beauty here at Dickie Brothers Orchard, which is the envy of almost anywhere in the United State.
The orchard, located in Roseland, VA, offers a delicious variety of apples for visitors to enjoy. Everything from Paula Red, a McIntosh cousin, to Pink Lady, Granny Smith, Golden Delicious, Jonagold, Fuji, Winesap, and more is available.
The modern farm is divided into two sections: apples and beef. The farm grows peaches, pumpkins, nectarines, plums, and sweet potatoes, among other things.
#10 Fruit Hill Orchard
Palmyra, VA | Website
Fruit Hill Orchard, which began in Winchester, has been in operation for five generations in Palmyra, Virginia. There are now over 2,000 fruit trees where people can pick their favorite fruits during the growing season. It's a great place for family fun, such as apple picking, corn hole, learning about the apple museum, or picnicking.
The park opens in July and is close to numerous AirBNBs for lodging. Furthermore, there are numerous apple varieties available, so you can plan your visit around when the apples are in season.
Prices are reasonable and there is no admission fee.
#11 Henley's Orchard
Crozet, VA | Website
Henley's orchard is quite small. This Orchard is located in Crozet, Virginia, at the foot of the Blue Hill Mountains. This lovely farm grows apples, nectarines, and peaches. Depending on the season, you can enjoy any of these fruits fresh from the tree at one of Virginia's best apple orchards. This orchard has been in business since 1932 and supplies local markets throughout the state.
Henley's Orchard grows over 25 different apple varieties, so there's something for everyone. Classic varieties such as Gala, Fuji, Ginger Gold, Golden Delicious, and Honeycrisp are available, as well as lesser-known varieties such as Mutzu, Prima, Rome, and the orchard's own specialty, the Henley.
There is plenty of outdoor seating.
#12 Silver Creek Orchards and Seaman's Orchards
Tyro, VA | Website
Silver Creek and Seamans' Orchard was established in 1959. A family farm that grew a large number of apple varieties for picking. Jonathan, Red Delicious, Golden Delicious, VA Gold, Mutsu, Jonagold, Wonder, Mystery, Empire, and Blue Ridge Crisp are among the apple varieties available for picking. Other picking varieties include Rome, York, Fuji, Granny Smith, Arkansas Black, Black Twig, and Pippin.
It is particularly well-known for its freshly pressed apple cider. In addition, the orchard hosts the Apple Butter Festival on the first and third Saturdays of October. You can participate in the apple butter-making festivities as well as buy apples, jams, jellies, honey, and cider.
There are numerous activities for children. Make sure you have enough cash on hand. Only service dogs are permitted in the orchard. There is plenty of outdoor seating.
#13 Mount Pleasant Farms
Chesapeake, VA | Website
A Chesapeake family-owned farm. A fantastic place to take the family. Mount Pleasant Farms is located in the town of Mount Pleasant.
It is a great place to pick peaches, vegetables, and farm animals. It also has a store where you can buy gifts, jams, and local honey. Try the peach smoothie and delicious drinks.
#14 Chiles Peach Orchard
Crozet, VA | Website
Chiles Peach Orchard is a family-run business. Seasonal pick-your-own fruit and vegetables, wine, sweet treats from the Farm Market & Bakery, and family-friendly events are available at the orchard.
Seasonal fruits such as apples, peaches, strawberries, beries Chiles, which has a great selection of honeys and produce, as well as ice cream. This is a welcoming scenic location where you can eat delicious food. Explore the open-air market for a wide selection of jams and jellies, sauces and syrups, and baked goods.
Arrive early with the entire day ahead of you to leisurely pick the variety of seasonal fruits, berries, flowers, and vegetables. Take breaks from picking to appreciate the splendor of the magnificent mountain scenery that surrounds the fields.
#15 Graves Mountain Farm
Syria, VA | Website
Since the 1960s, Graves Mountain Farm has been in operation. In addition to growing delicious fruit, the farm hosts events all year. Their annual harvest festival, which takes place right on the farm at the foot of the Blue Ridge Mountains, is their most popular. Apple varieties from farmers across the state can be found here.
Of course, the farm has its own apple orchard, which is rated as one of the best in Virginia. Visitors can pick their own apples here, including Empire, Rome, Golden Delicious, Granny Smith, Fuji, York, and Winesap varieties. In the fall, they also sell fresh cider and apple butter.
CHECK OUT: The Apple Harvest Festival 2022
#16 Showalter's Orchard
Timberville, VA | Website
As has been the tradition for more than 50 years, they are growing apples, pressing juice, fermenting hard ciders, and welcoming visitors with open arms. Such a great spot hidden among apple tree rows.
More than 30 varieties of apples, and we press and bottle the best sweet and hard cider you've ever tasted. Enjoy the Stayman, which is absolutely delicious and juicy. The apple donuts and cider are fantastic.
Enjoy the Cidermaker's Barrel, which has a smooth oaky flavor from being aged in barrels. There are options for children to play as well as a nice lawn to sit on.
#17 Gross' Orchard
Bedford, VA | Website
Gross' Orchard is a family-owned and operated business. The orchard is a lovely setting for family and friends. It has a wide variety of fruit trees, apples, pears, plums, cherries, and peaches. It's also a great place to go for events like the annual Apple Festival or for a picnic.
The best things to try are jam, preserves, ice cream, and salad dressings. If you want to try some of the best u-pick varieties, it's a good idea to start checking orchard updates and planning your visit earlier.
Weather and crowds can alter what is available in the orchard from day to day. Follow the links to find out what is available for picking at the orchard you intend to visit.
#18 Levering Orchard
Ararat, VA | Website
Levering Orchard was founded in 1908. Although it began as an apple orchard, Levering has since expanded to include cherries and peaches. U-pick apples are available at the end of July and continue until Labor Day weekend, with fall apples ripening around the middle of September.
Along with apples, peaches, pears, and apricots, Levering Orchard has 32 acres of cherry trees with an incredible 56 varieties to choose from. This is a great place to pick your own fruit.
Excellent orchard, Community theatre and a family orchard. A wonderful place to take the kids, with a beautiful view of the Blue Ridge Mountains. Spending time on this beautiful mountain is enjoyable, safe, and educational for both children and adults.
#19 Baugher's Orchard (Maryland location)
Westminster, MD | Website
Baugher's Orchard is a wonderful place to spend time with family and friends. The prices are reasonable, and fresh produce is always available in the fields.
They have apple picking, pumpkin picking, a petting zoo, trailer rides, food, a market, a scarecrow making area and live music. The Baugher family invites you to visit their orchard and taste the high quality apples they grow.
#20 Rinker Orchard
Stephens, VA | Website
In Frederick County, Virginia, there is a third generation apple orchard. Ray and Ruth Boyer Rinker expanded the orchards to open one of Virginia's first "Pick Your Own" apple operations. This promoted the opportunity for families in the surrounding metropolitan areas to come to the country and pick their own apples, and it opened up a whole new way of educating the public about Virginia apples.
Sample fresh-pressed, flash-pasteurized apple cider and apple butter, as well as pick your own apples in a beautiful orchard setting. Rinker Orchards caters to families of all sizes by growing dwarf, trellised trees that are easy for children to reach. This location is fantastic for picking your own apples such as Fuji, Red Delicious, and Yellow Delicious.
You can also get free apple cider samples that you can purchase later.
#21 Homestead Orchard
Winchester, VA | Website
Seasonal farm with organically grown produce, homemade baked goods, local gifts, handcrafted items, and more.
Homestead orchards produce a variety of fruits and vegetables for picking during their season. A very welcoming atmosphere in which to enjoy a picnic while picking apples with family and friends. High-quality apples are available at reasonable prices.
ALSO READ: Apple Picking at Homestead Farms: Apple Picking, Animals & More
#22 Crooked Run Orchard
Purcellville, VA | Website
This family farm has been in operation for over 250 years and is currently operating as a pick your own farm. Crooked Run Orchard takes pride in using as few chemicals and mineral fertilizers as possible on its crops.
Apples and pumpkins are also readily available in large quantities. Asparagus, blackberries, peaches, plums, and pumpkins are among the other fruits and vegetables available.
Goat milk soaps, eggs, honey, jams and jellies, and holiday wreaths and swags are also available at the farm stand. There are also many animals on the farm, as well as a nature trail and picnic tables.
Please contact us ahead of time to inquire about availability and picking conditions. Apple picking is very reasonably priced.
#23 Johnson's Orchard
Bedford, VA | Website
This family-owned and operated farm is close to the Blue Ridge Mountains and the Peaks of Otter, as well as the National D-Day Memorial, so there is plenty to do nearby during your visit.
Johnson's Orchard encompasses over 200 acres, 7,500 apple trees, and 200 varieties. The orchards are also known for the Gold Nugget apple, which was developed on-site.
It's definitely a place where you can bring the whole family to enjoy treats, wine, beautiful scenery, and even a petting zoo. Aside from apple picking, there are numerous festivals and other events to attend, so be sure to check the website for more up-to-date information near your trip.
#24 Culliper Farm
Virginia Beach, VA | Website
Pungo family-owned farm with u-pick strawberries in the spring, peaches in the summer, and apples in the fall. Strawberry, blueberries, melons, figs, peaches, nectarines, plums, and apples are among the fruits grown at Cullipher Farm in Virginia Beach.
In the fall, the apples are especially ripe. Fall is the ideal time to take your family to Cullipher Farm for some apple picking, and the best part is that you will have a wide variety of apples to choose from. The farm makes every effort to grow its produce in a sustainable and environmentally friendly manner while maintaining the high standards for which it is known.
The price are very reasonable and parking is available.
#25 Bush Neck Farm
Williamsburg, VA | Website
Bush Neck Farm is a lovely farm with delicious fruits, friendly service, and a reasonable price.
They harvest a lot of fruits, and apple picking is a great example of this. This is a beautiful location that is ideal for a trip with family, friends, or colleagues.
Only cash or checks are accepted.
#26 FT Valley Farm
Sperryville, VA | Website
Picking is available at FT Valley Farm for delicious and tasty apples, peaches, and nectarines. Apple varieties are chosen for their taste and texture rather than their familiarity. The apples are so crisp and flavorful that anyone will enjoy them. The varieties are incredibly unique, and many are difficult to find.
The unpasteurized apple cider is absolutely delicious. The flavor is extremely complex, and it is not at all overly sweet. Additionally, apple butter, apple sauce, peach salsas, and peach barbecue sauce are available. Excellent orchard with excellent production and service.
Highly recommended for families and anyone looking for an excuse to enjoy delicious fruit in a beautiful setting.
#27 H.C Harold Orchard
Ararat, VA | Website
For nearly a century, the Harold family has been growing fruit trees in this scenic, steeply sloped part of southern Virginia, where the Blue Ridge rises from the Virginia and North Carolina Piedmont. The Harolds' orchards have full-sized trees.
Harold Orchard grows a variety of fruits including cherries, peaches, and apples. Of course, large-sized apples with the best flavor are grown here.
#28 Valley View Farm
Delaplane, VA | Website
Valley View Farm is a family-owned and operated agri-tourism and educational farm in northern Virginia's Piedmont. The Strother Family has been stewards of Valley View for five generations, with a continued commitment to producing and delivering the finest farm to consumer artisan foods and craft beverages.
Valley View Farm's features some of the best peaches, apples, cherries, blueberries, and blackberries in northern Virginia. In September and October, apples and pears are ripe and ready for picking. During the month of October, pumpkins are ripe and ready for harvest.
The Locavore Farm Market sells a variety of local products such as honey, dressings, syrups, peanuts, fudge, cheeses, and more.
Follow the link for the most up-to-date opening hours, which vary seasonally. The farm is usually open from 12:00 p.m. to 5:00 p.m. on Thursdays and Fridays, and from 10:00 a.m. to 5:00 p.m. on Saturday Dogs on leashes are welcome. Valley View Farm has been named one of Virginia's top dog-friendly wineries.
#29 Drumheller's Orchard
Lovingston, VA | Website
Drumheller's Orchard in Lovingston, Virginia, was founded in 1937 and is well known for its large variety of apples that visitors can pick in the late summer and early fall.
Honey Crisp, Gala, Golden Delicious, Red Delicious, Fuji, and Granny Smith are among the varieties available. Check out the website for more information on the types of apples available, their season, and what you can do with them.
Peaches, blueberries, and brambles are also grown on this 5th generation family farm.
#30 Albemarle Cider Works & Vintage Virginia Apples
North Garden, VA | Website
Vintage Virginia Apples, founded in 2000 by the Shelton family, is home to many tree fruits that are becoming scarce due to commercial marketing. The farm is home to over 200 different types of apples, including heirlooms and new varieties.
Some of these varieties are not available anywhere else. In addition to apples, you will be able to sample peaches, pears, and plums. The farm also produces its own cider, which is available for purchase on-site.
However, due to their small size, you cannot pick your own fruits, but you can purchase the apples in the tasting room.
#31 Vintage Virginia Apples
Shelton, VA | Website
Vintage Virginia Apples is a business in Shelton, Virginia. This is a newer orchard, established in 2000. Since then, the owners have planted over 200 apple varieties for visitors to enjoy, making it one of Virginia's best apple orchards.
Some of these apples are delicious fresh or baked, while others are used to make the orchard's well-known apple cider. They opened a tasting room for their original ciders, including hard cider, in 2009.
The orchard prioritizes vintage and unique apple cultivars, so you can find varieties that you won't find anywhere else. There are also some classics, such as the Cortland apple.
#32 Ayers Orchard
Cana, VA | Website
Ayers Orchard has been in operation for over 100 years and is still family owned and operated. They primarily grow cherries, peaches, and apples, with apples becoming available for picking at the end of June. The dates are estimates, so call ahead to ensure that the picking is still good.
Apple Picking Spots in Virginia Map
Recommendations for Apple Picking
1. Please pay for the items you select. Before entering the orchard, bags must be purchased. Outside bags are not permitted in the orchard.
2. The orchard closes one hour prior to the farm.
3. There are no cars in the orchard. Please park in the designated areas marked by railroad ties and traffic cones.
4. According to Virginia ABC law, outside alcohol is not permitted.
5. All family members are welcome; however, children must be supervised at all times.
6. Leashed and supervised children's dogs are welcome both inside and outside. Please remember to clean up after your pet!
7. Select only what you intend to keep. You can help keep prices down by avoiding waste.
8. Leave No Trace – If it's not yours, don't pick it up, and if it is, don't leave it behind. Please be mindful of wildlife, including honeybees.
9. Stick to the designated areas as instructed. When in doubt, ask to knowledgeable staff.
10. Please do not climb the trees; they are only strong enough to support fruit, not people, even small children.
11. Make sure to watch the Facebook page of the orchard(s) you wish to visit so you pick the best apples.