Santa's Wonderland is coming this year from November 5th until December 2022!
Here's my lovely experience from last year.
Kids love Bass Pro Shops. It's huge, has an aquarium and other fun things for the kids to see.
And at Christmas time, they can find Santa there! What's not to love?
About Bass Pro Shop Santa Wonderland
I'd never been to a Bass Pro Shops store but had heard that the chain's outdoors focus is nirvana for adventurous kids year-round.
So I figured that it's a place that my kids would love, and a place they would really, really love come Christmastime, with holiday displays, Santa, and games — and I was right.
My husband and two boys headed to Anne Arundel Mills Mall location (about 30 miles from the center of D.C.) on the Veterans Day holiday, avoiding weekend crowds, and, more importantly, the post-Thanksgiving shopping hoards.
What to Expect
The store has both an exterior and a mall interior entrance. We chose to park in the lot right outside the store and enter from there.
The outside features some Christmas lights and a handful of decorations, in addition to a waterfall and bridge.
RELATED: Here Comes Santa Claus!
Inside the store's lobby, a large tree sits next to a massive fireplace, and we got our first glimpse of animals in taxidermy.
There's so much to look at — huge boats! stuffed elk! pretend presents! — but I managed to steer my kids to the Santa's Wonderland right inside the store.
Attractions
The whole area of Santa's Wonderland is done up, with a few animated displays, staff walking around in Santa hats, and lots and lots of fake snow on lots and lots of decorations — think elves and snowmen, giant nutcrackers and candy canes, lifelike reindeer, Christmas trees, and lights all around.
Mixed in with all the free fun are displays of toys and Christmas novelties to buy.
The main attraction…Santa of course and the free photo with Santa you can get.
Bass Pro Shop Santa Picture Prices
When you visit Bass Pro Shop (and Cabela's) between November 7th and December 24th, you will receive d a FREE 4×6 photo with santa.
The image you receive is studio quality and you will also receive a free digital video greeting card to share online. If you wish to purchase a photo package you can do that as well but it is not required.
Here's all you have to do:
Visit www.basspro.com/santa to select your location
Select the time you wish to reserve
Show up! Just show your confirmation email at check-in
Note: you can only book reservations up to 7 days in advance
Note 2: You're not allowed to take pictures of your kids on Santa's lap with your own camera.
Bass Pro Shop Santa Photo Packages
Packages start around $20.
There is no pressure to purchase a package.
Pictures will be printed in store so you can take home with you during your visit.
Note: if you are a Club member with a Club Mastercard, you will get 50% off the santa photo package prices.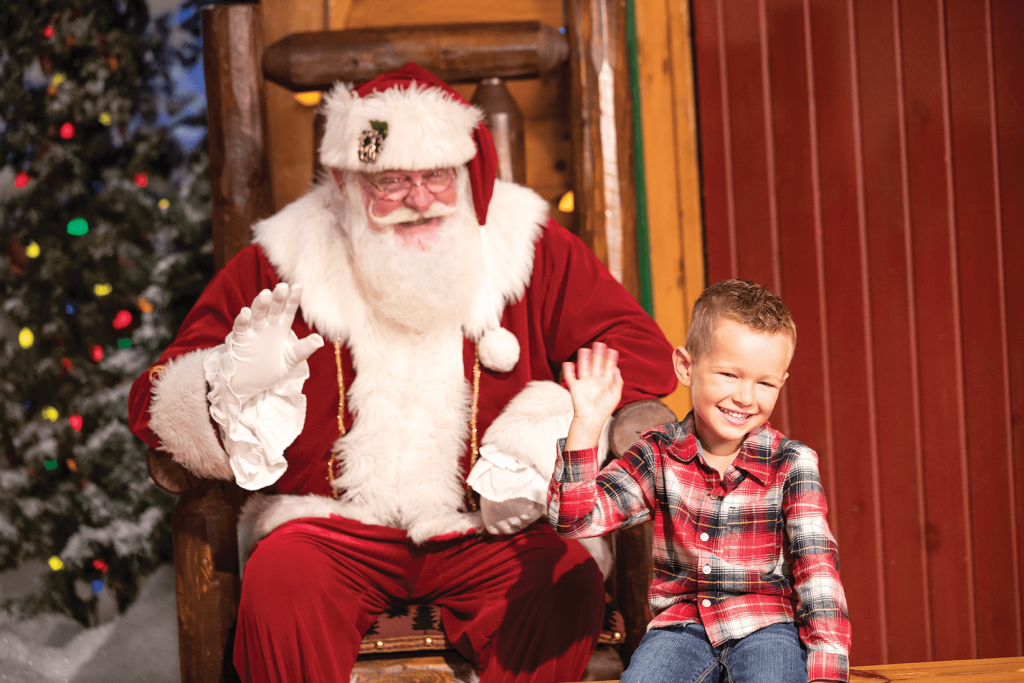 As Santa's Wonderland is only a small part of the sprawling Bass Pro Shops, we decided to check out the rest of the store too. The store's decor feels just like a Great Wolf Lodge (minus the water park), with lots of log cabin touches and an animal theme throughout.
What Else to Do at Bass Pro Shops After Visiting Santa
There is so much to do at Santa Wonderland and elsewhere at Bass Pro Shops!
Specifically what is available can vary by location but most are standard throughout all stores.
Activities includes:
Crafts & coloring
Letterbox to mail letters to North pole (include your email to receive an emailed response)
Games
The large aquarium
42-foot rock wall with waterfall on one side (can pay to climb)
Search for tons of animals in taxidermy on display
Follow the animal tracks carved out of the floor
Shooting arcade
The two shooting galleries include one with a Nerf archery set (too tough for littler kids) to aim at duck targets, and another with a rifle-style laser gun for shooting at deer, bear, raccoon, and beaver targets.
My seven-year-old enjoyed steering a remote control monster truck around on a rocky table, while my three-year-old loved pushing the lever to make a slot car zoom around a track (no steering necessary).
Other Attractions
My little one was also absolutely thrilled to get to press the lever to make a train go around a snowy scene; as far as Christmas train layouts go, it's a pretty small, simple one, but the fact that kids get to operate it totally makes up for that.
Kids also enjoy sitting on the off-road vehicles for adults and small quads for kids.
If you want to do some shopping, there is plenty of gear for fishing, water sports, hunting/archery, and camping, along with a very large selection of clothing fills the one-level showroom.
Likewise, if you want to venture out into the rest of the mall, there are a number of outlet stores (Gymboree, Children's Place, Gap, and Stride Rite, to name a few) as well as a LEGO store, Dave & Buster's, and Medieval Times. The mall also has its own Santa for photos.
Where is Bass Pro Shops?
Bass Pro Shops has 2 locations in the DC metropolitan area:
Bass Pro Shop in Arundel Mills Mall in Hanover
7000 Arundel Mills CircleSuite E-2Hanover, MD 21076
Cabela's Gainesville
5291 Wellington Branch Dr.Gainesville, VA 20155
There are locations across the country. So if you're traveling for the holidays, you can see if there is a location near your destination here.
Bass Pro Shop Santa Claus Hours
Bass Pro Santa hours….
Santa's Wonderland is free and runs through December 24, 2022. The games and activities are open during store hours. Free photos with Santa are 3 to 8pm Monday through Friday; 10am to 8pm Saturday; and noon to 5pm Sunday. Free crafts are 5to 7pm Monday through Friday; and noon to 5pm Saturday and Sunday.
Best Time to Go
Santa is always there so if your schedule is flexible and you can go during the week, that is your best best. Likewise, if you can go earlier in the season versus closer to Christmas, you'll have an easier time to
A Few Recommendations
Avoid going Friday, Saturday or Sunday if possible to miss crowds.
The Santa's Wonderland area is not completely sectioned off from the rest of the store, so it could be really easy to lose a child if it's crowded. Keep kids close to you!
Bass Pro Shops is a chain store with outposts around the country, and they all include a Santa's Wonderland. So if you are traveling for Thanksgiving or Christmas, you could check out a different location.
Fish feeding in the store's fish tank is between 11 and 11:30am on Saturdays and Sundays (times vary on weekdays).
To climb the rock wall, you must be age 10 and up, weigh between 60 and 250 pounds, and wear closed toe shoes with a heel. The wall is generally open during store hours but occasionally closes for inspection.
There are lots of guns for sale and on display here, and the shooting galleries are hard to miss. Skip this outing if you don't want your kids exposed to guns.
By the time we left Bass Pro Shops, we'd been there for an hour and a half. It was well worth the 40-minute drive from our house for all this free fun. Perhaps I would have felt differently if we'd gotten stuck in traffic or faced a big crowd with long lines.
Our visit definitely put us in the Christmas spirit!