Burnside Farms Summer of Sunflowers is on so grab your sunblock, water, a picnic and head to the farm for this annual event.
If you missed the sunflowers at the McKee-Beshers Wildlife Management Area in Maryland, you should definitely make plans to visit Burnside Farms.
Every year the farm hosts two festivals: Festival of Spring with lovely spring flowers to pick and the Summer of Sunflowers.
We had never been to Burnside Farms and are adding it to our list for an annual visit because it was so much fun!
With over 30 types of sunflowers you can cut spanning over 50 acres, these 6-weeks of blooms are something you must see and experience!
Pick Your Own Sunflowers
At the Summer of Sunflowers, once inside the grounds you can choose to cut sunflowers or simply roam the beautiful fields.
If you want to pick sunflowers to take home, you'll need to either bring your own "snips" (aka shears) or borrow some from the farm. In exchange, you'll hand over your car keys or other identification at check-in to ensure you return those snips at the end of your visit.
Grab a basket and off you go!
When we visited, the blooms were just starting and the sunflowers furthest from the check-in area were where we headed.
It's not that long of a walk, but note, there is no shade.
NEXT: 111 Things to Do With Kids in Maryland
Borrow one of their adorable sunflower umbrellas to stay cool (or bring your own). As the season progresses, more sections of blooming sunflowers will open and will get closer to the check-in area.
Sunflower Sunsets
One of the best things to try in Bunside Farms during this season is the Sunflower Sunsets where you can watch the sun fades and blend into the sea of sunflowers. When the weather is good, it usually happens from 5pm to dark each day.
Sunflower Mazes
Burnside Farms is one of the nation's few sunflower mazes. These mazes are only in bloom for a couple of weeks. Since you're dealing with flowers, you have to keep an eye on the farm's social media or website for exact dates as the season approaches.
Other Activities
In addition to the beauty of the fields, admission includes access to their:
Jump pad
Bounce house
2-story slide
Cornhole
Other games for the kids
Shaded picnic area
We definitely recommend relaxing at the picnic area after picking in the sunflower fields.
Once you're finished cutting, head back to the tented area where there are tables to re-cut and arrange your flowers.  Think about either bringing your own vase with water to put your flowers in for the drive home or purchasing one of their adorbable options. 
DELICIOUS FUN: The Maryland Ice Cream Trail
Under the tent is the check-out area where you'll pay for whatever you cut plus any other items you purchase (honey sticks, a cool drink, vases, etc.).
It will never be a bore when in Burnside Farms as they also have tons of other activities especally for the kids. From hop-on hop-off wagon rides in the fields, Giant Jump Pad, two story inflatable slide, grain bin basketball, cornhole games, and more!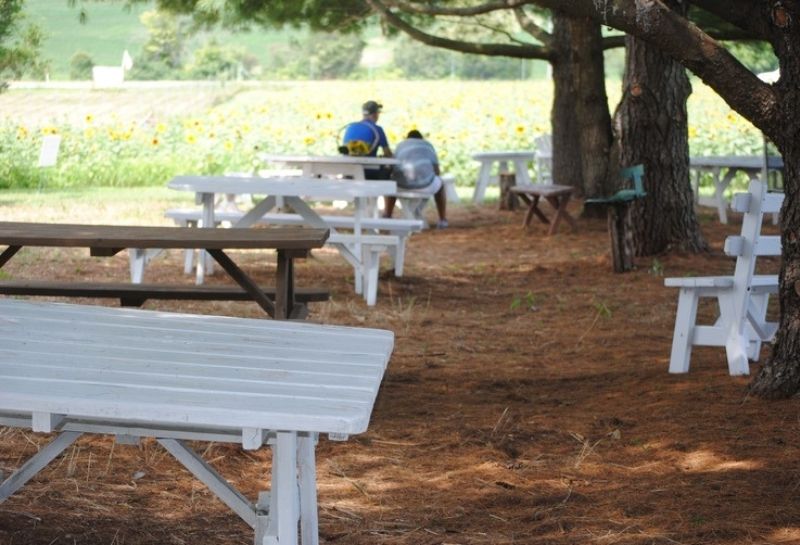 Tickets & Pricing
Tickets are $16 to $18 for anyone ages 6 and up. Kids 5 and under are free.
Tickets will be sold starting mid of July and you can buy them through this site.
How much does it cost to pick sunflowers?
Included with admission, adults can pick 5 stems and kids can pick 3.
Sunflowers are just $1.50 per stem and you can also cut several other flower types – Cosmos for .50 cents/stem and Gladiolus for $1/stem.
Seasonal passports
Burnside Farms also offers season passports which give you unlimited re-entry to both their festival of spring and summer of sunflowers. Passports often sell out as their spring season approaches so make sure to check ahead of time!
Hours & When to Go
Summer of Sunflowers happens for 3 – 4 weeks (depending on the blooms) beginning July 15, 2023.
The farm is open from 6am to dusk and with your ticket purchase, you will be given a 2-hour arrival window. Once you arrive, you can stay as long as you wish (up until the farm closes of course).
Their sunflower sunsets events happen daily from 4pm to dark as well.
What to Bring
Camera for some amazing shots of endless sunflowers
Umbrella for shade
Close-toed shoes
Vase for the flowers you pick
Plenty of water to drink
Sunscreen as there is no shade (except for the picnic area)
Good to Know
We recommend wearing closed-toe shoes. The grounds are a field – therefore, it can be grassy, rocky, wet and muddy depending on when you go.
Well behaved and leashed dogs are allowed during their summer season.
Be sure to bring plenty of water and sunscreen.
There are port-o-potties on site.
If you are allergic to bees, please do note, they are all over. They don't bother you, they're just doing their job. But it is something to be aware of if you have an allergy.
Wear light colored, loose fitting clothing
Getting There
Burnside Farms is located at: 11008 Kettle Run Rd, Nokesville, VA 20181
From Northern Virginia it was a fairly easy 35-40 minute drive on a weekday morning.
Once you arrive, you'll park in a rocky/grassy lot. Head to the entrance where you'll get some instructions on the fields and how to cut and then pay for your entry.
Your Visit to Burnside Farms Summer of Sunflowers
Summertime is a special season at Burnside Farms. The farm comes to life with vibrant colors as the sunflowers reach towards the sky. The sweet aroma of the sunflowers fills the air and visitors can't help but stop to take in the beauty.
The rows of sunflowers are a sight to see and make for great photos. The flowers are in bloom from late July until early September, so there's plenty of time to visit. Be sure to bring your camera!
Come on out and enjoy the summer sunshine and some beautiful blooms!
Add the Summer of Sunflowers to your summer bucket list! Peak bloom is expected for mid to late August and picking should last through the first week of September. You can always check their website or Facebook page for the latest updates.