While you can visit all year long, Spring and Fall are particularly beautiful times to visit Cabin John Regional Park. Well, if you're purely there for nature that is. The mature trees stand tall over the park allowing cool shade.
Cabin John Regional Park is such a popular family park and for good reason! There is so much to do there that once you've been, you'll definitely go again.
Here I'll share everything there is to do so you can plan a super fun day!
Covered Here:
What to See & Do
Nature Center
Hiking Trails
Picnic Area
Miniature Train
Playground
Other Amenities
Hours & When to Go
Getting There
Things to Do Nearby
What to See & Do
Cabin John Regional Park offers everything you want in an outing rolled into one.
From playgrounds and a train, ice skating and ball fields, to a nature center and hiking trails, the over 525 acres are designed to please event the pickiest family member.
Depending on where you want to spend your time, there are two entrances; one on Tuckerman Lane where the playground is and one on Westlake Drive for the train station.
Nature Center
Start your visit at the Locust Grove Nature Center located on Democracy Boulevard. To enter the Center you have to cross a bridge that is wonderful for young walkers and lends a sense of enchantment to your visit.
I was a little disappointed to see that the only live animals here were two snakes. Youngsters will enjoy the book nook, tree blocks, drawing with crayons and nature fact cards.
RELATED: 124 Things to Do With Kids in Maryland
There are also fossil prints and skeletons of animals to touch, stuffed animals and a neat indoor oak tree exhibit.
A door leads out back to an observation deck filled with tables for sitting, steps which leads to the Betsy Dotson Memorial Garden and a frog pond surrounded by bird houses.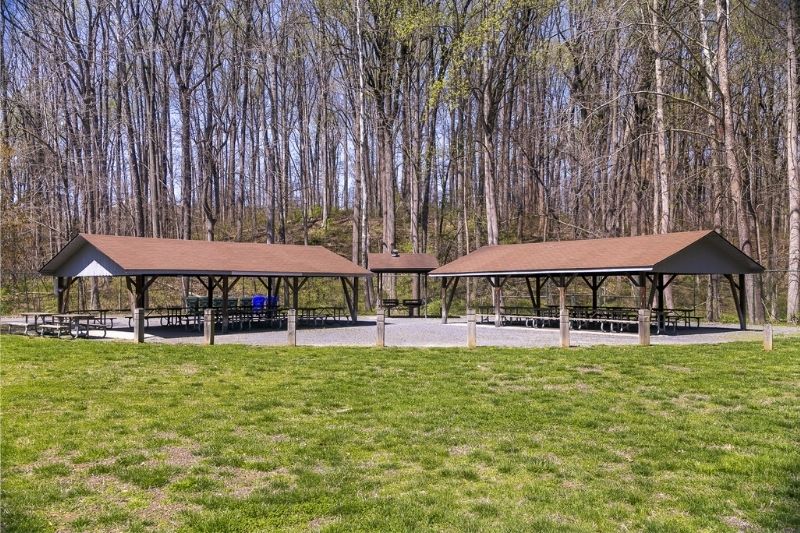 You get the feeling you are in a tree house. There are clean restrooms which have changing stations in both facilities along with a water fountain.
The real beauty of Locust Grove is outside. Here lies a wonderful nature playground.
Hands-on activities include a babbling brook, sand area, tree stumps for jumping, wood carved animals to climb on and short trails with picnic tables. A permit is required for use of the fire pit.
The area can be reached via wooden steps and mulch surfaces. The nature center is not accessible. I would not recommend the outside area for toddlers.
Hiking Trails
There are five hiking trails ranging from .2 miles to 1.9 miles, some of which run along Cabin John Creek. However, none of the trails are stroller or accessible. Nearby is The Pauline Betz Addie Indoor Tennis Center.
Picnic Areas
There are numerous picnic areas for rental. All are covered shelters with grills. In the center is a water fountain and small swing set.
Restrooms are clean, but have no changing facilities.
Miniature Train
Always a big hit with family members is the miniature train at Cabin John Regional Park.
A replica of an 1863 C.P. Huntington, the train takes visitors on a 10 minute, two mile ride through the park.
The train runs every half hour from 10am to 6:00pm weather permitting from April to October on Saturdays and Sundays.
The cost is $3.50 for ages 2 and up, free for 2 and under.
The depot also has a separate party room available for rental.
A big kick for kids is the Hippo head water fountain and Porky, the talking pig, who eats your trash. The station is also a short walk from the playground.
Train tickets cost $3.50 and kids under 2 ride for free with a paying adult. Keep an eye out in the Spring for the Eye Spy Train event. Tickets for the ride are $5.
Playground
Action Playland is a huge playground with a mulch surface. It's most suited for kids ages 2 to 8 year.
It's a nice playground with:
Lots of climbing structures
10 slides
Mazes
Swings
Play houses
The playground can get pretty crowded, especially on the weekends (and as the playground is not fenced), it can make it somewhat difficult to keep check on little ones.
Toddlers will enjoy the Play Express train equipment complete with musical drums and blocks for climbing on.
The primary color trio slide scared my preschooler because it is so fast. However, there was plenty of other equipment for her to enjoy.
While there is a dog park, I saw dogs on a leash on the playground but of course different people on a different day and the experience can be different.
Within the playground, there is a gazebo and small covered picnic area.
There are single stall bathrooms available at the playground as well, however, there are no no changing facilities.
Other Amenities
Cabin John Regional Park also features an indoor ice rink, and lighted athletic fields, handball and volleyball courts and campgrounds.
It's a good place to escape the city for a day of old-fashioned fun.
You can also get your zen on in the Tai Chi Court. A simple flagstone circle reflecting the yin/yang symbol.
While it's located close to the picnic areas, it's very quiet and serene.
They also feature a Dog Park for our furry friends
Hours & When to Go
Cabin John Regional Park is open from sunrise to sunset all year long.
There are some lighted courts and those are open until 11pm.
Getting There
Cabin John Regional Park is located in Bethesda, MD at 7400 Tuckerman Ln.
Things to Do Nearby