Cherry Hill Orchards is the largest farm and farm market with pick-your-own fruits available in Lancaster, PA.
They are is part outlet store and the other part orchard so you can pick-your-own fruit or just stop by their market for a variety of fresh produce and baked goods.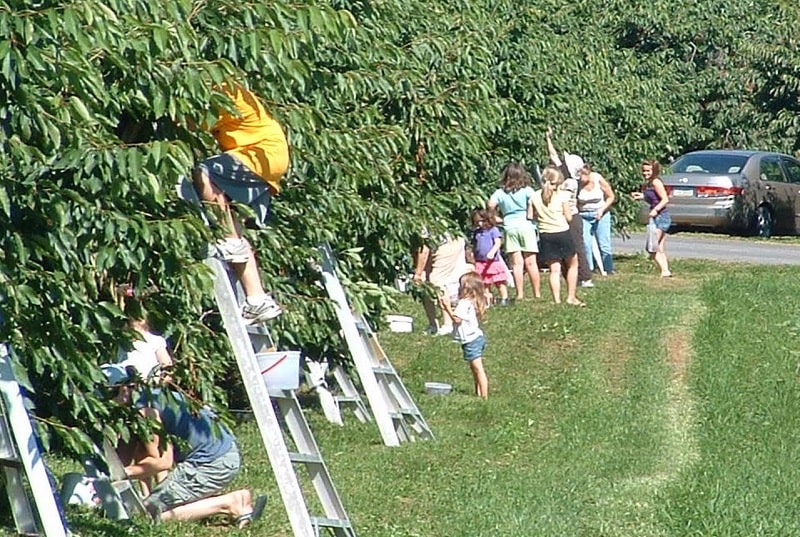 Besides just the fruit, you're also able to pick your own pumpkins and sunflowers in the fall.
While fall means apple picking to us, at Cherry Hill Orchards you can pick apples for 9 months out of the year which means we usually stop here a few times a year.
If you come during other seasons, other pick-your-own options include cherries, nectarines, peaches, and blackberries.
Pick You Own Fruits
Cherry Hill Orchards has 3 different seasons for picking your own fruit. When the fruit ripens and is ready for picking is, of course, dependent on the weather. So as the season gets closer, it's a good idea to watch their website and Facebook page for specific dates.
Did You Know? For over a decade Cherry Hill has been running of solar. They produce over 230,000 Kilowatt hours of power every year.
After signing a liability waiver and getting our choice or bags or boxes we proceeded to our apple trees of choice, which were Fuji. When we visited, they were picking Stayman Winesap, Jonagold, Fuji, York, Rome, and Cameo.
The 4 fruit picking seasons are:
Apple Season
Peach Season
Cherry Season
Strawberry Season
Strawberries typically are ready between mid to end of May through mid-June.
Apple Season
The apple picking season typically is one of my favorite fall activities, however the apples actually start to ripen here in July. The season does continue through Mid-November so you can pick apples for several months during the year.
Normally when I've eaten Fuji apples, I have found them to be too hard. The texture of Cherry Hill Orchards Fujis were on par with my favorite, Gala.
They have a wide variety of apples that ripen throughout the different months including:
Gala
Fuji
Red Rubin
Crimson and Honey Crisps
Golden Delicious
Cameo
Granny Smith
Pink Lady
Peach Season
The peach season is long, spanning from Early July to Late September. Both yellow and white varieties are available. Just a few of the many types they grow are:
Sugar May
White Lady
Sugar Giant
Laurol
Encore
In early July, you can also stop by the market for freshly picked plums and apricots
Cherry Season
The orchardhas both sweet cherries and pie cherries available. The pie cherries typically ripen first in early June, while the sweet cherries are ready in mid-June.
The Farm Market Store
There are so many tempting goodies in the farm market. On our last visit we ended up with a jug of cider, harvest candy mix, and Pennsylvania brand savories: Zerbe's kettle chips and Hammonds pretzels.
There are baskets brimming with gorgeous pre-picked apples. With nearly a dozen options like Jonamac, McIntosh, and Cortland, prices reflect the bushel, but you can also buy them per pound.
The outlet store has an amazing selection of:
Produce
Baked goodies
Jams
Pumpkins
Pre-picked apples
Pumpkins
Indian corn
Firewood
And even birdhouses
Apple treats include sauce, chips, pie, cake, dumplings, fritters, and cider.
They have the best apple cider donuts I have ever eaten!
There is even a complimentary cider station in which my daughter thought it was a free-for-all helping herself to three cups.
What's even funnier is she never liked cider before!
They even have apple cider slushies which are amazing!
Other Acitivites
In the fall, they have a hayrdie that will also take you to the orchard or you can come to pick your own pumpkin.
Tickets & Pricing
There is no admission fee to get in, you just need to pay for the fruit you pick. We found the prices for all the fruit very reasonable.
In the gift shop, you can get tickets for free cider donuts.
Hours & When to Go
The orchard is open Monday to Friday from 9am to 6pm and Saturday from 9am to 4pm. As fruit picking can close for various reasons including delayed season, too much picked and weather, it's a good idea to make sure the hours haven't changed before going.
The market is open year round from Monday through Saturday from 8am to 6pm.
Getting There & Parking
Cherry Hill Orchards is located just a few minutes south of Lancaster.