This place is so cool!, said all the kids AND adults in our group!
Before the construction of the Bay Bridge, Chesapeake Beach on the western shore of the bay was a busy summer retreat for Washingtonians.
Today, this getaway still provides a great place to cool off and feel the breeze off of the bay at the Chesapeake Beach Water Park.
The water park's location just across the street from the Chesapeake Bay distinguishes it from other local water parks.
If you haven't been before, get ready, here you'll see what you've been missing and be able to plan for a fully day of fun for the whole family!
What to Do
Owned and operated by the citizens of the town since 1995 this water park is fun for families and best for kids aged 10 and under.
The park is compact and offers fun for older and younger kids alike. For our family, the highlight was the lazy river complete with bridges, a cave and a few waterfalls along the way.
You can ride in single or double tubes or even swim along with the current. We even saw younger kids riding the river in their own tubes brought from home.
Also good for the younger set is Buccaneer's Bay. The bay is a large shallow pool with a depth range of 2 to 3 feet that has 4 small water slides in fun shapes like frogs, shells and pirate ships as well as a few floating creatures to climb on and off of.
This pool is also home to two side by side "medium" slides for more daring kids.
The slides are straight and a little longer than you would find in a typical playground.
Rounding out the water features here are:
2 larger water slides for kids and adults 48 inches and above
3.5 foot wading pool
Shallow depth pool with an umbrella fountain
Kiddie pool
They also have restroom/showers/changing rooms with diaper changing stations and lockers, a small shop selling sunscreen, sunglasses and towels in case you forgot anything, a first aid station and a few shaded "cabanas".
The Beach
For those seeking more than a day at the water park you can easily combine a visit here with at trip to the boardwalk and sandy beach of the adjoining community of North Beach.
Cabanas
They have different sizes of cabanas from 10 by 10 tents to a 50 by 25 king size that can be reserved ahead of time starting from $69.
Plenty of non-shaded chairs are scattered around the perimeter of the pool if you just need a place to lay your belongings. Two shaded pavilions are located near the grill for lunch patrons to eat out of the hot sun.
They also offer rentals of pavillions for bigger groups of 60 people and more.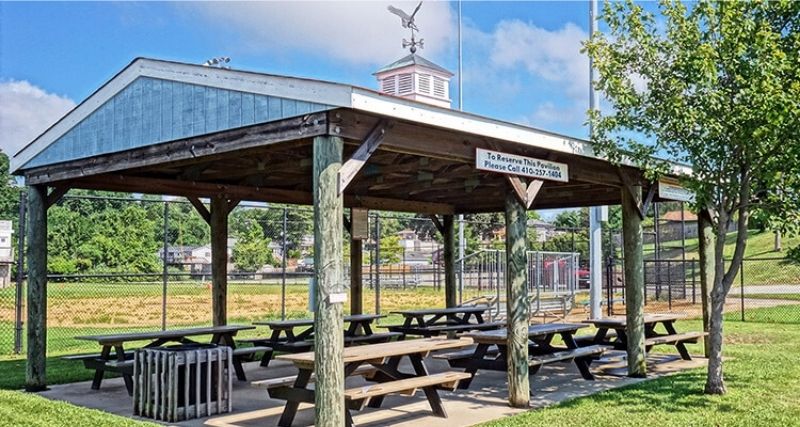 Fun Events
Chesapeake Beach Water Park also holds some fun events that are worth keeping an eye out for.
On certain scheduled days, the park hosts Character Days. They have brought in different characters such as:
Disney princesses
Superman
Spongebob
Star Wars characters
Wizard of Oz characters
and more
Kids can meet them and get their picture taken with them.
Friday Night Slides are well…just as they sound! On scheduled Friday nights, you can visit the water park at night to enjoy the water at night time.
Tickets & Pricing
General Admissions
The price is different depending on if you are a Calvert Resident or not. Regardless of where you live, kids 2 years old and under are free.
Calvert County Residents
48″ or taller: $25
Under 48″: $20
Chesapeake Beach Resident
48″ or taller: $12
Under 48″: $10
Thursday – Friday
48″ or taller: $39
Under 48″: $36
Saturday – Sunday
48″ or taller: $49
Under 48″: $45
Season Passes
The park offers season passes for Chesapeak Beach Residents and Calvert County Residents which gives them these benefits:
No reservations needed
20% off All Food and Store Purchases
No Lines at the Park
No Additional Charge for Night Swim or Night Slides and Character Days
Unlimited Visits While In Season
Children '2 and Under' always FREE!
Calvert County Residents: $115
Chesapeak Beach Residents: $75
Discounts
As of writing this, there are no discounts currently available, however, it's always a good idea to check these 2 sources before you go:
Groupon (click for previous deal)
CertifiKid (click for previous deal)
Park Map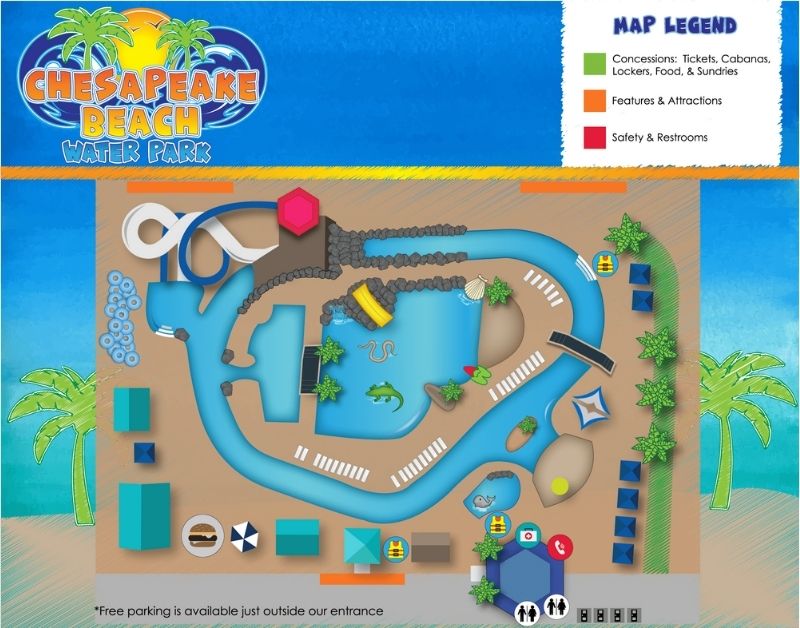 Hours & When to Go
It's important to note that Tuesdays and Wednesdays are for Calvert Residents only. So if you are not a Calvert resident, plan to go on another day.
Sunday: 11:00 am – 6:00 pm
Tuesday: 11:00 am – 5:30 pm
Wednesday: 11:00 am – 5:30 pm
Thursday: 11:00 am – 5:30 pm
Friday: 11:00 am – 6:00 pm
Saturday: 11:00 am – 7:00 pm
Closed on Mondays
What to Eat at the Park
No outside food or drink (except water) is allowed in the water park.
The staff was kind enough to keep our cooler bag that we brought up front in a shady area so that we did not have to store our contraband food in the hot car.
Covered picnic tables are available in the parking lot across the street from the water park if you would like to pack a lunch.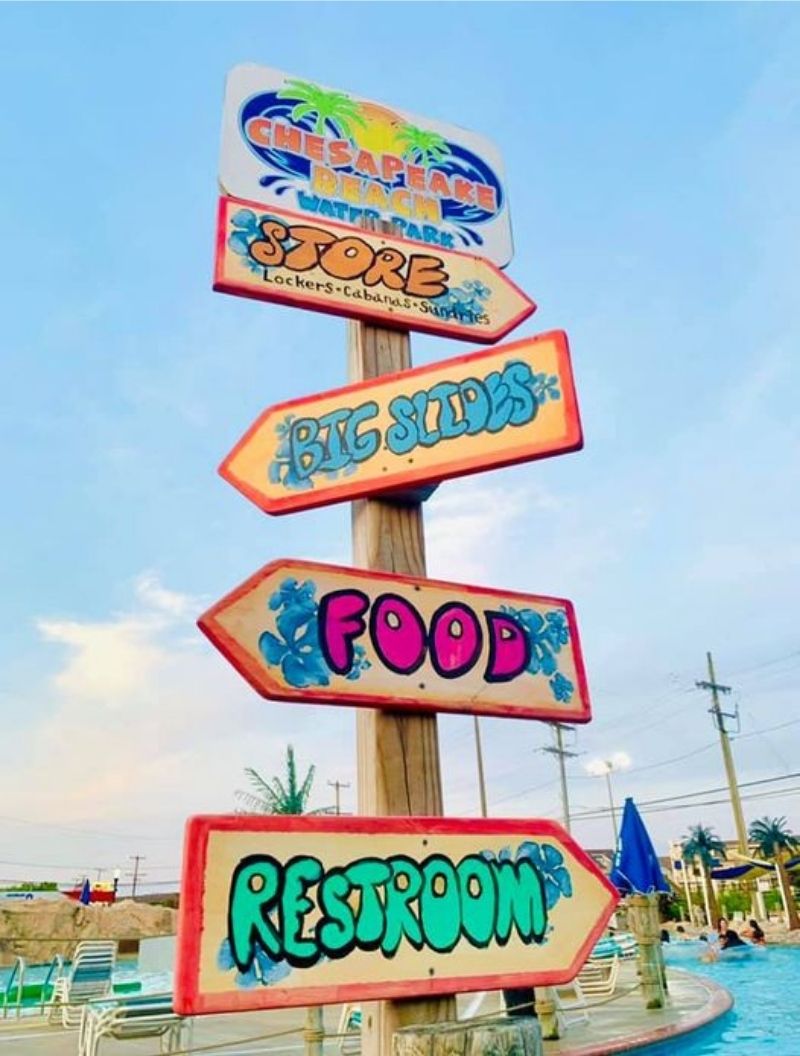 On site however is the Beach Comber Grill serving hot dogs, hamburgers, teriyaki chicken and ahi tuna as well as the usual "theme park food" like fries, nachos and pizza. Credit cards are accepted here for purchases.
Other than their regular menu, they also have a few choices of refreshing ice creams you can enjoy from their dessert menu.

Good to Know
In order to allow for social distancing, chairs are only for guests 48″ or taller. Guests are always welcome to bring their own personal small folding chairs.
Lockers are available for rent for $3 plus a $2 deposit. When the locker key is returned at the end of your visit, the $2 deposit will be refunded.
Life jackets are provided at no cost for non-swimmers.
Bring waterproof shoes. The ground surrounding the pool can be really hot mid day and you will want something to protect your feet on trips to and from the bathrooms.
Outside food and drinks are not allowed
The restaurant inside accept credit cards
Tuesdays and Wednesdays are for Calvert County Residents Only
Even on the hottest day of the year the temperature here was 8 degrees cooler than the district and a steady breeze came in off of the bay.

Getting There & Parking
Chesapeake Beach Water Park is a little over an hour away from the DC metro area. Find driving directions online.
Free parking is available just outside the entrance.
Things to Do Nearby
Chesapeake Beach feels like a step back in time, visit this historic community to take in the water park and feel the breeze off of the bay!