As the mom of a kid who is constantly asking how things work, I was thrilled for the opening of the Children's Science Center Lab at Fair Oaks Mall. The Children's Science Center is Northern Virginia's first interactive museum where children can explore science, technology, engineering, and mathematics (STEM) concepts through fun, engaging hands­on exhibits, activities, and programs.
All you should know about the Lab
The Lab is divided into four areas: Experiment Bar, Inspiration Hub, Tinker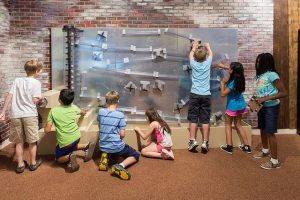 Shop, and Discovery Zone. Each area has hands-­on science activities to explore. We started our morning at the Experiment Bar. There is a menu of three experiments to "order". The choices currently are Magnetic Slime, Bubble­ology, & Floating Rainbow. We chose the Floating Rainbow experiment, and a tray of supplies was delivered to us, along with instructions to complete the experiment on a small tablet in front of us. While there was a staff member there to help us, we were on our own to complete the experiment. My daughter really liked creating a floating rainbow (and some learning about density along the way).
What's in store for the kids
It was fairly quiet when we were at the bar, so we were invited to order a second experiment – we liked Bubble­ology even more than the rainbow. While we didn't try it, the Magnetic Slime looked awesome. The staff told me that a new experiment will be introduced each month (and one current experiment will be rotated out).
Next we checked out the Tinker Shop. A staff member explained to us that there were two activities out that day – building robots that draw on their own and building hover crafts to fly in the wind tube. My daughter happily filled a bowl with supplies and set to building what she thought would be the perfect craft. That is, until she put it in the wind tube and realized that hers wouldn't fly. I really liked how she had to modify and test her design until it worked. The wind tube was a huge hit with all of the kids in the Tinker Shop – the room was full of the happy shrieks of kids watching their creations fly. I also spotted a number of dads who were enjoying building a hover craft just as much (if not more) than their kids. The activities in the Tinker Shop also will switch out on a regular basis.
Adjacent to the Tinker Shop is the Discovery Zone. This room is designed for visitors 5 and under, but it features the giant blue building blocks that seem to be the staples of STEM centers and children's museums. My daughter spotted them and happily worked for over 30 minutes with other kids to build a giant castle. Another mom said that they were the same blocks that had been featured at the Building Museum, and every parent seemed to have trouble pulling their kids of all ages away from them. The Discovery Zone also had a table with light experiments and a wall of activities for younger visitors. We saw several families enjoying the space and activities about shells.
The final area we visited was the Inspiration Hub. My daughter really liked the Chain Reaction wall – a wall where you had to work together to configure the tubes and ramps so that the balls would roll down them (like a roller coaster). We also liked playing with the gears table. There was also an exhibit about wind power where you could make and test different fan designs to see which would work the best.
There was an additional space called The Garage which is the space for parties and group visits. Because there were no special groups using the space while we were there, it was open for additional play and full of KEVA planks to build with.
Family Fun at the Children's Science Center
Our family really enjoyed our morning at the
Children's Science Center Lab. We spent two hours exploring and considered coming back after lunch (you can leave and come back the same day). I also liked that we got to do some messy science without having to clean up ourselves. The one complaint we had might actually be a positive for some families. The vast majority of the activities are self ­directed.
There were staff members to explain what to do in the Tinker Shop and to give you the supplies and directions at the Experiment Bar, but we were left to explore on our own. We felt that if we were going to do the experiments on our own, we could have just done them at home – it would have been nice if they were more staff led. Of course, a lot of people would prefer the center to run the way it is – I can see where families might like to be able to do all the activities and experiments on their own without having to worry about setting anything up or shopping for supplies.
Pricing and Admissions
It's also a little pricey – $12 for ages 2 and up; which to me is reasonable for kids, but a lower rate for parents (especially a second parent who is just watching) would be nice. Overall, though, we enjoyed our time at the Lab. I can see us coming back when the experiments have switched out so the experience will be different. I also felt like this was a really nice alternative to bouncy places or arcades for an indoor activity.
Before You Go
The Children's Science Center Lab is located in Fair Oaks Mall in Fairfax (at the entrance between Sears and Lord & Taylor).
The Lab is open 7 days a week from 10 a.m. to 6 p.m. On select Friday and Saturday nights there are extended hours until 8 p.m.
Admission is $12 per person for ages 2 and up (under 2 are free). There are yearly memberships available which include admission, discounts on classes and parties, and access to special events. If you are planning on visiting more than two or three times a year, a membership quickly pays for itself.
Bathrooms with changing tables and step stools are available in the center, as well as just outside in the mall. It would be hard to navigate a stroller through the space, but stroller parking is available inside.
No food or drink is allowed in the center. There are plenty of kid-­friendly dining options in Fair Oaks Mall and you are allowed to leave for lunch and come back.
Photos by Children's Science Center Lab website