There have been enough nice days in the last month to go outside but you still dream of the flip flops, sun block and the local pool kind of days. The reality is that pool season is not here jut yet…or is it?
On a day when the weather wasn't so nice outside, we decided to head to the Claude Moore Rec Center and its indoor leisure pool.
Their indoor pool boasts a huge water slide, vortex, current channel and an area for little ones.
Claude Moore Pool: What to Expect
Upon arrival, we paid at the front desk and headed for the locker rooms to change.
There are benches surrounding the pool area as well as bleacher seating.
The first thing I noticed after setting my backpack and towels on the bench was how nice and warm it felt. Air temperature has been a bit of an issue at the other rec center pools we have visited in the past, so I was pleasantly surprised.
The ridiculously high ceilings also made it feel bright and summery despite the gray skies and pouring rain outside.
My 3-year old quickly headed for the brightly colored play structure in the shallow kid's area while my 7-year old headed for the ceiling high water slide.
Water Breaks
Ten minutes after we entered the water the lifeguards blew their whistles for a fifteen minute break. Many people took the opportunity to pack up their things and head out for lunch, but we just waited on the benches until the lifeguards blew their whistles once again.
Unlike at summer pools, there is only a break every two hours.
The Big Slides
Once we were able to get back in, I left my little one in the care of my husband and headed for the big slide with my 7-year-old reviewer.
We climbed dozens of stairs to reach the top of the slide where a lifeguard lets you know when it is your turn to go.
There were never more than a few kids in line at the top.
When it was my turn, I pushed myself off and quickly realized why my husband had warned me to keep my mouth closed. Water spurts at you at times and hits you directly in the face.
The slide is totally enclosed, which makes it dark and it is also lightning fast.
At the end you burst out straight down into the water.
This slide is definitely not for timid children or weak swimmers. I have to admit it was fun though!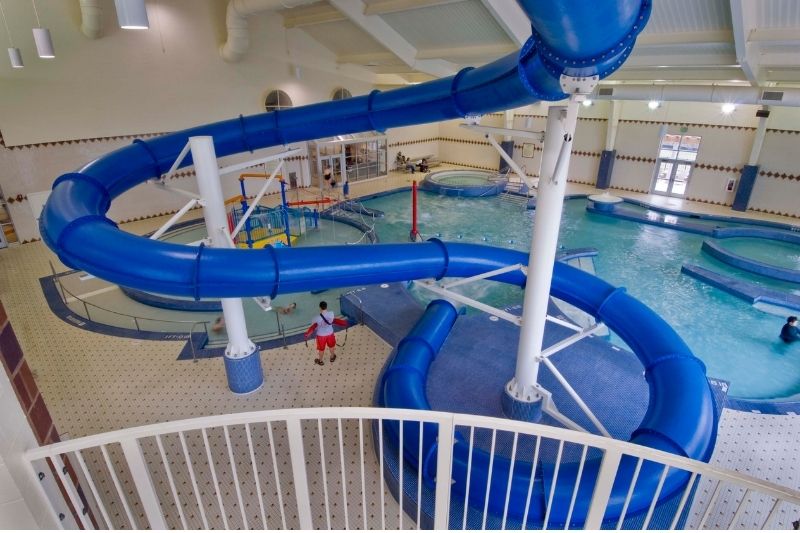 After the water slide, my son and I checked out the current channel and vortex.
The current channel is similar to a lazy river, but without the rafts and the vortex is a small circular area with water spinning fairly rapidly.
Both areas were fun, but the older children at the rec center that day kept heading back to the vortex. After exploring the pool's many features, I headed back to the shallow area to relieve my husband of my smaller reviewer.
Not that it was a hard job. He was having a blast climbing up the play structure while trying to walk through the waterfall of water pouring down. Next, he slid down the slide back into the pool.
And the pattern repeated over and over again!
After about an hour and a half of wonderful water fun, we decided to head out and grab a late lunch.
The rock wall is included in the price of admission, but unfortunately my son was wearing Crocs instead of sneakers and was not able to climb. He was happy enough after the pool experience to save the rock wall for another day.
Lockers
The rec center recommends bringing a lock or purchasing one for $5 so that there is no chance of having your valuables stolen.
Since I neglected to bring a lock, I brought a backpack into the pool area with me and set it on a bench near where we were swimming.
Tickets & Pricing
To enjoy the Claude Moore pool for the day, the prices are as follows:
Child (Ages 2 & under) Free
Youth (Ages 3 – 17) $4.00
Adult (Ages 18 – 54) $6.00
Seniors (Ages 55 & up) $4.00
Family (Up to 5 people, 2 adults max) $16.00
Alternatively, you can purchase an admission pass which gives you 25 admissions with no expiration date. The cost for those are:
Youth (Ages 3 – 17) $88.00
Adult (Ages 18 – 54) $132.00
Seniors (Ages 55 & up) $88.00
Hours & When to Go
Leisure Pool Hours
Monday-Friday: 9:00 a.m. – 8:45 p.m.*
Saturday-Sunday: 11:00 a.m. – 7:45 p.m.

Slide & Feature Hours
Monday-Friday: 5:00 p.m. – 8:45 p.m.
Saturday-Sunday: 11:00 a.m. -7:45 p.m.

*When Loudoun County Public Schools have a scheduled day off, the leisure pool features follow weekend hours.
Slide hours are subject to change. It's best to call ahead for current hours.
Competition Pool Hours
Monday-Friday, 5:00 a.m.- 9:15 p.m.
Saturday-Sunday, 8:00 a.m.- 7:45 p.m.
What to Bring
Bring a lock or purchase from the reception to avoid your valuables of being stolen
You can bring your sneakers if you want to try their rock wall climbing feature
Good to Know Before You Go
Admission includes use of all rec center facilities.
Children under 12 years old should be accompanied by a paying adult.
Children between the ages of 5 and 12 may have no more than one chaperone (a non-participating adult) per child
You must be 48″ tall to ride the big blue water slide.
Life vests are available in the lifeguard office. Any child wearing a vest must have an adult within arm's reach.
A birthday party package is available. It includes 2 hours of play time using any combination of pool, basketball, rock wall and game room plus 90 minutes in the party room with food, drink and paper goods included for $265.
You must be six years old to climb the rock wall and wearing sneakers.
Getting There
Claude Moore Recreation Center is located at 46105 Loudoun Park Ln Sterling, VA 20164.
Their phone number is 571-258-3600.
Things to Do Nearby
We changed in the locker rooms and went to leave, but on our way out passed the massive rock wall with three children hooked into safety gear about midway up the wall.
The leisure pool at Claude Moore Recreation Center was fantastic and the warm air and water temperatures allowed us to stay much longer than at other rec center pools.
My team of reviewers and I highly recommend it.