Considering Dave & Buster's is not only an arcade but also a sports bar, it's easy to wonder is Dave & Buster's for kids?
To answer this question we packed up the kids and meet our friends with kids all ranging from 2 to 10 to find out.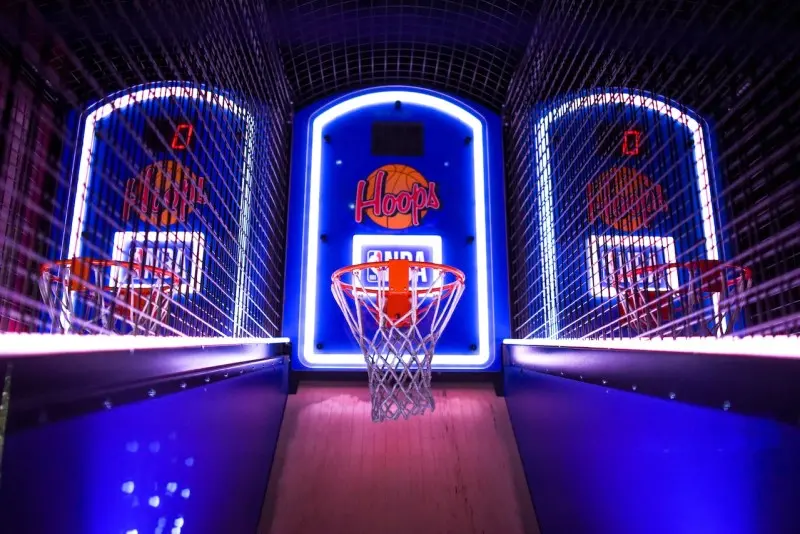 Is Dave & Busters for Kids?
Dave & Busters may be best known as a sports bar with a game room but it turns out, it's also a kid-friendly destination.
What to do at Dave and Busters with Kids
Dave and Busters does have little kid games so there is a lot to do for kids to literally keep them entertained for hours (or until your budget runs out!).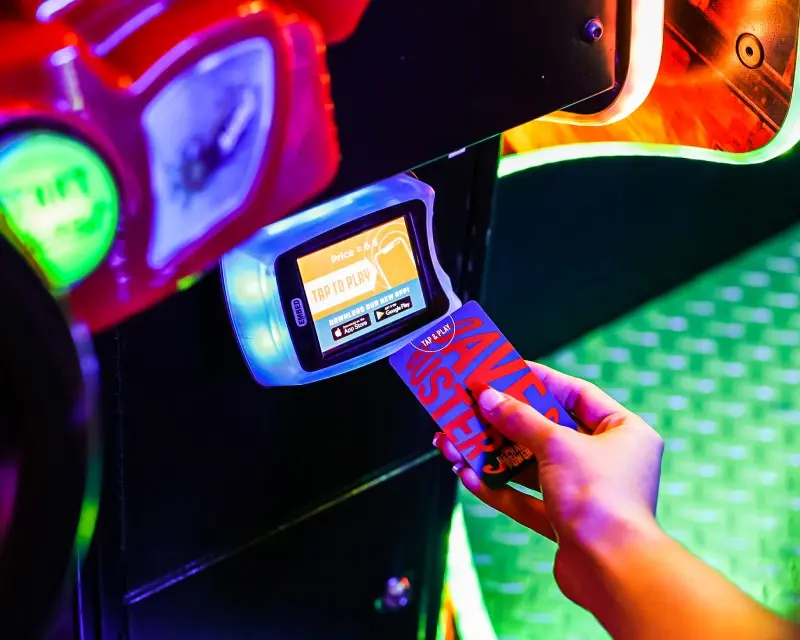 There are games galore for all ages, including:
Driving games
Skee ball
Soccer & basketball games (with real balls)
Carnival-type games
Dancing games
And some video games.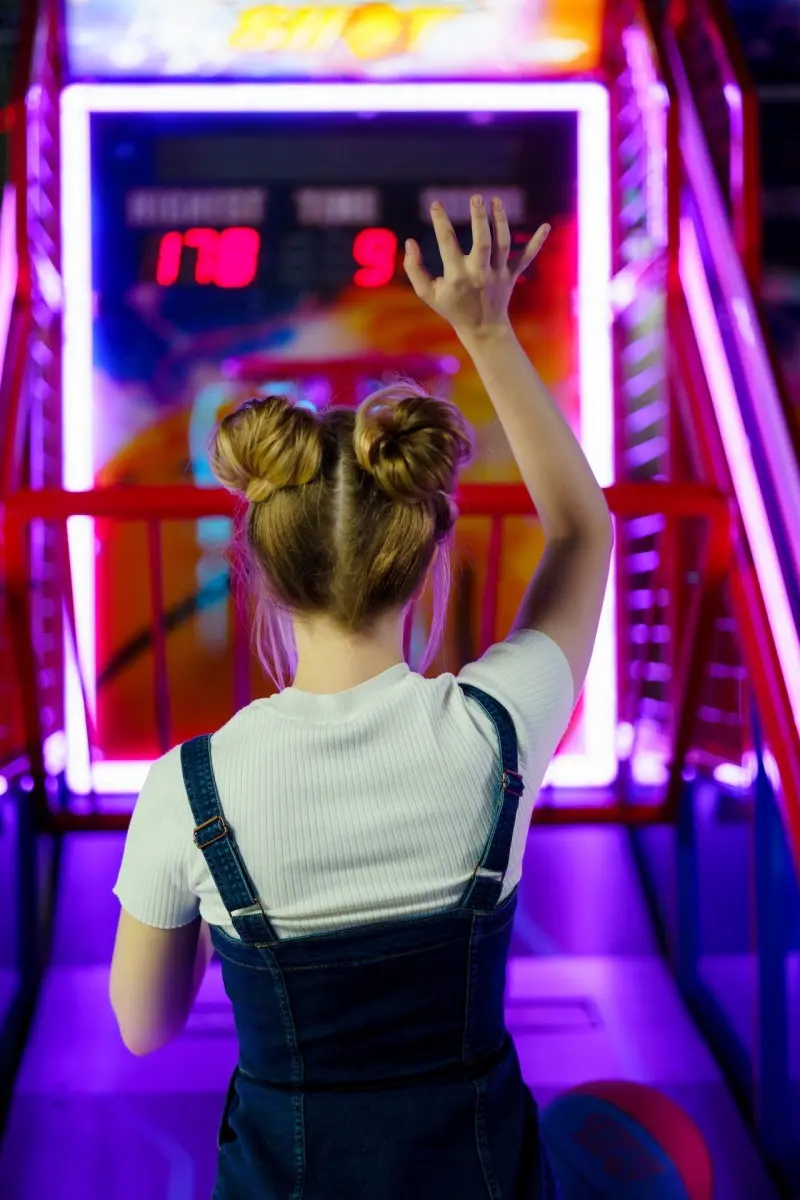 Dave and Buster's is huge, so on your first visit you may need to ask to be directed to the game room. You should also be prepared for a very noisy game room.
Game Cards
To play the arcade games, you will need a card.
At the suggestion of the staff, I got one card for my family to share.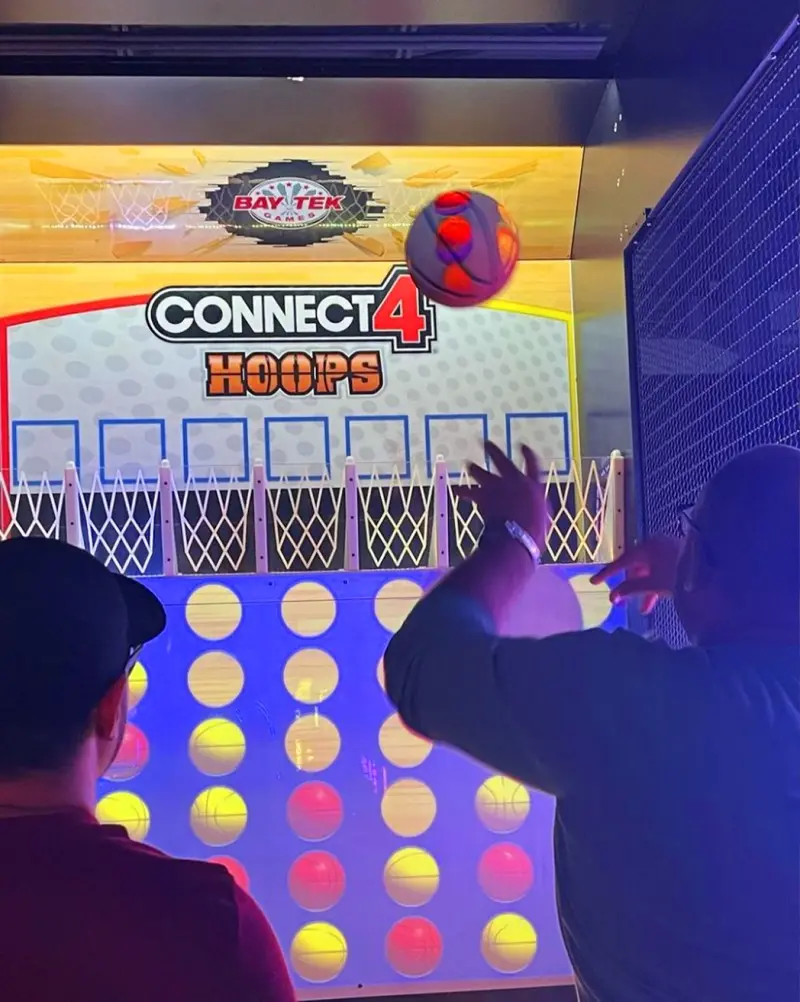 This was very helpful in making sure the kids stayed together and one didn't wander off alone in search of a better game. 
READ NEXT: Is Topgolf Kid Friendly? Here's What Kids Can Do at Top Golf
In order to not break the bank I set a budget of $20.00 for games, put it on a card, and told the kids that when the card ran out we would be done playing.
The card lasted two kids (with an occasional skee ball game for me) about an hour and half of playtime. 
Games vary in price and it can be difficult to figure out how much each game costs because the games use a point system. 
Each time you swipe your card to play you get your balance, which is usually something archaic like 27.4 credits remaining.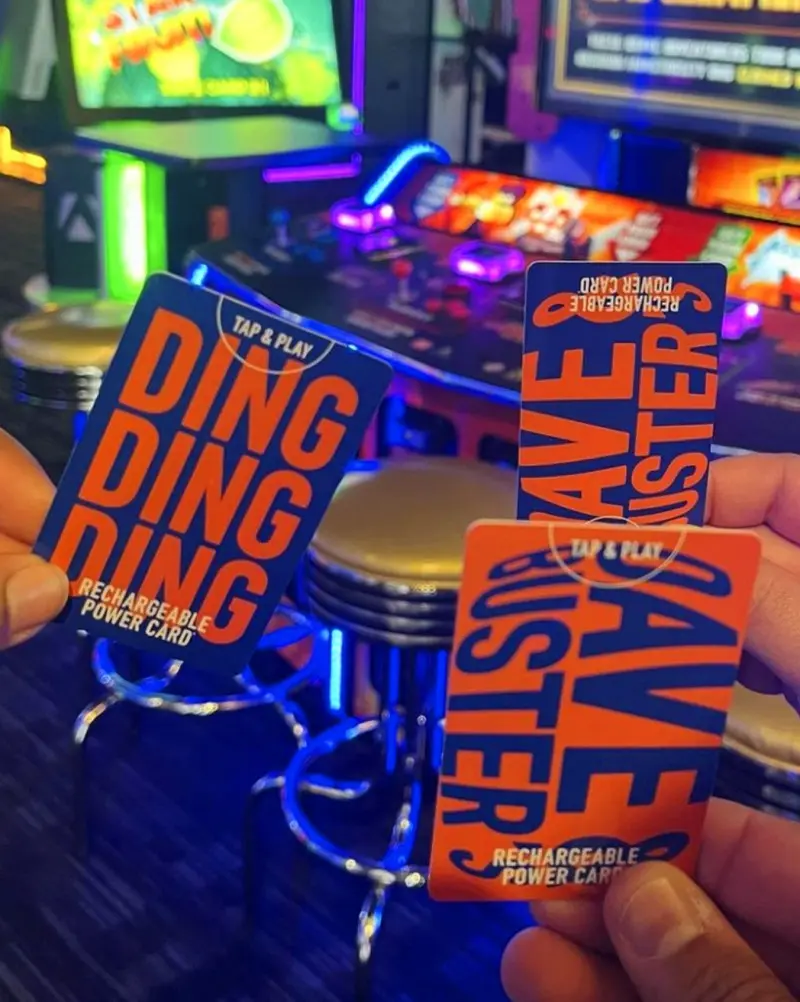 Game Prizes
Most games give tickets that can be used to get a small prize from the "gift shop" when you are done playing.
It take thousands of ticket to get the "big" prizes but many children can earn enough tickets for a small stuffed animal, some bracelets, spiders that walk down the wall, etc.
Redeeming tickets is a two-step process:
You first need to have your tickets weighed and have the ticket value placed on your card.

You choose your prize and pay with your card.
READ NEXT: How much does Chuck E Cheese cost (+ 9 Ways to Save)
If you plan on being a frequent visitor you can save the value of your tickets and add to it from one visit to the next.
Rewards & Discounts
Before going, I looked around on Groupon and elsewhere online for some deals but didn't see anything.
Dave & Busters does however, have a rewards program. Essentially, the more games you play, the more rewards you can unlock.
They also give you 1 bonus game chip for each $1 spent on food and drink up to $50 per day.
FREE KID FUN: Free Bowling for Kids: 2023 Free Summer Bowling
Another great deal is that (at least for the foreseeable future) games are ½ price on Wednesdays from open to close. So whenever you swipe your card on a game, it automatically uses 50% less points.
Restaurant and Bar with Kids
You can go to Dave & Buster's just to play games but there is a full restaurant and bar as well.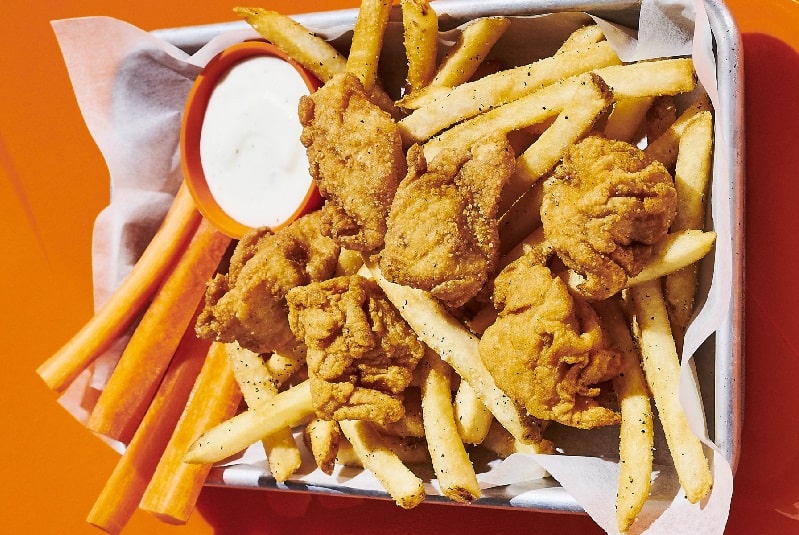 If you do want to have lunch or dinner you have the option of eating in the somewhat quieter restaurant or eating at one of the many tables, booths, or bar in the game room.
Eating in the game room seemed like a better choice with kids since it was noisy and we knew we would not disturb anyone. We were also able to play a couple of games near our table while we waited for our food, which kept the kids happy.
Menu items include:
Burgers
Wings
Chicken
Fish
Pasta
Steak
Salads
A kids' menu with most items priced in the $7.50 range includes burgers, mac n' cheese, chicken fingers, and pretzel dogs.
There are also some fun desserts available like their sugar churros and strawberry shortcake.
Dave and Buster's Kid Friendly Hours
When it comes to kid-friendly hours, there are the hours the Dave & Busters sets and the hours you may want to consider.
Dave and Busters Age Limit
Some Dave & Busters locations do have a strict curfew which requires everyone under the age of 21 to leave by 11pm on Friday and Saturday.
As you can probably expect, the weekends are much more crowded than the weekdays. When we visited on a weekday afternoon the game room was not very crowded and there was no wait for any of the games.
Good to Know Before You Go
Dave & Buster's is strict about ensuring that minors are always accompanied by an adult so purchasing only one card per family is way to ensure that older kids follow this rule as well.
Highchairs are available
The game room is stroller-friendly.
When we visited there were no changing tables.
Everyone had a great time and we saw plenty of older kids having a blast as well.
Even though Dave & Buster's may not be the first place that comes to mind when it comes to family entertainment, it's a great way for kids and parents to have fun at the same time. It would also make a good choice for a kid-free date night as well!
Frequently Asked Questions
Can kids go to Dave & Busters?
Kids can absolutely go to Dave & Busters and they will have a blast! There are lots of games for them to play and plenty of food options (including a kid's menu).
Most locations require anyone under the age of 21 to leave by 11pm on Fridays and Saturdays. We recommend leaving at least a few hours before that on the weekends when you have kids with you.
Is Dave and Busters for Toddlers?
We took a 2 and 4-year-old to Dave and Busters and they had fun right along with the older kids. There are some games they can ball (like skee ball of course!).
Does Dave and Busters have an age limit?
For the most part, Dave and Busters does not have an age limit. While policies can differ for each location, many locations require guests under the age of 21 to leave by 11pm on Fridays and Saturdays.