Nestled in the Allegheny Mountains of Central Pennsylvania, DelGrosso's Amusement Park has been providing fun for over 60 years.
The park first opened in 1946 and today is a modern family fun facility that includes more than 30 rides, an extensive water park, go-karts, and a miniature golf course.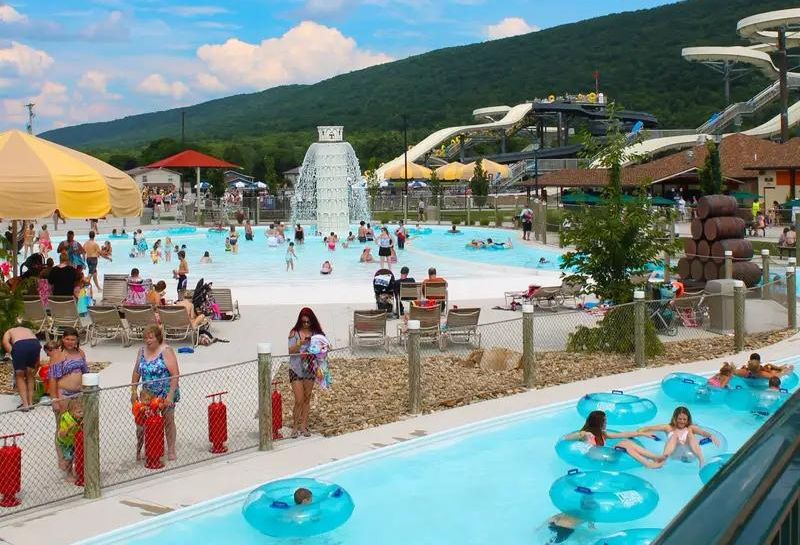 And, yes, this is the same DelGrosso family that makes DelGrosso's pasta sauce you can find in local grocery stores.
A Day of Family Fun at DelGrosso's Amusement Park
We took the entire family–2 adults and 5 children ranging in age from 3 months old to 7 years old–on a three-hour drive to check out this park.
Although we visited the weekend before the water park opened, there was no lack of visitors and most of the 16 picnic pavilions were reserved.
However, the only ride my children had to wait in line for any length of time was the Dizzy Dragons and it was just two turns before their ride.
We attended a day with no special events.
However, just about every weekend and some weekdays during the season there are special events from concerts to car shows to their Annual Italian Food and Heritage Festival.
And certain days have discounted or free ride tickets, including Father's and Mother's Day where there are free rides.
Our Experience
The park is large enough that you need a full day to enjoy it but not so big that you feel necessary to stay longer.
In addition to the amusement park, there is a water park included in the all-day fun pass but was not yet open for the season during our visit.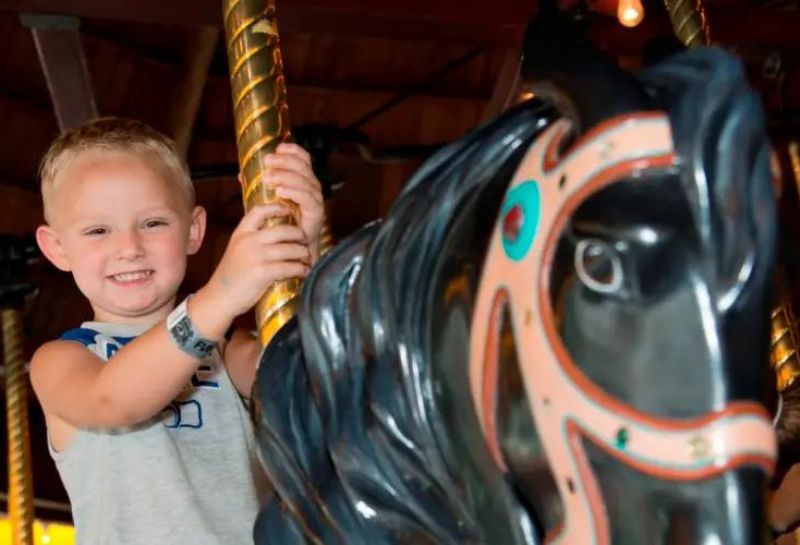 With 5 young children, we spent almost the entire time in the Kid's Kingdom, a partially shaded area with 9 rides geared towards children under 52 inches.
There are some benches scattered around Kid's Kingdom. Ride attendants checked to make sure the kids were buckled in properly.
Parents/caregivers were allowed to assist their young children on and off the rides as the ride attendants typically did not help the children board the rides.
Rides, Water Park and More…
The Boats and Corvette race car rides were popular among all of my children. My older two children loved their first experience on a roller coaster.
My two-year old screamed on the Turtles and Elephants, two rides that went around and slightly up and down.
Outside of Kid's Kingdom the rides were mostly for older children and adults.
However, there were a few rides that children at least 36 inches tall can enjoy including a grand carousel and a train.
Some of the park's popular rides include:
X-Scream Tower
Pharaoah's Fury
Swing Buggy
Super Spiral
Crazy Mouse
A complete listing of all rides and their height requirements can be found here.
The water park is a blast and it has a lot of features you'd come to expect with a water park like a lazy river, wave pool and interative water features. Plus, there are some other fun features like:
A replica of the Leaning Tower of Pisa
Tipping wine barrels
Twin twister slides
Frog slide
Great White (super tube slide)
Food Choices at DelGrosso's
DelGrosso's offered a variety of food choices such as fresh roasted beef, sausage, potato salad, baked beans and freshly made pizza.
It was not uncommon to see people taking pizza boxes home with them.

It's not often you can visit an amusement park where you can actually bring your own food. For those who wish to bring a picnic, there are several covered picnic tables in the Picnic Grove and on the edge of Kid's Kingdom.
Keep in mind, park food is only allowed in the water park.
Hours and When to Go
DelGrosso's is open seasonally starting with weekends in mid-May until the end of September.
The opening weekend of DelGrosso's Park is May 20th and 21st, 2023.
The operating schedule for each month is different, so it is best to confirm on their official website before planning the trip.
Admission, Tickets & Pricing
It is one of the most affordable parks as the parking as well as admission into the ride park is free.
The All-Day Fun Pass costs $24.95 for the month of May and September.
For the months of June, July and August, it is priced at $36.95.
Note: The all-day fun pass provides unlimited rides and use of the water park. And it should not be confused with the Seasons Pass.
All-Day Fun Passes are the same price for all guests from age 2 and up. Children under 2 months of age are admitted free to the water park, adult carousel and train when accompanied by an adult with proper admission.
You can also purchase individual ride tickets for $1 each.
Entrance into the water park is only available through the fun pass.
Online All-Day Fun Pass Vouchers can be purchased at a discounted rate from May thru August.
Good to Know Before You Go
Rides and water park open at 11 am. Water park closes at 6 pm and ride park closes at 7 pm.
Before your visit, make sure to view their "Closures" page to see any changes in operation.
Master Card, Visa and Park Gift Cards are accepted at all ticket plazas, gift shop locations and various concession stands.
ATM machines are located at the Water Slide Ticket Plaza and at Murf's Kitchen.
Smoking is allowed in the amusement park only in one of the outdoor designated areas.
Life jackets are provided at no charge to water park guests.
Anyone entering the gated water park must have an admission wristband.
At the back of Kid's Kingdom is an infant care center with diaper changing facilities and a private air-conditioned.
Diapers, baby food and other supplies are available at a nominal cost. No strollers are allowed in the Infant Care Center.
Getting There & Parking
DelGrosso's is about 2 1/2 hours from Lancaster.
Parking is free and located on the same side as the golf course, speedway and water park but across the street from the amusement park.
Visitors use an elevated pedestrian crosswalk to the amusement park. It takes about 5 minutes or so from the parking lot to reach the amusement park.
Handicapped parking is available on a first-come first-served basis on the park side and in the main water slide parking lot.
The park is located at: 4352 E. Pleasant Valley Blvd Tipton, PA 16684
Frequently Asked Questions
Q: How many rides are at DelGrosso's?
A: DelGrosso's Amusement Park has 30+ rides and attractions, and a detailed list can be found on their website.
Q: Is there a water park at DelGrosso's Amusement Park?
Yes, DelGrosso's Amusement Park features a water park called "Laguna Splash" which includes water slides, a lazy river, a wave pool, and more.
Admission to the water park is included with the purchase of an amusement park ticket when you purchase an All-Day Fun pass.
Q: Are there any discounts or promotions available for tickets to DelGrosso's Amusement Park?
Yes, discounts are available for group bookings as well as for veterans, visit their website for the latest details.
They also offer a Memorial Day Monday All-Day Fun Pass FREE for Veterans and Military Personnel.
Q: Can I bring my own food and drinks to DelGrosso's Amusement Park?
A: Yes, DelGrosso's Amusement Park allows guests to bring their own food and drinks. They also have picnic areas and pavilions for families and groups to enjoy their own meals. However, they also have a variety of food options available for purchase inside the park.