Founded in 1963 by the Clark family of Lancaster, Pennsylvania, Dutch Wonderland still retains a certain family feel that's different from any other theme park.
In 2023, the park celebrates its 60th Birthday, with new events and all-new rides.
It's a great first introduction to amusement parks, with its cheery medieval castle theme and an assortment of gentle rides geared towards younger kids.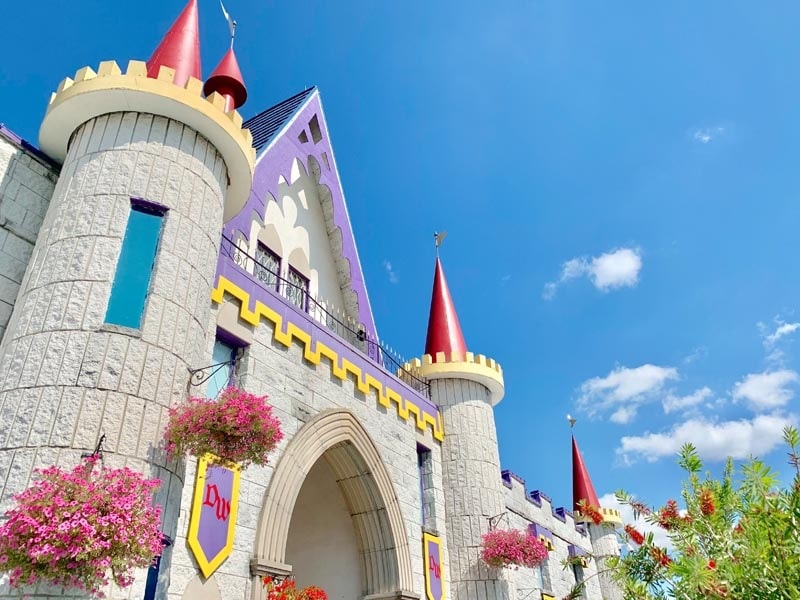 First Impression of the Park
As soon as we spied the white turrets of the castle entrance, my four-year-old started vibrating with excitement.
As parents, we were just glad parking didn't involve shuttles or walking great distances to reach the entrance.
MORE NEARBY FUN: 47+ Things to Do in Lancaster PA
At 48 acres and some 35 rides, Dutch Wonderland makes for a very manageable day out.
Pick up a map either before arriving at the park or as soon as you get pass the entry gate.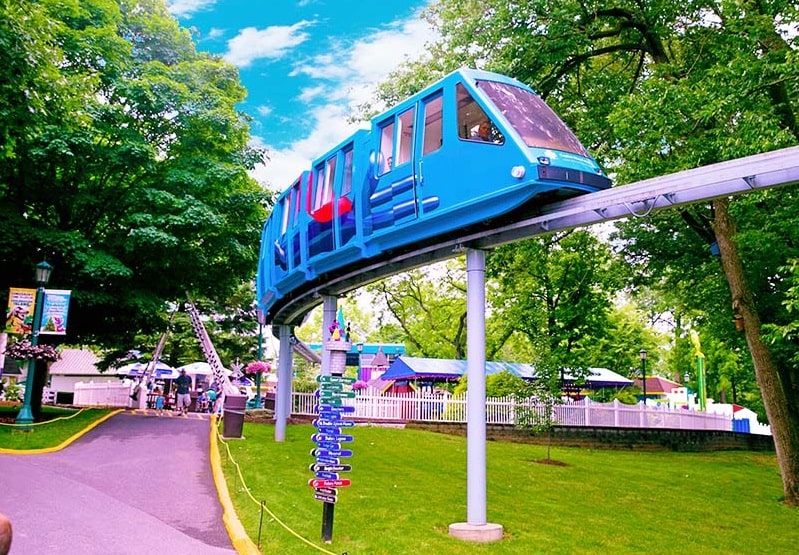 A miniature train, which does a loop through the park, is a good way to orient yourself; you can board at the station almost directly across from the entrance.
A monorail also circles the park and provides a treetop overview of a kingdom of bumper cars, carousels, and Italian ice stands.
Attractions at Delgrosso's
Duke's Lagoon
IIf you want to get right into the action, the water play area, called Duke's Lagoon, can be found to the left of the entrance gate.
The Lagoon, presided over by a friendly-looking dragon called Duke, has the usual water play features: buckets that dump water, slides, spray fountains. Even the bathrooms have kid-size toilets.
Cabanas
You might consider splurging on a cabana at the Lagoon. These roofed huts in a gated area come with a table, chairs, a refrigerator stocked with cold drinks, and the use of a locker.
They provide a shaded place to retreat to throughout the day whenever you need a breather from the crowds and heat.
I was there with a 10-month-old so our cabana was a discreet place for me to breastfeed him.
The cabanas also offer table service; we ordered a pizza and ate it without the hassle of standing in line or hunting for an empty table at one of the other park eateries.
A cabana may be worth the extra money to keep your sanity.
Aqua Stadium
Live shows at the park include a high-dive performance at the Aqua Stadium.
My four-year-old daughter and I happened to be on the Sky Ride, an aerial gondola that traverses the park, as it passed the stadium during the finale of a performance.
We had a prime bird's-eye view as the performers made their climactic synchronized high dives from a castle tower into a pool.
The Waterplay Platform
Dragon's Lair
My girl also particularly liked a water ride called the Dragon's Lair, which had her "driving" a boat around a pond, into a tunnel, and past a waterfall.
This ride had the longest wait we experienced that day, but the wait was speedy compared to most rides at, say, Disney World.
Joust Family Coaster
My daughter also rode her first roller coaster here, the Joust Family Coaster, which had mild hills and turns, enough to give her a thrill but still enjoy it.
Kingdom Coaster
Across from it, the "big-kid" Kingdom Coaster may be the park's scariest ride but its thrills seem pleasantly vintage in relation to other amusement parks' newest high-speed, high-flying coasters.
Other Attractions
I found some of Dutch Wonderland's main attractions to be in its old-fashioned attractions:
A red brick schoolhouse where little ones can pull on a rope to ring the rooftop bell
Story time led by a non-Disneyfied princess
A lazy-river boat ride that passes a field occupied by a herd of real cows.
Unlike at most could-be-anywhere theme parks, you definitely get a sense that you are in Pennsylvania Dutch country.
Where to Eat
Merlin's Restaurant, a full-service, sit-down restaurant inside the castle, is a good option. They serve kid-friendly food including:
Sandwiches
Burgers
Salads
A Lancaster favorite is the traditional chicken pot pie.
NEARBY: 21+ Fun Places to Eat in Lancaster PA (Families & Adults)
Other quick-service options around the park include:
Nathan's Famous Hotdogs
Noble Roman's Pizza
Three Amigos Mexican Grill
A kosher mart
There are also kiosks selling funnel cakes, soft serve ice cream cones, and fresh fruit with chocolate sauce to dip it in.
Stay at the Park
The Dutch Wonderland Park is home to the world's very first Cartoon Network Hotel.
It has character-themed guest rooms and Dream Suites, and also features a Cartoon Kitchen, an Animated Backyard and more!
Hours of Operation & Admission
The park is open from May until January and closed the months of February and March.
May
In the month of April, it is open on the weekends only from 11 am to 6pm.
June, July & August
The park is open daily, except for a handful of select days, from 11am to 7pm.
October to December
From October to December, Dutch Wonderland is open on select weekends and weekdays only.
In October the park has a Halloween theme with costume contests, themed rides, and trick-or-treating.
In November and December the park becomes Dutch Winter Wonderland.
For detailed calendar of each month, visit the official page on their website.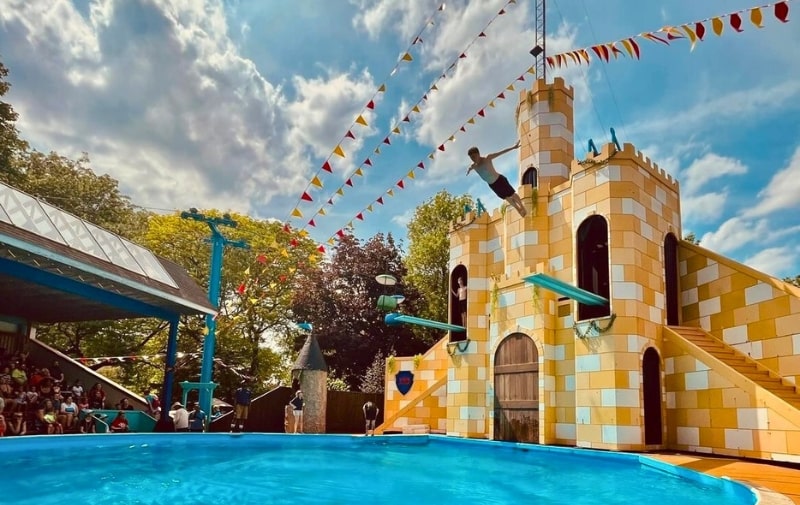 Tickets and Passes
The ticket prices change as per the month in which you plan to visit the park and the prices range from $39.99 to $59.99.
Kids under two are free, and there are discounts for senior citizens as well.
There are Seasons Passes available too, which start from as low as $99 for Bronze passes and can go up to $149.99 for Gold passes.
Good to Know Before You Go
Dutch Wonderland is about a two-hour drive from the DC area.

You get a free parking pass on the purchase of Gold and Platinum Season passes.

There is a Nursing Mother's Center located near the Wonderland Special train station at the front of the park. It also has a changing table.

You can briefly leave and re-enter the park on the same day, just get a stamp at the park exit.

You can't bring your own food or drink into the park.

You can save money on tickets if you buy them online.
Getting There and Parking
It is located at 2249 Lincoln Highway East Lancaster, PA 17602.
There is a $20 fee for general parking and $25 for preferred parking.
Frequently Asked Questions
Q: What to wear to the Dutch Wonderland?
A: Dress comfortably. It is a family-friendly place, so dressing up modestly would be a wise choice, and avoid wearing high-heels or loose flip-flops too.
Also, carry swimwear for the waterpark.
Q: Who owns the Dutch Wonderland?
A: As of now, the Dutch Wonderland is owned by Hershey. It was sold in 2001 by the Clark family.
Q: Can you enjoy the park in one day?
A: Yes! There are plenty of rides and attractions at the park, and you can very well enjoy them in one day.
Q: Can you host birthday parties at the park?
A: Yes, the Dutch Wonderland is an exciting place to host birthday parties and/or company picnics. They have special packages available for your special events, that you can check on the website.