The fall is the perfect time to attend some of the best fall festivals in Maryland.
Here we share over 30 options for some of our favorite fall events so you can enjoy pumpkin patches, wagon rides, mini mazes, jumping pillows, local artisans, some of the best corn mazes, picnic areas, fresh local produce and many more fun family activities.
Maryland's fall festivals and fall festivities begin in mid to late September and run through early November.
#1 Japan Day Fall Festival
October 22, 2023 | Baltimore, MD | Website
Interested in learning and celebrating Japanese culture? You have to check out the Japan Day Festival! The fair is complete with hands on activities and performances, such as:
Karate, Ballet, and Choir performances
Origami
Calligraphy
Tea ceremony
Don't forget to try the Japanese snacks and compete in the cosplay contest!
#2 Gentle Giants Draft Horse Rescue Fall Festival
October 28, 2023 | Mount Airy, MD | Website
This festival caters especially to the equestrian lovers.
Here you can see over 150 rescued draft horses on the grounds, and even ride one! Some of the highlights of the festival are:
All day long live music
Hayride on the 300+ acre grounds
Beer and food trucks
Witness the mounted archery team in action
Carnival games
Check out the website for pictures from the first annual festival, last year!
#3 Silver Spring Arts & Crafts Fall Fair
October 1, 2023 | Silver Spring, MD | Website
The city of Silver Springs will be hosting their fair the first Sunday in October.
Boasting a lineup of vendors that is sure to put you in the mood to celebrate the fall season, they will offer:
Baked goods
Apple cider
Hot chocolate
Holiday arts & crafts displays
Also, the kids will have the opportunity to decorate a pumpkin of their own!
#4 Savor Bowie Fall Fest
October 14-15, 2023 | Bowie, MD | Website
This 2-day festival will offer complimentary wine tasting from some of the superior wineries in the region, and showcase local talent on 2 stages!
What's fun at this fall fest is the music, vendors, great food, artisans and other entertainment.
One of the cool features of this festival is that it benefits Concerts for Causes, a non-profit that is raising funds to provide musical instruments for students that come from underserved communities.
#5 Orange Festival
October 19-20, 2024 | Bowie, MD | Website
Note: this event seems to be skipping 2023 and has already announced their 2024 dates.
Celebrate the dawning of the fall season and the local cultural diversity at the Orange Festival this year!
The very best of all things local – entertainment, food and drink, and more, will be on full display. Get ready for:
Food trucks
Beer tasting
Novelty vendors
#6 FrightReads Book Festival
Sept 30- Oct 1, 2023 | Millersville, MD | Website
Bring the whole family out to this Halloween themed festival!
Featuring accomplished authors and artists, as well as craft tables for the kids, this year's festival is shaping up to be bigger and better than last year.
#7 St. Mary's County Fair
Sept 21-24, 2023 | Leonardtown, MD | Website
Buckle up for 4 days of fair rides, food, vendors, and lots more. Come see the livestock show and even meet some of the farm animals!
There will be many local vendors to check out and other attractions as well.
#8 Heartland Fall Fest
September 11-12, 2022 | Frederick, MD | Website
Note: there have been no 2023 dates announced as of yet
Visit here for a day of family fun, music, giveaways, kids' activities, and so much more.
This is a FREE Family Event for everyone! RSVP IS required to enjoy all the family fun!
There is also a Kids Corner with Moon Bounce, Craft station, caricaturist , and frozen treats!
#9 Oceans Calling Festival
Sept 29 – Oct 1, 2023 | Ocean City, MD | Website
This 3-day festival is held right on the Ocean City Boardwalk!
They will have over 30 musical performances on 3 different stages.
For food, there will be lots of local vendors cooking, as well as culinary demonstrations to watch. Carnival rides and games make this a great festival to attend with the whole family.
#10 Sunfest
Oct 19-22, 2023 | Ocean City, MD | Website
The self proclaimed "biggest and best festival in Ocean City," will showcase live entertainment, arts and crafts activities for the kids, hayrides and more!
They'll have over 20 bands performing a variety of musical genres so you'll definitely be able to find something you enjoy.
#11 The Reisterstown Festival: Reisterstown Fest
September 9-10, 2023 | Reisterstown, MD | Website
One of the best parts of this festival is the classic fall parade.
And what makes it fun every year is that their entertainment always changes.
So not only can you enjoy the parade, you can enjoy:
Delicious food
Live music
Magic & circus show
Laser tag
Petting zoo
Car show
Fireworks show
#12 Catoctin Colorfest
Oct 14, 2023 | Thurmond, MD | Website
Located at the base of the beautiful Catoctin Mountains, the Colorfest is a celebration of all things related to the fall season. This annual Colorfest will showcase candles, petwear, jewelry, art, woodworking, and 3D printing, just to name a few.
Plan to eat local at the festival, and choose from fun options like kettle corn, fudge, and of course, food trucks!
The Catoctin Colorfest also donates some of its proceeds to several community programs, such as the food bank and first responders!
#13 Maryland Seafood Festival
August 19-20, 2023 | Annapolis, MD | Website
Check out a broad selection of seafood at the Maryland Seafood Festival! And there's no better place to have this than Annapolis!
Maybe you want to try some crab, or possibly you are coming for the oysters, this festival will have you covered. There are plenty of attractions for everyone, like:
Axe throwing
Live music
Art vendors
Kids zone
Contests
#14 The Great Frederick Fair
Sept 15 – 23, 2023 | Frederick, MD | Website
Existing to promote agriculture education in young folks, the annual Great Frederick Fair is a 9-day fair that will give your whole family the outdoor fix it needs!
Come see the fair crops and animals, learn from workshops, and support local agriculture.
Expect good food, entertainment, and family fun when visiting. As you can imagine, a 9 day fair will have lots of events and activities, so check the website for the complete schedule.
#15 OC BikeFest
Sept 13 – 17, 2023 | Ocean City, MD | Website
The "largest motorcycle rally on the east coast" will be a sight to see.
With concerts each of the 5 days, food and beverages, and official merchandise, it will be a festival to remember.
There will be a great variety of large and small vendors, offering a wide range of goods and services!
#16 Autumn Glory Festival
Oct 11 – 15, 2023 | Oakland, MD | Website
Visit the beautiful town of Oakland during this 5-day festival to celebrate the beauty of the fall colors and fall foliage in the mountains of Maryland.
They'll have a dozen different rides plus many games.
Check out the farmer's markets and craft show, the parade, and take one of the scenic driving tours to enjoy the beautiful scenery!
Upon arrival in Oakland, grab a Turkey Trail flyer from the Garrett County Visitors Center to help guide you around several hot spots of the town.
#17 City Park Fall Fest
Sept 16, 2023 | Hagerstown, MD | Website
We can't wait for the City Park Fall Fest!
Spread across 6 different locations at the City Park, this festival will be educating and entertaining for the entire family.
The butterfly parade, fireworks show, and recreation and art activities will keep you busy all day. Plus, they'll have:
Art activities
Petting zoo
Pony ride
Museum tours
Be sure to look for the food and drink vendors too!
#18 Summers Farm Fall Festival
Sept 16 – 30 and all Saturdays in October
Middletown, MD | Website
At Summers Farm, enjoy over 45 fun activities, events, and shows!
They have pig races, fireworks show, and everything in between!
One of the coolest features of this festival is there are special events on certain weekends.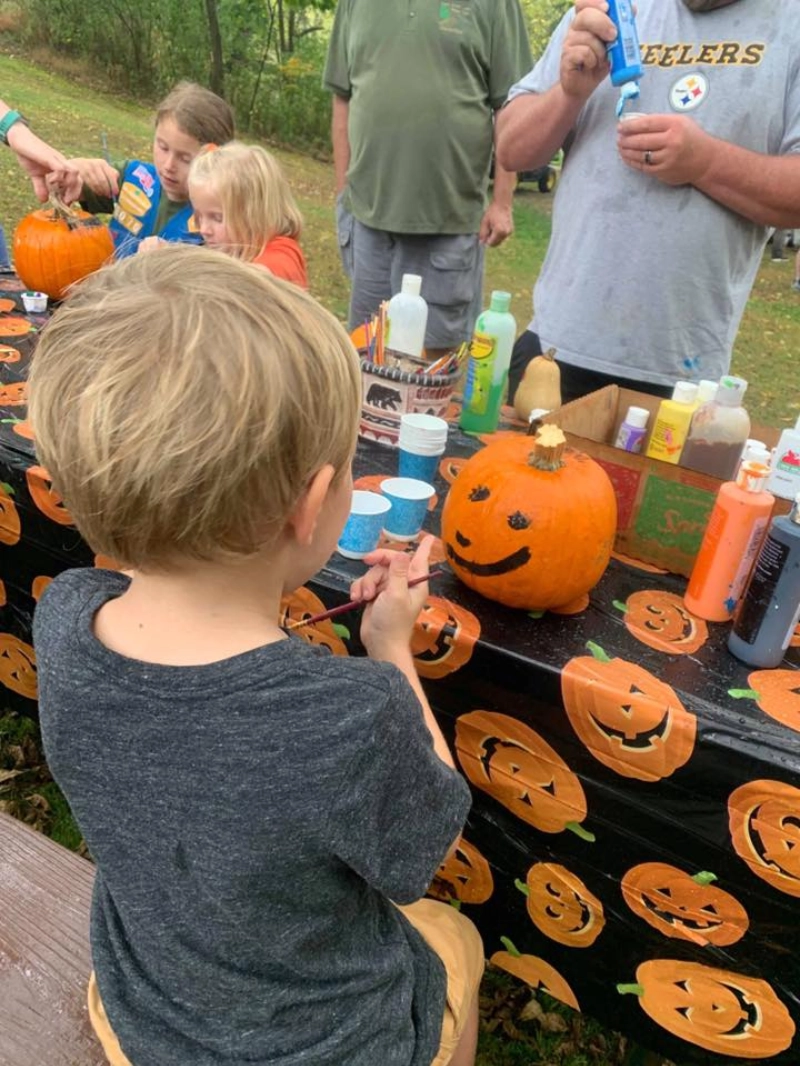 #19 Fall Festival At Friends Store, Sang Run State Park
Sept 30, 2023 | Swanton, MD | Website
A day-long celebration of the fall season, this festival is unique, as it is in the state park.
Come enjoy the beauty of the great outdoors as you pick your own pumpkins and get to carve them, make scarecrows, and go on hayrides!
Make sure to attend the apple pressing and dutch oven cooking demonstrations.
Why Visit:
Pick and carve your own pumpkins
Make a scarecrow
Apple pressing
Dutch oven cooking
#20 Gaver Farm Fall Fun Fest
Sept 1 – Oct 31, 2023 | Mt. Airy, MD | Website
Plan your visit to Gaver Farm and check out over 60 fall themed activities! The whole family will love the:
Corn maze
Petting zoo
Duck races
Playgrounds
And more
There are also plenty of great photo ops on this beautiful farm too!
#21 Montpelier Farms Fall Festival
Sept 16 – Nov 5, 2023 | Upper Marlboro, MD | Website
If you are interested in a festival that specializes in farm activities, Montpelier Farms Fall Festival may be the one for you.
This 8-week long festival has more to do than you can probably do in just one day! Check out:
Corn mazes
Hay rides
Pumpkin bowling
Roping range
Scavenger hunts
Barnyard basketball
Bonfires
Use the link to find more information including tickets, hours of operation, and directions.
#22 Maryland Renaissance Festival
Aug 26-27 + Sat & Sun in through Oct 22, 2023 | Annapolis, MD | Website
Go back in time to the year of 1536 at the Maryland Renaissance Festival!
Watch more than 200 performers on 10 stages and taverns, but also look for them roaming the streets amongst you!
There will be jousting matches to enjoy several times every day, as well as food and drink and merriment to go around.
#23 Calvert County Fair
Sept 27 – Oct 1, 2023 | Prince Frederick, MD | Website
This is the fair that's been around since 1886. Check out "The area's prime agricultural showcase" at this 5 day fair!
There is so much entertainment packed into this fair including:
Livestock
A talent contest
Children's contest
Southern MD mini putters
Corn hole competition
Horse shoes
#24 Butler's Orchard Pumpkin Festival
September 23 – October 29, 2023 | Germantown, MD | Details
There is no better way to celebrate the fall season than the Butler's Orchard Pumpkin Festival. Butler's Orchard will be holding some of the most fun fall activities like:
Pumpkin picking
Hayrides
Corn hole games
Giant slides
Straw maze
On some days they also have live music so make sure to check their schedule!
#25 Frederick's Oktoberfest
Sept 29 – Sept 30, 2023 | Frederick, MD | Website
In Frederick County, Oktoberfest is a popular fall festival in Maryland!
German food and beer will be in abundance as indoor and outdoor stages will host lots of live entertainment!
You can stop by the Sports Tent to catch college football games, or visit the German Heritage Tent, all in a fun atmosphere. Do not forget to check out the Kids' Zone as well!
#26 Das Best OktoberFest
Oc 28, 2023 | Baltimore, MD | Website
Boasting literally hundreds of craft beverages to sample, this is one festival to mark on your calendar.
They have commemorative souvenir glass for the drinks and of course, sausage and German food trucks as well!
Plus there will be live entertainment on two stages and beer games to play too.
#27 Bowie International Festival
Oct 7, 2023 | Bowie, MD | Website
Get a taste of other cultures from all over the world at the Bowie International Festival! This is the place to see music and dancing from countries like:
India
Caribbean
Native American heritage
Europe
Middle East
They will have vendors offering foreign foods, apparel, and more.
There will be plenty of educational activities for kids as well. With entertainment on 2 stages, there will be lots to see at this festival in Allen Pond Park!
#28 Darlington Apple Festival
Oct 5, 2024 | Darlington, MD | Website
Note: the Darlington Apple Festival has postponed it's festival to 2024 due to rising costs
Head over to Darlington and catch this awesome festival in early October!
Enjoy the:
Hay rides
Pony rides
Many vendors
And even enter the corn hole tournament
There will be lots of entertainment and other contests for everyone.
#29 Maryland State Fair
Aug 24-27, Aug 31-Sept 4, 7-10, 2023 | Lutherville-Timonium, MD | Website
The Maryland State Fair is open for 3 weekends this year!
There will be concerts, motorcycle races, livestock shows, and more.
They will have educational AGventure activities for kids that help them learn about everything from livestock to crops!
#30 Piney Orchard Street Festival
Sept 9, 2023 | Odenton, MD | Website
This street festival will have it all. Beginning at 11:00am, visit for:
Arts and crafts
Food vendors
Ice cream
Live entertainment
Kids activities
There will also be a wide selection of local business vendors from which to shop!
#31 Magnolia Meadow Fall Festival
Sept 23 – 29, 2023 | Thurmont, MD | Website
Come enjoy over 20 different activities including the largest corn maze in Maryland!
There will also be:
Farm interactions
Hay rides
Mini zip lines
And much more
And make sure to visit hungry! There will be plenty of food and drink vendors to choose from.
#32 Willow Oak Flower & Herb Garden Fall Harvest Day
Oct 21, 2023 | Severn, MD | Website
Enjoy many different outdoor activities including pumpkin picking, pumpkin painting, and even build a dried flower pumpkin!
This is one festival where kids get in free and adults only pay a nominal fee.
#33 La Plata Fall Festival
Oct 8, 2023 | La Plata, MD | Website
Head to the La Plata Fall Festival and enjoy petting zoos, live music, and lots of food and craft vendors.
Be sure to look for all the scarecrow decorations throughout downtown La Plata!
#34 Cockeysville Fall Festival
Oct 14, 2023 | Cockeysville, MD | Website
This will be a big day featuring food trucks, a beer garden, live music, and lots of vendors!
Some of their other fun activities include:
A car show
Pumpkin patch
Games
60+ vendors
Glitter tattoos
Balloon artists
The festival will benefit The Cool Kids Campaign, which is a non-profit that supports pediatric oncology patients and their families!
#35 American Indian Festival
Oct 21, 2023 | Upper Marlboro, MD | Website
Ath the 14th annual American Indian Festival, experience the rich culture of Native Americans.
There will be singing and dancing, storytelling, educational exhibits and demonstrations, and lots more.
Be sure to get a bite to eat from one of the traditional food vendors!
#36 Celebrate Africa!
Sept 24, 2023 | Greenbelt, MD | Website
Celebrating the African culture and impact it has made in the area, this festival will not be one to miss.
Here you'll have a blast watching performers singing, dancing, and storytelling,
Plus, you'll be able to same some delicious African cuisine.
The drum and dance part is going to be so much fun!
#37 Evergreen Heritage Center Autumn Festival
Sept 17, 2023 | Mt Savage, MD | Website
The Evergreen Heritage Center's fall festival offers something the others don't – at this festival you can tour 3 of the center's museum, plus visit their new nature center.
They'll have pumpkin games to enjoy outside and fall activities you can take to make while there or at home.
#38 Inaugural Fells Point Fall Festival
Sept 15 – 17, 2023 | Baltimore, MD | Website
Not only will there be tons of food, shopping and live music at this free, family-friendly festival, there will also be plenty for the kids to do including:
Face painting
Pumpkin painting
Planting of native plants
Butterfly chrysalis demo
And more
#39 Milburn's Fall Festival
Fri, Sat & Sun Sept 1 to Nov 5 | Elkton, MD | Website
This fall festival is an absolute blast! They have all the same great activities they've had for years plus some new ones including:
Corn maze adventure
Grain Cart Basketball
King Kong ping pong
Rat Race Track
Roller Bowler
Tire Tractor Tower
And so many more
You can also upgrade your ticket to include hayrides, paintball, apple sling and pony rides.
Fall Festival Spots in Maryland