Take an exhilarating climb through the trees at the newest Go Ape! location at South Run Park in Springfield, Virginia. 
The course, which opened in partnership with the Fairfax County Park Authority, is the perfect way to spend time with your family, scout group or on your own.
We tested it out and here we share what you need to know before you go.
Add a visit to Go Ape! to your bucket list this season. While it may be a splurge, it's well worth it!
Covered Here
What to Expect
Treetop Adventure Courses
Axe Throwing
Monkey Drop
Height and Age Restrictions
Tickets & Pricing
Coupons, Discounts & Promos
Good to Know Before You Go
Getting There
Things to Do Nearby
What to Expect
You'll start out your journey by completing your waiver / paperwork (you will want to allot at least 10-15 minutes for this process), then you'll get equipped with your safety gear and go through a 20-30 minute safety briefing.
The guides are great and answer any questions professionally and getting you to your course on time.
You will be challenged with navigating shaky tree-to-tree crossings, climbing through cargo nets and up ladders and zooming down zip lines.
There are helpful signs that are posted on each obstacle which gave hints on how to get through, plus various safety reminders (i.e. 1 person can cross at a time, etc.).
You will also see plenty of qualified instructors on the course patrolling and you ever have any trouble or just a question, they are available to help.
Treetop Adventure Courses
There are 3 treetop adventure courses at Go Ape in Springfield – the Treetop Adventure, the Treetop Journey and The Treetop Discovery.
Treetop Adventure
This adventure takes between 2 – 3 hours in the treetops. You'll climb up to the first platform where you'll have to cross various bridges, crossing and other obstacles.
You can try out the free top Tarzan swing if you're brave enough and at the end you'll ride back down to the ground via zip line.
This is the most challenging of the 2 adventure courses.
Treetop Journey
The Treetop Journey course is the most popular course with kids and features over 20 obstacles and 2 ziplines. The entire course which is situated in the middle of the Go Ape Adventure Park, takes about 1 hour to complete.
This is a great way to help kids build their confidence once they accomplish something completely new.
Kids are connected with a harness the entire time they are in the trees.
This course has more bridges, nets and platforms. There are 3 levels (called loops) and each loop becomes increasingly difficult.
Like the Treetop Adventure, you will end the course with a zip line that brings you back down to the ground.
What is unique about Go Ape! and the Treetop Journey adventure is that the safety systems stay attached the entire time you're in the trees. That way kids won't have to move safety lines, unlike on the Treetop Adventure.
Treetop Discovery
The treetop discovery course is a condensed version of the Treetop Adventure course. So if 2 – 3 hours sounds too long for you or you'd like to try out a shorter version, this is the course for you as it only takes about 90 minutes.
Axe Throwing
Using a light weight (2 pound) hatchet, you'll step into your lane and throw the hatchet towards the bullseye.
Each thrower must be in their own lane for safety (although there must be one adult present per lane with a child) and you will have 1-hour to throw as many times as you can.
Monkey Drop
Everyone ages 5 and up can jump off a wooden platform 40 feet off the ground. You are connected to a harness beforehand of course and then you climb the ladder to the platform. You'll free fall and then you'll be lowered down to the ground.
Height and Age Restrictions
Treetop Adventure
Adventurers must be at least 10 years old and 4 feet, 7 inches tall. All kids ages 10 – 15 must be supervised by an adult. There is a maximum weight of 285 pounds.
Treetop Journey
There is no minimum age for this course, however, participants must be at least 3 feet 3 inch. There is also a maximum weight of 285 pounds.
Children 5 and under must be supervised by a participating adult that is not supervising more than 2 children.
Kids ages 6 to 15 must be supervised by an adult who can supervise up to 8 kids whether participating or from the ground.
Axe Throwing
You must be at least 10 years of age for axe throwing.
Monkey Drop
Jumpers from the Monkey Drop must be at least 5 years old and at least 44 pounds, with a maximum weight of 285 pounds.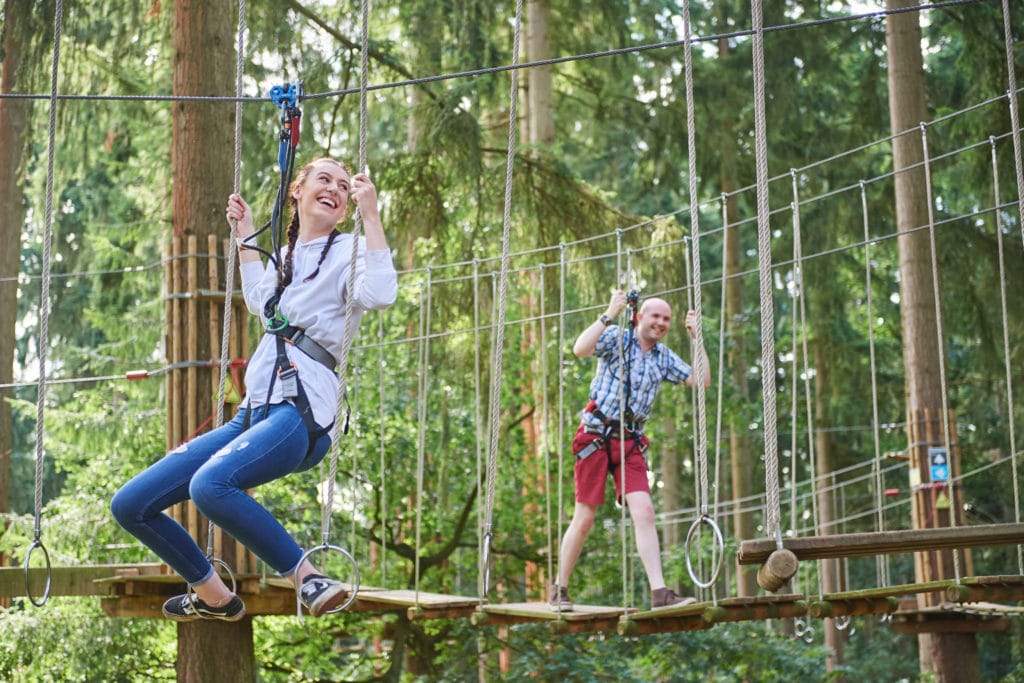 Tickets & Pricing
Treetop Adventure
Everyone ages 16 and up cost $64.95 per person. Youth ages 15 and under cost $59.95 per person.
Treetop Journey
Everyone ages 16 and up cost $39.95 per person. Youth ages 1 to 15 cost $39.95 per person.
Treetop Discovery
All participants cost $44.95.
Coupons, Discounts & Promos
If you're looking for a discount on tickets to Go Ape Springfield, here are a few options:
Check this Groupon deal for availability
Sign-up for the Go Ape e-newsletter as occasional deals are offered
Good to Know Before You Go
On the treetop adventure course, one adult (18+) can supervise up to 2 children.
You can book your reservations at online here
Be sure to use the restroom (located in the South Run Rec Center) before you get into your harness. You can certainly use the restroom during your visit, but you will need to remove the harness and then get re-checked before heading back onto your course.
Gloves are an important part of being on an adventure course. Be sure to either bring gloves or you can purchase them at Go Ape!
Dress appropriately – that means wearing clothes that make sense for adventure and weather. Shoes should be closed toe and flat.
Sign up for their email newsletter for the latest Go Ape news. Sometimes they offer discounts!
All of Go Ape's courses are designed to minimize impact on the environment, which we appreciate. Trees are inspected annually by independent arborists.
Go Ape makes for a fun birthday outing. You can get 40% off who you book as a group.
Free cancellation is available up to 48 hours before your visit
Tickets often get booked far out in advance so make sure to book early
Getting There
Go Ape is located at: 7550 Reservation Dr, Springfield, VA 22153
Things to Do Near Go Ape Springfield
If a treetop adventure course isn't enough for the day or you want to relax a bit afterwards, here are some great options near Go Ape to keep the fun going:
Ride the train, paddle on the lake or even camp at Burke Lake Park
Head to the Hidden Pond Nature Center
Keep the adventure going at Head to the Flight Trampoline Park
Take the family golfing at Lake Accotink Lucky Duck Miniature Golf
Disclosure: Our Kids received two complimentary admissions to try out Treetop Journey. We only promote activities and businesses that we believe in and think will be of interest to Our Kids readers.