If you've been thinking about trying goat yoga or have been looking for a goat yoga class in or near Virginia, DC or Maryland, we've got you covered.
Here you'll find all the best places for goat yoga in Virginia, DC and Maryland.
Goat yoga is great for kids and families and no previous yoga experience is required.
Something about doing yoga with goats just makes yoga less intimidating to try out. The environment is just much more relaxed.
Goat yoga is a great way to experience wellness, as well as, life on the farm while enjoying some furry company.
And it's even good for your health! There are so many studies on animal therapy and how the body reacts, releasing happy chemicals into the body and reducing stress.
So let's get a smile on your face, lower stress and give your family a new experience with these amazing places to do goat yoga!
The Little Goat Farm at the Lake
8954 Burwell Rd, Nokesville, VA 20181  |  Website
The little goat farm at the lake is a beautiful place for goat yoga. of course the goats are amazing cut the leg and the beautiful scenery really top off the experience.
they often have baby goats and there are lots of goats at participate so everyone can interact with the goats. And yes, they will jump right on you!
The Staff is really wonderful and wants you to have a great time. They are helpful in getting the goats to jump on you and to also take pictures so you'll have great memories of the experience.
No previous yoga experience is necessary.
If you want to get in, make sure to get tickets as they do sell out in advance. don't forget to check out their bunny snuggles and baby goat feeding experiences as well.
Roers zoofari
1228 Hunter Mill Rd, Vienna, VA 22182  |  Website
Did you know in addition to their safari, Roer's Zoofari also has goat yoga?
Yep, that's right, everyone ages 5 and up can participate in goat yoga at Roer's Zoofari.
Sessions are typically held in the morning and season goat yoga passes are also available.
If you want to stay after the class, you can purchase a separate admission ticket to their zoo and a discount will be given for goat yoga participants.
So grab your yoga mat, towel or even just enjoy yoga on the grass and grab your tickets!
Silver Maple Farm
1829 Withers Larue Rd, Berryville, VA 22611  |  Website
If you do yoga or goat snuggles with Nigerian dwarf goats sounds good, silver maple farm these events from March through December.
Their baby goats being born during these months. Imagine holding a brand new go and having it fall asleep in your lap. This is an experience you don't want to miss!
They do milk their goats so they have milk to drink plus they turn it into So, cheese, yogurt, fudge, etc.
Make sure to register in advance before attending as most events are full and they do not accept walk-ins.
This is an amazing experience and definitely worth the trip!
Beth A Wolfe Yoga
3051 Mt Vernon Ave #B, Alexandria, VA 22305  |  Website
There are so many things to do in Alexandria but did you know goat yoga was one of them? 
Beth A Wolfe Yoga A monthly goat yoga session at indoor and outdoor locations in Northern Virginia.
Many of the goats enjoy participate in the yoga session by update on your back, walking around you and others simply love to snuggle up.
Are the owner works with dr. Roberts from Walnut Creek Farm who cares for and brings the goats to each session where you'll hear more about them.
Participants must be 10 or older. 
Goat for the Soul
10209 Fountain School Rd, Union Bridge, MD 21791  |  Website
Go 4 this whole yoga it's such a pleasant experience regardless and if you have done yoga before or not. Instructors are very friendly, the goats are clean and friendly and the incredible scenery makes for a fun in the overall relaxing experience.
After the class has finished, you can enjoy the sounds of nature I'm walking around the farm and seeing other animals. It's just you, the animals and nature.
Make sure to schedule these 60-minute yoga sessions ahead of time.
Yoga Love
6570 Dobbin Rd, Columbia, MD 21045  |  Website
Yoga Love is a place where there is a lot of…well, love! This is a place so many call their second home and that doesn't stop here with goat yoga.
Yoga Love hosts goat yoga on the E & J farm. They provide light refreshments, the yoga class (of course!) and feed for the goats so they'll come visit you during the session.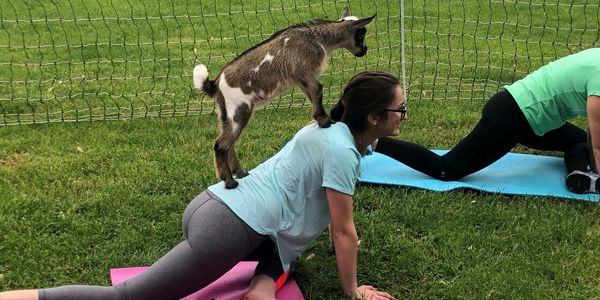 Yoga With Goats Maryland
13995 Triadelphia Rd. Glenelg & 315 Ashton Rd. Sandy Spring  |  Website
You can join a certified yoga instructor honor Farm to practice yoga always goes it beautiful Outdoors.
Class times are typically at 9:30am and 11:30am but check the calendar for the latest dates and time and to register in advance.
Yoga With Goats Maryland is located at 13995 Triadelphia Rd. Glenelg, MD from April to May and at 315 Ashton Rd. Sandy Spring, MD from June to October. 
Goat Yoga in Virginia, DC & Maryland
Goat yoga is a great way to try something new, have a fun experience and even improve your health (even if you don't realize it!).