Lancaster PA is a city full of history, culture, and entertainment. It is a great place to visit where you can explore the Amish countryside, visit museums, indulge in delicious food, and much more.
There is so much to do and see in Lancaster that it can be hard to know where to start. To help you plan your visit, we've put together a list of 37 fun things to do in Lancaster, PA.
#1 Visit the Lancaster Science Factory
My kids say visiting the Lancaster Science Factory is one of the best things to do in Lancaster. This is the perfect place for kids to learn about science without even realizing they're learning.
This interactive science museum has many hands-on exhibits and activities for children. You can explore the world of robotics, experiment with electricity, learn about the human body, and engage in many other fun and educational activities.
#2 Visit the Amish Farm and House
Lancaster is famous for its Amish communities, and a visit to Amish country is a must-do.
You can take a self-guided or guided tour of the Amish farms, visit the Amish Village, or explore the backroads on your own.
The Amish Farm and House is a 200-year-old farmhouse that has been restored to its original condition. Visitors can take a tour of the house which is a great way to learn about Amish life. You can also see their blacksmith shop where items are made.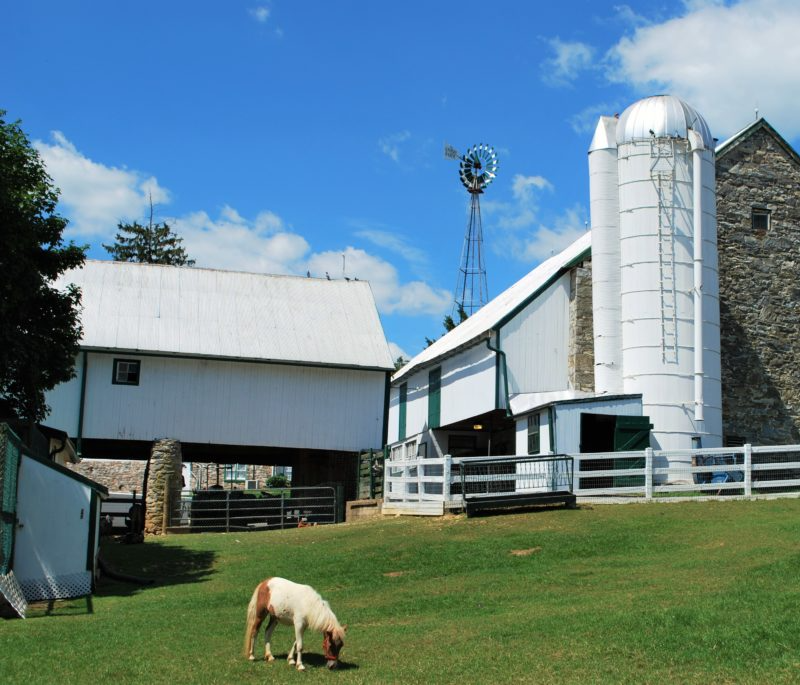 Here you can also see the only one-room schoolhouse that is open for the public to see. Inside you will get to see:
Amish artwork by local children
Amish curriculum
Games
Posters
and more
We didn't get a chance to see the farm animals on the farm animal tour but we look forward to doing that next time. You can hold a chicken, feed a calf and other animals, gather eggs, and play with the baby goats.
#3 Check out the Dutch Wonderland amusement park
Dutch Wonderland is Lancaster's theme park and it is a big reason why many people come to visit in the first place.
Our family typically goes to Dutch Wonderland at least once a year. We all love one of the annual special events, the Happy Hauntings, which happens in October.
My husband and the kids of course, love the roller coasters. Duke's Lagoon water play area ends up being where they spend most of their time.
#4 Check out the North Museum of Natural History and Science
The renovated North Museum of Nature and Science is located on the campus of Franklin & Marshal College. The small hands-on museum is a great stop for families of young and elementary aged children and takes approximately two hours to go through.
The museum also has interactive exhibits on dinosaurs, space, and the natural world.
#5 Go On a Hot Air Balloon Ride
A hot air balloon ride is a unique way to see Lancaster from above and the United States Hot Air Balloon Team is a great place to go for such an experience.
NEARBY: 5+ Pennsylvania Hot Air Balloon Festivals (Full Details)
#6 Take a Buggy Ride
A buggy ride is a unique and fun way to experience the Amish countryside. There are many tour operators in the area you can book with including:
The Amish Village
The Amish Farm and House
Abe's Buggy Rides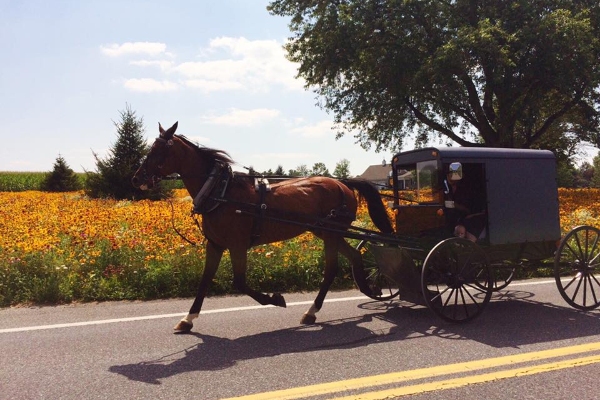 #7 Visit the Historic Buildings
For our history enthusiasts, Lancaster has lots of historic buildings, historical sites and even a National Historic Landmark.
Some of the best places to see historic buildings are:
President James Buchanan's Wheatland
Historic Rock Ford
Fulton Opera House
1719 Museum
Demuth Museum
#8 See Cool Art at the Lancaster Museum of Art
The Lancaster Museum of Art is completely free to visit (although donations are appreciated) and has lots of beautiful art to see from both regional and international artists.
The art isn't just your typical art museum type of paintings. There is a large variety of art including:
Repurposed art
Photographs
Sculptures
And a whole lot more
They have changing exhibits which in the past have event include locally found dinosaur artifacts, collectible toys and even a hands-on pinball machine.
The art is quite interesting and fun for everyone to look at including the kids!
#9 Go shopping at Tanger Outlets Lancaster
Shop for deals at Lancaster's Tanger Outlets which has more shops than you can get to in a single day.
Don't forget to stop by the information desk when you arrive to pick up a coupon book too!
#10 Visit the National Watch and Clock Museum
Just about 20 minutes outside of the center of Lancaster is the National Watch and Clock Museum.
You may have never heard of horology but that is exactly what this museum is about – the study of history, science and art of timekeeping and timekeepers.
We went with two kids and then also enjoyed it. The lady was nice and gave them a scavenger hunt which they enjoyed doing. I wouldn't bring young children as they mostly can't touch but the older ones can enjoy the interesting clocks they will see.
There are even some watches that include popular media which is fun.
#11 Explore the Lancaster County Central Park
The Lancaster County Central Park has over 500 acres of parkland with:
A pool
Skate park
Environmental center
Trails
Picnic areas
The Garden of the 5 Senses is really nice to visit. The trails are so nice to walk as they have some beautiful and amazing views. We also like to come here for a picnic after doing another fun activity nearby, especially on a nice day.
#12 Take a tour of the Lancaster Brewing Company
The Lancaster Brewing Company offers tours of its brewery and tastings of its craft beers. During the week you need to request a tour that will take place between 12 pm and 3 pm.
On the weekends, they offer one tour at 3 pm and it's a good idea to make a reservation, although it's not required.
#13 Go on a tour of the Wolf Sanctuary of PA
The Wolf Sanctuary of PA is a hidden gem and truly a unique and memorable experience that you won't soon forget.
Visitors to the sanctuary can observe the wolves in their natural habitat, learn about their behaviors and habitats, and even participate in howling sessions with the pack.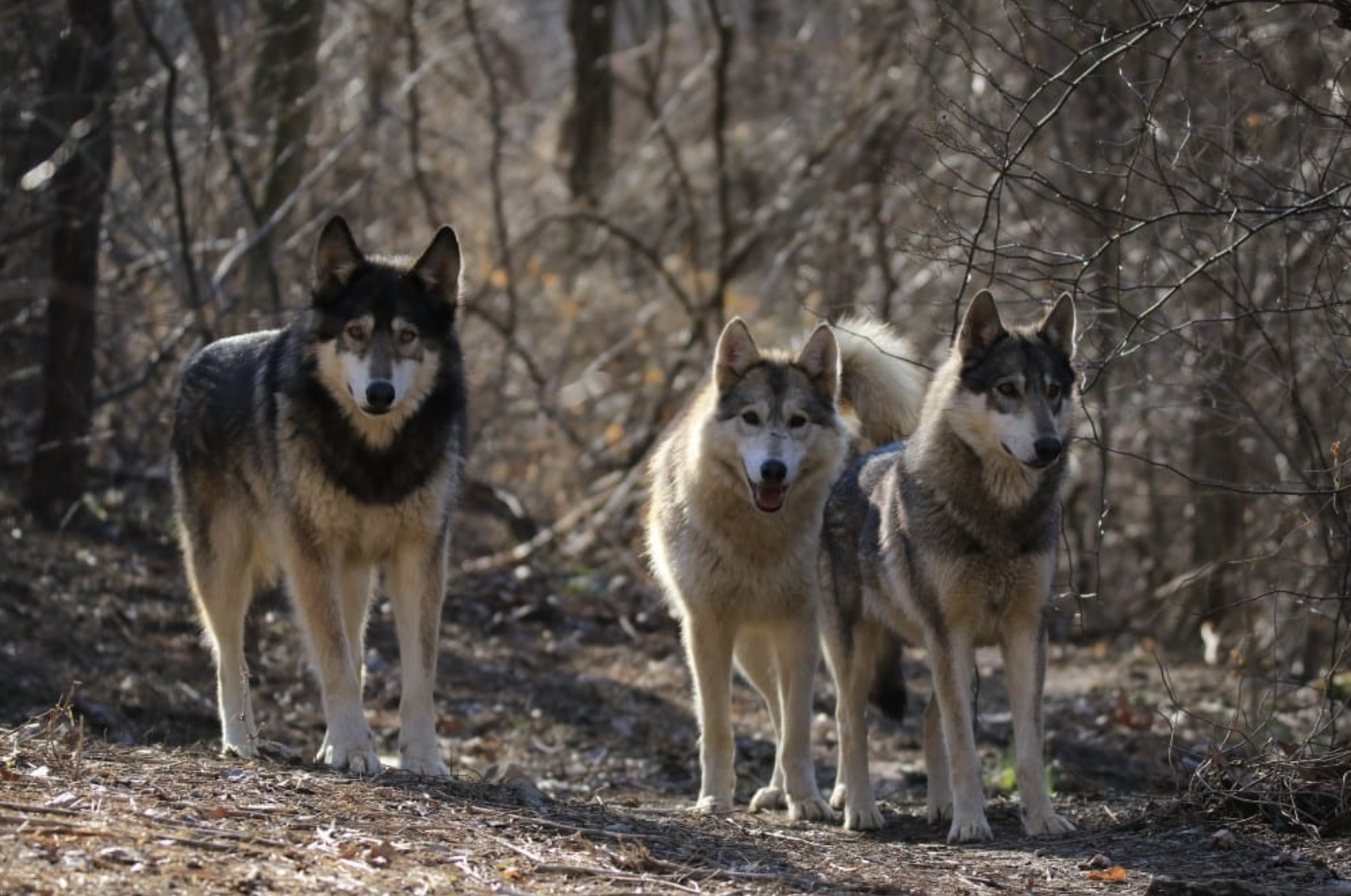 #14 Explore the Lancaster Central Market
The Lancaster Central Market is definitely a local favorite and is the oldest continuously operating farmers market in the country.
Located in the heart of downtown Lancaster, the always popular market is only three days a week (Tuesdays, Fridays and Saturdays). Here you can find fresh produce, meats, baked goods, and more.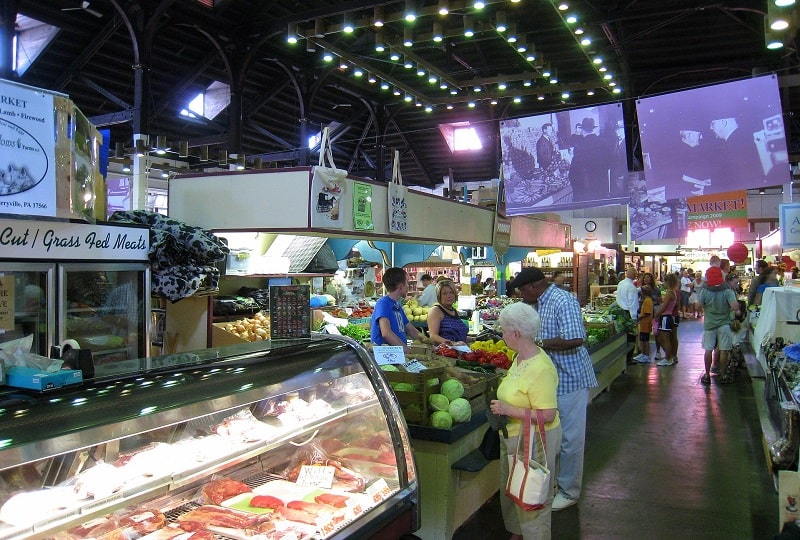 This is a fantastic place to get everything you need from vegetables, freshly made smoothies and tea to prepared meals, flowers and candles.
And if you're visiting Lancaster, no visit to Lancaster is complete without some Amish souvenirs which you can easily find here!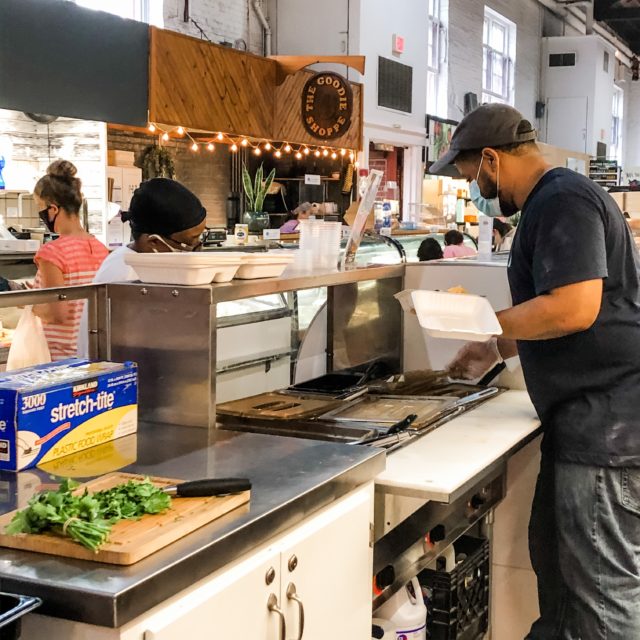 #15 Visit the Landis Valley Museum
The Landis Valley Village and Farm Museum is a living history museum that showcases Pennsylvania German life in the 18th and 19th centuries.
You can take a guided tour of the museum which will run about 1.5 to 2 hours, although it is easy to spend even longer there.
There is a lot of farming technology that you can see which is quite interesting and there are even people dressed up in different buildings to give you a better experience of what it was like during those times.
#16 Take a tour of the Turkey Hill Experience
This one is for the ice cream lovers in the group! The Turkey Hill Experience is really fun and interesting for visitors of all ages.
It's an interactive tour with hands-on exhibits where you will learn about the history of Turkey Hill Dairy, its famous ice cream, iced tea, and other products.
We did a lot on the tour! You are able to:
Create your own ice cream flavor (but before you get too excited about tasting it, know that it's all done virtually).
Milk mechanical cows
Experience a 4D ice cream adventure
And of course, you also get to sample Turkey Hill's delicious products which of course everyone enjoys!
#17 Go on a Ghost Tour
Ghost Tours of Lancaster Co offers…ghost tours, of course!
The tour guides know a lot about the local legends and share some great ghost stories. You can choose from either their Lancaster or Strasburg (10 minutes from Lancaster) ghost tours.
This is a candlelight walking tour in downtown Lancaster City and the guides share tales from Pennsylvania Dutch, Hershey and Strasburg.
#18 Check out the Ephrata Cloister
Twenty minutes from the city center is Ephrata Cloister, a community that lived a different lifestyle where members lived a more disciplined life.
You can take either a guided or self-guided tour. The self-guided tour has a cellphone tour available if you want to here information about what you are seeing as you go.
While there are 9 buildings you will see, there are a few buildings that you will not have access to on your own.
The guided tour will let you explore grounds, all self-guided buildings, as well as the other 2 buildings. The guides talk a lot about the history of how this Cloister came to be and how people used to live years ago.
They also offer a lanterns tour which is really fun.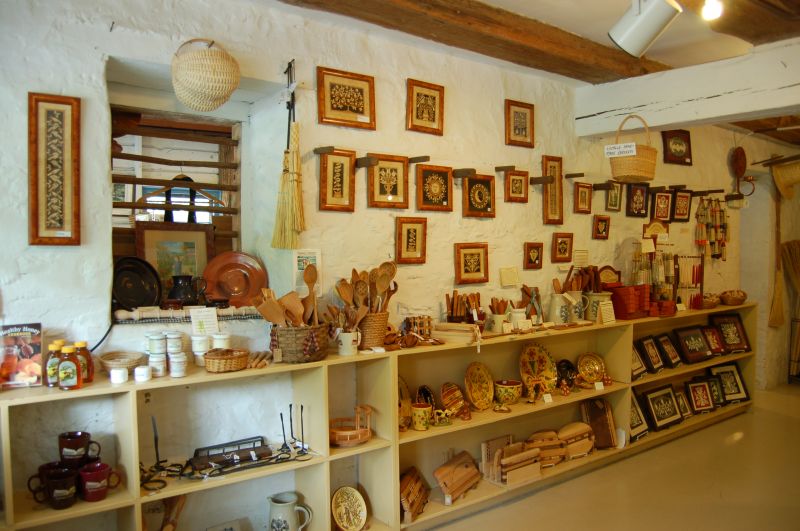 #19 Go Kayaking, Canoeing, or Tubing
The Susquehanna River runs right through Lancaster and is a great spot for nature lovers to enjoy the water. There are many access points along the river like Chickies Rock Park.
If you don't have your own kayak or canoe, you can rent one nearby or go on a tour with places like kayakLanCo or Chiques Rock Outfitters.
#20 Take a tour of the Cherry Crest Adventure Farm
The Cherry Crest Adventure Farm is a beautiful farm located in Ronks about 20 minutes outside of Lancaster's city center. The farm has 5 acres and once you go, you'll likely start going every year.
They also have some really fun events and festivals throughout the year that the whole family can enjoy. Just some of the festivals include:
Baby Animal Festival
Cider Donut Festival: with donut games, activities and even getting to take a wagon ride to feed the cows donuts
Sweet Corn Festival
Sunflower Festival
Pumpkin Madness Festival
There are so many attractions too like the petting zoo where kids can pet and feed baby chickens and goats, the corn maze, jump on trampoline pillows, mine for gold, drive carts, play tug-o-war and so much more.
#21 Go on a Horse-Drawn Carriage Ride
AAA Buggy Rides offers horse-drawn carriage rides just outside of downtown Lancaster. We took the covered bridge ride and it was nothing short of magical.
They do have a few tour options including:
The Amish Farm Tour
Country Buggy Ride
Covered Bridge Ride
The guide also shares information about the area as you go and there is plenty of time to ask questions.
There was a nice roadside stand where the Amish children will bring goods to the buggy if you are interested in their freshly baked goods which was a nice touch.
#22 Take a Sewing or Quilting Class
The Old Country Store offers some really fun sewing and quilting classes, even if you're a complete beginner and just want to try something new.
Some of the classes we've seen include:
Scrap quilt
Quilting with a pantograph
Boxy quilted pouch
Art & stitch basics
Applique
Purses and bags
And a lot more
They even have some kids classes like how to make a fabric box and a roll-up pencil case.
#23 Visit the Wheatland Museum
President James Buchanan's Wheatland, a research center, museum store, and arboretum can be found at LancasterHistory.
Guided tours are available throughout the day from Mondays to Saturdays.
On the tour you will watch a short film, walk over to the mansion and the guide will take you through the top and bottom floors of the mansion.
The tours are typically about 1.5 to 2 hours long but I'd recommend you plan for extra time to be able to enjoy other attractions available at LancasterHistory.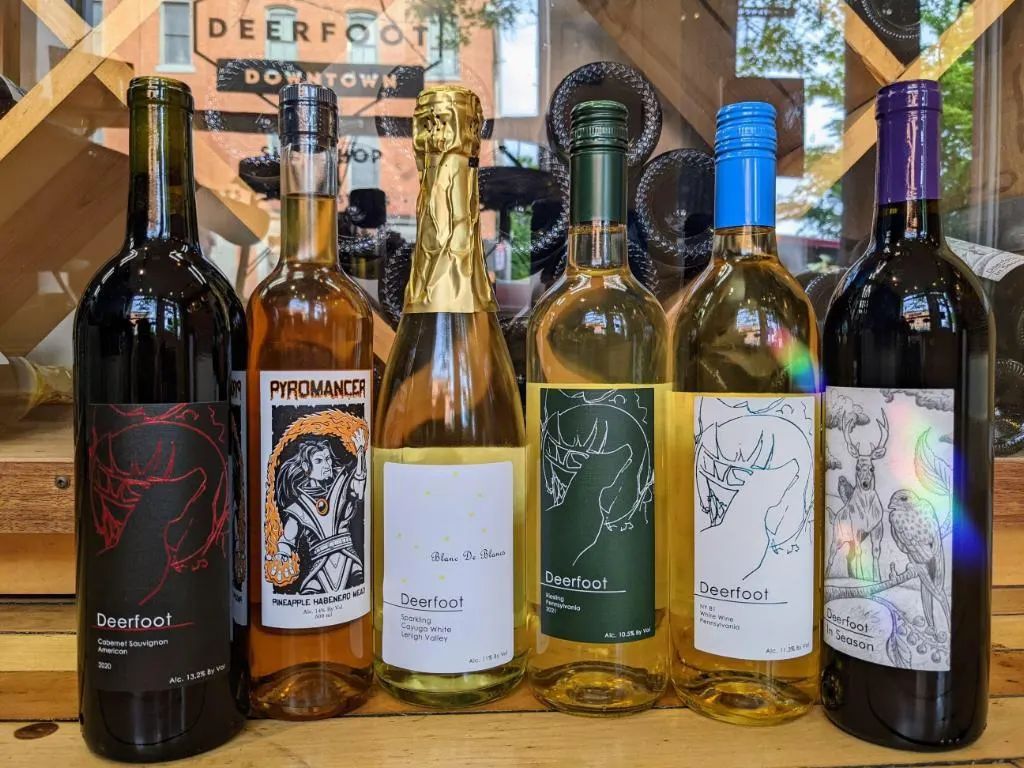 #24 Go on a wine-tasting tour with the Lancaster County Wine Trail
Lancaster is actually a great place for visiting some local wineries and trying out red, white and specialty wines. Some great spots for wine tasting in Lancaster are:
Deerfoot Downtown
Thorn Hill Vineyards
Tonnino Winery
#25 Explore the Mennonite Life Visitors Center
The Mennonite Life Visitors Center is a museum dedicated to Amish and Mennonite heritage.
They also offer a guided tour where the guide will actually come along with you in your vehicle as you spend a couple of hours exploring backroads and the local farms to learn more about the area.
The museum store also has some beautiful handicrafts available.
#26 Check out the Hans Herr House and Museum
The 1719 Museum is a historic home that is only 37 x 30 feet. The Herr House itself is quite amazing and the guided tour is excellent.
The tours are accomodating for kids too as there is plenty of things for them to touch as you go. Definitely a hidden gem!
#27 Visit the Fulton Theatre
This theatre was built on top of what used to be Lancaster's jail. These days you can see a variety of excellent theatre shows for adults and kids.
The theatre's marketing director says the most popular section in the theatre is the Parquet section, Row L (in case you're looking for the best seats in the house!).
#28 Go on a Walking Tour of Lancaster
Historic Lancaster Walking Tours offers tours perfect for learning about Lancaster's history. Even if you are a local, you've been to Lancaster many times, or have taken other tours, you'll likely still learn some facts you didn't know before.
These are walking tours but easy to do.
The tours themselves are inexpensive and are about 90 minutes long.
Note: Just show up! You can't make reservations.
#29 Visit the Lancaster County Art Association
The Lancaster County Art Association is the county's longest-running arts organization and is not only a good place to see art from local artists but also have some great classes and workshops too.
There are classes for both kids and adults to learn about and try your hand at a variety of art forms including:
Watercolor
Oil & acrylic painting
Pastels
Pen & ink
Pottery
#30 Explore the Rock Ford Plantation
Historic Rock Ford is another history museum in Lancaster.
This one is known as the General Edward Hand House as it is where you can learn more about the life of Edward Hand, the Adjutant General to George Washington, his family, enslaved and free servants and laborers who lived on the property.
During your visit you can take a guided mansion tour, as well as the Snyder Gallery.
#31 Go on a Scenic Drive Through the Lancaster County Countryside
Sometimes you might just want to skip the tours and drive on your own. Explore the countryside, take in the views, see the farms and you never know what you might come across.

#32 Hands-on House Children's Museum
THe Hands-on House is Lancaster's Children's Museum and is an awesome place to take kids up to about 10 years old.
They have a lot of interactive exhibits and hands-on activities (just as the name suggests). Some of their most fun exhibits include:
Mason's Active Adventure Garden
Construction Zone
Amazing Airways
Robotic Arm & STEM Lab
In April, they also host the 'Touch-a-Truck' event where kids get to climb on a variety of real trucks from construction trucks to emergency vehicles and many in between.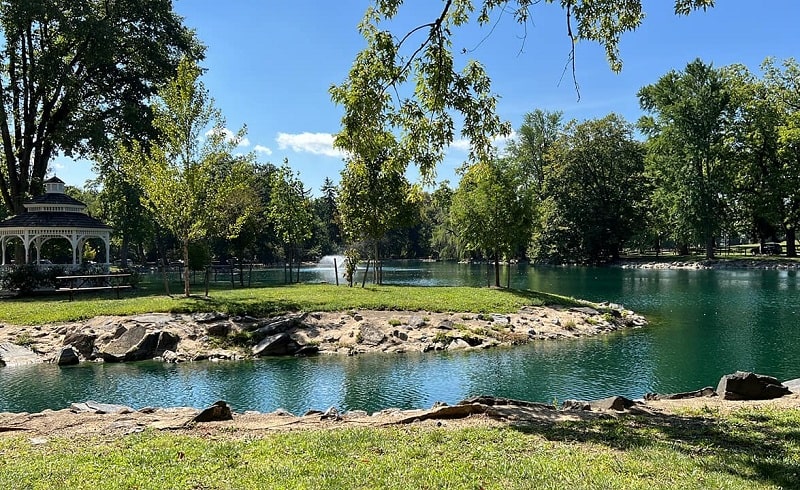 #33 Long's Park
Long's park is such a beautiful place to visit and get outside into nature. Whether you are visiting or live nearby, this is a great place to go..
They have a large lake with fish and ducks and we always enjoying walking the trail around it.
They also have several nice playgrounds for the kids, sports areas and even a free concert series during the summer.
#34 The Gem Den
The Gem Den rock and fossil shop is such a fun place to go. They have a large variety of:
Crystals
Gems
Fossiles
Rocks
The staff is also incredible. They are so nice to take the time to really inform you about what they have and what you may be interested in.
Kids love getting to pick out their own stones and gems from the bins and dishes.
There is a range of price points here so you can find something within budget.
#35 Sky Zone Trampoline Park
When we're done with the outdoor activities or it's just a bit cold outside, we like to head to Sky Zone, an indoor trampoline park with lots of fun attractions including:
Warped Wall
SkySlam
SkyClimb
Ninja Warrior Course
Air Court
Dodgeball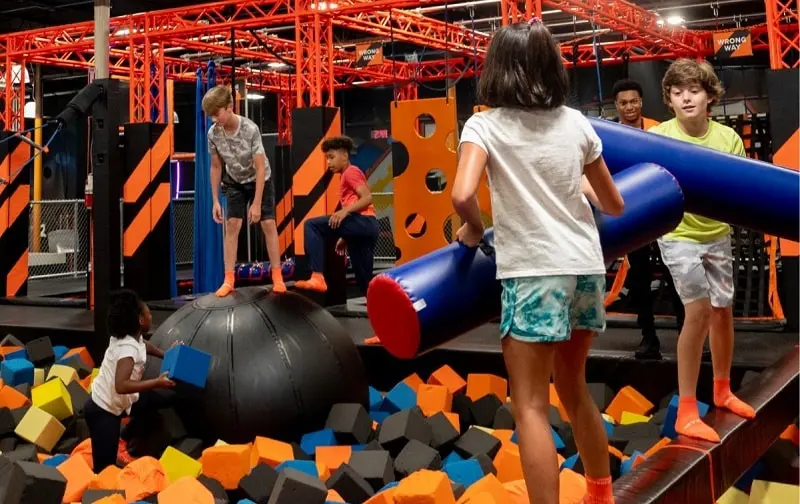 #36 The BeadWorks
Right next to The Gem Den, is The BeadWorks, an open studio where you can make your own jewelry.
They have so many beads and chains to pick from and they have some great people there who are so helpful to make sure you really create an awesome piece that you'll love to wear.
This is a great place to come with a friend or someone special to have fun and do something a bit different.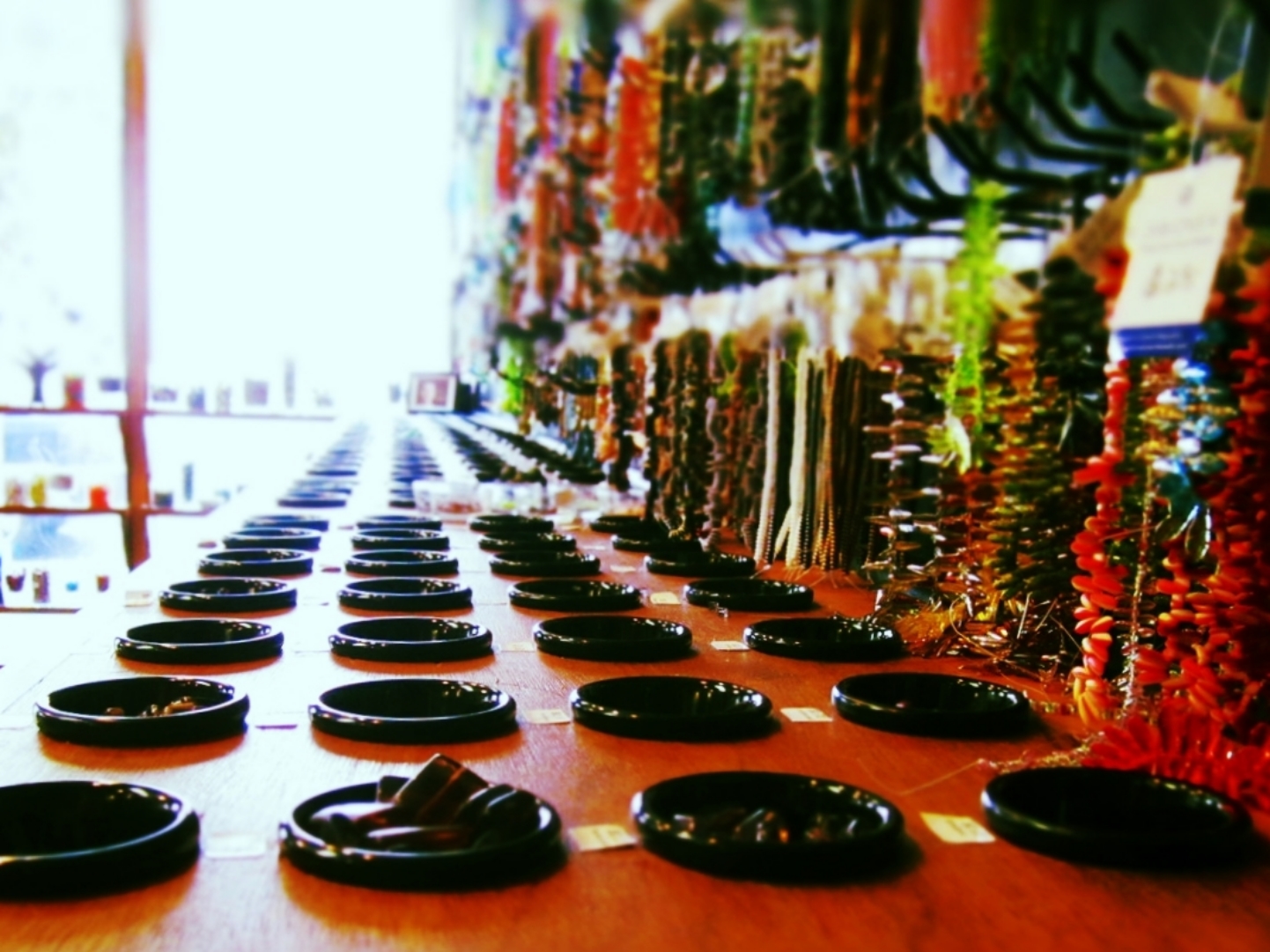 #37 Enjoy the Dutch Apple Dinner Theatre
The Dutch Apple Dinner Theater is the place to go for dinner and a show!
The delicious dinner (typically American food) is a buffet and despite that, is a nicer place in the area.
The shows themselves are really good and then also have some shows for kids that both myself and my kids thought was great. We'll definitely be back!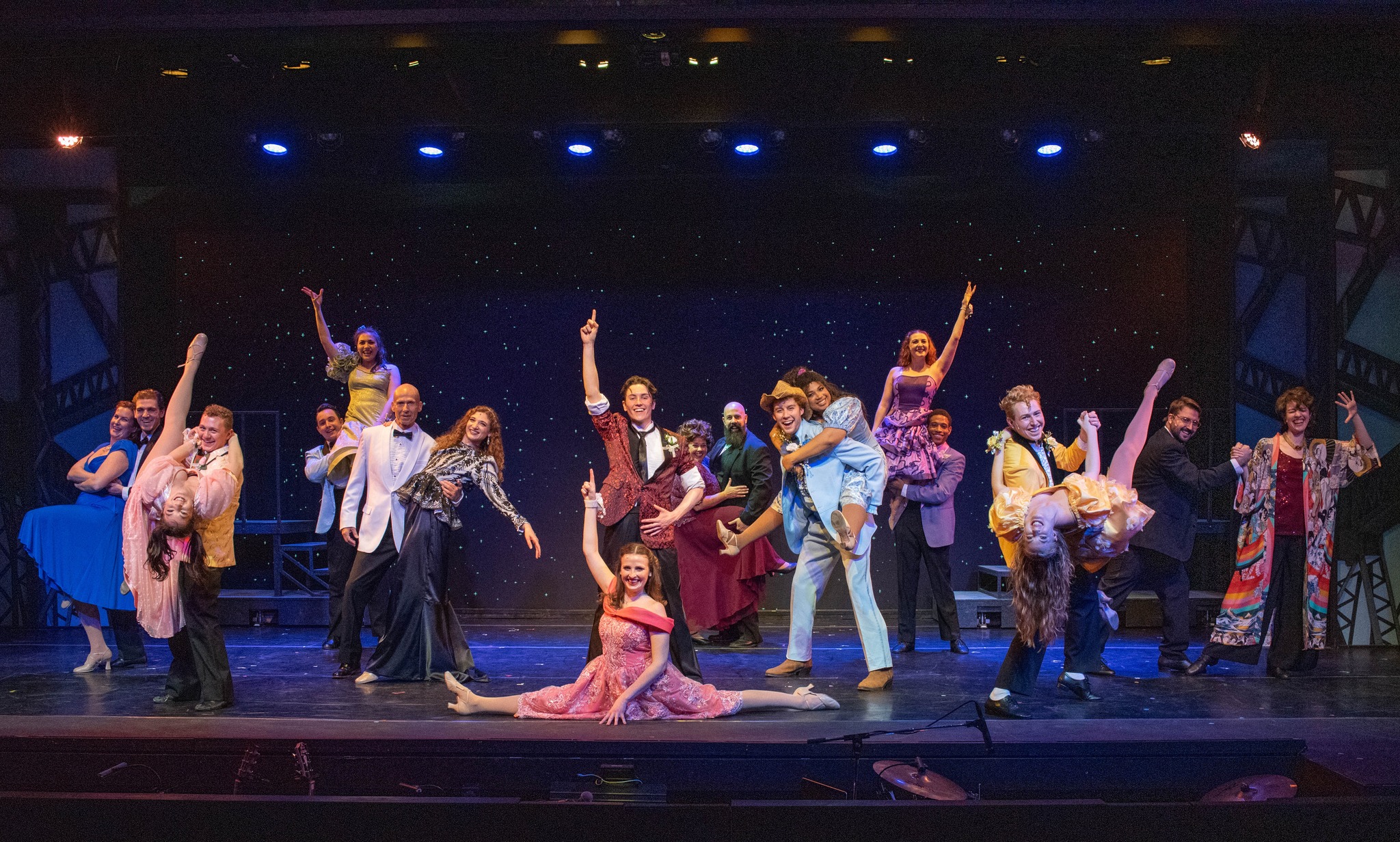 #38 Pick Your Own Fruit
At Cherry Hill Orchards you can pick-your-own fruit throughout the year. Depending on the season, you can pick:
Apples
Cherries
Nectarines
Peaches
Blackberries
#39 See a show at the American Music Theatre
The American Music Theatre is a big theatre that hosts a variety of shows, including:
Concerts
Musicals
Comedy acts
They also have some great family shows available so make sure to check the schedule to see what's coming up before you visit.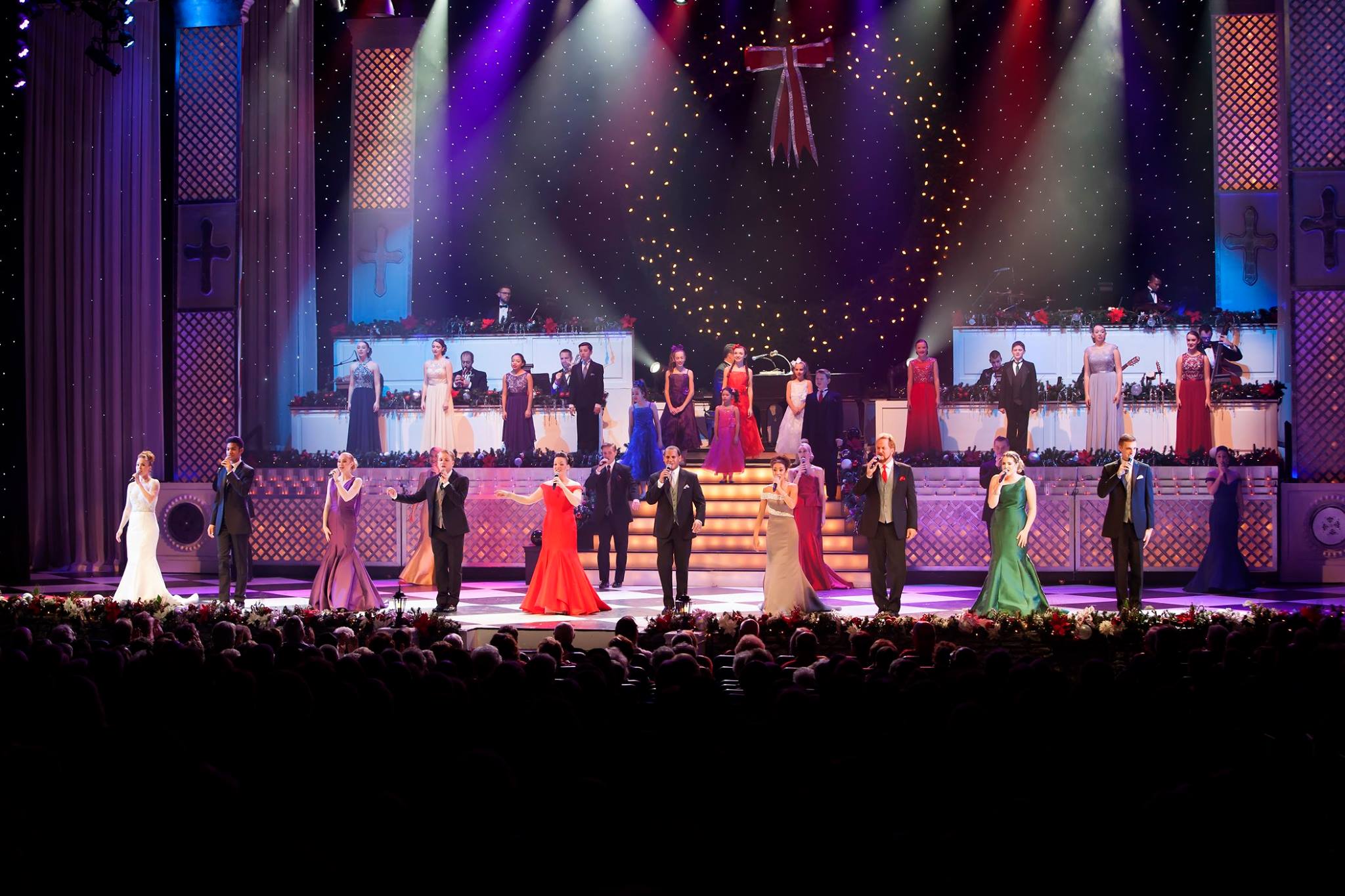 Fun Things to Do Near Lancaster
There are some really great things to do within 30 minutes of Downtown Lancaster that we have to mention so you don't miss out!
#40 Murder Mystery Train Ride
If you're looking for another unique experience, the Strasburg Rail Road has an incredible 45-minute steam train ride that takes you through Amish Country.
During the ride, professional actors put on a murder mystery performance for everyone ages 10 and up. You can enjoy hors d'oeuvres, alcoholic and non-alcholic drinks and of course…the show!
#41 Learn the Art of Pretzel Twisting
Localted in the quaint and charming town of Lititz, voted "America's Coolest Small Town" by Budget Travel, we visit the Julius Sturgis Pretzel Bakery to experience the art of pretzel twisting.
The Julius Sturgis Pretzel Bakery is the country's first commercial pretzel bakery.
You can also schedule an interactive tour of the bakery to learn how to twist pretzels. This is so fun for the whole family and definitely a more unique experience in Lancaster.
#42 Wilbur Chocolate Co.
If you have a chocolate lover in your group, this is a must! You can smell the chocolate across the street in the parking lot. Wilbur Chocolate Co. is known as the Candy Americana Museum.
It's more of a store that includes old candy molds, antique containers, a video about chocolate, and everything for the chocolate connoisseur.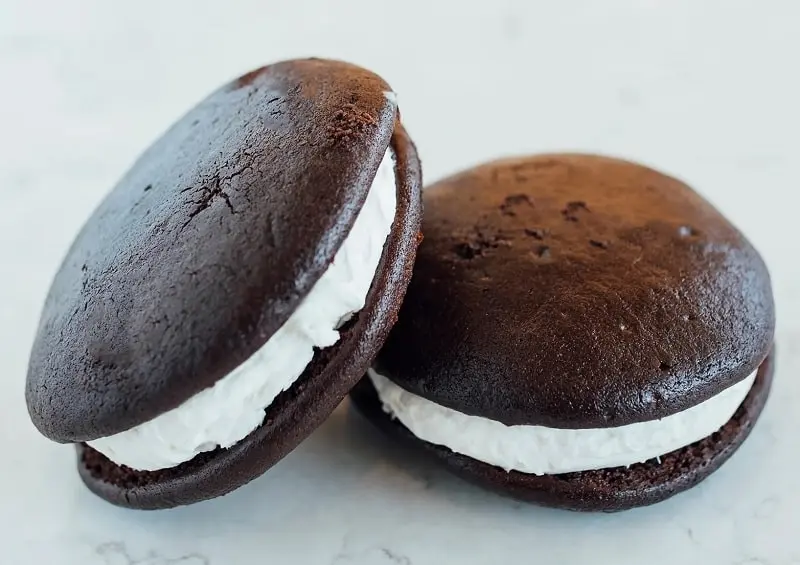 My 7-year-old loved seeing the staff making chocolate covered graham crackers behind a Plexiglas window and the larger than life sized Sven and Olaf figures made of rice krispie treats, chocolate, and candy clay.
Complimentary milk and dark chocolate buds are located in a crock at the back of the store.
You know it is worth stopping at the shop if President Obama visited here!
#43 Lititz Springs Park
Adjacent to Wilbur's is the Lititz welcome center and Lititz Springs Park filled with a duck pond and old railroad caboose.
Here you can also find:
Free concerts
A playground with an adaptive swing
Caboose
Welcome center
The park also hosts a number of events throughout the year like the Easter Egg Hunt, bake sale, orchestra concert, craft show, art show, July 4th celebration, chocolate walk and several more.
#44 Visit a Chocolate Cafe
Note: Cafe Chocolate is now permanently closed
Down the street from Wilbur Chocolate Co. is Café Chocolate of Lititz.
Kids will love seeing the chocolate fountain where fresh strawberries are dipped. All items on the menu items are healthy, locally sourced, natural, and organic.
The excellent kids menu features a peanut butter, banana and chocolate infused panini, and flatbread pizza. The organic, all beef hot dog is served on a whole wheat bun with veggie crisps.
#45 Kitchen Kettle Village
Kitchen Kettle Village is s shopping mall with over 40 shops including specialty shops, restaurants and more. Some of the stores you can visit are:
The Bake Shop (with made-from-scratch cookies)
Jam & Relish Kitchen
Girls Day Out
Lancaster Yarn Shop
Pepper Lane Fudge and Sweets
Pappy's Kettle Korn
Grande Place (so you can celebrate Christmas all year long)
Lapp Valley Farms Ice Cream
The Jewelry Bar
– For Train Enthusiasts –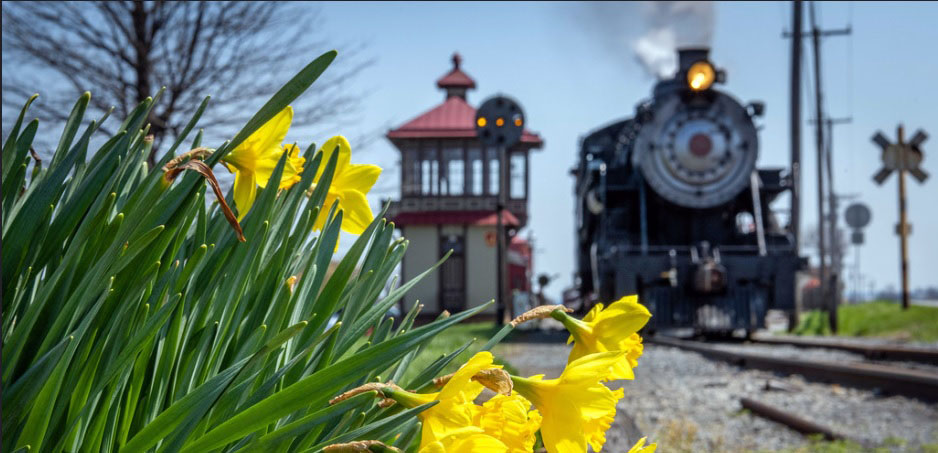 #46 Visit the Strasburg Rail Road
If you haven't taken a ride on the Strasburg Rail Road yet, you're missing out!
This is a beautiful way to see the countryside and you have your choice of riding in coach, open air, dining, first class or President's car.
The Strasburg Rail Road is the oldest continuously operated standard-gauge railroad in the Western hemisphere and the oldest public utility in Pennsylvania.
Make sure to check their event calendar as they offer some special and unique train rides throughout the year including:
Easter Trains
Day Out With Thomas (the Train)
Christmas Trains
Escape Rom (on the caboose)
There are also several more unique experiences for both kids and adults.
#47 Railroad Museum of Pennsylvania
The Railroad Museum is a popular museum where you want to go to see a number of railroad cars.
There are so many restored trains and train-themed things to see.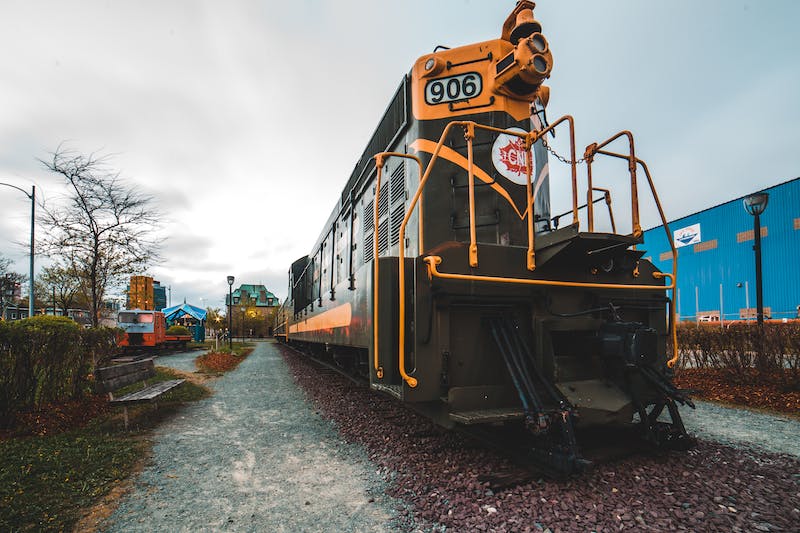 They also have a very detailed mini-train set. The kids absolutely love this place, especially the trains you can control!
This is a perfect place to stop after your ride on the Strasburg Rail Road.
#48 The National Toy Train Museum
The National Toy Train Museum is a great hands-on museum with interactive displays of toy trains. This is a train playground for kids and adult kids.
They even have a Toy Train library on-site.
When to Visit Lancaster
I found fall to be busier than summertime in Lancaster. Plan accordingly when making travel arrangements and expect delays for dining and traffic.
Keep in mind most places in the area are closed on Sundays. The Café Chocolate, the Wolf Sanctuary, and Dutch Wonderland are open daily.
Planning Your Visit to Lancaster, PA
Remember, that Lancaster comprises both the city and the Amish countryside. With so many options for families, make Lancaster, Pennsylvania part of your next vacation!
Lancaster County, Pennsylvania has been a family favorite in my household. With so many options in Pennsylvania Dutch Country, we keep coming back to the area.
I hope this list helps you plan your next visit to Lancaster, PA!