Relaxing with family along the Gunpowder River is a great way to spend an afternoon, or even the entire day! Located Northeast of Baltimore, the Hammerman Beach area of Gunpowder Falls State Park is is open year-round (except Christmas Day).
Gunpowder Falls State Park has several unconnected areas spread throughout Baltimore and Harford Counties. No matter what time of year you visit, there are lots of fun activities here.
Here we'll cover everything you need to know before you go.
Hammerman Area Beach
For the hot summer months, your family will enjoy the Hammerman Beach. This is a 1500-foot sandy beach on the Gunpowder River.
has several lifeguard-protected beaches and It is important to note that lifeguards are only on duty here from 8am to 8pm. Thursday through Sunday during the summer. The concession stand operates on the same schedule.
Although lifeguards are only on duty for the swimming beaches from Thursday through Sunday,
The sandy beach area is just a small portion of the parkland at the Hammerman area of Gunpowder Falls.
RELATED: Enjoy the Beach at Sandy Point State Park
Other Activities
There are so many things to do at Gunpowder Falls State Park Hammerhead Area besides just the beach which makes this park great to visit throughout the year.
The park has many hiking trails and even a few swimming holes scattered within its borders.
Be sure to check out all of the hiking options in the other areas of Gunpowder Falls State Park.
There are several picnic pavilions and playgrounds that you can reach by driving or walking. There is also a fishing area , a boat launch, an archery range, softball fields and nature trail. There is certainly enough fun to fill an afternoon even in the off-season.
There is also a large boathouse to rent windsurfing equipment, SUPs and kayaks.
Other amenities in the Hammerman beach area include a bathhouse with toilets, showers and lockers, and The Riverside Grill and snowball stand.
Here's all the park amenities you can expect to see:
A 1,500 foot beach and swim area
Food concessions
Picnic tables & pavilions
Playgrounds
Canoe and kayak rentals
Fishing
Archery range
Short hiking & nature trails
Beach bathhouse
Water Sport Rentals
Ultimate Water Sports rents boats, paddleboards and other water rentals.
They are open Saturdays & Sundays 10am-6pm in May, 10am to 7pm, June through August, Saturdays & Sundays in September from 10am-6pm and on Labor Day Monday from 10am-6pm.
Children must be a minimum of 60 pounds to go out on rental equipment and kids under 13 must have an adult out on the water with them.
Note: Ultimate Water Sports will not rent equipment on days when the wind is significant.
You can see everything they have to offer and make your reservations here.
When to Go
The park is open from 8am to sunset April – October and 10am to sunset November – March. Gunpowder Falls State Park is open year-round, except for Christmas Day.
The beach is popular with families from the Baltimore area and is known to fill to capacity on weekends. 
As the park is quite popular, it does get full and the park has been known to turn away visitors if they are filled to capacity. This typically happens during the summer months and holidays, especially on the weekends.
Thursdays and Fridays are quieter times to visit but camp groups do begin to arrive mid-morning and leave around 3pm.
If you plan to visit during this time, your best bet is to go early to make sure you get a spot.
Food & Drink
You are able to bring your own picnic and use the picnic tables available on site.
If you want to skip the picnic and still eat at the park, you can visit The Riverside Grill. They have a variety of food at decent prices and are open Thursday to Monday, Memorial Day weekend – Labor Day from 10am. to 6pm.
There are also some nearby restaurants:
Keep in mind, if you leave the park you will have to pay to re-enter.
What to Bring
A day out at the park is more fun when you're prepared. Here are some things you may want to consider packing depending on the activities you plan on doing:
Sunglasses
Sunscreen
Lunch
Snacks
Plenty of water
Bathing suits
Water shoes
Sand toys
A change of clothes
Shoes that can get dirty (if you head out to the trails or archery area, especially after rain)
Park Map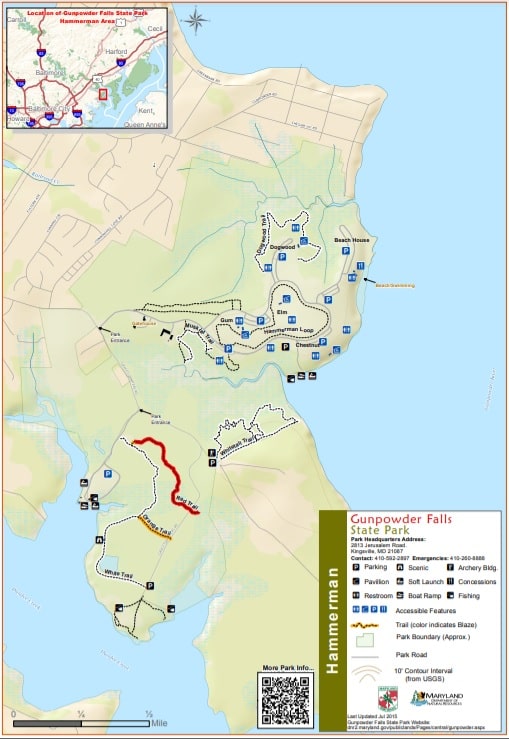 You can download the larger map to your phone here.
Prices & Admission
The price to enter Gunpowder Falls State Park Hammerman Area varies depending on the time of year as follows. During the main season (Memorial Day – Labor Day), the price is per person. In the off-season the price switches to a per vehicle price.
Weekends & Holidays Memorial Day – Labor Day: $5 per person for Maryland residents and $7 per person for non-Maryland residents.
Weekdays & Holidays Memorial Day – Labor Day: $3 per person for Maryland residents and $5 per person for non-Maryland residents.
Daily Off-Season Day After Labor Day to Friday Prior to Memorial Day Weekend: $3 per vehicle for Maryland residents and $5 per vehicle for non-Maryland residents.
Senior citizens are eligible for a $10 Lifetime Golden Age Pass.
Veterans as well as children in carseats are free to enter.
Getting There
The Hammerman Area of Gunpowder Falls State Park is located at 7200 Graces Quarters Rd Middle River MD.
Good to Know Before You Go
Pets are allowed except for on the sandy areas of Hammerman Beach from Memorial Day weekend through Labor day, the concession stand, bathrooms and playground areas.
The beach bathhouse and pavilions are accessible. There is also an accessible path to the swimming beach.
There are no in and out privileges with your admission so you will need to repay if you leave and reenter.
Adults and kids ages 16 and older will need a Maryland fishing license in order to fish
Stroller friendly although you can do with out. The walk to the beach is very short but you can easily push the stroller through the grass (no paved trail like at Sandy Point)
Things to Do Near Gunpowder Falls State Park
Get your jumps in at Urban Air Trampoline and Adventure Park (10 minutes)
Visit the Marshy Point Nature Center (11 minutes)
See cool planes at the Glenn L Martin Aviation Museum (11 minutes)
Visit the Baltimore Museum of Industry (25 minutes)
See the ducks at Canton Waterfront Park (25 minutes)
Visit the National Aquarium (35 minutes)
Visit the Cylburn Arboretum (35 minutes)