After a winter spent mostly indoors, my 3-year-old and I were more than ready to get outdoors on one of the first days of spring.
I signed my son up for a Nature Quest class at Hidden Pond Nature Center. We had never been to the nature center before and I thought a class would be a great starting point.
We ended up loving the nature center and class and will definitely be coming back with a picnic next time!
Hidden Oaks Nature Center
We arrived at the Nature Center a few minutes before 10am. It had rained earlier that morning, so my son loved going from puddle to puddle in his rain boots as we made our way down the path toward the main building.
After signing in for our class, we explored the small, but welcoming nature center.
There were aquariums with various fish, reptiles and amphibians just about everywhere. My son loved exploring each aquarium.
Stools were thoughtfully provided so that the children could see animals set up a bit higher.
There was also a table with nature and animal themed puzzles on it. The Center has massive floor to ceiling windows which overlook the pond, trails and woods behind the Center.
After a few minutes they announced that the class would now begin downstairs. We walked down to the classroom. Those with strollers went outside and took a path around to the back of the building. Small carpets were set out for the children and chairs were set up for the grownups.
This class was about mice and other small rodents and was geared to children from ages 3 to 6. A naturalist introduced himself and explained what the kids would be doing that day. He then introduced a mouse followed by a hamster.
They each had a chance to pet the hamster and then had a wonderful time watching the hamster run around in her ball.
We then proceeded outside to look for various seeds that mice enjoy. This also gave us a chance to explore some of the paths behind the nature center and near the pond.
My son loved the small bridge at one end of the pond. He also enjoyed checking out a small shelter with picnic tables and an amphitheater. He
probably would have happily played on the bridge and paths, but it was time to head back into the classroom to turn our cup of seeds into a nice little hiding place and climbing structure for mice.
After using scissors to cut holes in the cups (with a lot of parent help), the kids then took turns placing their cups into about 12 different terrariums holding tons of mice inside the Nature Center's garage.
My little reviewer was a bit anxious about the garage and terrariums so we decided to head back to the Nature Center.
The Naturalist was wonderful with the children and it was obvious that many of the children attended these classes regularly.
I did feel that the class was more successful with the kids in the class that were a bit older than my son. For a nominal fee though, I was happy for an excellent introduction to the Nature Center and a few furry friends.
Back inside the center my small reviewer decided to put together a puzzle he had been eyeing earlier.
Outdoor Trail & Pond
Outside, you also have an option to walk around the pond area or have a stroll through the woodland trails and explore through their self guided nature trails.
The trail will surely not disappoint as the Hidden Pond has a bit of a wildlife to showcase.
You can also check their trail map so you already have a bird's eyeview of what Hidden Pond has to offer.
READ NEXT: 19 Nature Centers in the DC Area
Nature-Themed Playground
As we were leaving we looked in on a few more creatures in a small indoor pond in the entryway. We then headed back outside into the beautiful spring sunshine.
It was impossible to avoid the large nature-themed playground in between the Nature Center and parking lot.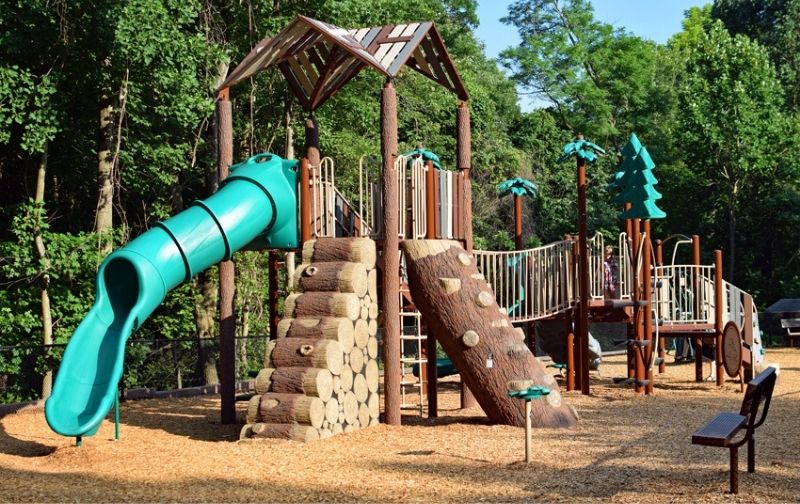 My little reviewer had an excellent time climbing and sliding. It was nearly time for lunch, so we headed back home after a wonderful time learning, exploring and playing.
Classes & Events
Hidden Pond Nature center holds camps and classes for kids of all ages. They usually are a week-long day camps in the summer and occasional camps throughout the year.
However, on a regular basis, you can find regular classes they have for kids of different ages.
They also have events that are related to science, nature, and providing knowledge to kids on how to save the earth. Some classes you will find are:
Adventures in Geology & Hydrology (8 – 11yr)
Campfire Fridays (3 – Adult)
Geology Rocks (6 – 9 yrs)
Hidden Pond Nature Explorers (7 – 10yrs)
Nature Quest (3 – 6 yrs)
Hours & When to Go
Hidden Oaks Nature Center is open Wednesday – Monday from 11:00am to 4:00pm and closed on Tuesdays.
Park grounds are open dawn to dusk daily.
Getting There
Hidden Ponds Nature Center is located at: 8511 Greeley Blvd. Springfield, Virginia 22152
Things to Do Nearby
Let the kids play at Pirate's Cove Waterpark
Visit the Super, Awesome & Amazing play space with a ninja course, trampoline and indoor water park
Swing from the ropes and zip line at Go Ape
Walk the ¾ mile long Neabsco Creek Boardwalk Trail for free
Visit the pond, play mini-golf or ride the train at Burke Lake Park
Hidden Pond Nature Center is a lovely place to explore both the creatures inside and the beautiful grounds outside.
My young reviewer loved the first half of the Nature Quest class, but he would have rather kept exploring outside than finishing the class. A majority of the kids in the class seemed to be having a wonderful time.
We definitely plan on returning with a picnic lunch when it gets even warmer.