Horseback riding is such a fun family activity and makes for a memorable experience. And going on a trail ride is one my family's favorite things to do in Maryland.
Whether you are going with beginner riders with no experience or advanced riders, there are lots of great options.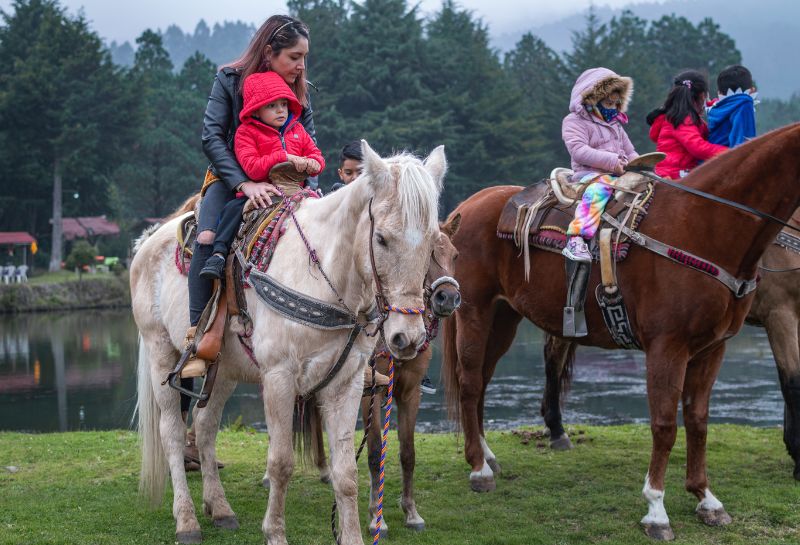 While the summer months tend to be the most popular time to go, most of these ranches are open from spring through fall with a few open during the winter months.
To help you find the best Maryland horseback riding programs for your group, here you'll find all your best options, what to expect and the age restrictions for each place.
#1 Circle R Ranch
Oakland, MD | Website
Circle R Ranch offers family friendly horseback and pony rides at Deep Creek Lake. They also offer a very unique experience – horse drawn sleigh rides (weather permitting of course) from November to February.
We had a 45-minute trail ride on a couple of great horses and enjoyed every bit of it.
The trail is beautiful as you ride over the hillside through mape and oak trees, following along streams and through old apple orchards.
For my youngest kid, this was her first time riding a horse and she had an amazing time. She loved these majestic animals and insisted on bringing one home!
We visited here about 6 months back for a family reunion and had a wonderful experience.
The hosts are gracious and welcoming and were so patient with the kids when they asked like a million questions.
And the facility in itself is clean and scenic.
Kid's Age Limits:
15-minute handheld pony trail rides – any age
30-minute trail rides – ages 7 & up (best if kids have some horse experience)
60-minute trail rides – ages 10 & up even without experience
Helmet required for kids ages 16 and under (they provide)
#2 River Valley Ranch
Manchester, MD | Website
Located in Carroll County, River Valley Ranch is a non-profit organization that is actually known for their awesome summer camps.
They do, however, offer horse trail rides that take you along the Gunpowder River, rolling hills and a private 500-acre property of trails.
This was actually my daughter's first-ever sleepaway, and I'm a nervous mom, I had a zillion queries before sending off my daughter!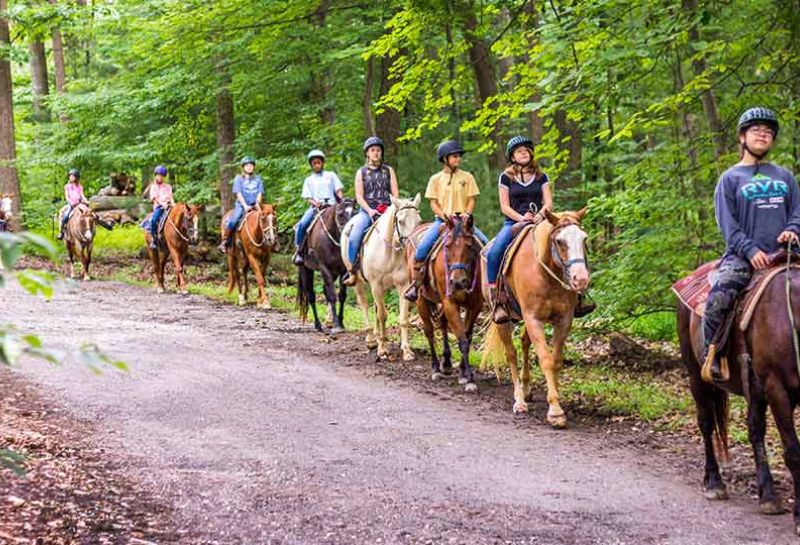 And once all of my concerns were promptly answered to, I decided to have my daughter this unique experience.
And she had a lot of fun there. She had so many stories from all of the adventures she did at the camp and so many memories to relish.
Her counselors were very polite and engaging. The food was awesome, and best of all, she made a lot of friends.
Kids Age Limits:
Kids must be age 10 or older for a horseback ride
Helmets, long pants and closed toe shoes are required (helmets provided)
#3 Wheaton Park Stables
Silver Spring, MD | Website
Wheaton Park Stables in Montgomery County has pony and horse riding for any skill level so even if this is your kid's first time riding a horse, this is one of the best places to go.
It takes you right through Wheaton Regional Park!
Trail rides are available by reservation on Sundays.
It's a great place to bring kids! Large places to roam about, have a picnic, and take riding lessons! Sandy, who owns this place really knows her stuff. She is gracious with the guests, and takes great care of the horses as well as her staff.
| RELATED: 21+ Petting Zoos in Maryland (Farm & Exotic Animals)
On Thursdays and Sunday afternoons, they offer pony rides for kids ages 3 to 7 years old.
Kids Age Limits:
Younger riders must be 8 or older
Weight limit of 180 lbs
Helmet required (provided)
#4 Southern Grace Farm
Bel Alton, MD | Website
Located in Charles County, Summer Grace Farm is a 52-acre horse farm that offers horse back farm trail rides from 1 hour to 3.5 hours.
The longer ones even include stopping for a restaurant lunch.
I went there recenty and booked a 1-hour trail ride as a gift for my son's birthday. I wasn't even sure if he was going to like it, but I wanted to give him a unique experience, and to my surprise, he absolutely loved it!
He had such a wonderful time enjoying the scenic trails, interacting with the guides, and connecting with the horses that he insists on doing it again very soon.
#5 Holly Ridge Farm Equestrian Center
Willards, MD | Website
Just minutes from Ocean City, you'll find yourself riding through pine and cypress trees and the Pocomoke River.
One of our friends booked riding lessons here and says she is hooked. So we decided to give it a try too and weren't disappointed either.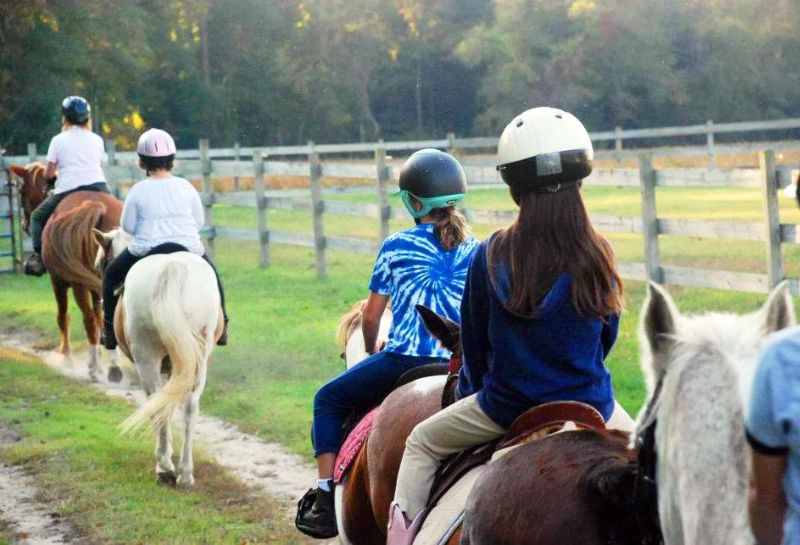 The owner of this place is super friendly, she gave us a call few days before our arrival and briefed us about the property, and what to expect during the horseback trail rides.
She cares immensely about her horses and makes sure that they're healthy and cared for. Sometimes, all you need is to be in the woods (and be in the company of horses!) to rejuvenate.
Kids Age Limits:
kids must be 10 or older to ride
If you do have younger children, they do offer a Family Fun Ride for kids ages 5 and up. This is really a great way to introduce young kids to horses. They'll be able to groom them, play games and ride.
A great horseback riding experience is a beach ride which is exactly what you can do in Ocean City. They allow riding tours in the winter and early spring (November to March).
#6 Fairwinds Farm & Stables
North East, MD | Website
It's a fun and great place to ride horses as well as host events.
You can host birthday parties, bachelorette parties, tea parties, and family reunions here. You can also pick this as your wedding venue from Spring to Fall.
The staff is very friendly, and attentive. It's a calm and peaceful place, one to get away from city lights and city noise!
#7 Grove Point Stables
Earleville, MD | Website
Grove Point Stables is a good place for an introductory ride if you've never been before. They have dependable horses and make you feel at ease.
You can experience horse riding on a beach here. It's a 178-acre farm and offers one of the most serene horse trails in Maryland.
#8 Broken Spoke Stable
Oakland, MD | Website
Broken Spoke Stables offers organized trail rides as well as double trail rides just for two. With these rides you also get to meet and groom the horses before you go out.
#10 Western Trails
Oakland, MD | Website
Western Trails is another good horseback riding option near Deep Creek Lake. The team is very patient even if you don't have any experience riding before.
The terrain is easy and the scenery absolutely beautiful! 
#11 Hunt View Riding Academy
Germantown, MD | Website
Here you'll ride on private property along Seneca Creek State Park which is absolutely beautiful.
Kids age limit:
must be 8 years old or older to ride on the trail
If you have younger kids, they do offer pony rides as well.
#12 Spring Gap Farm
Cumberland, MD | Website
Before you head out on the trails with Spring Gap Farm, you'll start by meeting and grooming the horses and receive specific instruction on how to do simple turns so you feel more prepared.
This is definitely a great place to get some equine experience. They combine education with trail riding, which in my opinion is the best way to learn horse riding.
They offer private lessons as well as group lessons, summer camps, guided rides and more.
Some of their services include:
Boarding
Leasing 
Training
Instructional Guided Rides
Lessons
Showing
Kids Camps
#13 Foxfire Farms
Brandywine, MD | Website
Foxfire Farms combines two wonderful things…horseback riding and wine tasting! Needless to say, you have to be at least 21 years of age to participate.
My husband and I visited here for celebrating Valentine's Day, and had an excellent experience! We opted for an awesome night, light ride with the sweetest horses and ended the night with champagne.
I never thought horseback riding would be something I'd want to do on a date night, but now I'd love to plan some of my family's special events at an equestrian center.
#14 Piscataway Horse Farm
Clinton, MD | Website
Right in Prince George's County is Piscataway Horse Farm. My friend threw her son's birthday party at this farm, which is how I landed there. And we all had a fun family time here.
The staff is polite and helpful and went out of their way to make sure everyone had a special time. It's a nice place for a family outing or kids' birthday.
#15 Hoof Prints Horseback Trail Riding Center
Parsonsburg, MD | Website
Hoof Prints serves the Ocean City, Rehobeth Beach and Chincoteague areas.
It's 6,000 acres of open fields and quiet wilderness where you can disconnect from the hustle-bustle of the city and feel liberated riding a horse!
We went there around 3 years ago and had a wonderful time. It's a great place if you're a beginner at horse riding, because they teach you not just how to ride, but also how to be around horses.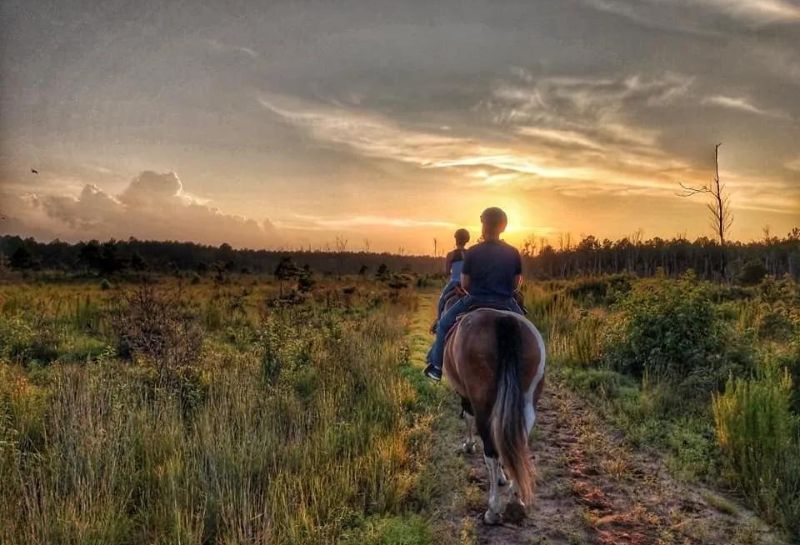 We had the pleasure of grooming our horses before riding them, which helped us to befriend them before going out on the trail I'd definitely recommend this place for kids as well. Sandy and her helpers are very patient and helpful.
And if you're in a mood for adventure, they also have something called "Yoga on Horseback".
#16 Rock Creek Park Horse Center
Washington, DC | Website
If you're in Chevy Chase, you'll find Rock Creek Park Horse Center is less than 15 minutes away in Washington, DC. And despite being in the city, they have a beautiful nature spot right in the city.
If riding along wooded trails sounds amazing, this equestrian facility has miles of beautiful trails to explore through the park.
Kids Age Limit:
kids must be at least 12 years old to ride
#17 Brandywine Carriage Tours
Brandywine | Website
While you don't acually get to ride the horses here, they do have horse carriage rides which are an amazing experience for the whole family!
Their options are:
1) 1-hour country tour that's great for families
2) 2-hour ride and wine experience
On these tours you'll ride down local rides passing woods, and Maryland farms as you learn about Maryland's farm history. 
You can bring along wine you purchase at one of the local wineries as well.
FREQUENTLY ASKED QUESTIONS
Where can I ride my own horse? 
If you already have your own horse, there are some great options for where to take your horse. In addition to rented horses, Grove Point Stables also allows you to use their property for a fee. There is a variety of terrain including fields, paths, hills, stream crossings and you can even take the horses down to the water to swim or just ride along the shore.
Prince George's County also has 47 miles of trails, like Paint Branch Trail, you can use for horseback riding.
In Ocean City, you can ride your own horse in a select portion of town but will need to complete an application.
How much should a horse ride cost?
The prices of horseback riding vary by location. Not only by horse ranch but also by just how far out the ranch is from big cities. Prices for horseback riding in Maryland range from $30 to $85 per hour.
Always make sure you know how much actual riding time you will be receiving and what else may be included in the price you are paying.
Can you ride horses on the beach in Maryland?
You can ride horses on the beach in Maryland in the OSV zone, over sand vehicle zone, between the months of October and May. A good place for this is Assateague Island.
Can you ride a horse with no experience?
Yes! You can absolutely ride a horse without experience. Even young children can ride with no experience. It's a good idea to let the horse ranch know which people in your party do not have experience so they can match each person with the best horse for them.
There are also horse riding companies that give you time to meet the horse, groom them and learn some basics for riding the horse before you get started on a trail ride.