Ever been to the Albuquerque Balloon fiesta? Then, you don't want to miss the hot-air balloon festivals in Arizona.
Anyone who lives in Arizona knows that Arizona has its own Hot Air Balloon Festivals, which are very well organized and will be unforgettable fun for the whole family.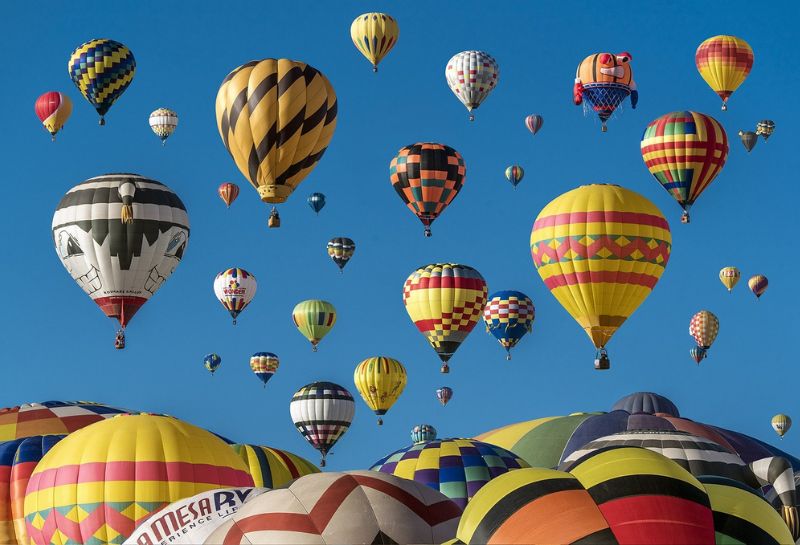 #1 Arizona Balloon Classic
1933 S Ballpark Way, Goodyear, AZ 85338 | Website
In early February, Goodyear, Arizona is the home of the Arizona Balloon Classic, where you will have the opportunity to see nearly 30 hot-air balloons.
It is a very popular event. Your children will enjoy it, and you will have the opportunity to rest and enjoy good food, live music, and the view of the balloons. Bring your chairs to sit on.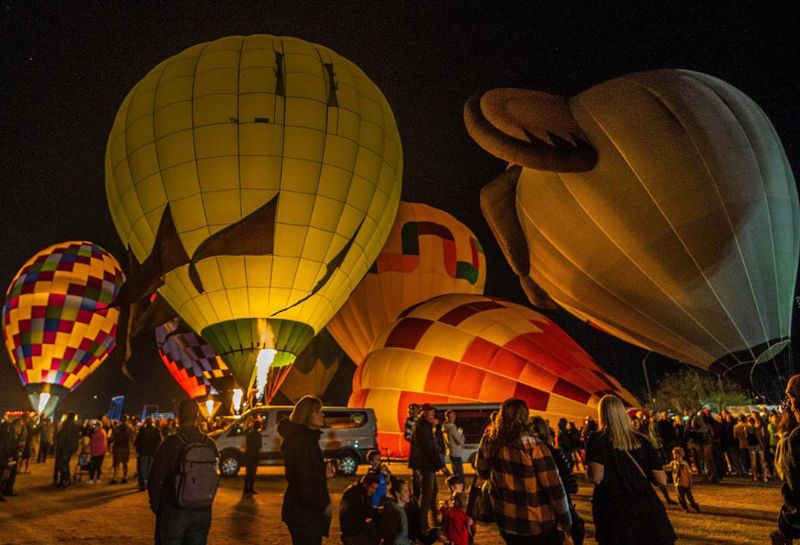 Pets are not allowed in the Arizona Balloon Classic. It is not allowed to bring in food and drinks, because there are many food vendors present at the manifestation itself. Food trucks are on-site and offer festival food favorites.
The food is excellent. Parking is provided, but you will have to pay $5 for it. Handicap parking is available in the VIP lot. Street Food Fest is a concessionaire that offers festival food favorites. The balloon events offered are:
Hot Air Balloon Race, held on saturday & sunday mornings from 7:35 to 8:35. This is a symbolic balloon race. The sky will be filled with balloons departing from the grass fields of the Goodyear Ballpark. You will be able to watch the balloons inflate, heat up, and take off.
Desert Glow, which takes place on Friday evening and Saturday evenings from 7:30 to 8:30. This is the most popular and most attended event. Balloons are inflated and lit up in the field. Fireworks are always performed on Saturdays. The sight of fireworks and illuminated hot air balloons is a unique experience
Street Food Fest, which lasts as long as the Arizona Balloon Classic festival. Live entertainment in the family fun zone will contribute to the overall impression you will take home with the Arizona Balloon Classic.
My Wind Stuff and Premier Kites & Designs featuring huge show kites, candy cannons, paper rocket making, and launching, and parachute ground racing.

Hot Air Balloon Rides. Aerogelic Ballooning accepts online bookings for Festival Flights and tickets for Tether Rides can be purchased on-site.

the City of Goodyear. You will have the opportunity to get to know this city, which is full of diverse content.
What applies to all balloon festivals is that the balloons fly in the morning when the sun rises and, in the evening, when the sun sets. Make sure to be present when the balloons are prepared for flight and when they take off because it is an unforgettable sight.
#2 Page Lake Powell Balloon Regatta
Page Lumber 665 Lake Powell Blvd, Page, AZ 86040 | Website
It's not too late to plan and head to Arizona for the Page Lake Powell Balloon Regatta. The event takes place every first week of November, lasts 4 days, and features +55 hot air balloons.
Page, on the shores of Lake Powell in Glen Canyon National, hosts the Balloon Regatta and on those days the whole town is all about hot air balloons.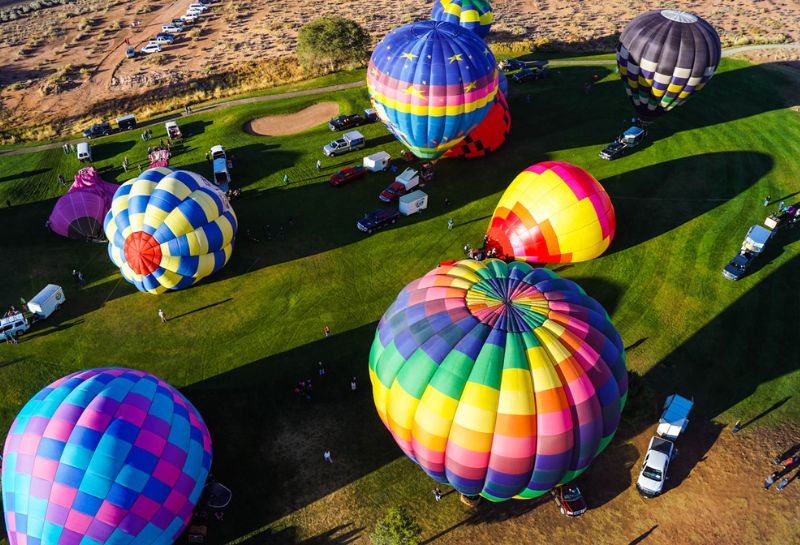 Since it is located on the border between Arizona and Utah, you can see hot air balloons from the two states. This is fun for the whole family, so be sure to bring the kids to Arizona.
There are many different activities available for you and the children. You will enjoy:
Live Music
Carnival Games
Rides
Kids Activities
Saturday Night Balloon Glow
Laser light shows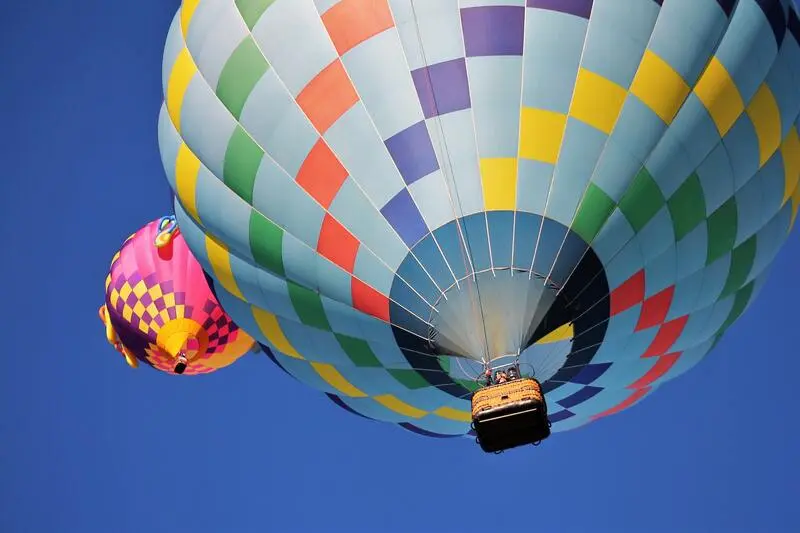 #3 MHC's Balloon Fest
13395 N. Marana Main St. Marana Arizona 85653 | Website
MHC's Balloon Fest takes place this year on November 12.
This is an event for the whole family that lasts from3 PM to 9 PM. During that time, you will have the opportunity to watch hot air balloons fly, you will be able to enjoy a tethered ride in two hot air balloons.
Each hot air balloon ride lasts about 5 minutes. All 10 hot air balloons will be included in the Evening glow event. The balloons are mostly inflated and illuminated so that you can approach them, look at them and talk to the pilots.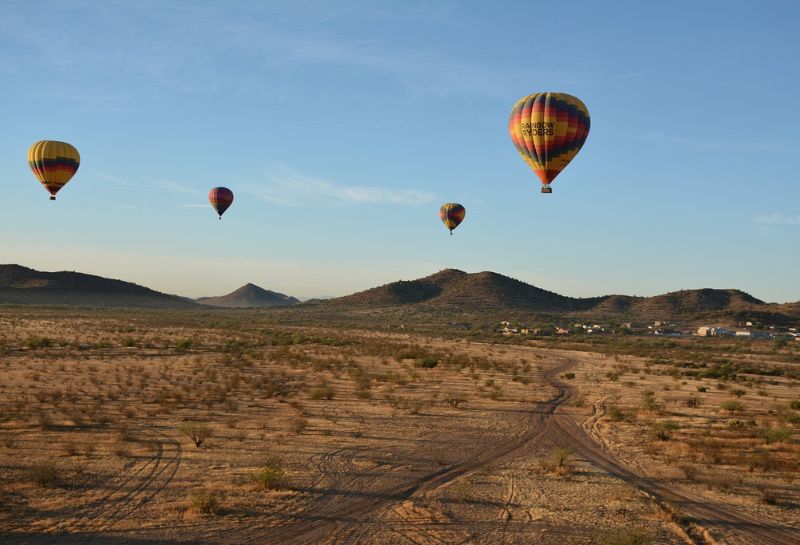 Food is available in 30 food trucks and you will surely find what you like to eat. Live music is inevitable at events like this, which is why MHC's Balloon Fest is a joyful event.
Kids will enjoy the Jumping castle, and you will be able to attend special exhibits by the Marana Police and Pima County Sheriff's Department.
Those who love cars, should not miss the exhibition of classic cars. At the end of some fireworks will that will complete your experience.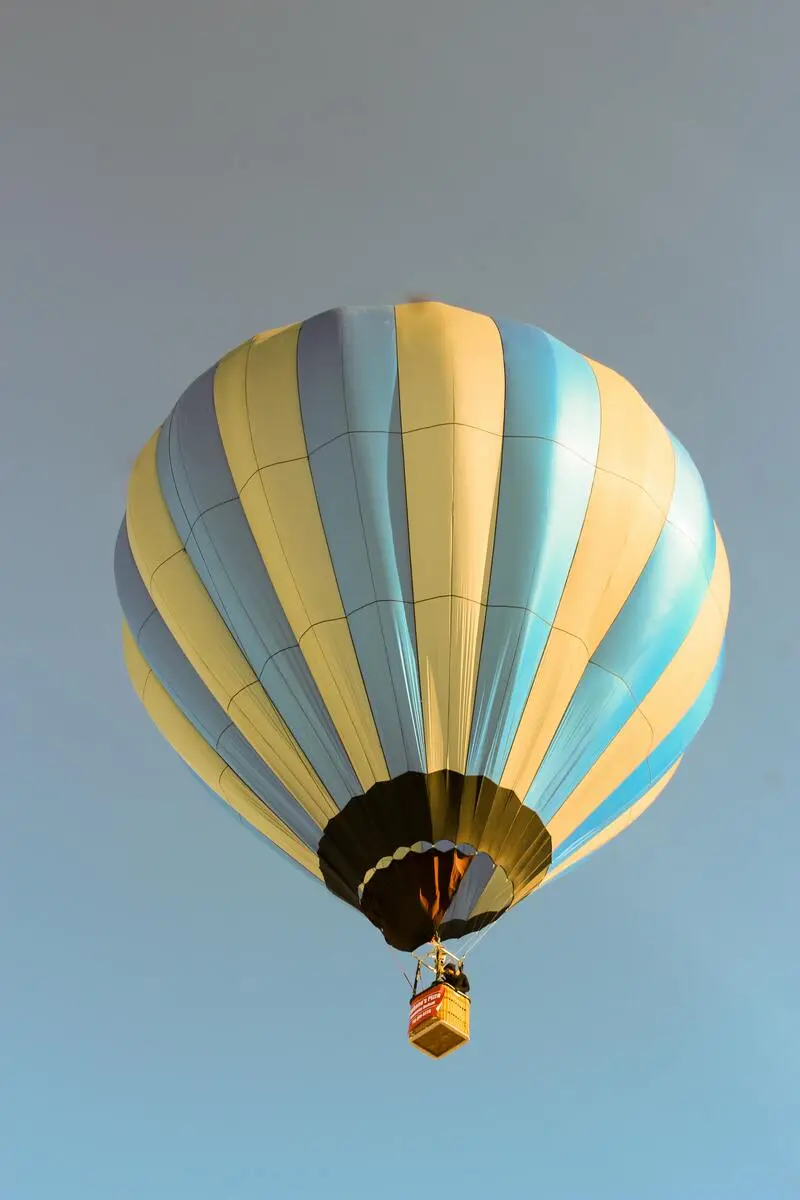 Parking at MHC's Balloon Fest is free and admission is $10. Children under the age of 6, military veterans, and active military enter the hot air balloon festival in Marana for free.
As in any event, balloon flight depends on weather conditions. If it is windy, raining, or snowing, the balloons cannot inflate and fly.
A good tip is to dress well because it is November and it can get very cold. They have ATMs but it is still better to bring cash because vendors usually only accept cash.
#4 Havasu Balloon Festival and Fair
2109 McCulloch Blvd. Unit #1, LHC, AZ 86405 | Website
The next Havasu Balloon Festival and Fair will be held January 19-23, 2023 in Lake Havasu City, Arizona. This is fun for the whole family. If you visit the Havasu Balloon Festival and Fair, you will be able to enjoy 4 days of attractions such as:
Hot Air Balloon Mass Ascension
Balloon night glow. Since the balloons cannot fly at night, they will be tethered, inflated, and lit, so you will be able to get up close and look at the balloons, and you will be able to talk to the pilots.

Tethered Balloon Rides. This is a daily activity. Balloons are inflated, tethered, and lifted high so you can fly a little and experience that feeling of being in the air in a hot air balloon.

Paper Balloon Launch. Your child will never forget how you let paper balloons fly.

Carnival Rides

Special Shape Balloons. Balloons of various shapes will be in the air. Don't miss this one.

Antique & Classic Cars. The exhibition of old cars always attracts visitors. Don't forget to visit it as well.

Amusement park and entertainment for the whole family, especially for children.
Activities that we can highlight for the first day, Thursday, are: Tethered balloons, "Swamp Donkey" on the Main Stage – food court, afternoon Mass ascension, night glow, "Kevin Jaxon" – main stage.4
Friday: Special Shaped Balloons on Display for Photographic, Paper balloon Launch.
Saturday: All activities from the list are scheduled for this day.
On Sunday you will be able to enjoy all activities from the list but only until 3 pm because that is the end of festival events. Live entertainment is available during all days of the event. You will enjoy the retail shops.
As always at similar events, pets are not allowed and balloons are not able to fly when the weather conditions are bad.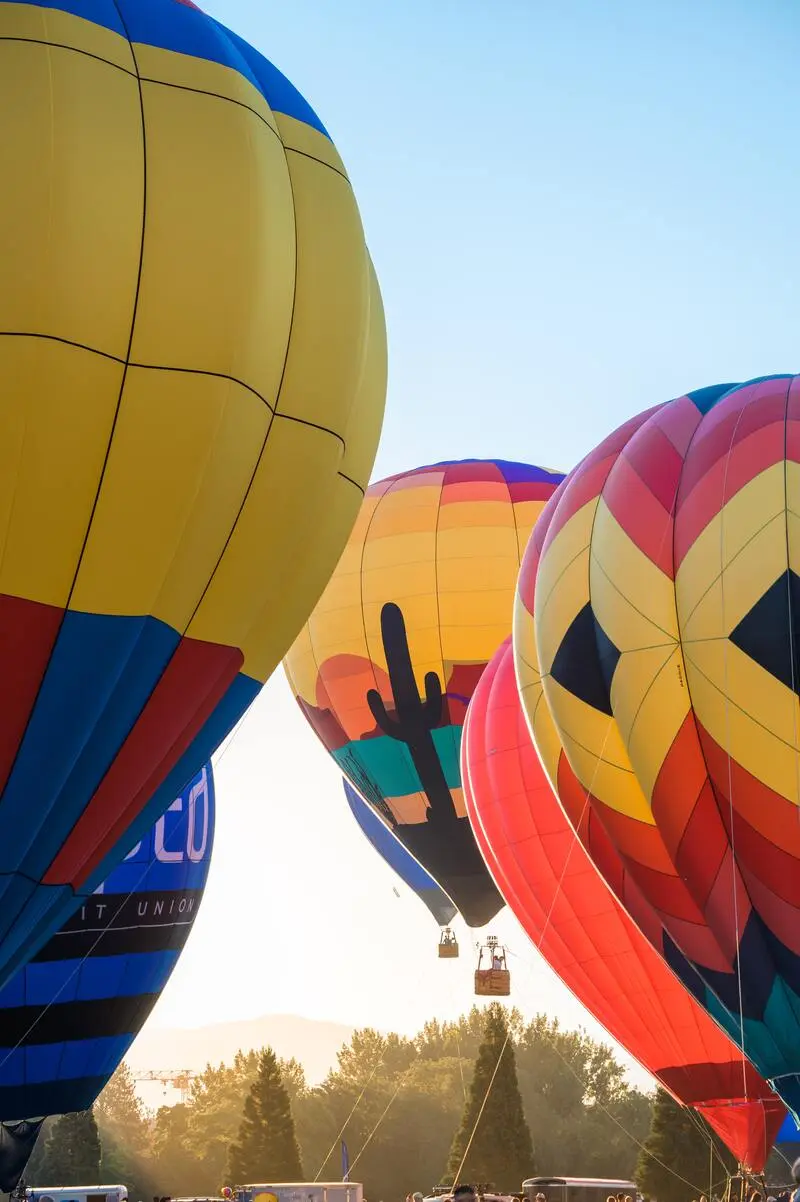 #5 Eloy Glow Hot Air Balloon Glow & Festival
Saturday, November 12th, 2022 | 4 PM – 9 PM
Main Street Park in Eloy, AZ | Website
Pack up and head to Eloy, Arizona on Saturday, November 12, 2022, to attend the awesome Eloy Glow Hot Air Balloon Glow & Festival.
The entire program lasts from 4 PM to 9 PM.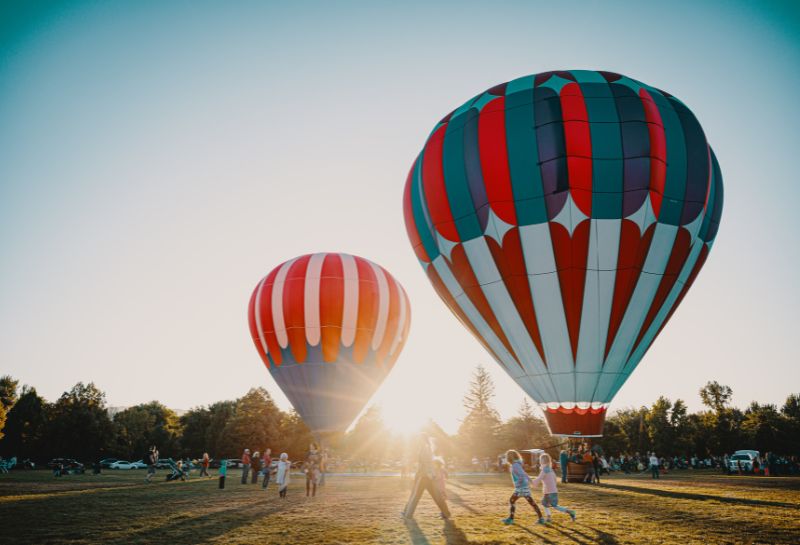 Live music and great food, prepared by food vendors is available for the kids as well as adults to enjoy.
Do not miss out on kite flying.
If you buy tickets now, you will get them at discounted prices. Active military and children under 12 years of age enter the Eloy Glow Hot Air Balloon Glow & Festival for free.
#6 Colorado River Crossing Balloon Festival
282 N 12th Ave, Yuma, AZ 85364 | Website
November 18-22, 2022 is the Colorado River Crossing Balloon Festival in Yuma, Arizona. For 3 days, as long as this event lasts, you will be able to enjoy Hot Air Balloons. This is a family event and you will enjoy it every day.
The main events are held at West Wetlands Park. Food and drinks are at your disposal, all with live music. During 3 days, you will attend activities such as
RELATED: 3 Hot Air Balloon Festivals in Virginia: Music, Kid Activities, & Food
Mass Ascension Balloon Launch
Desert Glow, the balloons are inflated, tied, and illuminated in the evening, so you can take a closer look at how they look and talk to the pilots.

Fireworks
The central event is the Desert Glow where the balloons light up and make the atmosphere incredible.
#7 Spooktacular Balloon Festival
7555 N. Pima Rd. Scottsdale, AZ 85258 | Website
Friday, October 28th, and Saturday, October 29th are the days when Scottsdale hosts the Hot Air Balloon Festival. Since the whole event is organized in the spirit of Halloween, don't be surprised that the Spooky Custom Contest is part of the event.
The organizers expect your children to participate, as well as you, the adults. Lots of nice prizes are awarded, so bring a costume, it might come in handy in your suitcase. More than 20 hot air balloons participate in the Spooktacular Balloon Festival. Everyone knows that Halloween is near and every balloon will be a trick-or-treat station with pounds of candy & treats.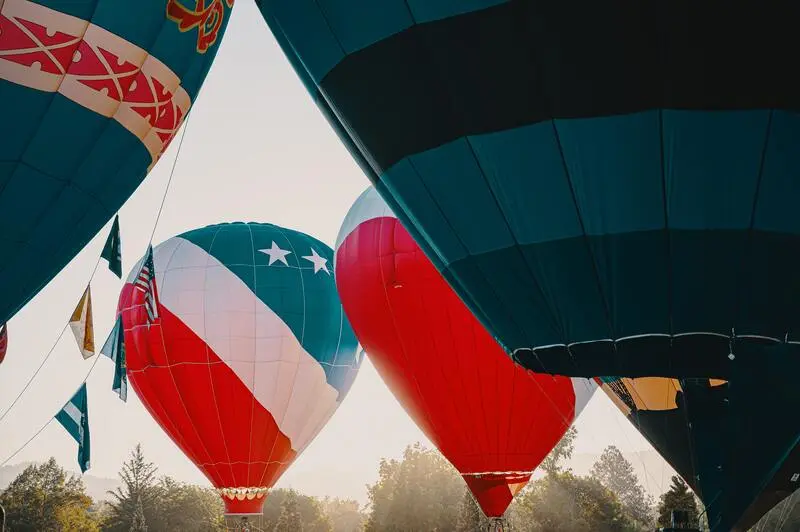 You will be able to see the whole area from the balloon. So be sure to bring a camera or phone to capture these great moments. The cost of a hot air balloon ride for an adult is $25, and $15 for Teens and under.
Kids can enjoy the Free Kids Zone in fun activities with 30 slides, inflatable bounces, obstacle course.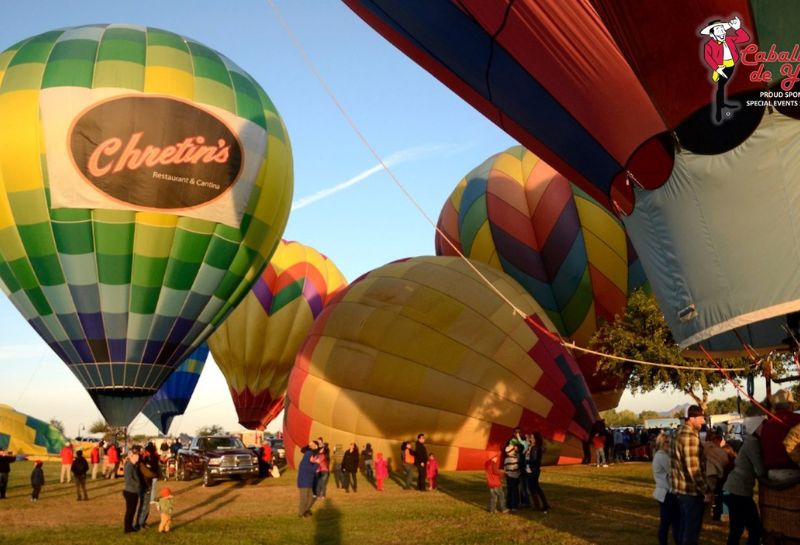 Admission to the festival is $22 for adults and $17 for children ages 3 to 13.
If you don't pre-order tickets and buy them at the door, they will be more expensive. Children up to 2 years old do not pay the entrance fee.
Parking is Free in the limited area of ​​Salt River Fields, Salt River Fields at Talking Stick
The balloons will not fly but are on the ground, Evening Glow, where they will be tethered, inflated, and lit, so visitors can enjoy the colorful balloons. Balloons glow from 5:45 PM until they have fuel.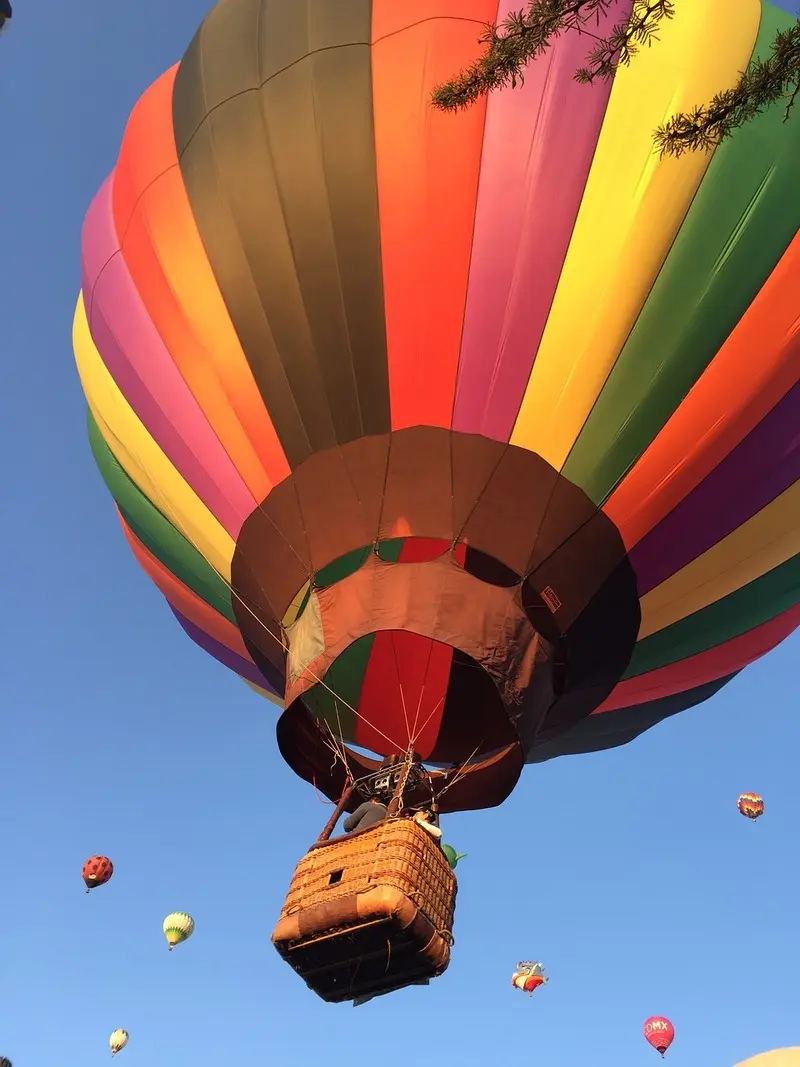 You can take a ride in Tethered Rides, tethered balloons that will be lifted to a height. Tickets for this ride are sold at the event itself and cannot be purchased in advance.
The ticket purchased at the entrance allows you to enjoy the events, live music, Free Kids Zone, admission to the family-friendly Haunted Trail, and fireworks.
You can bring in two bottles of water per person, no more than a liter. Everything you need for a baby is allowed because the most important thing for the organizers is that you and your whole family enjoy the Spooktacular Balloon Festival.
That's all folks! I hope this article helps you in witnessing a memorable hot air balloon experience in Arizona!