If you're looking to escape the cold (or the heat!) and still let the kids burn off some energy, here you'll find some great options for indoor play areas in Northern VA.
Indoor Playgrounds in Alexandria & Arlington VA
#1 The Wonder
Ballston Quarter 4238 Wilson Blvd First Floor Arlington VA 22203 | Website
Enjoy a different hands-on interactive play experience every week and of course, always play in the blue forests, snowy mountain top, large build pit and igloo.
#2 Scramble Indoor Play
5412 Eisenhower Avenue Alexandria, VA 22304 | Website
Let kids spend hours climb in, down and around this indoor playground.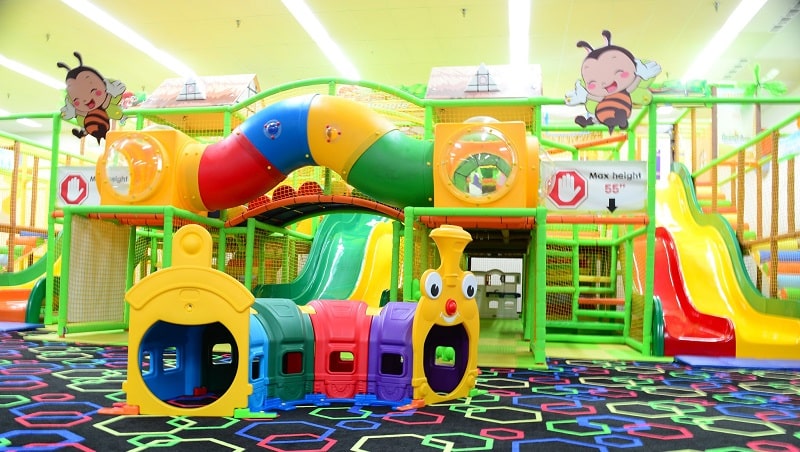 Indoor Playgrounds in Fairfax VA
#3 Jolly Yolly Kids
11001 Lee Hwy Suite D 2nd floor, Fairfax, VA 22030 | Website
Enjoy the ocean themed playground with huge, bright windows so you can still enjoy the sun light even if it's cold outside.
#4 Luv 2 Play
11750 Fair Oaks Mall, Fairfax, VA 22033 | Website
This indoor playground has lots of obstacles, areas to climb, slide and play. Sit back and relax and let the kids run free.
#5 Scramble Indoor Play
130 E Fairfax St, Falls Church, VA 22046 | Website
Scramble's second location is in Falls Church and is a great place to let the kids spend hours burning their energy at this popular indoor playground.
Indoor Playgrounds in Sterling and Ashburn VA
#6 Kidz Plaza Indoor Playgound
21670 Red Rum Dr #102, Ashburn, VA 20147 | Website
Experience the padded jungle gyms, slides and inflatable toys making this indoor playground unique.
#7 Hyper Kidz
21641 Beaumeade Cir Suite 311, Ashburn, VA 20147 | Website
With a magical ocean theme, this huge indoor playground is great for all ages with areas separated for different ages. Climb various structures and crawl through the tunnels.
#8 ZavaZone Sterling
45685 Oakbrook Ct., Ste. 110, Sterling, VA | Website
This indoor adventure park is perfect for kids 5 and older and will keep them entertained with places to climb, trampolines and even zip lines.
#9 Pump It Up
44190 Waxpool Rd STE 102, Ashburn, VA 20147 | Website
This play center is full of giant inflatables for hours of fun.
Indoor Playgrounds in Dumfries, Manassas & Woodbridge
#10 Imagine That! Unplug and Play
5101 Waterway Drive Dumfries, VA 22025 | Website
Here you'll find a playground, play house and even get to pretend you are a pirate on the mini ship. What more do you need?
#11 Billy Beez
8300 Sudley Rd Suite 107, Manassas, VA 20109 | Website
Located inside Manassas Mall, this indoor playground has sport courts, slides and more.
#12 Sky Zone Trampoline Park
7807 Sudley Rd, Manassas, VA 20109 | Website
This is a huge indoor trampoline park with all the features you've come to expect like a foam pit, basketball hoops and plenty of dodge ball.
#13 BeeHive Indoor Playground
13412 Jefferson Davis Hwy #101, Woodbridge, VA 22191 | Website
This 3-level playground has plenty to doo including a cannonball, blocsk, bumping cars, moon bounces and more.
#14 Kid's Choice Sports & Fun Center
13000 Sport and Health Dr, Woodbridge, VA 22192 | Website
Bring the little ones to bounce around in Toddler Zone in the Bounce Area.
#15 ZavaZone
2700 Potomac Mills Cir Unit 711, Woodbridge, VA 22192 | Website
ZavaZone's second location is in Woodbridge and is also filled to the brim with trampolines and more fun activities.
Any Others?
Did we miss any great options? Let us know in the comments below.