I absolutely love going kayaking, it's one of my favorite water sports, and now that my kids are getting a bit older, I love having them join me. Lucky for me, Maryland has some of the best places to go kayaking and here I'll share several of my absolute favorite.
Our summer months (okay and spring and fall months) are full of plenty of kayaking trips.
I never realized just how many great places there are to go kayaking in Maryland and I bet you'll be surprised too. Here you'll find 23 of the best kayaking spots Maryland has to offer.
Places to Go Kayaking in Maryland By Region
CAPITAL REGION
#1 Bladensburg Waterfront Park
Bladensburg Waterfront Park is a local hidden gem and is a beautiful place to go kayaking along the Anacostia River. The water isn't the nicest but the surrounding park area is beautiful! We've done their pontoon boat tour which was nice.
After we enjoy kayaking, my kids like to play at the playground and then we head to the College Park Aviation Museum or Kenilworth Aquatic Gardens.
#2 Seneca Creek State Park
The lake at Seneca Creek State Park in Annapolis is a great place for kayaking especially if you don't want to go on a river.
You can rent a single kayak or a tandem kayak at the boat center for $12 per hour. If you have your own kayak, you can use the hand-launch area at the boat center's parking lot. 
#3 Great Falls
Great Falls is a beautiful and scenic place that has easy access to trails and views. We went there a couple of months back and didn't really had to struggle our way in order to reach the waterfall.
Over the years, kayaking the Potomac Gorge has become increasingly famous. The Potomac runs through the Great Falls and then funnels downstream through the narrow Mather Gorge.
This water trail is for experienced kayakers only.
This place has free entry and free parking but if you're planning on taking your dog, it's an extra $5. My kids had an amazing time here, learning about nature and history. We're planning to visit here again very soon.
A few trails we really enjoy are Billy Goat Trail Section A, Section B and Section C.
#4 Lake Needwood
You'll find Lake Needwood inside Rock Creek Regional Park. It's definitely a popular spot for boaters and fishers.
The hike around the lake is very serene but it gets a little crowded during the weekends. You can go kayaking, canoeing, or paddle boating here.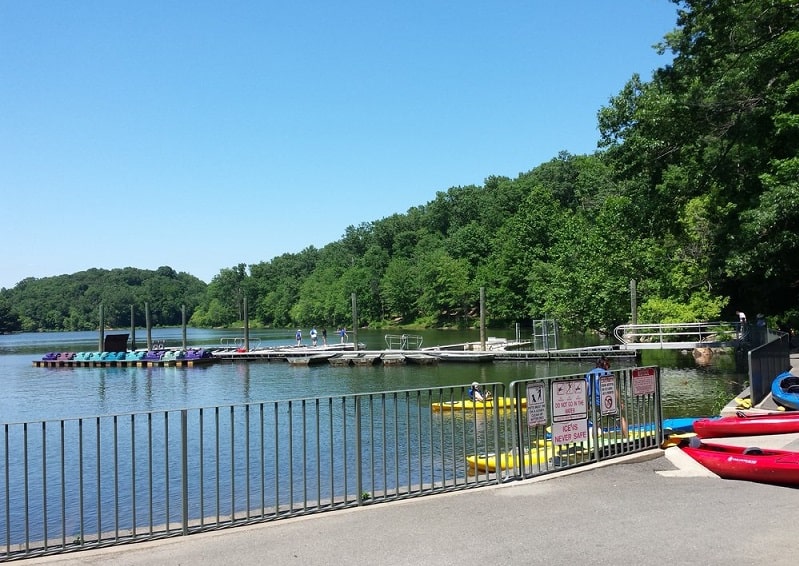 It's a nice place to take the kids and the dogs too. Go during the weekdays and you can make a day out of it. It's a beautiful lake.
WESTERN REGION
#5 Rocky Gap State Park
Last year we went out to Western Maryland and went camping at Rocky Gap State Park and they we were pleasantly surprised when they had kayaks for us to rent. 
After kayaking, we visited the nature center which had some interactive activities for the kids.
#6 Deep Creek Lake
I have to admit, Deep Creek Lake is a place we love to visit year round. During the nicer months of the year, Deep Creek Lake is one of the best spots for a kayak trip.
In the fall, Deep Creek Lake is the best place to see fall foliage in Maryland hands down. And in the winter, the kids absolutely love to go snow tubing and here are so many other fun winer activities. It's such a beautiful area no matter what time of year.
| MORE FUN: 111 Things to With Kids Do in Maryland
#7 Greenbrier State Park
We were first introduced to kayaking at this park while camping at Greenbrier State Park. It's a beautiful man-made beach with crystal-clear waters that makes it an ideal destination for family gatherings, picnics, dates, and birthdays.
We stayed here in mid-September and loved the experience here. The campground is very well maintained. It wasn't too crowded when we were there, but I'm sure it gets crowded during the summer.
They also offer paddle boats and kayaks for rent, and the water is also great for swimming. Great place for a relaxing holiday getaway.
#8 Antietam Creek
While it's definitely possible to kayak Antietam Creek, keep in mind, you need experience to kayak here as there are Class II+ rapids so this is a spot for novice paddlers or kids without experience.
The stream is beautiful and winds its way through the history of the civil war.
It's also a great place if you're into bird watching. We've spotted herons here on multiple occasions.
#9 Youghiogheny River
Youghiogheny River is best for more experienced kayakers due to the rapids, however, if you have kids with your (or beginners not familiar with rough waters), you can stay towards Lower Yough as that has calmer rapids so it's much easier.
I recommend taking a guide with you due to the size and potential of the rapids on this river.
CENTRAL REGION
#10 Gunpowder Falls State Park
Gunpowder Falls State Park is one of our favorite places to visit a local beach and it's quickly become one of our favorite places to go for a kayaking trip.
You can even visit here if you're a beginner at kayaking. Go for the flatwater sections, and for the more experienced kayakers, there are class II whitewater sections. They also have a boat ramp where you can launch your own kayak.
#11 Sandy Point State Park
Due to staffing issues, you can't currently rent a kayak at Sandy Point State Park, but you can bring your own.
It's a huge beach and there's ample space for fishing, swimming, camping and kayaking. There are also many trails here to catch the scenic views.
An excellent place for a day trip with the family. We had a picnic grill here which was the highlight of our trip. We definitely had some good times here and the kids can't wait to be back!
#12 Dundee Creek
Just outside of Baltimore is Dundee Creek. This is such a beautiful area as you can kayak through the coves and inlets that open into the Chesapeake Bay.
Another option is to paddle up the Gunpowder River.
Fun fact: at the Dundee Creek Marina, they even rent K9 life vests so you can bring your dog.

We were lucky enough to see two bald eagles while kayaking!
If you're looking for extra beautiful scenery, this is your place.
| NEXT: 25 Best Baltimore Maryland Harbor Attractions (+ Nearby Attractions)
#13 Palmer State Park
Deer Creek is located inside Palmer State Park and the entire length of the creek is available for kayaking. While this 53-mile river starts in Pennslyvania, it travels to the Susquehanna River.
Important note: There are no launch sites available within the park so you'll need to know where to access the river.
#14 Eden Mill Park
Eden Mill Park is an ideal place to visit with the kids because the water is really calm and the kids can enjoy kayaking too. Edin Mill Park has a small creek and we loved navigating through its calm water whilst enjoying the lush green, scenic views.
There's ample space for parking and when we went there, it wasn't even that crowded. Do visit the nature visitor center here, they provide a lot of information about the park's history.
They also allow dogs. It's definitely worth the visit.
#15 Lake Centennial
Lake Centennial is a beautiful park near Baltimore that is great for boating, kayaking, and fishing. It's very close to the city so not exactly peaceful but the views of the forest surrounding the lake are mesmerizing.
It's a good place to go for kayaking even with the kids. It's also home to a large variety of birds that include cackling geese, little gulls, swallows, warblers, and grebes.
#16 Hawk Cove, Rocky Point State Park
For me, this is one of the most well-maintained parks for kayaking in Maryland. It offers breathtaking views of the Chesapeake bay.
It's a good place to visit for beginners as well as experienced kayakers. There are also plenty of picnic areas that you can use. The beach is rocky and covered with shells.
It also gets a little too crowdy during the weekends, so plan your trip accordingly. We did not kayak here due to the strong winds but planning to visit again very soon.
It's open in all seasons.
SOUTHERN REGION
#17 Potomac River
The Potomac River is a popular spot for kayaking. While there is a wide area that is easy to paddle with calm waters, keep in mind there are some rapids on the Potomac so make sure to know the right areas to go if you're heading there with kids.
My family had a great time here exploring nature through the river cruise. My kids also had the best time spotting wildlife here including bald eagles, ravens, and even blue crabs!
You can also enjoy camping and visit museums here.
#18 Patuxent River
Patuxent River State Park is huge, spread over more than 6,000 acres. There are a number of activities that you can enjoy here like:
hunting
fishing
hiking
horseback riding and more
The hiking trails marked here are not maintained by the park staff, so it's best to be careful while exploring those. We recommend using the GPS.
EASTERN SHORE REGION
The Eastern Shore is so beautiful as there is so much nature to enjoy. I aim to visit this area at least once a year.
If you'd like to take a guided tour while you're here, Chester River Kayak Adventures offers guided, half-day and full-day guided tours. It's the best way to make the most of this place.
While I haven't done this yet, one things I really want to try is their sunset paddle. Kids ages 10 and up can go!
#19 Assateague National Seashore
Located right next to Chincoteague Island, is Assateague Island, a great spot to go kayaking. Most people come to the island to see the wild ponies but did you know you can enjoy an easy paddle while looking for the wild ponies?
It's such a unique kayaking experience and one I highly recommend you take the kids and do!
There are a lot of good cruises and boat tours available. Plus, there's lots of fun things to do on Chincoteague Island, right next door.
#20 Janes Island State Park
Not only does Janes Island State Park have a wonderful nature center, they also happen to be the perfect place to go kayaking.
#21 Ocean City
There are so many fun things to do in Ocean City and kayaking is of course one of them!
There are plenty of places where you can rent kayaks in Ocean City including 67th Street Paddle Cove, 48th Street WaterSports and Odyssea Watersports
#22 Pocomoke River Trail
The Pocomoke River Trail is located towards the eastern shore of Maryland, and one can go kayaking here regardless of skill level. There are also many walking trails available here.
You can also do camping at night here, but the place has a rich wildlife biodiversity so carry the essentials.
They also have playgrounds for the kids.
#23 Tuckahoe State Park
We loved camping at the Tuckahoe State Park. There's a beautiful, calm lake with a beautiful picnic area where we spent most of our time.
It has one of the best water trails in MD, and my kids enjoyed kayaking here as well. Although, the currents are a little fast near the tuckahoe creek.
Apart from kayaking, other activities here are hiking and camping.
#24 Skipton Creek (Mill Creek)
You'll want to visit Skipton Creek even if you're a novice at kayaking. It's also a perfect hangout place for families.
I haven't been to this place personally, but my friend went with her family and they also spotted beavers, and herons here.
| MORE WATER FUN: Go Tubing on The Shenandoah River
Kayak Rentals & Guided Tour
I highly recommend taking a guided tour especially if you want to:
Learn more about the area
Be able to spot birds and wildlife
Not have to worry about where you are going and when to turn around or exit
If the kids or anyone going is nervous
You're a beginner
New to an area
Once you decide where you want to go, look for companies that offer guided tours. Many of the places that rent kayaks also offer tours but not always.
Frequently Asked Questions
Can you kayak anywhere in Maryland?
No. Some bodies are restricted and regulated, so please check the local rules and conditions before launching your kayak.
Do you need a permit to kayak in Maryland?
While you do not need a general permit for kayaking in MD, there might be some regulations and permit requirements in state parks and wildlife areas. It's best to check with the local authorities if you're doubtful.
Which location is best for kayaking in Maryland?
It's a personal choice, and it also depends on your kayak skills. This article covers some of the best places to go kayaking in Maryland and we're hopeful that you find it helpful and plan your trip accordingly.
Do you need a life vest to kayak in Maryland?
Yes. As per the law, you're required to wear a life jacket while kayaking in Maryland. This applies to kayaks, paddle boards, canoes, etc, Kids under the age of 13 are required to wear a life jacket while in water regardless of the type of boat they're in.