Fans of Linnea in Monet's Garden will want to visit Kenilworth National Park and Aquatic Gardens, an oasis situated in the heart of Anacostia.
This 12-acre park is the only National Park dedicated exclusively to cultivating water-loving plants. It was founded by Civil War veteran Walter B. Shaw, who transplanted wild water lilies from Maine to an unused ice pond in Anacostia. In 1938, Congress purchased the gardens.
Today this is a beautiful place for both adults and kids to visit and enjoy the day.
On our most recent visit, we visited just the ponds and boardwalk which took about an hour. We decided to leave the 1/2 mile Wetlands Trail and the roughly 1 1/2 mile River Trail for another visit.
Things to Do at Kenilworth Park & Aquatic Gardens
You enter the Kenilworth Park & Aquatic Gardens through a shady path with a water fountain. You have two choices — ponds and boardwalk or Marsh River Trail.
We chose the ponds and boardwalk and enjoyed seeing over 45 ponds with pink and white hardy water lilies.
Tropical water lilies bloom late July through early fall. Lotuses bloom in mid-summer and have seed pods that look like shower heads.
We heard the croaking of frogs but could not spot any. Beautiful dragonflies flew around. The highlight of our visit was our walk on the boardwalk, where we saw two geese families with baby goslings swimming in straight lines.
There are a number of picnic tables and bugs are not a problem.
My 7-year-old loved the outing and so did we. We had visited for ideas on starting our own water garden.
The Visitor Center
The Visitor Center and Bookstore had a few handouts and plenty of books for sale. There was also a nice selection of:
Kids books
Dover books
Puzzles
Games
The extremely helpful ranger gave our daughter a Junior Ranger Activity Book, which has information on the gardens and games.
The Visitor Center has a cute little table with stools that look like lily pads for kids with a mural backdrop. There are also panels that tell about the history of the gardens and the differences between water lilies and lotuses.
An adjoining room has a permanent display of watercolors by Shaw's daughter Helen Fowler.
Boardwalk
There is a half mile loop around the ponds and a .25 mile boardwalk above the freshwater tidal marsh.
Bike Trail
The garden is linked to Anacostia Bike Trial via a .25 mile connector trail where you can go north to Blandensburg MD, or south to Anacostia Park.
You can also bike on the boardwalk areas.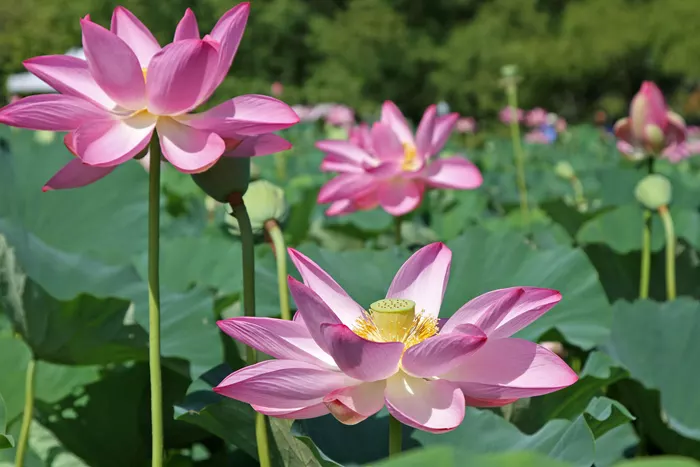 Source: National Park Service
Junior Ranger Program
Kids can also get a Junior Ranger Booklet activities where they can learn about the park, what they can do to help it, and stay engaged with fun art activities. You can pick up the book in the visitor center when you arrive.
After completing the activities in the booklet, kids can return to the visitor center and will be awarded a Junior Ranger Badge.
Best Time to Visit Kenilworth Aquatic Gardens
As this is a garden, every month brings a different look.
Tropical water lilies bloom late July through early fall. Lotuses bloom in mid-summer and have seed pods that look like shower heads. This means the best time to visit the garden is usually during the summer.
Lotus & Water Lily Festival
During the peak blooming period in July, the park hosts the annual Lotus & Water Lily Festival where they encourage visitors to participate in festival programs.
Hours & Fees
Kenilworth Aquatic Gardens is open every day of the week from 8am to 4pm. The only days they are closed are: January 1, Thanksgiving, and December 25th.
Fees
Admission to Kenilworth Aquatic Gardens is free.

Park closed on New Year's Day, Christmas, and Thanksgiving
Visitor Center closed on New Year's Day, Christmas, Thanksgiving, Memorial Day, Independence Day, Labor Day, and Columbus Day
Good to Know
Parking is free and ample.
Restrooms in building adjacent to Visitor Center. No changing tables. Water fountains at entrance and near restrooms
Definitely bring water, especially in the summer months. Bottled water is for sale in Visitor Center
You can bring lunch or snacks to have a picnic at the gardens
Only fast food restaurants are available nearby
You can take the metro to the Deanwood Metro Station on the orange line. It is about a 10-minute walk to the gardens from there.
Directions to Kenilworth Aquatic Gardens
Kenilworth Aquatic Gardens is located at 1550 Anacostia Ave NE, Washington, DC 20019