About Krop's Crops
Ever since my eldest daughter was 3, we've been getting our Halloween pumpkins at Krop's Crops, a decidedly unfancy farm amidst the McMansions in Great Falls, VA.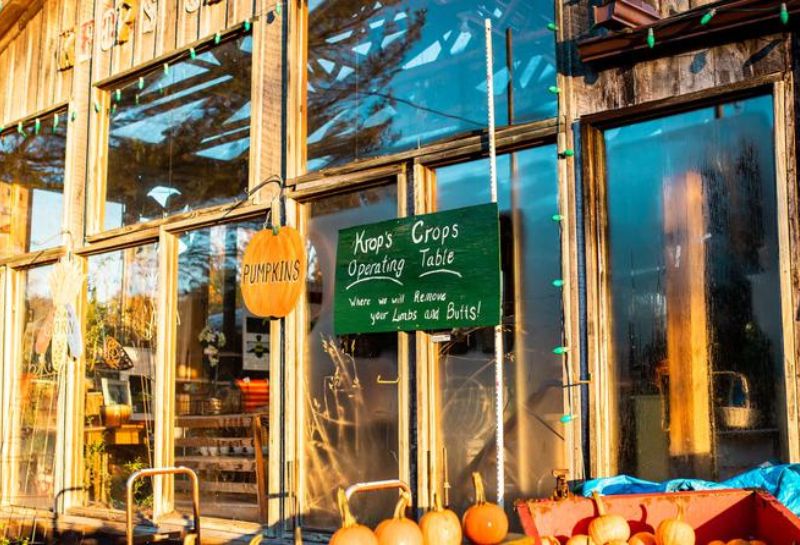 Each year my husband and I wonder if the farm, with its smattering of animals, low-key hayride, and no-frills corn bin will still be fun for our three kids, now 10, 8 and 4.
The answer is a resounding yes. It also helps that we haven't visited Cox Farms (yet).
What to Expect
If you are looking for a simple, budget-friendly but fun pumpkin picking experience, Krop's Crops is for you.
We like to get there a few minutes before the hayrides begin, to make a quick sweep of the animals.
We checked out two fat white rabbits, a donkey and some goats, and many busy red chickens. Feed at your own risk, the sign said, so we kept away.
When we heard some rumbling, we headed over to the hayride. It's for the old tractor to pull its passengers around the farm to a grassy area where big pumpkins await to be claimed.
The children scramble down from their hay bales on the wagon to select their idea of perfection.
Once everyone has made their choice, the hayride continues around the farm, which is a mixture of a scenic field, many junk heaps, a Halloween-decorated "graveyard" (blink and you'll miss it) and a cool playhouse house that my kids wish was open to the public.
Other Attractions
Then it's on to my kids' favorite part: the corn bin. It's really a small room with one wall removed, filled with zillions of corn kernels.
I love this place. I got some really nice designer collection pieces. Cinnamon almonds nuts are so good. It's a oldie but goodie. Fruits and veggies in season

~ angela hamilton on Google
The kids quickly remove their shoes and then entertain themselves heartily by doing face plants, burying their feet, racing one another on knees and then on foot, and jumping into the bin. We had to bribe them to leave after half an hour.
Pumpkins, local apples, jam, and honey are available at the farm store. Hay bales, wood and fresh eggs from the farm's chickens are also for sale.
If you really want to impress your neighbors, spring for one of the 100-plus pound pumpkins displayed out front.
Our three medium pumpkins are now resting on our steps, waiting patiently for the 31st. Wish we could say the same for our kids.
Hours & When to Go
Krop's Crops is open from 10am to 6pm daily
Getting There
Krop's Crops is located at 11110 Georgetown Pike, Great Falls, VA 22066