If you're a cat lover and haven't been to La Gattara Cat Cafe in Phoenix you must go! This is an amazing cat lounge you'll definitely enjoy.
And if you know of any cat lovers and don't share this post with him, they may be mad at you. You've been warned 🙂
La Gattara is a cat cafe in Phoenix, Arizona where you can go in and play with lots of cats at once.
What to Do During Your Visit
They have plenty of comfortable places to sit in a nice environment that the cats enjoy and people do too. So you can lounge around in the comfy chairs or beanbags while you hold and pet the cats.
They also have lots of cat toys you can use to play with the cats. And if you just want to lounge with the family while the cats wander around you, they have several cat themed board games to play and even some cat pictures to color for the younger kids.
Pet and play with the cats
Listen to music
Play cards & board games
Use the free wifi
Read books
Paint or color
Maybe even yoga
Young kids do need to be on their best behavior to be gentle and patient with the cats.
The Cafe: Food & Drinks
Before entering in with the cats, there is a café where you can purchase drinks like Cactus Blossom Tea and delicious coffee. There are even some small snacks available.
They also have art from local artists for sale, plus fresh bagged and unique, original ground coffee. You'll also see some entertaining comic books up front.
The Team
Keep in mind, La Gattara is a non-profit organization and there is only a small handful of volunteers who run everything from the food and drinks, customer service, cat care, adoptions, marketing and more.
The ladies that work in operate La Gattara are very nice, pleasant and happy to answer any questions you may have.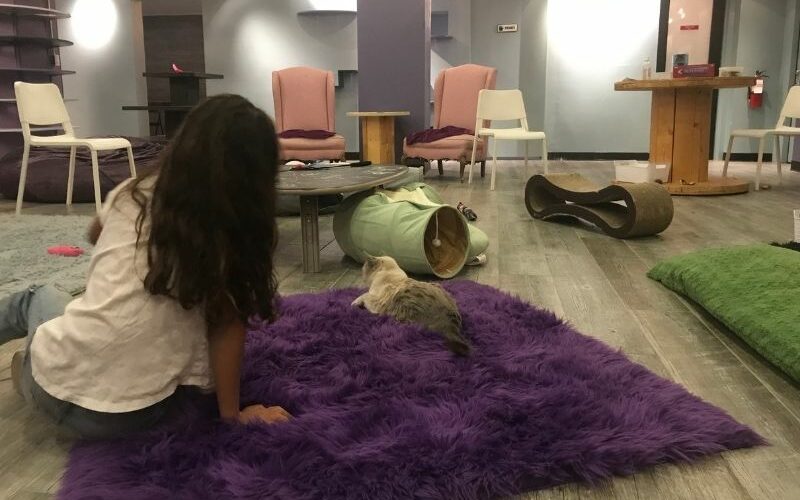 Tickets, Prices & Reservations
While you can walk in, especially if you are coming from farther out like we were, you should make a reservation which you can do here. On Saturdays, their busiest day, you should also make a reservation ahead of time to make sure a spot is saved for you.
Tickets are $15 each for a one-hour visit. All kids 12 and under must be accompanied by an adult.
If you plan on visiting regularly, you can also purchase a lounge pass. A monthly lounge pass gives you a 1-hour visit per day for $50.
They also have student passes, daily and yearly lounge passes and even a Wednesday workday pass to give you a place to work away from home (with cats!).
Gift cards are also available for purchase.
Events at La Gattara
La Gattara also has regular fun events you can attend like:
CATurday morning yoga (for ages 12+)
Paint night (ages 13+)
Cats & Comedy (ages 18+ recommended)
Poetry night
Drag bingo (ages 16+)
When to Go
La Gattara Cat Cafe is open Thursday – Saturday from 10am – 8pm, as well as Sunday, Monday and Wednesday from 10am – 6pm.
They are closed on Tuesdays.
Saturdays are definitely their busiest day. If you must go on Saturdays, your best bet is after lunch. If you can go during the week or on a Sunday, you'll enjoy having more cats to yourself.
Donations & Cat Adoptions
They are often in need of donations such as kitty litter and and other cat supplies. They update their amazon wishlist (available on their website) and their Facebook page when they are in need as well.
Although they do not accept cats from individuals, all cats are up to date on shots, spayed / neutered, and microchipped.
All cats in the lounge are a part of La Gattara's rescue and come from many different situations such as hoarding cases, feral/stray/abandoned cats, and owner surrenders.
You can actually adopt the cats you see and interact with but that is not required in order to visit. They have adopted out hundreds and hundreds of cats.
In fact, they tend to adopt out between 2 to 4 cats every single week. If you're thinking about adopting this is such a great way to be able to come once or even multiple times to interact with the different cats to find one that best matches your family.
Good to Know
Reservations are highly recommended as walk-ins are only permitted when space allows
Hand sanitizer is available at the front desk
Bathrooms are available on site
Most cats are available for adoption (although that's not required)
You will need to sign a waiver for each person before entering (this can be done electronically when you book your reservation)
There is a very small pay-to-park parking lot ($1.50 an hour paid with the Air Garage App) next to La Gattara as well as street parking available
Getting to La Gattara Cat Cafe
La Gattara is located at 147 E Garfield St, Phoenix, AZ 85004, United States
Things to Do Nearby
Visit the Children's Museum of Phoenix
Relax at The Japanese Friendship Garden of Phoenix
Visit the Arizona Science Center
Cool off with some delicious ice cream at Novel Ice Cream
Enjoy the rides at the Enchanted Island Amusement Park