Lake Needwood, nestled in Rock Creek Regional Park, is a 75-acre gem for boaters and fishers alike. But there is a lot more to do at Lake Needwood then, well…just the lake.
Located in the upper reaches of Montgomery County about halfway between Gaithersburg and Olney, the park has a beautiful setting seems very rural and peacefully quiet.
Find out what to expect, what there is to do and everything you need to know before you go.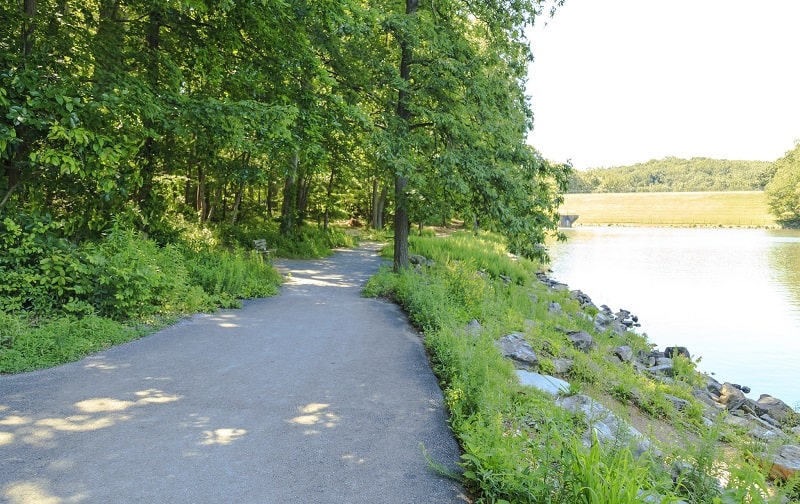 In this Guide:
Boat Rentals
Lake Tours
Zipline
Trail
Archery Range
Fishing
Fees & Prices
Hours & When to Go
Food & Drink
Getting There
Good to Know Before You Go
Things to Do Near Lake Needwood
Boat Rentals
From Memorial Day through Labor Day, the boat house rents:
Canoes
Kayaks
Row boats
Pedal boats
There you'll also find a variety of fishing gear for sale as well.
There are two large parking areas and a large shady picnic area located close to the shores of the lake.
All boats available for rent are "man-powered"and no gas motors are allowed on the lake which makes for a very serene experience.
Once out on the lake it took about 40 minutes to paddle from one end to the other in a kayak.
The island in the middle of the lake is a bird sanctuary so no docking along its shores is allowed. The lake is shallow and there is a lot of wildlife if you look closely.
Our scavengers were very successful and with 2 trips around the lake found geese, turtles, ducks, a beaver, a blue heron and even a deer along the shore line.
Hike around the lake is beautiful and manageable for even kids. Was about 3.3 miles. Bathrooms available. Spots to fish, boat, kayak, canoe paddle boat or just hang by the lake and throw some rocks. Shaded in many spots. Very very beautiful.

– Sarah S.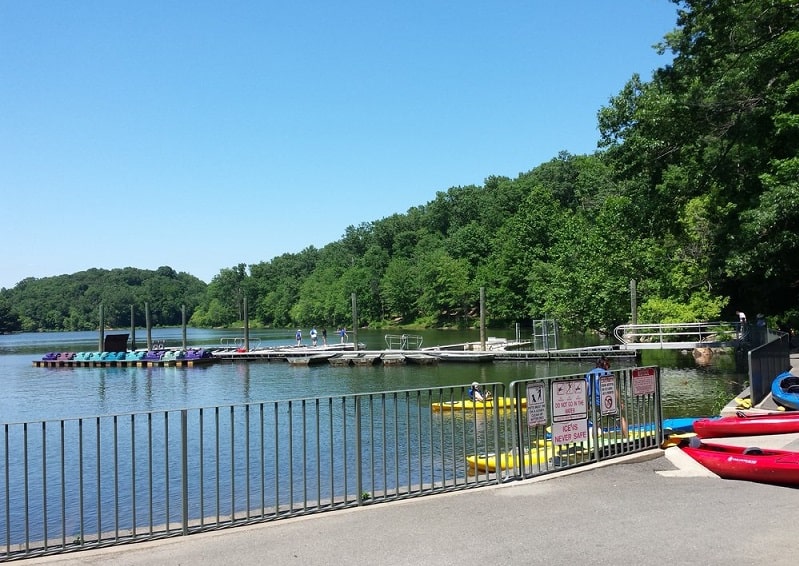 Rental Rates
The cost to rent varies between weekday and weekend as follows:
Rowboats, Canoes & Kayaks
$14 / hour weekends; $13 / hour weekdays
Pedal Boats
$12 / half-hour weekends; $11 / half-hour weekdays
Full-Day Rentals
$50 / day for any type except pedal boats on weekends; $45 / day weekdays
Canoes $8 per hour (maximum of 2 adults and one child)
Single or Double Kayaks $8 per hour
Pedal Boats $6 per half-hour
Rules
Rowboats have a maximum of 4 adults and one child.
Canoes have a maximum of 2 adults and 1 child.
Boat renters must be at least 16 years old and all boaters 13 and under are required to wear a life jacket (provided with rental).
The Boathouse
The boat house sells:
Live bait
Bamboo cane poles
Fishing line
Floats
Sinkers
Hooks
The boat shop provides kids with a Lake Needwood scavenger hunt, a color card with photos of all the landmarks and wildlife to look for throughout the lake.
Kids can turn in their scavenger hunt cards to pick a treasure from the treasure box after they return to dry land. The cards do not have to be complete to turn in.
Best place around they have a little of everything from fishing to archery and everything in between one of my favorite places.

– Alex U.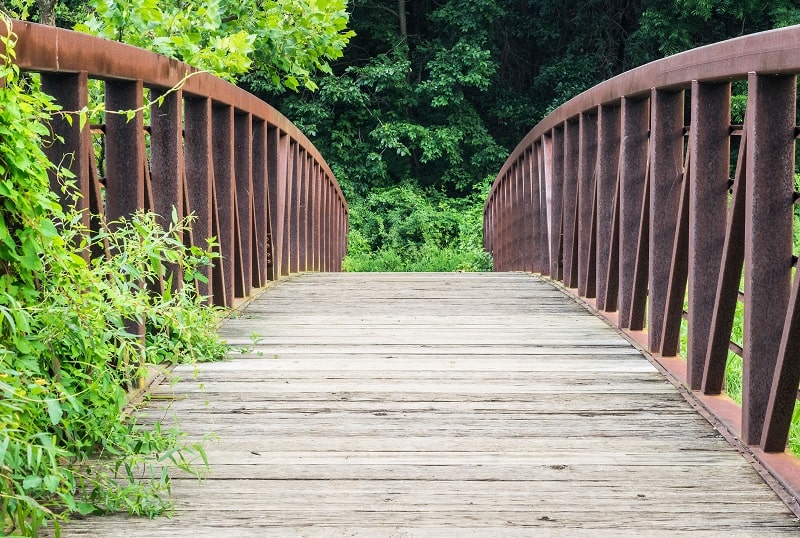 Lake Tours
You can also hop aboard the Needwood Queen, a pontoon style boat for a tour of the lake to see wildlife like turtles, birds and more.
This 20-minute our operates on the weekends on the hour from 12pm to 3pm and only costs $4 per person. The tour is only available from Memorial Day to Labor Day.
Tickets are only made available the same day. You can check-in at the boat house when you arrive or call 301-563-7544 for same-day availability.
Ziplines
Inside Lake Needwood, is Go Ape Zipline and Adventure Park, a third party company who offers zipline adventures.
You can learn more here.
Trail
Lake Needwood Loop is a 4.8 mile trail that runs around the walk. Many people use the trail for walking, running and even a chance to spot birds and other wildlife.
The main travel is paved and gravel. As you travel around the water, you'll spot smaller paths that lead you to the water's edge.
Archery Range
You'll find the archery range on the east side of Beach Drive near Picnic Area #3. There are 4 targets, each with canopies available. There are also 3 shooting stations, picnic tables and benches. Keep in mind there is no paved walk ways to the archery range.
The shooting ranges go from 20 to 100 yards. Keep in mind the ranges are available on a first-come, first-serve basis.
I rediscovered and enjoyed this park for most of this Summer. It is a beautiful place. I always walked around bass fishing and took a boat out a few times. It is very relaxing and there are many points to discover. I look forward to returning after a small break. If you haven't been her, go! There are walking paths, archery lanes, a stocked lake, boats and picnic area. Great local park.

– R. De Campos
Fishing
Lake Needwood is a great place to fish year round whether from the shoreline or by boat (including rental boats when in season). The lake is stocked with:
Largemouth bass
Catfish
Bluegill
Crappie
Trout
And several more
As with other lakes, everyone ages 16 and older is required to have a Maryland Fishing License.
You cannot purchase a license onsite so you will need to prepare ahead of time by purchasing online here or by visiting a local sporting goods store (like Walmart, Sports Authority or Dick's Sporting Goods).
If you forget supplies, you can pick up what you need at the Boathouse.
Lake Needwood Fees & Prices
There is no entrance fee or parking fee to visit Lake Needwood.
The boathouse operates from Memorial Day through Labor Day.
If you plan on renting a boat, you can see the rental fees here.
Lake Needwood Hours & When to Go
Lake Needwood is open daily from official sunrise to official sunset.
Our experience at Lake Needwood was fantastic. We felt as if we had been on day long vacation, 30 minutes from our home in Silver Spring. The kids are already looking forward to another trip to explore the lake and are hoping that next time they can spy a frog or snake to complete the scavenger hunt.
This is a popular spot on the weekends so if you're looking to avoid the crowds, try to go during the week. With that being said, the park is quite large so there is plenty of space to separate as well.
Such an extraordinary feeling of greatness every time I have visited Lake Needwood. My mother brought me here frequently from the womb, to birth, infant&toddlerhood to my adolescent childhood and now as an adult I'm so grateful to share these journeys/traditons with my children. I love how nothing has changed since the 1980s and it's beautiful natural landmarks are still the same.

– Jasmin H.
Food & Drink
Aside from the boat house, the facilities in the Lake Needwood area include a gazebo with tables, a picnic area, air conditioned bathrooms (no changing tables) and a snack bar which operates on weekends only (12pm – 5pm).
The Boat Shop & Snack Bar is located at: 15700 Needwood Lake Circle, Rockville, MD 20853.
Snacks and drinks start at $0.75 cents and up. No meals are sold. Only cold drinks, snacks, chips, granola bars and hot pretzels. There are two drink vending machines in the gazebo area as well.
Getting There
upper reaches of Montgomery County about halfway between Gaithersburg and Olney
There are many parkings lots available and all provide access to the trail.
On the eastern side of the park, there are 2 entrances. The first is south of Needwood Road at Beach Drive and the second is west of Avery Road right on Needwood Lake Drive.

Good to Know Before You Go

There is no swimming or wading in Lake Needwood. You may want to prepare your kids for this before your visit if this may be disappointing to them!
Water fountains are available near the picnic areas
Bathrooms are available near the picnic areas (no changing tables)
Vending machines are available in the gazebo area
Cash and credit cards are accepted at the boathouse
Boat rentals are available as weather permits
A picture ID is required to rent a boat as a security deposit
Everyone is required to wear a life jacket at all times when renting a boat
Dogs are welcome as long as they are on a leash
Things to Do Near Lake Needwood
Climb through the Forest canopy on a rope course with Go Ape Zipline and Adventure Park (1 minute away)
Play at Rock Creek Regional Park Playground (3 minutes away)
Visit the Meadowside Nature Center (6 minutes away)
Go ice skating at Rockville Ice Arena (7 minutes away)
Visit the 61-acre Olney Manor Recreational Park (10 minutes away)
God Indoor rock climbing at Movement Rockville (10 minutes away)
City of Gaithersburg Water Park at Bohrer Park (15 minutes away)
Visit the National Capital Trolley Museum (16 minutes away)
Visit the Rock Creek Park Nature Center and Planetarium (33 minutes away)