The Lancaster Science Factory is an interactive science center that is such a great place to visit with the whole family and it is one of our favorite things to do in lancaster county.
This hands-on science center with all kinds of fun activities for kids to play with and learn about science, engineering, technology and more.
While the factory looks small from the outside, the factory is chock full of activities to keep you busy for hours so definitely plan to spend some time. The museum is geared towards older kids but there is a lot to do for kids in Pre-K though 8th grade.
I was unsure if my 5 1/2 year old would find anything to enjoy. Boy was I wrong!
The museum is housed on one floor of a warehouse. It's well designed and maintained and with the open concept the kids can run around from exhibit to exhibit.
Even on our visit during the weekend, it wasn't overly crowded and we definitely enjoyed ourselves. If it were busier, you'd definitely have to pay more attention to where your kids go and they may have to wait in line for some of the exhibits.
Interactive Exhibits
I was surprised to learn that the factory has over 75 STEM exhibits and my kids loved these hands-on exhibits! It definitely makes science fun and the kids don't even realize they are learning.
But don't be surprised if you as an adult enjoy yourself too!
The various exhibits all relate to a specific STEM topic and give you easy instructions for how to interact and learn from the exhibit.
If you (or your kids) want to focus on a specific area of STEM, the exhibits are colored coded based on the theme so you can easily find them.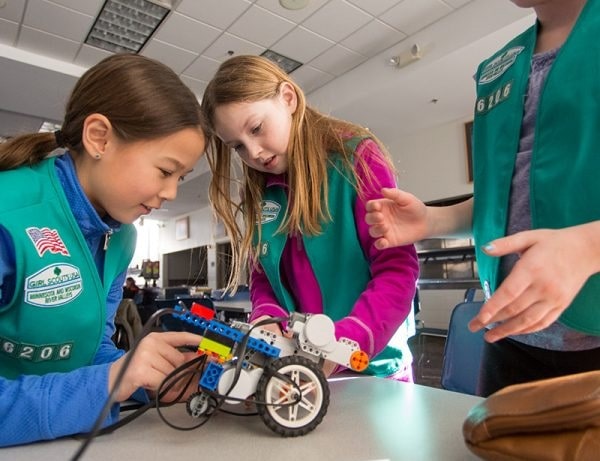 The exhibits you'll find are:
Light and Vision
Electricity and Magnetism
Mechanics and Motion
Structural Engineering
Acoustics and Sound
Fluid Dynamics
Puzzles, Math and Logic
Environmental Sustainability
All my kids love the parachute launcher and I lost count of how many times they blasted off.
My oldest like some of the brain teasers he found.
We played a nursery rhyme on the bongophone and got to simulate an earthquake. My daughter thought it was so cool that she could build a structure, then regulate the strength and speed at which the earthquake crushed her building.
Other structural engineering tables included building a Catenary Arch, Ceiling Beam, and Truss Bridge.
Kids of all ages will love the "Mechanics and Motion" exhibits. Four different ball tracks: Galileo, High Road/Hilly Road, High Road/Low Road and Identical demonstrate the various ways a ball will accelerate based on the path being flat, hilly, curved, etc.
Each of us took a turn setting our colored balls in motion at the same time to see which one would reach the end in the fastest amount of time.
Mini-Racers is a similar concept where you build a K'nex car and race against your teammates using an actual timer. You can even build your own roller coaster using wooden pieces and watch the ball along the "ride."
There were also four pendulum exercises with the Sand Pendulum being the most unique.
Perhaps our favorite activities were part of the Fluid Dynamics exhibit and the water lab. You can launch a tennis ball sky high, build a dam, inflate a hot air balloon, make a paper airplane, step on a simulated hovercraft or use a whisk to learn about wind shape and position.
There is a small enclosed area perfect for toddlers called Earthmovers filled with:
Balls
Dump trucks
Pulleys
I had to pry my husband and kid from the Air Play area.
Getting to make the paper airplanes was fun as you get to launch them in the plane launcher. Basic activity but turns it into a lot more fun!
On either side of the room are air tubes. A ball is inserted and travels through the air in the tubes above you, next to you and so on. It shoots out the other end. What kid wouldn't find that entertaining?
For those wanting more of a mental challenge, sit down to one of many puzzles or brain teasers like Army Ants, Horse and Cowboy, or Tangram. Cyclograph reminded me of the geometric stencil activity I remember as a child known as Spirograph.
The Outdoor Courtyard
In 2022, the factory opened the 4,000-square-foot Mueller Family Outdoor Couryard which is it's first outdoor space.
It's actually really need because kid's can recycle stormwater and adjust a solar power flower. The water comes from the factory's roof and it can also be used to water the rain garden that has different native plants.
Educational Programs
The Lancaster Science Center has a wide variety of STEM based educational programs that I highly recommend. I recommend checking the calendar before you visit so you can see any scheduled Science Cafe activities that may be happening during your visit so you don't miss out.
They have different activities depending on the day that are including in your admission, like:
Intro to circuits
Truffula Trees
Animal and plant cells
Activities around physical sciences
Art projects
And more
Admission Prices
The cost of admission is $12 for kids and adults ages 3 and up. Kids up to age 2 are free.
You can also purchase a membership if you live close enough and plan on returning often. It only takes a few visits to pay for itself. They even have a grandparents membership.
Like other museums, group reservations come with a discount as well.
Free Admission
There are a number of ways you can get into the Lancaster Science Center completely for free!
Three of the easiest and most used options are:
(1) Visiting during First Friday: on the first Friday of every month, the center offers free admission from 5pm to 7pm.
(2) Check out a free pass from the library: if you have a library card from one of the area's 17 libraries, you can pick up a free pass that is good for up to 5 regular admission tickets.
(3) Members of the ASTC passport program may be able to receive free admission
They also have free options for active-duty military and their families.
The science factory is also a part of Museums for All which gives free access to 500 institutions for those who present their SNAP / ACCESS card along with their ID at the ticket counter.
Hours
The museum is open from:
10am to 5pm Tuesday through Saturday
12pm to 5pm on Sundays
The museum is closed on Mondays as well as on New Year's Day, Easter, Thanksgiving, and Christmas.
Getting There & Parking
The Lancaster Science Center is located at 454 New Holland Avenue Lancaster, PA 17602
You can find free parking located right across the street.
Good to Know
There is a small, soft play area for the younger kids if they are not old enough to enjoy the exhibits just yet
There is no restaurant or dining option on site
There is no designated gift shop but there were a few items for sale
There is no designated nursing Mother's space
They offer some 3D printing for an additional cost
Where to Stay
If staying overnight, I highly recommend the Fulton Steamboat Inn in Lancaster.
They have a ship playground, pond where you can feed ducks and koi, and a guppy love program where your kids can adopt a fish during their stay.
Plus, it's right near Dutch Wonderland.
Our family loves Pennsylvania Dutch Country. Our plans for Dutch Winter Wonderland were snowed out so we thought a perfect alternative would be the Lancaster Science Factory.
This is definitely a must visit when you are in Lancaster. According to my kids, this was the highlight of their trip to Lancaster.