Larriland Farm is a pick-your-own-produce farm located just 30 minutes off of I-270 north of Gaithersburg.
The farm has large fields of produce, a big pond, and a farmer's market building. But the big attraction is the pick-your-own fruits and vegetables starting with fresh, deliciously red strawberries in the spring.
My plan for my 3 kids was to pick strawberries together until it got too hot. I called the phone line before arriving to make sure that the fields were open for picking. This is highly suggested before making the drive to the farm so no one arrives disappointed.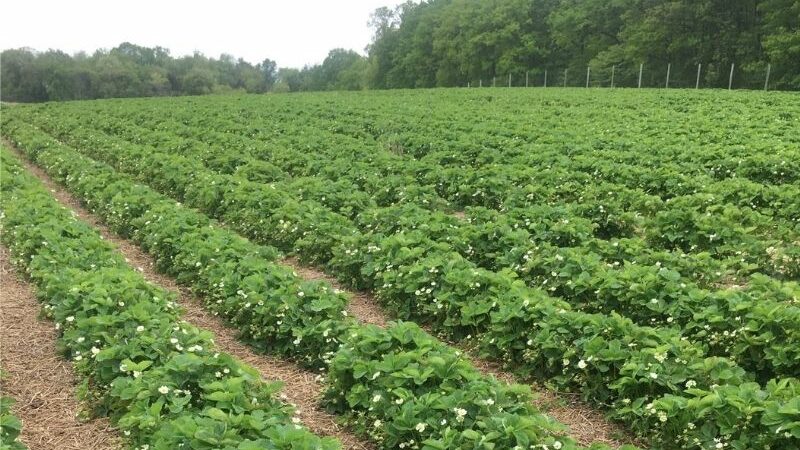 Larriland Farm Strawberry Picking: Picking Your Own Strawberries
The only crop available for picking during our visit was strawberries. It was FABULOUS picking on the day we arrived!
When we arrived at the farm, there were visible signs from the road with arrows that directed us straight to the strawberry patch. We were able to park directly in front of the patch which made it very easy for the kids.
Many preschoolers were in the field picking. It even looked like there was a small daycare out in the field picking together.
We were directed to a shaded cashier stand where we could get cardboard flats and then we were instructed to the field. The whole process was very orderly.
The worker in the field was well identified and was very precise about where you were able to pick. She designated each group to particular rows. This allowed the farm to have control and each group had a great selection.
It was an excellent experience for pick-your-own-strawberries but there were not quite enough activities there to stay all day.
Pick Your Own Fruits & Vegetables
This farm has a variety of produce you can pick from vegetable to fruits.
Just note that not all produce are pick-your-own (PYO) so it's better to check their website first to know which are okay for PYO.
You can see below an overview of what fruit and vegetables they have for specific months.
June

Red radishes, Chard, Kale, Lettuce, Strawberry, Tart Cherries, Red Raspberries, Black Raspberries,
June – August

Beets, Squash, Tart Cherries, Red Raspberries, Blueberries
July – August

Cantaloupes, Thornless Blackberries, Peaches
July – September

Sweet Corn, Snap Beans, Cucumbers, Eggplant
July – October

Tomatoes
August

Seedless Table Grapes
August – September

Red Raspberries, Apples
September

Peppers
September – October

Broccoli, Asian Pears, Apples
October

Pumpkins, Beets, Chard, Turnips, Kale, Squash
Hours & When to Go
Opening day is determined by the ripening of the strawberries which usually takes place in late May and goes until early June.
The farm is typically open Tuesday to Friday 9am to 6pm, Saturday and Sunday from 9am to 5pm and closed on Mondays.
Always contact the hotline at 410-442-2605 before heading to the farm as it is updated daily in case the hours change or the fruit is no longer available.
Good to Know
Before heading to the farm, call the daily updated hotline at 410-442-2605
Credit card is taken at the field
Strollers are allowed in the field
There is no admission fee and the farm is closed on Mondays
Pick your own crops are charged by the container, not by the pound
Make sure to bring your hat and put on your sunscreen as it could get hot
No pets are allowed
Eating in the fields is not allowed
The building has canning supplies, water ($1.50/bottle), a small selection of produce (strawberries $5.49/quart, kale $2.49/lb, etc). We did not see any picnic tables, playgrounds or animals except for geese.
Getting There
Larriland Farm is located at: 2415 Woodbine Rd, Woodbine, MD 21797.
Things to Do Nearby
Head to Alex's Snowcones & Ice Cream after your produce picking
Take the kids to the playground at Western Regional Park
Enjoy some delicious fried chicken at Harvest Fried Chicken
Visit the alpacas at Breezy Hill Farm Alpacas