My two figure skating daughters and I headed to the Laurel Skating Rink for the first time at the Laurel Roller Skating Center and are now converts to the sport.
This facility, near the Laurel Racetrack and Historic Laurel, has been around for over 30 years.
If you're thinking about going with family or friends, here we'll share what you need to know before you go.
What to Expect at the Laurel Roller Skating Center
The no frills facility has little atmosphere but completely serves its purpose. It reminded me of most bowling alleys.
There's a carpeted area for putting on skates and an uncarpeted area with a refreshment stand, gumball machines, and arcade games.
Roller skating is a fun and different activity and provides a real workout.
It reminded me of how much I used to enjoy roller skating as a kid and into my twenties. My 10-year-old loved roller skating and said repeatedly "when can we go again." My younger one loved it almost as much.
MORE LAUREL FUN: Rocky Gorge Mini Golf & The World's Longest Mini Golf Hole
The air conditioner works great during the hotter months and creates a gentle breeze which is really nice.
A skating guard was also on the rink the entire time and skated over immediately whenever anyone fell.
Note: be careful getting on and off the rink. The slight slope of the carpet makes it the easiest place to take a spill.
Hours & When to Go
Depending on whether you're going with kids or not, you'll want to pay attention to the schedule so you go during the best time for your group.
For instance, Tuesday evenings is for faster and more advanced skaters and is definitely not the best time for kids.
Family Night is on Wednesdays from 7pm – 10pm.
Saturdays and Sundays also has open skate time which is open to all ages from 1pm – 4pm and a night session from 7:30pm – 11pm.
You can see the full schedule here.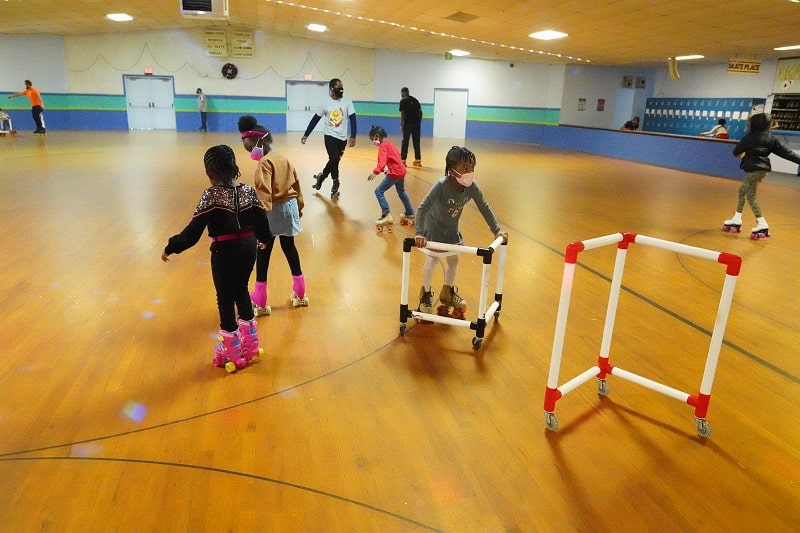 Skating Classes
Laurel Roller Skating Center has skating lessons on Saturday mornings, as well as Tuesday and Wednesday evenings. These classes are helpful if you're knew and want to learn at your own pace without the pressure of open skate time.
Here you can learn to skate forward, backward and how to turn.
They have both monthly classes which meet weekly or you can attend a drop-in class.
They have the following types of classes available:
Beginner / Intermediate
Advanced
Freestyle
Private lessons
The music, a mix of hip hop, top 40, and R&B, seems blaring at first but once you're on the rink, it's energizing.
In mid-session, the lights dimmed and they played the "Charlie Brown" line dance, which no one knew how to do.
A disco ball is in the center of the rink for evening sessions which is a lot of fun!
Lessons
The Skating Center offers lessons for the very reasonable price of $20 for a month of lessons, two days a week.
Tickets & Pricing
Admission for Wednesday's family night is $8 for adults and $5 for kids (ages 14 and under). Saturday and Sunday 1-4pm open sessions are $9.25 and weekend night sessions are $12.
Skate rental is $5.
Tickets can be purchased on site at the ticket counter.
If needed, lockers are also available to store your belongings while you skate so make sure to bring change (or use their change machine).
Food & Drink
While no outside food and drink is allowed in the center, some food is sold on site including pizza, pretzels, popcorn, candy, fountain drinks, ice cream and other snacks.
Good to Know Before You Go
You're welcome to bring your own skates but they have to be inspected so that they don't harm the wood floor.
Customers using Skate Rentals must wear crew socks or knee high socks (no ankle socks)
Wear long pants and socks. If you forget socks, you can buy them
My girls were the only people in the arena with helmets but it's not a bad idea for protection.
No gum, outside food, or drinks are allowed inside.
Kids cannot be carried on the rink.
We recommend this activity for ages four and up.
Birthday parties include admission and skate rental for the birthday child and ten guests, soda, and ice cream cups, all for $100. Pizza is available for an extra charge. You can bring your own birthday cake.
Restrooms do not have changing tables.
There's a water fountain near the refreshment stand.

Getting There
Laurel Roller Skating Center is at 9890 Brewers Ct, Laurel, MD 20723.
The Skating Center is located off of Route 1. You will find ample parking in front.
Things to Do Near Laurel Roller Skating Center
When you're done skating, there are other fun things to do nearby including:
Try one of the best places to get donuts in Maryland – Laurel Tavern Donuts (2 minutes away)
Watch a horse race at Laurel Park (3 minutes away)
If you brought your skateboard to, head to the North Laurel Skatepark (3 minutes away)
Go for an adventure at Terrapin Adventures (7 minutes away)
Hike through the Wincopin Trails (9 minutes away)
Take your dinosaur loving kids to M-NCPPC Dinosaur Park (11 minutes away)
Visit the National Capital Trolley Museum (20 minutes away)