Introduction
A wonderful experience at The Leesburg Animal Park with my children left me extremely excited and wanting to get a season pass. The facilities are brand new, the layout is very manageable, and the staff was fun and passionate!
I have never been so impressed with the cleanliness of a DC area kid's landmark. 
MORE FUN: Best Breakfast Spots in Northern Virginia
Our Kids ProTip: Go on a weekday.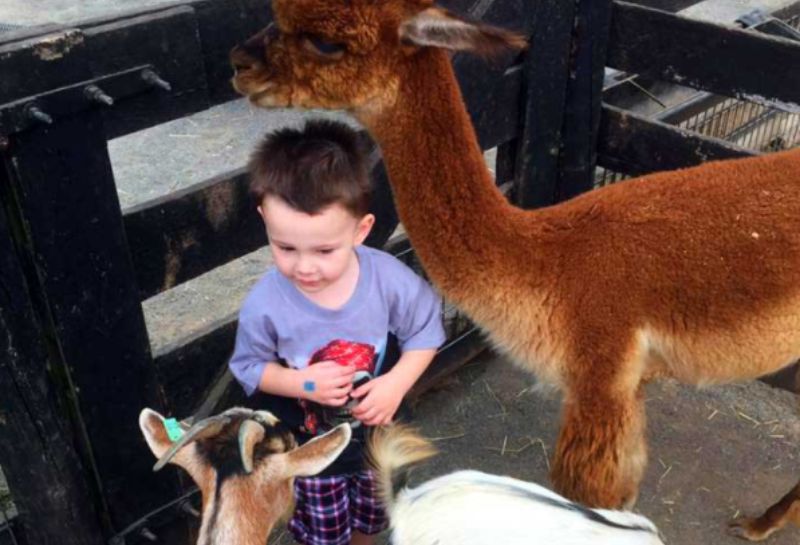 About the Park
You enter the park through a large building. Friendly workers behind the counter help you before you enter.
You can purchase cups for animal feed, tickets for pony rides, season passes, etc here.
In the building, there is a massive indoor playground with a trampoline. This is larger than a fast food play place or mall play area.
It is extremely clean and kept my kids occupied for over 30 minutes.
Our Kids ProTip: bring socks.
Also inside, you can view chinchillas, iguanas and beautiful birds. They have "up close" animal encounters every half hour where you can view, touch and hold different animals.
If it is a rainy or wintry day, you could easily stay busy. The owner told me that they are now open year round and they offer a discounted admission rate on these days.
Our Kids ProTip: although strollers are fine outdoors, strollers need to be parked inside the building.
READ NEXT: 25 Things to Do in Leesburg: Ultimate Fun Guide
Attractions at the Leesburg Animal Park
This building has a darling gift shop, a huge party area, and tons of indoor seating with tables.
They have a large assortment of affordable snacks, drinks, Lunchables and ice cream bars.
Pizza can be ordered and delivered to eat inside. Buying animal feed is a MUST.
Getting the kids outside was hard but the park has other fun playground units outside as well. There is a large Ark, a train, a moon bounce and a few other structures.
There is a TON of outdoor seating, benches, picnic tables and shade. Be sure to listen to the loudspeaker for announcements of the wagon rides, pony rides and animal encounters.
Park Activities
The animals are everywhere! There are beautiful white geese that wander and gently approach children to be fed. The gibbons (apes) are in a large viewing area and cannot be fed. There are also big cats in a huge outdoor cage.
The three zebras are beautiful and the pond is stocked with huge fish that like to be fed. The Lemurs are on an "island" next to the pond and fun to watch. The birds in the apiary, peacocks, and camels were a sight to behold!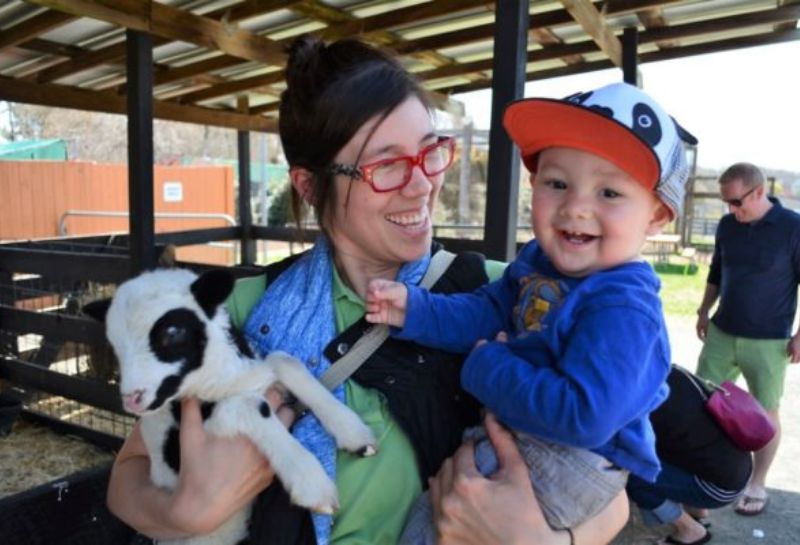 Many animals roam and can easily be petted. There is also a designated fenced area where you can feed goats, pigs and many other farm animals.
There is a long stable with a miniature deer, pigs, chickens and others. Beyond this is another large area where you can meet the large tortoises and other exotic animals.
Pumpkin Village
The Pumpkin Village at the Leesburg Animal Park will be back later this year. It is closed for now.
It is one of the must-visit fall festivals for families living in Virginia. They have tons of family friendly fun activities such as giant hill slides, moon bounces, wagon rides, petting zoo, pedal carts, the corn bin, and many more!
Know this: If you're visiting the Pumpkin Village with a large group, you can also avail a discount on your tickets.
This is also great place to host birthday parties for your kids. For more details, visit their website.
Hours and When to Go
Leesburg Animal Park is closed on Tuesdays and Wednesdays.
Monday, Thursday & Friday: 10am-4pm
Saturday, & Sunday (and Columbus Day) 10am-5pm
Tickets & Prices
Ticket rates for adults is $16.95
For kids, age 2 to 12 is $14.95
For seniors, it is $14.95
VIP Kids pass that includes feed cup, pony ride is $19.95
Visit their website to know more about the Season pass and field trip options.
Good to Know Before You Go
When you take the wagon ride, you get a tour of the outdoor acreage and you can feed the llamas, horses, donkeys, calves, etc that approach the wagon.
Be sure to choose a seat on the outside of the wagon and hold onto your cups!
Leesburg Animal Park is a much different experience than The National Zoo. I was pleased that it appealed to my toddlers and also my older children.
Take advantage of the schedule online and on Facebook to plan what animal encounters you might see.
Getting There
The Leesburg Animal Park is located at 19246 James Monroe Highway, Leesburg, VA 20175