When one thinks of Woodbridge, it's usually to go outlet shopping! However, now that I'm letting a secret out about this area's claim to fame, Woodbridge is worth a look.
Leesylvania State Park stretches over 500-acres and is covered in woodland and has it's own shoreline that runs along the banks of the Potomac River.
Covered Here:
What to Expect
Things to Do at Leesylvania State Park
Map
Passes & Prices
Hours & When to Go
Good to Know Before You Go
Getting There
Things to Do Near Leesylvania State Park
What to Expect
Leesylvania State Park was known locally as Freestone Point, where early settlers gathered sandstone.
The park has several facilities that include:
A visitor center
Natural sand beach
Fishing pier
Boat ramp
Boat rental
5 hiking trails
Fitness stations
Picnic area and shelters
Playground
A group only campground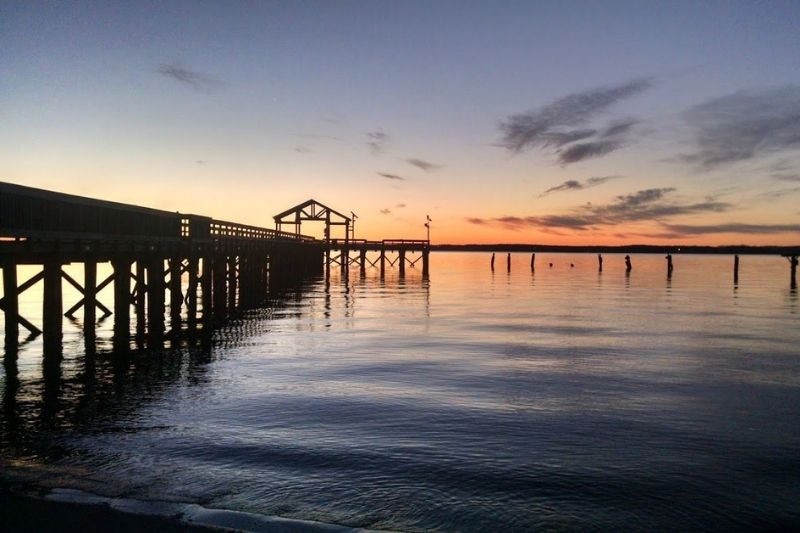 Things to Do at Leesylvania State Park
Visitor center
Begin your day at the spacious visitor center.
I was happy to know that my leashed dogs were allowed inside. Children can try their hand at colonial games, card wool, weave yarn on a loom, try on period clothing and see a model ship and spinning wheel.
A newspaper article from the summer of 1957 dubbed Freestone Point as the Washington area's first luxury beach resort. One mode of transportation was aboard the S.S. Freestone
The other part of the visitor center is everything nature.
On display are a series of taxidermy such as beaver and deer. You can feel the fur of these and other animals at the touch table, along with snake skins, bird nests, rocks including volcanic rock and crystals.
There is a display of feathers, which are not for hands to touch.
Interesting fact: An interesting fact is that bald eagles are property of the federal government.
Not so fun fact: Did you know you can be fined up to a quarter of a million dollars if you find and keep a bald eagle feather?
Browse through books, make a craft and observe Bee Balm and Purple Coneflower which were sprouting from egg cartons during our visit.
On display are one of the 100 slot machines aboard the ship.
Revolutionary war hero Henry "Light Horse Harry" Lee's father lived on the property with his family. See a military uniform, civil war artifacts and a model shotgun representing duck hunting.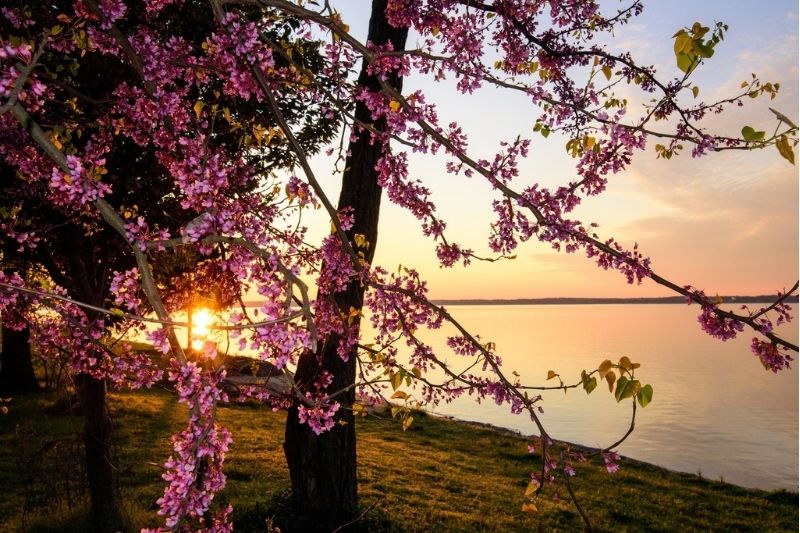 Throughout the property you can find remnants of what inhabited the property including a pulley, cannon, etc.
Live animals include a bullfrog, red-eared slider turtle and catfish.
My daughter saw a fish tank and said, "look, it's Spongebob's house." In fact, a school of fish "live in a pineapple under the sea." A park ranger is on hand to answer questions about the park.
The gift shop has souvenirs like butterfly pens, children's nature books and penny candy. There's even a Keurig for your coffee and cocoa needs along with bottled water, canned soda ($1 each) and chips (.50).
Rent kayaks, paddle boats and sailboats and even take sailing lessons on site from Woodbridge Sailing School. While we didn't see any, the area sees turtles, osprey and egrets.
Camping & Cabins
They offer four-tent small primitive campsites for small groups that are arriving by canoe or kayak.
Hiking Trails
They have a variety of hiking trails ranging from 7 to 122 in elevation gain depending on what's perfect for your family or your group.
Fishing
Several people were fishing on the pier. Just remember you need a license to do this. It's kind of neat that when you walk across the middle of the pier you are in Maryland.
Beach
There is a small beach with shallow entry along the Potomac River. During a weekday visit in the height of the August heat, the sand was particularly hot.
I recommend water shoes over flip flops not only for the sand, but also as the water is a bit rocky.
There are signs warning about drop-offs and currents so while the river waves are tame, exercise caution particularly with small children in tow.
Lifeguards are not present and there are no bath houses.
My child found a few seashells and several shells belong to crabs and snails.
Wetlands
You'll also find a manmade wetlands pond near the closest beach area. One fun thing to do here is to go from Virginia to Maryland on the same bridge.
The border between the 2 states runs along the western bank of the Potomac River so the pier displays signs to show you when you've crossed into another state.
You can also walk along the pier and check the signs for different types of wildlife to keep an eye out for.
Swimming
Unfortunately, swimming is not allowed in Leesylvania State Park due to the bottom hazards and boat traffic which makes it unsafe for such activities.
Picnic Area
I recommend bringing a cooler and picnic. There is a shaded picnic area near the beach along with a well-maintained playground.
They also have four large picnic shelters you can rent if you have a bigger group.
Car parking fees are not included in the rent so make sure to check updated prices of the parking fees before your visit.
Playground
The playground is surrounded around many different picnic areas that all provide a view of the river.
Yep, it's a playground with a view! It's nice to be able to sit and relax, eat or just watch the kids and the view of course. Can't say that for most playgrounds!
Map
Passes & Prices
If you're wondering do you have to pay to get into Leesylvania State Park or how much does it cost to go to Leesylvania State Park, here's the answer…
$4 weekday Admissions
$5 weekend Admissions
$7 Summer and Holiday weekends
Add +$2 if you are visiting from out of state
You can also buy annual passes directly from their website.
Hours & When To Go
Monday to Friday: 6:00 am – half hour after sunset
Saturday to Sunday: 5:00 am – half hour after sunset
Peak season is on the weekends from May to September
Good To Know Before You Go
While there is a lot of parking available, I advise getting here early. Picnic and beach areas fill quickly
Paying for parking during the winter season is at the self-pay station with cash, a check, or a credit card
Picnic shelters 1, 2, 3, and 4 are not available on weekends from May to September and is on a first come first serve basis
Parking fee is required
Water fountains are located here and just outside the building are clean restrooms.

Getting There
Leesylvania State Park is located at 2001 Daniel K Ludwig Dr Woodbridge, VA 22191.
It's just a few miles from Exit 156 off of I-95.
Things to Do Near Leesylvania State Park
Leesylvania State Park is not a one time occasion. Throughout the year the park host Music at the Marina, ranger led hikes, kids fishing tournaments, scavenger hunts and more. Cycling is also a great way to experience all that the park has to offer.