Formerly the farm of Henry Long, Longs Park is a 74-acre estate city park that offers plenty in terms or relaxation and recreation.
It's a fantastic place for a picnic, walking, playing or just relaxing.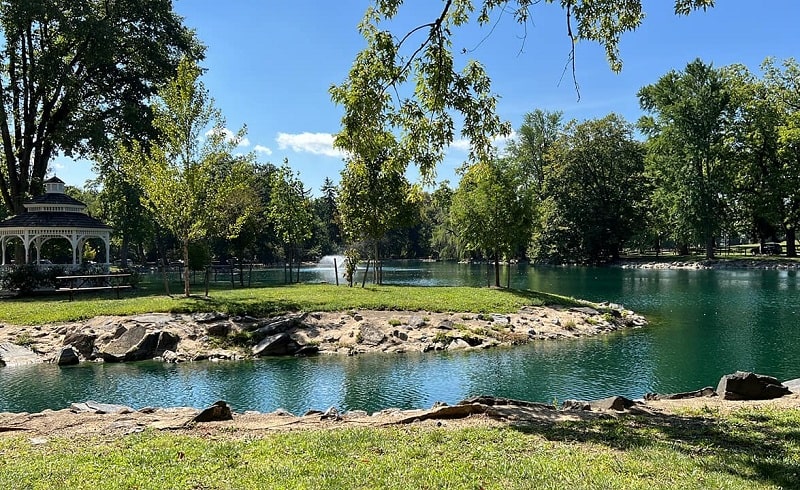 This is such a nice park to get outside and enjoy nature throughout the year. There is so much to see and do here like:
Lake with fish and ducks
Fitness trail for walking or running
Several playgrounds with benches for parents
Several covered and uncovered picnic areas with charcoal grills
Petting zoo
Tennis and basketball courts
Snack bar
Amphitheater for concerts and other events
And in this guide to Longs Park, I'm going to share the details on it all so you know what to expect for your visit.
Lake
The park is a one way system and the first stop is the three-acre lake filled with ducks, geese and turtles. There are benches and picnic tables dotted along the perimeter and the view of the fountains and the ducklings are fun for the kids to see.
We took the walking path around the lake and as we did we stopped to see a snapping turtle sunbathing on a rock, some fish and the ducks.
Keep in mind: while it's fun to feed the fish, there is signage that asks you not to feed the waterfowl.
There is also a gazebo and a bridge over the pond which is so pretty.
With the lake and the surrounding trees, you'll see why this is a popular place to take photos.
Playgrounds
We saw 4 or 5 playgrounds while we were there. There are numerous playgrounds with adjacent picnic shelters. 
The popular playground is the wooden one that resembles a castle. 
This playground is quite large and has various obstacle course like features including a few metal slides and tire course. 
Petting Zoo
There is also a petting zoo open to the public with:
Llamas
Donkeys
Pigs
Horses
Goats
Events
During the summer the park hosts a lot of events and even free concerts which are fun to attend.
Two main events they host are the Summer Music Series and Art Fest.
The park used to host what the guiness book of world records once claimed to be the world's largest chicken barbecue, however as of 2023, after 70 years the event will no longer run due to increased costs.
Hours & When to Go
The park is free to go enter and is open daily from dawn to dusk.
Good to Know Before You Go
Strollers are not permitted in the petting zoo
Restrooms are usually clean although all are not open at the same time
This is a dog-friendly park
Most of the park, including trails and access to the pavilions is wheelchair-accessible
Getting There & Parking
Longs Park is located at Harrisburg Pike, US-30, Lancaster, PA 17601.
Frequently Asked Questions
Are dogs allowed at Long's Park in Lancaster PA?
Yes, dogs are allowed at Long's Park. You'll see lots of people walking their dogs. The cement walking path around the pond is a beautiful place to walk them. You can even bring them to the concerts in the summer.
Can I BBQ in Long's Park in Lancaster PA?
Yes, there are charcoal grills available and lots of tables.
Can you fish at Long Park in Lancaster PA?
Yes, fishing is permitted in this catch and release pond.