Merkle Wildlife Sanctuary is a wildlife refuge. It is home to many birds and mammals like foxes, groundhogs and deer, which are fun to spot around the sanctuary.
The sanctuary is popular to visit in the winter as it turns in a breeding area for Canadian Geese and there are lots of them to see.
Why Visit?
There are many reasons to visit the sanctuary and enjoy the outdoors. Some reasons you'll want to visit include:
Fun visitor center
4 nature trails through the forest and marshes (0.72mi to 3 miles)
Picnic areas
Critical Area Driving Tour
Fields and ponds to explore
See the Canadian Geese migrate
Bird watching
Fishing (from April 1 to October 1)
Main Attraction and History
You have probably seen geese before and been like, yeah, I've seen them driving by a lake, etc. Imagine having the opportunity to view approximately 5,000 Canadian geese in one area!
From October to March, the Canada Geese migrate to the sanctuary for the winter.
This came about when Edgar Merkle started breeding a few pairs of geese at a time to encourage them to return each year to feed and rest in Maryland.
Edgar Merkle was so passionate about waterfowl that he established the Merkle Wildlife Sanctuary so others could enjoy the Canadian geese's beauty.
The drive to the sanctuary greets you with a panoramic view of the geese relaxing on the fields and ponds.
It is truly spectacular to see these majestic waterfowl roaming in a protected environment.
Frank Oslislo Visitor Center
While I was excited to see the geese, I didn't know that the Frank Oslislo Visitor Center has more to see and do than just the migration of the Canada Goose.
Follow the goose tracks to one of two outdoor observation decks. If it's too cold to be outside, grab a stool and binoculars to view the birds through glass windows.
Grab our FREE Nature Center Kit for Kids in DC, MD & VA
Several pairs of binoculars for both adults and children along with a telescope allow for up-close encounters.
The visitors center is a treasure trove of kid-friendly activities and displays.
Things to do at the Visitor Center
Pass by the Poetry Corner and get inspired by reading Maya Angelou's Caged Bird and Nothing Gold Can Stay by Robert Frost.
A small table with paper and markers asks you to write a note to Planet Earth.
A corkboard displays pictures and poems by guests.
Uncover the meaning behind SEM Images. SEM, Scanning Electron Microscope, unlike a typical microscope, uses electrons to produce an image.
Check out several panels and descriptions of minute insects such as a Monarch Butterfly egg, spider hairs and a bee stinger.
Be a detective and explore the Animal Tracks exhibit. Grab a magnifying glass and start digging in the sandbox for foot tracks of Canada goose, turtle, rabbit, fox and more.
Match the clues with photo albums and stuffed displays of area animals including muskrat, deer and birds like the Eastern Bluebird and Purple Martin.
Did You Know?

What makes the Canada geese want to migrate in Maryland during the winter?

They graze on Japanese millet and corn which allow them the carbohydrates needed to sustain their energy. Due to their special diet, distributing food is prohibited.
Young children can sit at a table with pint-sized chairs and color sheets bearing the Canada Goose, put together puzzles and look at books on wildlife.
Older children and parents will be surprised to know that the sanctuary is a historic site. During the War of 1812 several ships were sunk in the Patuxent River.
There is believed to be four ships from this time period found in the surrounding area.
The display of fossil rocks is impressive showcasing a Stempoint Arrowhead made of Quartzite found on the sanctuary, soap stone and Mako Shark teeth found at Calvert Cliffs.
---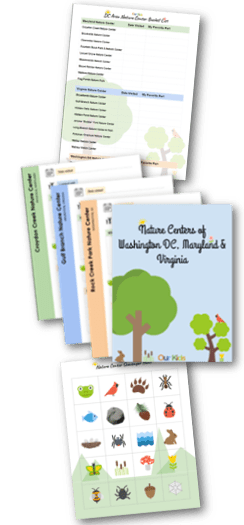 DOWNLOAD OUR FREE NATURE CENTER KIT FOR KIDS in DC, MD & VA!
Grab our FREE Nature Center Kit including:
✓ DMV Nature Center Bucket List
✓ Nature Center Tracking Journal
✓ Nature Center Scavenger Hunt
---
The Discovery Room
My family's favorite part of the center was a trip to the Discovery Room.
A large tank with a Diamondback Terrapin turtle will vie for your attention. Note the warning sign to not stick your hands in the tank because he will bite.
This was very funny because the turtle looked like it wanted to eat our fingers for lunch when we put it to the glass.
Delve into the Discovery Room and see varieties of amphibians and reptiles including a massive Common Snapping turtle, Eastern Box, Eastern Painted and Eastern Mud turtle.
There is a Fowler's Toad, Gray Rat snake and two Red Corn snakes to view.
RELATED: Sandy Point State Park: Beach, Swimming, Boats & More
See a preserved worm snake, touch snake skin, hold a turtle's shell, and feel different types of bird feathers.
Alternative Energy is a hands-on exhibit about solar power.
People can learn how solar energy works. Examples include flipping a switch to show how the sun powers solar panels, pull a string to restart an automobile or spin a wind turbine.
Other Activities
If you love bird watching, there is a large bird feeder viewing area, stocked with binoculars and scopes that provide many hours of enjoyment.
Merkle also has five fishing ponds that are open to the public.
It is also a great place for picnicking as there are also several picnic tables located around the sanctuary.
Good to Know Before You Go
The two-level visitor center has an elevator, restrooms, and a water fountain, but no changing facility.
The elevator is only for use for handicapped persons.

The park ranger stated it's hit or miss if you want to get close to the geese. The CADT is accessible via Patuxent River Park.

Simply viewing the geese from the grounds of the visitor center or hiking one of the four trails at the sanctuary is a better option.

Leashed pets are allowed at Merkle Natural Resources Management Area.

Hours and When to Go
The Merkle Wildlife Sanctuary grounds are open daily from sunrise to sunset.
The Visitors Center is open on weekends only from 10am to 4pm.
The CADT is open every day for driving, hiking, biking and horseback riding
The driving tour section connecting Patuxent River Park to Merkle Wildlife Sanctuary is open on Sundays from 10am to 3pm throughout the year
Tickets and Pricing
There is no admission fee for the park, however, they do have a donation box if you'd like to contribute.
Getting There
Merkle Wildlife Sanctuary is located at 11704 Fenno Rd, Upper Marlboro, MD 20772.
Our Experience
While I expected to see some close encounters with beautiful Canadian geese, I didn't expect much else.
Merkle Wildlife Sanctuary sparked my interest in protecting wildlife and to appreciate the world we live in.
More Nature Places Nearby