If you're planning on going to TopGolf and wondering if they have mini golf (putt putt), you can find out here.
What is Topgolf
TopGolfis an entertainment complex for golf aficionados of all ages. Even if you don't consider yourself a golfer, Topgolf is a lot of fun!
You can select from a wide variety of games and then play golf! When it's your turn, a golf ball with a microchip will roll out and track your speed, distance and other metrics.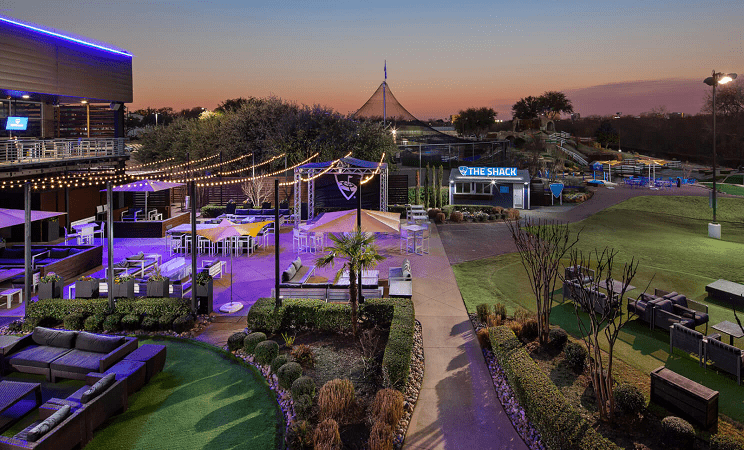 Most locations only have their main driving range and golf games where you hit the ball from your designated area, out into the course. It's literally a 240-yard field with targets.
The course itself has different targets for you to try and hit. Depending on which target and where in the target you hit, you will earn points. This also varies depending on the game you select.
While at TopGolf be sure to check out the driving range, the kids will get a kick out of watching players hitting balls all over the place.
Top Golf Mini Golf
Some Topgolf locations have 12 – 18 holes of miniature golf and it's a great place to visit with friends or your family. Kids and adults will both enjoy the course!
When we headed to Topgolf with the kids, we found there to be no major obstacles with either of the courses. We did, however, find them challenging. It took about an hour to play the course.
TopGolf Locations With Mini Golf
Most Topgolf establishments do not have mini golf but some do and they are so much fun! So if you're looking for which top golf mini golf / putt putt locations to head to, here is where to go:
TopGolf DFW – Dallas
The Topgolf Dallas mini golf course is set-up right behind the main venue and is full of greenery, waterfalls and other water features. This location actually has 3 mini golf courses. There is event a slight elevation as you go up the course and it is very well maintained.
Topgolf Vineyard
Located in Utah, Topgolf Vineyard, is a beautiful outdoor mini golf course with a nice outdoor seating lounge. They also have a nice, covered area with picnic tables.
Topgolf Jacksonville
The Topgolf Jacksonville location has a more authentic feel like a regular golf course. You'll find all the greens, sand pits and trees scattered throughout.
Did You Know?

Kingstowne TopGolf (in Northern Virginia) closed a number of years ago but it re-opened as Rudy's Golf & Sports Bar which has 2 outdoor mini golf courses to choose from.
What to Eat
We couldn't pass up sitting outside on the beautiful day and decided to check out their food. We weren't disappointed!
Their menu features unique, healthy options, plus a decent kids menu.
Everything from burgers, salads, sandwiches and wraps are available.
I had a delicious crab cake slider and the kids ordered from the kids menu.
We rounded out our meal with the TopGolf Injectable Donut Holes. Yes — they give you syringes filled with different sauces and you inject your own donut holes with the delicious concoctions. They are a must-try!
When to Go
Mini golf is available during normal business hours and the last game has to be purchased one hour prior to their closing time.
If there is bad weather, you may not be able to golf so call ahead if you are unsure.
Make sure to check the location you will be visiting for their hours.
Topgolf Mini Golf Pricing
As you can probably imagine, prices vary by location. To give you an example of pricing, here are the prices at the Dallas location:
Adults are $9, kids up to age 17 are $6.50 and kids 3 and under are free.
Good to Know Before You Go
There wasn't much shade on the blue course so bring a hat and definitely apply sunblock
We recommend the mini golf courses for ages 5 and up
Birthday parties are available for both kids and adults
Private and group golf lessons are available
Many locations have lessons for kids as young as 6 years old
Frequently Asked Questions
How much does mini golf cost at Topgolf?
Prices for mini golf at Topgolf vary by location. On average, adults are $9, kids up to age 17 are $6.50 and kids 3 and under are free.
Does Topgolf Tampa have mini golf?
Topgolf in Tampa does not have mini golf. The closest Topgolf location with mini golf is a few hours away in Jacksonville, FL. Here you'll find other Topgolf locations with mini golf.