Montage Mountain Resort on the outskirts of Scranton, PA is full of family-friendly winter fun. From snow tubing to skiing to air boarding and more, here you'll find everything you need to determine if a visit is right for you.
While we've checked out nearby Ski Liberty and Whitetail Resort, this year we decided to head further north to Montage Mountain.
About Montage Mountain Resort
Montage is unique because it is only a 10 minute drive from I-81 and close to a large shopping and dining area in Moosic, PA. The resort has most major hotel chains within a few minutes drive to its slopes.
It has 26 trails, 2 terrain parks and one of Pennsylvania's longest snow tubing areas.
We drove up to Scranton the night before our ski day. We stopped to have a great dinner nearby at Akita Sushi and spent a comfortable night in the Springhill Suites hotel.
Montage Mountain Snow Tubing
A visit to Montage Mountain Snow Tubing Park is a blast for the whole family! They have sessions 7-days a week and the Magic Carpet Lift takes you to the top to start your next slide!
During the week you can pick up a 4-hour snow tubing session ticket for $30. The sessions are from 4pm – 9pm. On weekends you can get a 2 hour snow tubing ticket for $50.
Restrictions: guests 32″ – 41″ can rind the snow tubes at Kiddie Tubing. Everyone 42″ and taller can ride the main tubing park.
Montage Mountain Skiing
Montage Mountain is home to the second steepest trail on the East Coast called White Lightening!
If steep isn't exactly your think, don't worry! Montage has 7 lifts and 26 trails. The trails are evenly dispersed between beginner, intermediate and expert slopes. We were lucky and experienced the shortest lift lines yet this year.
For beginners, you'll be able to work on your skills at the base and transition to the bunny slope where you'll get some experience on a gradual decline. Then you can head off to one of the three full length, beginner trails: Mainline, High Ball or Easy Street.
The bunny slope is bigger than other "mountains" for newbies we have experienced in the areas. Once you're outside the lesson area, you'll have to jump on the chair lift to hit the slopes.
Night skiing is also available if you want to hit the slopes after the sun sets.
Montage Mountain Rental Prices & Tickets
If you're able to ski during the week, you'll find some great prices for skiing or snowboarding at Montage Mountain. They have a Ski-for-All Special which for $40, you receive an all-day lift ticket and equipment rental (before 3pm). This deal is not available on select days and holidays so make sure to check your dates in advance.
Thursdays thru Sundays (and holidays), there are different raes for extended lift tickets ($89 adults, $79 youth), daytime lift tickets ($79 adults, $69 kids) and night lift tickets ($59 adults, $55 kids).
College students, military persons and seniors receive discounts and kids 4 & under are free.
Equipment Rental
Ski and snowboard equipment is included when you ski or snowboard Monday thru Wednesday before 3pm so that's always the best and cheapest option. After 3pm the equipment rental rate is $41. On the weekends, equipment rental rates are $41 – $45 depending on the time.
Snow tubes are included in the price of the ticket. Lessons are good for beginners aswell as those with more experience.
Lessons at Montage
If you would like to book lessons, check with Montage to save money by purchasing a lesson package that will include lift tickets and equipment rentals.
Montage's Ski School is a great place to learn how to ski and snowboard.
Mountaineer lessons are for kids ages 5 – 11 with only 6 – 8 kids per group. Lessons are offered daily. You can purchase just a lesson or a 2 hour group lesson with lift access and equipment rental. Single group lessons start at $65.
Adult lessons are also available daily for ages 12 and up. For $110, you receive access to all area lifts, the group lesson and equipment rental.
If you'd prefer a private lesson, those are available as well for both kids and adults. Private lessons start at $110 and each additional person (or hour) is $75.
Eating at Montage Mountain
The lodge has a well-rated, sit down restaurant called Slocum Hollow. The restaurant has a great view of the slopes, craft beer and cocktails, and live music. Both the adult and children's menus have and reasonable prices. The restaurant also serves food and drinks on their outdoor deck furnished with fire pits to keep you warm.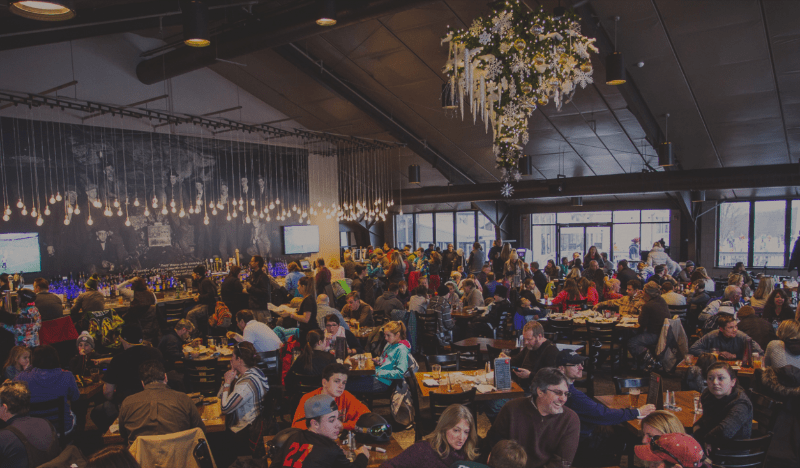 Another option is Midland which has outdoor fire pits, food and brews. This is perfect for grab and go food options, waffles, snacks and more.
It's Time to Go
If you haven't year visited Montage Mountain, this may be the year to go! The variety of terrain, proximity to hotels and restaurants and the fun of it's snow tubing and skiing slopes, makes for an unforgettable time.