That National Aquarium in Baltimore, Maryland brings the mysteries of the deep to the surface for all to see.
Sharks, frogs, fish, and dolphins from all over the world are on view – and you can get up close and personal.
Table of Contents
What to See & Do
Tickets & Pricing
Discount Tickets
Tours
Gift Shop
Aquarium Map
Food & Drink
Hours & When to Go
Parking
Getting There
Good to Know Before You Go
Things to Do Near National Aquarium in Baltimore
What to See & Do
The National Aquarium has 20,000 animals for you to see in their award-winning habitats. This is a full-day adventure in this enormous aquarium and this is something you just have to experience.
Parents love taking their kids back to the aquarium and remembering when they went as a kid.
Since there is so much to see and do, we recommend identifying your family's "can't miss" exhibits before you go. Or you can always purchase a membership so you can go back any day throughout the year.
The Shark Alley & other Exhibitions at the Aquarium
The draw of the aquarium for many is the centerpiece of the aquarium, Shark Alley. Here you will find several levels of floor to ceiling tanks full of various species of sharks and stingrays.
Some choose to linger by one tank and wait for a big one swim by while others go off in search of their favorite shark.
Another favorite is the two-story rainforest, housing Poison Dart Frogs, Tarantulas, Tamarinds, and several species of birds.
One of my children's favorite areas of the aquarium is Animal Planet Australia, depicting a typical Australian river gorge with
Pig-nosed turtles
Crocodiles
Fishes
Snakes
Lizards
Free-flying birds
Flying foxes
Another popular attraction is Dolphin Discovery.
The aquarium no longer offers scheduled dolphin shows, but aquarium visitors can visit the dolphins at any time to see them swimming or interacting with the training team.
There is also a dolphin tour available.
Jellyfish Invasion is another fascinating exhibit with several different types of jellyfish. There are also two coral reef exhibits, an exhibit exploring the North Atlantic to the Pacific, and Maryland's aquatic life.
Interspersed throughout the aquarium are touch screen exhibits where visitors can learn more about all of the various animals in the aquarium and watch videos.
There are also several live demonstrations held throughout the day as well as a number of interactive carts scattered throughout the aquarium.
There are plenty of staff and volunteers on hand to answer questions.
For kids that need a break there is a small play area near Dolphin Discovery with sea creature puppets and dress-up clothes.
There is also a 4D movie theater for an additional fee. The movie changes, but past showings have included kid-friendly movies such as Happy Feet and the Polar Express.
Tours
The National Aquarium offers several tours and experiences that really enhance your experience even more. These are fun, interactive, behind-the-scenes looks at the aquarium you wouldn't otherwise see or be able to experience.
The following tours are available:
Early Access Tour to see the aquarium before it opens
Family Sunrise Tour (Saturdays only) to see the aquarium before it opens (family-friendly)
Dolphin Training Session to watch staff interacting with dolphins
Shark Behind-the-Scenes Tour to walk the catwalk above Shark Alley and participate in fish feeding in Blacktip Reef
Dolphin Tour to get up close and personal with the bottlenose dolphins
Aquarium Sleepover allows guests to explore the aquarium after dark, have a sleepover, see a 4D immersion show and more
And several 4D Immersion films and experiences are also available.
*Note: aquarium members receive discounts on tours
See pricing below in our tickets & pricing section.
You can see all the details for each tour or experience here.
Virtual programs are also available.
National Aquarium Tickets & Pricing
Admission for everyone 12+ is $39.95 and children ages 3-11 are $29.95. Children under three are free. Seniors are $34.95.
If you think you will want to visit again during the year, a membership is a good deal. Depending on your family size, a membership pays for itself after two visits. Membership ranges from $75 for an adult to $195 for a family of 6.
Enjoy learning more about the mysteries of the deep!
The aquarium tour prices are as follows. All prices are per person.
Early Access Tour: $75
Family Sunrise Tour: $55
Dolphin Training Session: $95
Shark Behind-the-Scenes Tour: $45
Dolphin Tour: $25
Aquarium Sleepover: $125
Virtual Animal Care & Rescue Center Tour: $45 (per device)
4D Films (various): $5
Discount Tickets
On Friday evenings after 5pm and until 8pm, the aquarium offers half-price admisssion all year long. This brings the price down to only $19.95 per person. Discount tickets can be purchased directly on the website.
From September through February (check the Aquarium site for specific dates), Maryland residents can visit the aquarium before noon from Sunday to Friday for $10 off regular adult ticket prices and $5 off tickets for kids. These tickets are available on the aquarium site.
Active military personnel and their dependents with ID can receive discount tickets of $34.95 per person when you show your ID at the gate and purchase a ticket there.
Public Health Workers can also receive $5 off general admission adult tickets for themselves and their dependents.
Discount tickets are available through the AAA website for all AAA members.
You can check Groupon for discounts to the aquarium and also for deals on parking like this one.
Gift Shop
The aquarium gift shop is located at the top of the escalator on Level 1 of Blue Wonders. Here you'll find souvenirs to take home like:
Clothing
Jewelry
Stuffed sea creatures
Toys
Books
Trinkets
and more
You can also now shop online here.
National Aquarium Map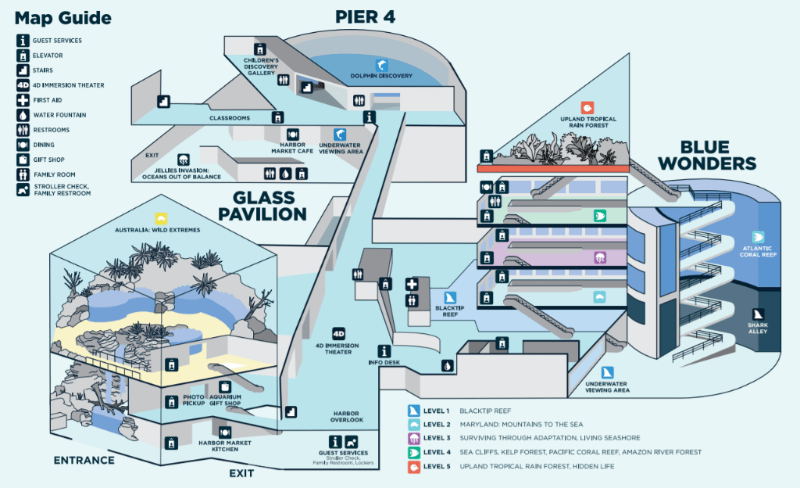 You can download the National Aquarium map on your phone for easy access or pick-up a printed version at the information desk across from the 4D Immersion Theater.
Food & Drink
The National Aquarium offers multiple food options during your visit. You can visit:
The Harbor Market Kitchen
This is the largest cafe the aquarium has and is located on the ground flour of Pier 3. It is open from 10am until 30 minutes before close.
Here you will find hamburgers, sandwiches, soups, and salads.
Harbor Market Cafe
The cafe is located on the ground floor of Pier 4.
Here you can order chicken tenders, fish, burgers and snacks like pretzels and popcorn.
Harbor View Room
Located on level 4 of Pier 3, the Harbor View Room offers bar-style food and snacks. As the name suggests, this is the place to sit and relax while enjoying a view of the harbor.
Hours & When to Go
The best time to visit is during the week when at all possible. Holiday weekends are also busier than normal.
The aquarium hours are:
Monday – Thursday: 10am – 4pm
Friday: 10am – 8pm
Saturday – Sunday: 10am – 5pm
The hours do differ on the holidays so if you plan to visit a holiday, please check the current hours here.
Keep in mind, this is a full-day activity as the aquarium is very large. Be aware that the aquarium can be very busy at times, particularly on holiday weekends.
Parking
The aquarium does not have its own parking garage but there is street parking around the aquarium and several garages within a few blocks.
There are two official partner parking nearby. The aquarium will validate tickets for a discount at Parkway Lockwood Place & the LAZ Inner Harbor Garage.
The cheapest parking with be with the early-bird discounts you receive for parking before 9am on weekdays only.
Getting There
The National Aquarium is located at 501 E. Pratt St., Baltimore, MD 21202 right in downtown Baltimore in the Inner Harbor.
The museum can be accessed by car, rail or bus.
If coming in on the Light Rail, get off at the Convention Center and Camden Yards Light Rail stop.
The Metro Subway will bring you to the Shot Tower / Market Place Metro Subway station.
Good to Know Before You Go
There are dozens of talks, animal feedings and encounters happening each day so make sure to check the digital monitors in Harbor Overlook and Pier 4 when you arrive
Family restrooms are available (with changing tables)
Strollers are not permitted in the aquarium, however, there is a free stroller check and free baby carriers are available to use during your visit
The aquarium does not have its own parking garage but there is street parking around the aquarium and several garages within a few blocks
There is also a coat check and large guest lockers are available
The aquarium has a restaurant and two smaller snack bars
Outside food is not allowed inside the aquarium, however, you can also bring a lunch and eat it at one of the aquarium's outdoor picnic tables
An accessibility guide is available online or at the aquarium's information desk
On the first Saturdays and Sundays of the month, all visitors with disabilities and their guests are allowed to enter the aquarium 30 minutes before it opens. This is included in the cost of admission and tickets can be purchased online.
Things to Do Near the National Aquarium in Baltimore
The National Aquarium is located on the Inner Harbor, which is filled with restaurants, shopping, and other attractions including Ripley's Believe it or Not and battle ships. 
If you're looking for more to do while you're in the area, here are some fun things to do in Baltimore near the aquarium: