"The whole purpose of education is to turn mirrors into windows." – Sydney J. Harris
And boy, there are a lot of windows to look through at the National Children's Museum in Washington DC.
The museum does not disappoint with the array of things to do and areas that kids can experience. It sparks their minds to explore countless possibilities of what the larger world has to offer.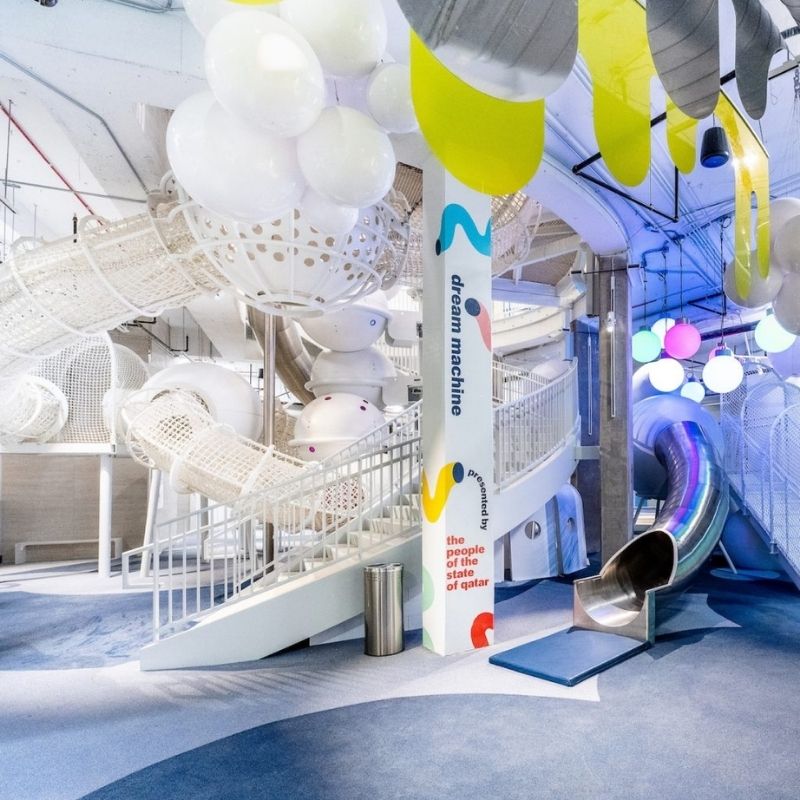 In February 2020, the Museum reopened in its new home in Washington DC.
Here we share exactly what to expect on your visit to the National Children's Museum.
What to See & Do: National Children's Museum Exhibits
Dream Machine
Think of clouds, a big slide, and fun physical activities all combined in one!
The Dream Machine is designed for kids ages 5 and up. This area of the museum not only pushes kids to practice their motor fitness skills but also analytical thinking.
This structure has a three-story climber and slides visually designed with clouds connecting to different activities that encourages them to crawl, climb, and dares their minds as they go through the buoy maze and floating cloud seesaw.
They can even make their own clouds that fly up the machine with the cloud simulation ring. So much fun!
They also have a little cloud slide for the little ones!
Little Dreamers
This space of the museum is best for kids 0-3 years of age as they can learn and explore their senses with different sounds, textures, weather, and at the same time freely play safely in the protected cloud pit.
The aviation-themed play structure is also great as the toddlers along with their caregivers can have fun while using their imaginations!
Innovation Sandbox
It's the 20th century and most things are digital!
Although it's often informative, it may be concerning at times especially when there's a worry that our kids might not develop the right emotional skills they will need to interact with others, and also as part of a community.
Innovation Sandbox is a whole different story!
| RELATED: 40 Washington DC Museums For Kids
In this exhibit, kids ages 4 – 12 are immersed in the weather world experience, where they can have a digital experience of the superpower that allows them to manipulate the weather in front of them, learn how their actions are connected with others, and the cause & effect concept.
This is followed by a quiz that determines which climate superhero they will become:
Community Captain
Pollinator Patrol
Arbor Avenger
Water Warrior
Mighty Meteorologist
This empowers them to affect positive change in the community and in their own homes.
Art + tech
In partnership with Nickelodeon, the Art + Tech exhibit is for kids 3 – 10 years of age. They will enjoy different activities and play that lets them discover science and design processes without even realizing they are learning.
They'll have fun and experience the PAW Patrol Training Academy, or even visit the replica of Spongebob's pineapple home!
And of course, the slime! Don't worry though as this one is digital so we can skip all the mess.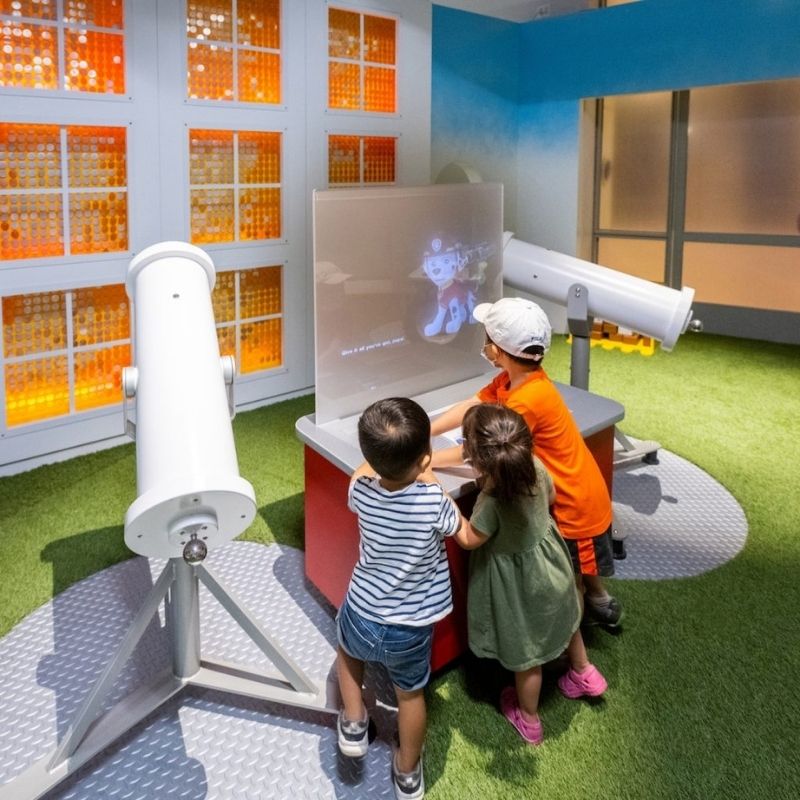 Data Science Alley
Do you feel like a data analyst is brewing within your little one? You'll find out here!
In this space, kids will discover how they and other visitors can cast their votes through reactive gateways in a set of questions.
Or go through Pom Pom Poll and see themselves as data points and contextualize their choices based on experience of other visitors, and many more.
This exhibit for 5 – 12 year olds, will definitely whip up excitement as they go through data exploration, how data works, visualize probabilities, and how these connect us to the community.
Little Movers
Little Movers is great for the littlest ones, ages 0-3 that are a ball of energy!
If your toddler loves to crawl through spaces, climb, or even enjoys obstacle courses like a tiny American Ninja Warrior, then this part of the museum is definitely your spot!
In Little Movers, toddlers can practice using their motor skills and using their imaginations.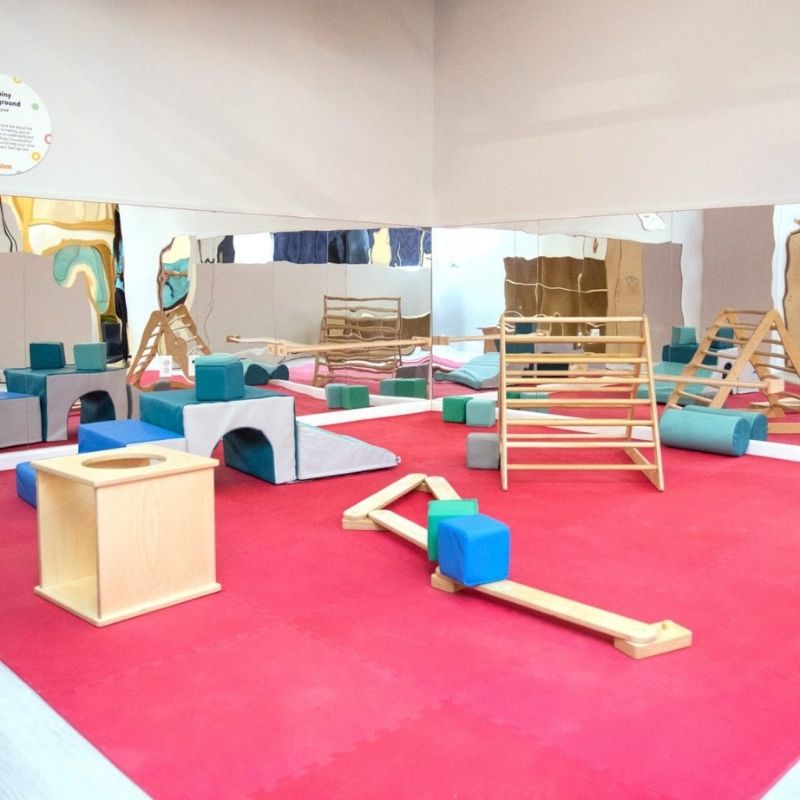 Engineering Games + Play
The Engineering Games exhibit is designed for kids ages 2 – 12 and is an amazing way to learn how to design and build structures. Plus even learn how science, especially physics, can affect their build.
There are also baseball related digital games they can play where they can discover how different bats, balls, and techniques can have different results.
Tinkerer's Studio
A conclusion that's fun and playful, that's how I would put it.
In this lab, kids 3 – 12 are encouraged to design the things they have learned in the museum.
This gives them a chance to express their creativity through building and play.
Creative Corner
The Creative Corner has programs for kids 4+ to learn new things through touching, listening, and practicing.
You'll find different programs from alphabets, languages, to story time.
See what's in in the creative corner right now!
Visiting Exhibit Hall
This hall is an interactive space for traveling exhibits designed especially for children 2 -10. This exhibit aims to constantly reflect the world around us.
You can see the most recent exhibits here.
Museum Map
Tickets & Pricing
General Admissions
Adults and Children above one: $15.95
Hours & When To Go
The National Children's Museum is open every day, except Tuesdays

Except for thanksgiving day, and christmas day

Time: 9:30 am to 4:30 pm
Good to Know Before You Go
Adults (age 18+) must be accompanied by a child (age 0-12).
There are family memberships available which gives you and your family various levels of access to the museum for the year.
Restrooms (to include baby changing stations) are available on site.
There are a variety of parking options around the museum, although as we've shared in other reviews of attractions at National Harbor, pricing can be a bit steep. Parking garages are available within a few-block radius, including in the Ronald Reagan Building (starting at $20 for one to two hours)
Be prepared. Bring coins for the parking meters if you plan to park on the street.
Birthday parties are offered at the museum details can be found online.
Getting There
The entrance is near the intersection of 13th Street and Pennsylvania Avenue NW, adjacent to the Ronald Reagan Building.
You'll be able to spot the building by the blue awnings on the front.
You may get lucky and find street parking nearby, however, there are parking garages available nearby.
The museum is right next to the Federal Triangle metro center.
Address: Woodrow Wilson Plaza 1300 Pennsylvania Ave NW Washington, DC 20004
Frequently Asked Questions
How much time does it take to cover the Children's Museum in DC?
Depends. If your plan is to just walk through, glancing by at stuff, it should not take more than 1 to 2 hours. But, if your kids plan on engaging and interacting at the various exhibits, it can take much longer. So plan your day accordingly.
Can I get free admission to the museum?
Yes! Only if you are a member.
At what age, can I take my kids to see the National Children's Museum in DC?
Ideally, kids above the age of five can make the most of the national children's museum.
What events are happening at the National Children's Museum?
You can get all the details about their latest events, on their calendar page here.
Things To Do Nearby