Every kid has probably uttered some version of "Take me out the ball game!" There is no pastime more American than baseball but the idea of taking your children to Nats Park can seem overwhelming.
How do I get there? Is there anything my kids will eat? What can I do if the kids get antsy? Will I be able to bring my baby? We have all the answers you need!
How can I get there?
Many families find that the best way to get to Nationals Park is metro. The park is near Orange/Blue/Silver lines via the Capitol South Station Green Lines via the Navy Yard-Ballpark station. For most families this will be the fastest and most affordable way to get to a game.
There are also several parking options nearby. It's usually possible to prepay for a parking spot at one of the lots run by Nationals Park at a discount or you can pay for a spot when you arrive. If you are willing to walk a little farther, you can usually find a lot for less than one of the official lots.
This site contains a lot of great information about finding affordable parking and ballpark (pun intended) pricing that is updated. It's also possible to get to the park by Circulator, Metro Bus, and even the Baseball Boat. Ride sharing and taxi services are also a great option but be sure not to be dropped off on South Capitol Street, which is a busy highway with no safe places to stop.
Is there anything for my kids to eat?
Nationals Park has tons of choices of kid-friendly options, including options for special diets including gluten-free, kosher, vegetarian, and super-picky kid. The Rookies stand, near the PenFed Kid Zone, features Jr. Nats Dogs, popcorn, and other kids meals.
There are also options like pizza, french fries and chicken. Check out Melissa's Field of Dreams for healthier options. Since there's no obligation to buy kids meals and grown-up meals at the same time, take a look at the full list of concessions before you go and make your plan for BBQ, beer, or Ben's Chili Bowl. Don't miss shaved ice and gelato for dessert of just to cool down.
Can I bring my own food?
Yes, within limits. Metal, plastic or glass containers of any kind are prohibited (except for clear, factory-sealed or empty plastic water bottles no larger than one liter, juice boxes, insulin containers and baby food). One water bottle per person is permitted as well.
Can I bring a huge bag?
Backpacks are not permitted in Nationals Park. Purses, drawstring bags, diaper bags and soft-sided coolers are allowed as long as they do not exceed 16″x16″x8″. If you need more space, consider bringing a couple of smaller bags.
Can I bring a stroller?
Yes! Strollers are permitted in the concuse areas of Nats Park. If your stroller is small enough that it can fit under your seat when folded you are permitted to bring it to your seat. Otherwise, strollers can be checked at Guest Services or Center Field Plaza. If your stroller is too big to fit under your seat you may want to consider bringing a baby carrier to use in case you need to get up during the game.
Is it a good idea to bring my baby or toddler?
Absolutely! Kids under two do not need a ticket. You are also permitted to bring in baby food, juice boxes, and bottles. Nats Park even has a beautiful nursing lounge for nursing Moms or if your baby just needs a break from the crowds. The PenFed Kids Fun Zone also has a play area designed specifically for younger kids, which is great for crawlers and toddlers up to about four.
Can I get on the field and run the bases?
Your kids can! After every Sunday day game, all fans 12 & under are invited to run the bases following the game, weatherpermitting. The line for Kids Run the Bases forms outside the ballpark on the First Street sidewalk – participants should exit the ballpark through the right field gate and proceed to the line. The run will begin approximately 20 minutes after the conclusion of the game and the event usually lasts about an hour, but may end earlier if kids are done sooner. This is also a good opportunity to meet the Presidents.
Can I meet the Presidents?
Of course! Meet the Racing Presidents at any home game outside of section 131 during the 5th inning.
Can I meet the players?
Maybe! Sundays are for signatures at Nationals Park. Every Sunday where there is a home game two Nationals players will sign autographs Autographs will take place at the top of the Nationals dugout starting one hour and ten minutes prior to first pitch, weather permitting and subject to player schedules. Fans must obtain a free voucher in order to participate in the autograph sessions – vouchers will be distributed on a first come, first served basis at Section 103, starting when the gates open two hours before first pitch. Fans are limited to one autograph voucher per person. If you want to snag an autograph be sure to arrive early.
What if my kids get antsy? Is there a playground in the park?
Baseball games can get long. If your kids can't make it through an entire game in their seats, don't worry. Plenty of kids get up and stroll the concourse for a bit. There is also a designated Family Picnic area with benches and shade that is a great place to eat and let kids stretch out a bit.
But, don't worry, there is also a playground right in the park. Possibly the best place for kids to get their wiggles out is the completely re-vamped PenFed Kids Fun Zone for kids 10 and under. There are places to climb, slide, and more as well as a play area designed just for the youngest Nationals fans.
The PenFed Kids Fun Zone is right next to the Rookies food stand featuring kids meals and the Family Picnic area so there are lots of options in one spot.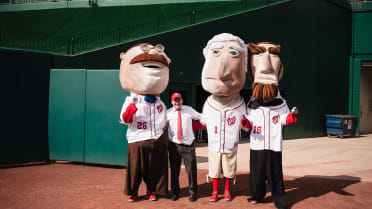 Can I go on a scavenger hunt?
Ok, this may not be a commonly asked question, but the answer is yes! The Nationals have a special augmented reality features through the MLB.com Ballpark App. Through the "NatsHunt" Scavenger Hunt feature, kids can use their smartphones to find "Nats Stops" around Nationals Park and receive rewards that will be loaded right into the App when they find the last stop!
The "Nats Stops" will be refreshed on a monthly basis, so fans are encouraged to check out the new content and locations during each month of the season.
What if my child has special needs or disabilities?
The Nationals are more than equipped to handle special needs. There are plenty of accessible seats and parking spots available upon request. The Nationals have also partnered with KultureCity to make Nationals Park sensory inclusive.
To make Nationals Park more sensory-friendly, sensory bags, equipped with noise canceling headphones, fidget tools, verbal cue cards, and weighted lap pads are available at all Nationals Park Guest Services locations to anyone who may feel overwhelmed by the environment.
Can I commemorate something special that happened at Nationals Park?
If it's your child's first game or you caught a foul ball, head to one of three Guest Services locations for a personalized certificate commemorating the day.
How do I get my child's name on the scoreboard?
Send out a birthday wish, a congratulatory message for graduation, or another special message by making a donation to the Washington Nationals Dream Foundation and see your child's name (and even photo) on the scoreboard in the middle of the fifth inning.
My kids really love the Nationals. Is there a club for that?
There are not just one, but two clubs for young Nationals Fans aged 12 and under. The Jr. Nats MVP Club is $20.00 per child and includes an exclusive Jr. Nats Duffel Bag, Juan Soto Superhero Socks, Nationals Sunglasses, Jr. Nats Bucket Hat, access to a special line for Kids Run the Bases, a free message featured on NatsHD, a passport to collect stamps and earn free tickets, and access to lots of special opportunities throughout the season.
A free Rookie Jr. Nats membership includes special meet-and-greet opportunities, exclusive emailoffers, and a membership card and lanyard for each Rookie Jr. Nats member.
What about the swag?
There are plenty of places to buy Nats gear in Nationals Park (including tons of cute items for kids near the the PenFed Kids Fun Zone) but the Nationals are giving away Bobblehads and other Nats gear including towels, water bottles, tote bags, jerseys, hats, and more throughout the season. Check out the full line-up here.
Can I have a birthday party at Nationals Park?
Yes!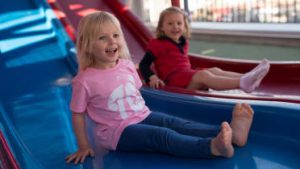 The Nationals even host birthday parties for children 12 and under, complete with a birthday gift from the Nationals, a visit from a mascot, and a shout-out for the birthday child on the scoreboard.
Anything else I should know?
Actually, there is. There are tons of cool events happening throughout the season including Firework Fridays, Pups in the Park, Marvel Theme Day, Star Wars Theme Day, Scout Days, and so many more. Check out the schedule here.
A Nationals game with the kids sounds like so much fun! Where do I get tickets?
Tickets can be purchased here, where all special events and promotions are clearly listed by game. Have fun!