Where do you go when you want to get the kids into nature, have them learn something and all this fun actually be free?
Nature centers, that's where!
If you haven't been to nature centers in the DC area, you're really missing out.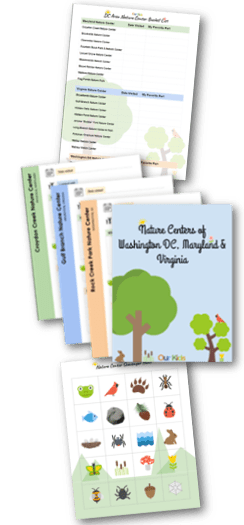 DOWNLOAD OUR FREE NATURE CENTER KIT FOR KIDS in DC, MD & VA!
Grab our FREE Nature Center Kit including:
✓ DMV Nature Center Bucket List
✓ Nature Center Tracking Journal
✓ Nature Center Scavenger Hunt
Many have live animals, a children's area, some even have outdoor playgrounds and they all seem to have their own unique feature that makes it worth a visit.
Local nature centers are also such a great source of events for your kids and family. Since these events are so good and pre-registration is typically required, it's a good idea to look at the event calendar of the nature centers near you so you can register for events.
To help you decide where to go, we've visited them all and rounded them all up here so you can find a fun nature center for your family. Let us know where you decide to go!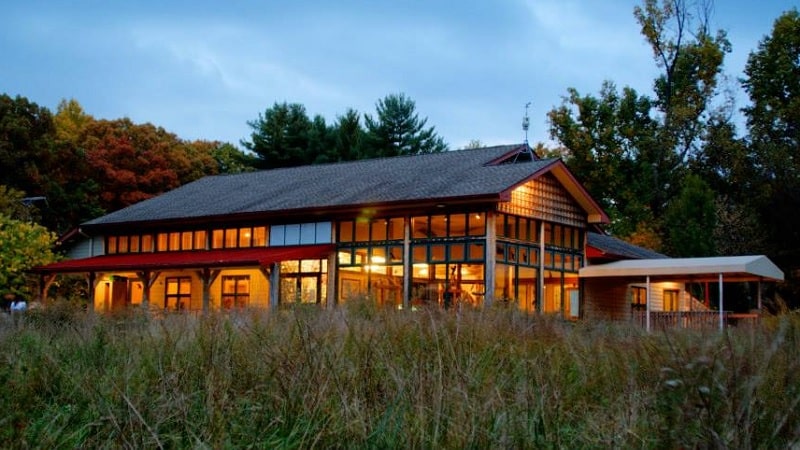 Nature Centers in Maryland
#1 Croydon Creek Nature Center
852 Avery Rd, Rockville, MD 20851
Croydon Creek Nature Center has 153-acres of beautiful grounds. You'll find a few trails that not only exhibit vast nature but also shares the history and heritage of the area.
Another interesting feature of this center is their 'Please Touch Area', where children are invited to touch animal furs and skulls, seeds and other plant materials.
#2 Brookside Nature Center
1400 Glenallan Ave, Wheaton, MD 20902
Brookside Nature Center has a playroom where children can dress-up in various animal costumes and handle animal shells, to an Earth Sciences room where older children can learn about rocks and minerals and see live turtles, toads, and snakes.
The gem of this center is the outdoor play area built of almost all natural materials with a giant nest built out of sticks for children to play in, enormous hallowed logs for children to crawl through, a digging area, and all sorts.
#3 Clearwater Nature Center
11000 Thrift Rd, Clinton, MD 20735
Clearwater Nature Center has a miniature zoo that exhibits frogs, reptiles, lizards and a few owls that are in a separate quiet zone rooms due to their loud noise sensitivity.
It also has areas for little explorers where they can explore the fox's den or discover how bats sleep, search fossils built into te cave walls, and more.
#4 Fountain Rock Park & Nature Center
8511 Nature Center Place, Walkersville, MD 21793
Fountain Rock Park & Nature Center has a small space but doesn't fail on highlighting not only wildlife, but their habitats and contribution to the ecosystem.
The also have 'The Little Free Library' where you can donate books or take home some.
#5 Locust Grove Nature Center
7777 Democracy Blvd, Bethesda, MD 20817
Locust Grove Nature Center has a small nature center with only one exhibit room but it's quite lovely. The reproduction of a white oak seems to be breaking through the ceiling surrounded by native fauna such as owls and squirrels makes it look even more naturalistic.
#6 Meadowside Nature Center
5100 Meadowside Ln, Rockville, MD 20855
Meadowside Nature Center has many choices for those that enjoy reptiles, bird watching, the environment, history, and the outdoors.
There is an area called The Legacy of the People where one area is depicting the early life of Eastern Woodland Indian families, and the other section allows children to experience how Maryland pioneers lived by trying on period clothing, cooking and playing instruments and games.
#7 Mount Rainier Nature Center
4701 31st Pl, Mt Rainier, MD 20712
Mount Rainier Nature Center has a recreation center that includes a reservable community room, amphitheater, campfire pit and playground.
It does a nice job at what it offers for young visitors. There is a great space outfitted with a table and chairs, easel, puzzles, Lincoln logs, electronic toys, tons of books and stuffed animals.
#8 Watkins Nature Center
301 Watkins Park Dr, Kettering, MD 20774
Watkins Nature Center has so many animals that you don't need to visit a zoo! At least 28 kinds of animals were counted during our visit.
Inside, children can host their own puppet show, play a matching game of the five senses, read books about nature, unveil what hides in a giant tree, what everyday projects are used from trees, learn about the life cycle of frogs, and use binocular to bird watch from the deck of the nature center.
#9 Flag Ponds Nature Park
1525 Flag Ponds Pkwy, Lusby, MD 20657
Flag Ponds Nature Park is known to be home to a large number of fossils and shark's teeth.
The shoreline is also littered with shells and rocks for collecting. The park has nature trails that branch out to different ponds you can explore. The beach is about a half mile walk from the parking area with water that's calm and very shallow.
Nature Centers in Virginia
#1 Broadlands Nature Center
21907 Claiborne Pkwy Ashburn, VA 20148
The children's room at Broadlands Nature Center is lovingly decorated with families in mind.
A painting of birds, portraits of animals and butterflies on the walls, and the ceiling quietly adorned with a night starlit sky, and a challenge card saying "Can you find these animals? " which will make a good family game time. And of course, there's so much more…
#2 Gulf Branch Nature Center
3608 North Military Rd, Arlington, VA 22207
Gulf Branch Nature Center is a such a fun place both indoors and out. They have live animal exhibits, a few levels of displays and education content, and kids can even climb in a canoe to read with stuffed animals around. Don't miss the owl!
There are fun playgrounds, parks and hikes nearby if you want to make a full day of it!
#3 Hidden Oaks Nature Center
7701 Royce St, Annandale, VA 22003
Hidden Oaks Nature Center is like a smaller children's museum with everything focused on animals, reptiles, and outdoor foliage native to the area.
There is a small area with dress up costumes, felt boards, nature books, puppets, puzzles, tons of hands-on activities, a play structure perfect for toddlers.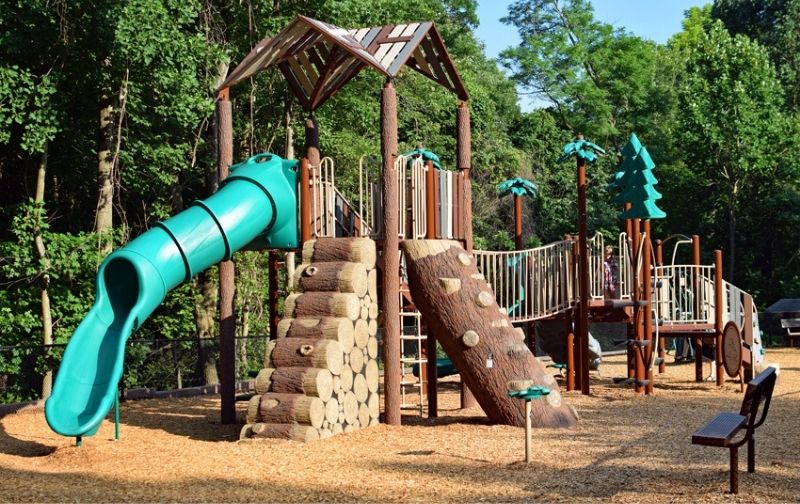 #4 Hidden Pond Nature Center 
8511 Greeley Blvd. Springfield, VA 22152
Hidden Pond Nature Center gives you an option to walk around the pond area or have a stroll through the woodland trails and explore through their self guided nature trails.
They also have a large nature-themed playground where kids will have excellent time climbing and sliding while being part of nature.
#5 Jerome "Buddie" Ford Nature Center
5750 Sanger Ave, Alexandria, VA 22311
Jerome "Buddie" Ford Nature Center has something for everyone. If the kids like live animals and even may want a chance at touching them, this is the place to go! There are *lots* of live animals here.
Outside, you can also enjoy Dora Kelley Nature Park, a 50-acre wildlife sanctuary with a one-mile long nature trail that meanders along streams, wooded hills, and freshwater marshland.
#6 Long Branch Nature Center & Park
625 S Carlin Springs Rd, Arlington, VA 22204
Long Branch Nature Center & Park just about has it all! You'll experience:
live animal displays
native plant and fern gardens with accessible paths
both indoor and outdoor ponds
a Great Horned Owl habitat
a terrific children's Discovery Room
Adjoining Long Branch Nature Center are 17-acres of forest that connect to Glencarlyn Park, with access to Long Branch stream, Four-Mile Run and the W&OD bike trail.
#7 Potomac Overlook Nature Center
2845 Marcey Rd, Arlington, VA 22207
Potomac Overlook Nature Center has educational displays along "Planet Walk" and the original foundation of the Donaldson farm can be seen from the side of the road.
They also have Birds of Prey exhibit. A Red-tailed hawk, Great-horned owl, and a Barred owl are in captivity here.
#8 Walker Nature Center
11450 Glade Dr, Reston, VA 20191
Walker Nature Center is a certified green building, meaning almost everything in the building is environmentally friendly.
Some of the features are harvested cypress siding, reclaimed hardwood floors from barns in Appalachia, recycled carpet flooring and a geothermal heat pump system.
A variety of birds, mammals, reptiles, amphibians, and butterflies can also be spotted on the property…
#9 Walney Visitor Center
5040 Walney Rd, Chantilly, VA 20151
Walney Visitor Center is the place to go if you are looking for a low-key time communing with nature. The center is also good for little ones while the surrounding area is good for older children and those interested in history.
There are also several trails lead from the center through forests, meadows and streams.
Nature Centers in Washington, DC
#1 Rock Creek Park Nature Center and Planetarium
5200 Glover Rd NW, Washington, DC 20015
Rock Creek Park Nature Center and Planetarium is a two story nature center larger than any other one we have been too and even includes a planetarium.
It shows presentations about astronomy and the night sky of different kinds depending on the audience age.