My family has been to several Northern Virginia Regional Authority Parks, but this was our first opportunity to experience Ocean Dunes Waterpark. The Ocean Dunes Waterpark is part of Upton Hill Regional Park.
Features at Ocean Dunes Waterpark
We arrived on a beautiful summer day at lunchtime. I thought for sure it would be crowded, but it wasn't, which was great for our family. There was no line and we put on our suits and headed outside.
You can't have a waterpark without a pair of waterslides. Take the 100-foot journey (just kidding, it's a lot less) up the stairs and choose either a tunnel or an open slide. 
One person is allowed on one slide at any given time, but the line moves quickly.
In the far back of the park is the toddler pool. This is a fenced area with a maximum depth of one foot. Fountains bob up and down before you enter and a shade cover encompasses the entire tot area.
This is very helpful and important in protecting little ones' skin. For those that want to exercise, there is a designated lap pool. The water is only 4 feet at the deepest point, which I found to be shallow.
RELATED: Cooling Off at The Water Mine Family Swimmin' Hole
Behold the bucket! Ahh yes, who doesn't love getting drenched by a giant, blue, tipping bucket!
The colorful structure is flanked with a fast waterslide, tunnel, bobbing fountains, pulleys and water cannons galore. Every 50 seconds, gallons of water erupts from the bucket drenching squealing children with cool water.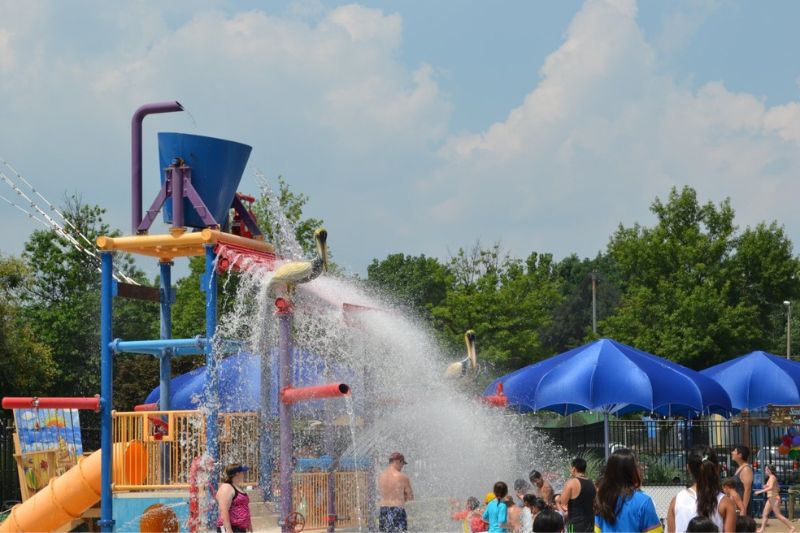 During our visit, there were a few summer camps making the leisure pool the most popular spot.
The leisure pool is divided into three sections with ropes notifying swimmers of various water depth. The sloping entry begins at 2 ½ and maxes out at 4 feet.
Hours & When to Go
Hours may vary depending on the season it is always best to check the website for updated hours.
RELATED: Pirate's Cove Waterpark: A Fun, Pirate-Themed Waterpark
Pricing
Admission prices are as follows: $13.00 for an adult, $11 for children under 42 inches tall and seniors. Children under the age of 2 are admitted free.
Prices go down on weekdays to $10.50 and $8.50.
Good to Know
There's a great package for $12 if you want to add mini golf and a swing at the batting cages to your water-filled adventure.
I was very impressed with the staff. At least 1-2 lifeguards were at each area of the park, including the lap pool. Reminders of not running or holding onto the ropes were the only times the whistle was blown.
Complimentary life vests are available. Showers, changing facilities and diaper changing table were clean during our visit.
Small lockers run 75 cents, but we had no problem toting our gear and finding a seat under a canopy.
There are plenty of colorful deck chairs and standard patio chairs throughout the park.
Compared to the other NVRPA waterparks, Ocean Dunes can be an inexpensive option and a nice introduction for families with young children.
Don't skimp on the sunscreen and enjoy a summer's day at Ocean Dunes!
Outside food is not permitted except water bottles. However, no one checked my bag so it doesn't appear that this rule is strictly enforced.
Typical fast food can be found at the Sun Dance Snack Shack. The menu includes pizza, hot dogs, salads, Dippin' Dots ice cream and beverages with prices ranging from $1-6.
Getting There
Ocean Dunes Waterpark is located at 6060 Wilson Boulevard, Arlington, VA 22205
Nearby Water Parks