Our Special Harbor Spray Park just may be the best spray ground EVER!
This park is not only unique and fully accessible for all kids, it's free!
We've been coming here since my kids were little and we try to make it here once a week during the summer. It's that fun!
Do I have your attention now? The Our Special Harbor Spray Park is a Chesapeake-themed spray ground that is part of Lee District Park in their family recreation area.
This area is so fun you want to spend the whole day. And as the kids put it…they will want to go again and again and again.
The Spray Park's Fun Features
The spray park is so much fun (even for some of the older kids!), and has a lot of fun water features.
You'll see Chessie the sea serpent, a spraying osprey nest, both of which sit near a releaxing beach area. This area is great for the littlest ones as it gives them a easy way to enter the water.
This tends to be the quieter area of the park and has smaller bubblers for the little ones and some interactive water tables.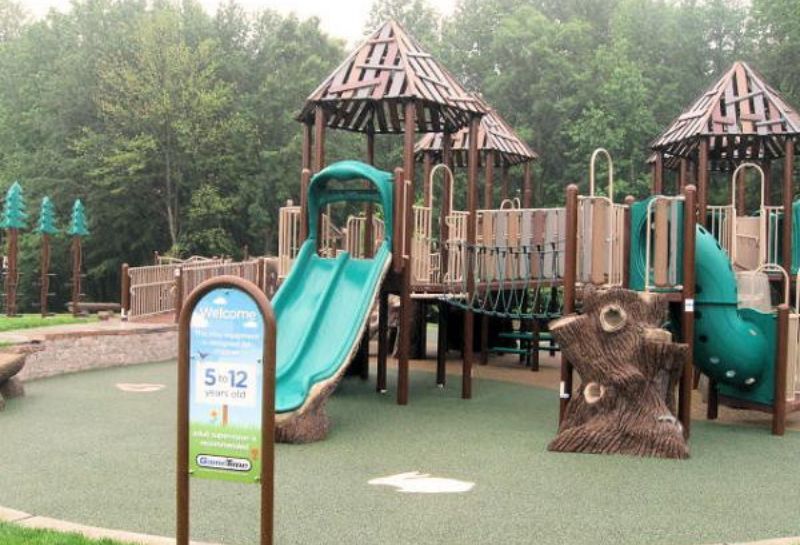 Some other unique water features that you won't find at the other local water parks, are:
Misting sunflowers
Lighthouse
Computerized water maze
Dumping crab basket
These activities add more interesting fun for the bigger kids.
Since this spray park was specifically designed to be accessible, attractions like the shipjack and crab boat have wide entrances for wheelchairs.
READ NEXT: 7+ Water Parks in Northern Virginia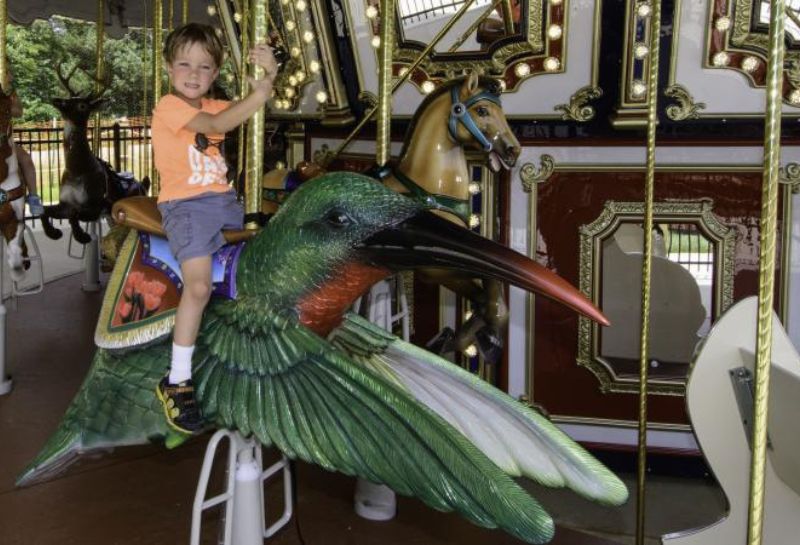 What Ages is the Spray Park For?
The spray park has many different features so kids from babies up to age about 12 would love it here.
READ NEXT: 41 Things to Do in Alexandria
How much does our special harbor spray park cost?
It is completely free for families to go to our special harbor spray ground.
When you arrive and see all the features you'll be amazed this spray ground is free!
When is The Our Special Harbor Spay Ground Open?
From May 28 to June 12, The spray ground is open only on Saturdays and Sundays from 9:30 AM to 7 PM.
From June 13 to Aug 21 the schedule changes And the spray ground is open daily. On Wednesdays it is open from 11 AM to 5 PM and Mondays/Tuesdays/Thursdays/Fridays the park is open from 11 AM to 7 PM.
On Saturdays and Sundays the spray ground is open from 9:30 AM to 7 PM.
Important note: keep in mind that there is a limit on how many people can enter the spray park so when it is full you have to wait until someon comes out.
What to Bring
Make sure to bring water shoes (or sandals with straps on the back) for the kids as they are REQUIRED (unless they can't walk). Adults can wear water shoes or flip flops.
Good to Know Before You Go
All kids ages 15 and under must wear water shoes or sandals with a manufactured strap
Kids who cannot walk Are not required to wear water shoes
Adults can choose to wear water shoes or flip-flops
No reservations can be made ahead of time
There are 4 single bathrooms on-site (also fully accessible)
The playground does have shade
Changing rooms are also available
This splash park is full accessible
Food and drink is not allowed but there are vending machines next to the bathrooms
There is a covered picnic area next to the playground
Getting There
Our Special Harbor Spray Ground is located at 6601 Telegraph Rd, Alexandria, VA 22310
Things to do nearby
If you're looking for more fun things to do in Alexandria, check out this full list of activities.
Here are some more nearby attractions:
The other fun attractions at Lee District Park: Chessie's trail, the playground, carousel and treehouse
Visit the Alexandria Archeological Museum
Visit Huntley Meadows just a few miles away and walk the boardwalk
Take a peaceful stroll at Winkler Botanical Preserve
Enjoy more natural beauty at Green Spring Gardens
Cool off at Great Waves Waterpark
Stop by the Jerome "Buddie" Ford Nature Center to see some live animals and learn about nature