There are several paint your own pottery places in Northern Virginia and I'm covering each one of them so you know what to expect and can pick the right pottery place for you.
I love painting pottery with my kids and even for the occasional girls night out. 
It's something we don't normally get to do, it brings out our creative sides and we get to walk away with our own personalized piece of art!
So even if you're a complete beginner (or should I say, especially if you are a complete beginner),  these are perfect places to go.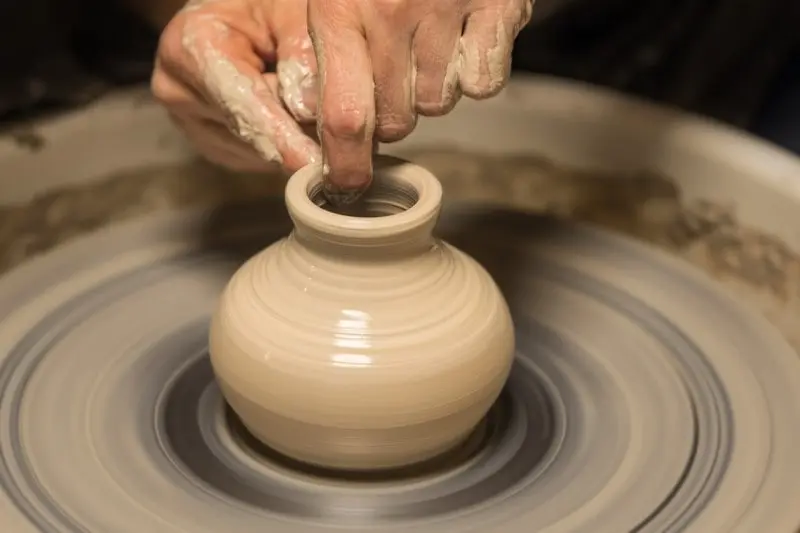 Once you've completed your pottery, the staff will take your piece to finish the process by glazing and firing it and it will be ready in a week or two, depending on the studio you visit. 
What's Included When Painting Your Own Pottery
Most pottery studios have a studio fee and a pottery fee. The pottery fee is based on the pottery piece you select and the studio fee typically includes:
Flat use of the studio (per person, per day)
All paints
Any materials or decorating tools
Staff assistance
Glazing and firing
Make sure to check what your studio fee includes, or more importantly – doesn't include, so you will have a better idea of the cost ahead of time. 
Paint Your Own Pottery Savings
If you've ever painted your own pottery before, you know it can cost quite a bit to do. Luckily though, there are a few ways to save so make sure to check these options before you head to the studio:
Half-price day: some studios have half price studio days to save you some extra money if you go during the week on select days

Family or group specials: some studios offer special deals just for families

Check the location's website's special page and Facebook page to see if they have any promotions or specials available

Call the studio you wish to visit and inquire about specials. They may be able to tell you about a deal you can't find online

Check Groupon as at least a few studios have advertised here
Now it's time to pick your studio! Here are 6 Places to Paint Your Own Pottery in Northern Virginia:
#1 Clay Cafe Chantilly
14511 G, Lee Jackson Memorial Hwy, Chantilly, VA 20151  |  703-817-1051
Clay Cafe Chantilly offers drop-in paint your own pottery services. 
You'll find all kinds of unpainted ceramics here ready for you to choose from including:
Mugs
Plates
Various figurines
And plenty more
We found the owner here to be very personable and an impressive artist. We spent several hours painting our pieces and never felt rushed or like a bother. 
If you want to paint your own pottery, just look for their open studio times. 
They also offer camps, birthday parties, adult "try it" pottery wheel classes for ages 16+, multigenerational family classes, and more.
#2 Paint This!
1013 King Street, Alexandria, VA 22314  |  703.519.7499
Paint This! has over 150 paint colors to choose from so there's no way you won't find the colors you want for your new piece!
The studio itself is beautiful in an old town block. All the large windows let in natural light so it feels open and airy which we loved.
RELATED: 41+ Best Fun Things to Do in Alexandria: From Nature to Action
At the back of the studio you'll find a selection of unfinished ceramics sitting on open shelves with a variety of:
Animals
Plates
Platters
Figurines
Planters
Tiles
After selecting our items to paint, we were shown to a table and instructed to the area where we chose our paints after looking at glazed sample colors on the wall. 
Aprons are thoughtfully available to painters and budding artisans.
Once you get your ceramics back, you can also use them for food and drink and they are even okay to use in the microwave.
#3 Clay Café Studio
101 N. Maple Avenue, Falls Church, VA 22046  |  703.534.7600
At the end of a hectic week, our family drove to Clay Cafe in Falls Church to wind down, relax and paint some pottery!
They had a quaint two room shop adorned with finished glazed works of art and fused glass creations.
A friendly employee greeted our family, asked if it was our first time there (it was) and gave us a tour of the two rooms and supplies.
He pointed out the various paint selections and gave us instructions on a few techniques, how many coats to use and the different options available.
Clay Cafe has a very large selection of items to paint, including religious items (crosses, Easter Eggs, Passover platters, mezuzahs, etc.).
RELATED: 3 Places to Paint Your Own Pottery in Maryland
Due to the huge selection, we walked back and forth between the rooms and shelves before finally deciding on pieces to paint.
After choosing our pieces, we were escorted to a comfortable table and chairs where the employee had set up brushes, water and paper towels. He patiently answered any questions and checked on us frequently to see if we needed his assistance or additional supplies.
After about 90-minutes, our party of three had completed painting. We were told that clean up wasn't necessary and to leave our work on the table. 
#4 Kiln & Custard
Vienna & Falls Church
While you may have never considered painting your own pottery and enjoying some delicious custard, now you know that's an option!
With locations in Vienna and Falls Church, Kiln & Custard is a charming pottery painting studio that offers a nice and relaxing atmosphere.
Note: No reservations are needed to paint your own pottery. Simply show up during store hours to paint. 
They even have ipads, magazines and books to help give you some inspiration for your piece if you'd find it helpful.
To make your piece unique, they have a good collection of tools including:
And then there's the frozen custard, all of which is made fresh daily!
They have shake flavors like dirty brownie, nutty Nutela and others and they load the top with extra, towering treats for something totally unique. You'll also find:
12 regular flavors like: vanilla, chocolate, oreo, coffee and caramel
Plant based fruit flavors including: mango, pumpkin and cherry
Limited edition custards like: Reeses, cookie monster and others
They also use clean ingredients, agave for the sweetener and only colors from spinach, beet and turmeric so you can enjoy a healthier treat.
#5 TealNest Pottery
11704 Bowman Green Dr, Reston, VA 20190 | 703-721-8228
You'll find TealNest Pottery within walking distance of Reston Town Center. This studio also happens to be an adult-only pottery studio so if you're looking to leave the kids at home and do something a little more advanced, this is your place!
They offer intermediate and advanced handbuilding workshops, as well as intermediate and advanced wheel workshops.
Their workshops do change every month so it's worth checking their calendar for what's available.
They do limit the number of people who can attend so the workshops are smaller and they can provide more individualized assistance. For this reason, these workshops typically sell out in advance as well.
#6 Create Like Crazy
Prior to 2020, Create Like Crazy operated on Main Street in Fairfax, however, in 2020 they decided to go completely mobile and now have different pop-up painting locations.
And while you wait for the next pop-up event, they have Pottery-To-Go-Kits that include your ceramic of choice plus a number of paint colors that you can pick-up or have delivered to you.
They sell a variety of unfinished ceramics including figurines, banks, boxes, cups, dishes, vases and more.
You can order online ahead of time or stop by different locations at select times to pick out pottery including:
Manassas Farmer's Market
Brambleton Farmer's Market
Weber's Pet Supermarket (Fairfax City)
Arts Herndon
Weathervane Coffee (Ashburn)
Tips for Painting Your Own Pottery
Wear old clothing or clothes that you don't mind getting dirty
Don't go within an hour of close, give yourself more time than you think you'll need so you don't feel rushed
Expect to leave your creations in the studio for about 1 to 2 weeks to be glazed
Paint your own pottery is recommended for children ages 5 and up due to the amount of time required to finish painting a piece (typically sixty to ninety minutes) and the concentration needed
Paint Your Own Pottery in Northern Virginia
These paint-your-own pottery studios in Northern Virginia provide a fantastic opportunity to express your creativity and enjoy a unique artistic experience.
Kids and adults can create their own pieces of art and the time you spend together is a lot of fun!
There are several options that will each give you a different experience and a nice environment to enjoy yourself.