If you're looking for the best petting zoos in Maryland, you've come to the right place! You will love visiting these top petting zoo farms that offer hands-on-petting, feeding & interactions.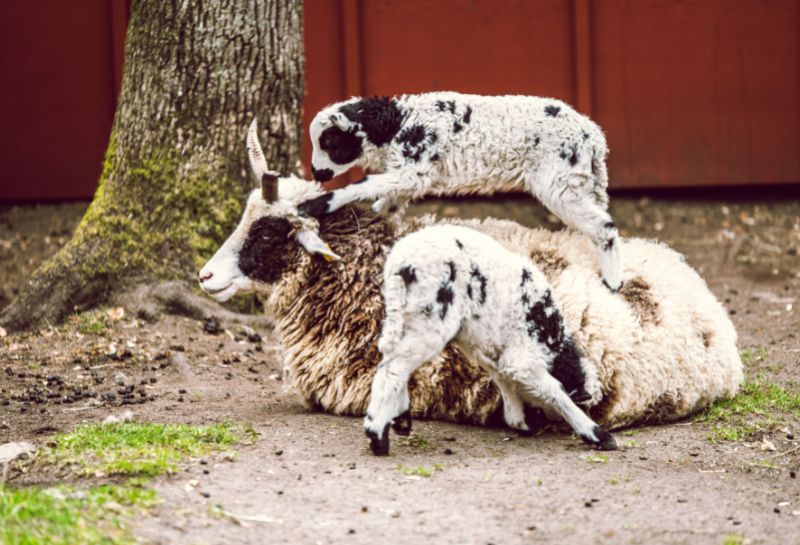 Petting zoos create an up-close and personal opportunity to feed and pet animals like llamas, sheep, pigs, goats, alpacas and others.
While some of these petting zoos are larger and attract more crowds, some are much smaller and even more intimate as you need to schedule your private visit.
As a parent, I love how these animal experiences are such a great educational experience but because the kids are having so much fun, they don't even realize how much they are learning.
Regardless of the experience you hope to have, here you'll find all the petting zoos in Maryland so you can pick the best one for you and your little ones!
#1 Catoctin Wildlife Preserve
13019 Catoctin Furnace Rd, Thurmont, MD 21788 | Website
The Catoctin Wildlife Preserve is the closest petting zoo in Maryland to Northern Virginia and has 1.000+ exotic animals for the whole family to see within their 50-acre park.
Their large petting zoo lets kids get up close to the animals and has all the farm animals you would expect like:
Llamas
Alpacas
Miniature donkeys
Goats
Pot-bellied pigs
One of the reasons we also love to visit Catoctin is to go on the Safari Ride.
The Safari ride takes you up close to animals from Africa, Latin America, Madagascar, Eurasia, Australia and more.
Plus, you even get to feed the animals! If you love visiting zoos but prefer more of a nature feel, this is the place to go.
#2 Green Meadows Petting Farm
10102 Fingerboard Rd, Ijamsville, MD 21754 | Website
Green Meadows offers some fun and more unique experiences like getting to milk a real cow, watching pig races and more. We visited there last year, and I was surprised to know that a wedding was being hosted there.
It sure does make up for a great venue, if you love animals 🙂
You can even select this place for your other events like birthday parties, corporate events, anniversaries, or any special event really. The farm is very entertaining for all age groups.
The farm is opens in March with the Easter Eggs Hunt. I'd definitely get the passes far in advance as these places tend to get sold out pretty quickly.
The fun activities at the farm include:
Pig Races
Hayrides
Rubber Duck Races
Combine Slide
Firetruck Slide
Corn Crib Play Silo
Wood Tractor
Large Play Area
There are more than 150 animals to pet and feed.
#3 Clarks Elioak Farm
10500 Clarksville Pike, Ellicott City, MD 21042 | Website
Clarks Elioak Farm is set to reopen on April 1, 2023.
The first time I visited this farm was due to a gift certificate that my friend gave me and I got to hand it to her, that was one of the best presents she ever gave me.
MORE FUN! Sunflower Fields, Festivals & Mazes in Maryland
We visited here on a weekend so the place was fully packed. However, we were able to cover all the rides, visit the enchanted forest and spend time at the petting farm because we left really early and had the whole day ahead of us.
My son loved feeding the baby goats and talked about this visit for weeks. We also loved our time on hay rides, the petting zoo, and the enchanted forest walk.
The admission fee here is $8 per person, and extra $$ for the train rides. Make sure that you purchase the tickets online before coming to the farm.
#4 The Maryland Zoo
1 Safari Pl, Baltimore, MD 21217 | Website
The Maryland Zoo provides hours of fun for guests of all ages. As a family, we've been to the Maryland zoo multiple times.
The last time I went there was on the Friday before Easter, and we were a group of 6 adults and 5 kids! The lines were insanely long but it was worth the wait.
Some exhibits were closed at that time due to the bird flu scare, but it just showed that the administration does take animal health seriously. I was relieved to know that the animals are well cared for.
You should know that the Maryland Zoo runs special events throughout the year, as it is open year around.
There's free parking at the zoo, and free entry too if you're a member. If you do not have a membership, you can buy the general admission ticket online to save a couple of bucks.
My kids are nuts about the giraffe feeding station. It costs about $5 and totally worth it.
If you're celebrating a special occasion, you can also opt for a private zoo experience. I haven't tried it personally, but I've been recommended to give it a try.
#5 Baugher's Orchard
1015 Baugher Rd, Westminster, MD 21158 | Website
One of our favorite places for apple picking in Maryland is Baugher's Orchard. At the Petting Zoo, they have goats, sheep, peacocks, chickens and other animals too.
I like to sit at the picnic tables while my kids play at the playground after they are done at the petting zoo.
It's important to know the petting zoo is only open when the market is open which is typically May to November.
#6 Butler's Farm (at Butler's Orchard)
22222 Davis Mill Rd, Germantown, MD 20876 | Website
Butler's Orchard is one of our favorite places to pick our own fresh fruits and veggies. My kids love their pick-your-own strawberry patch in the spring. And everytime we visit, we always go to their pirate ship themed playground and of course, to visit their farm animals.
Amazing and kid-friendly orchard! I come here in the Summer, Fall & Winter. They have festivals filled with great things to eat, amazing produce and pick-your-own fruits! You can also get Christmas Trees and the animals are so cute! The admission isn't that expensive and this is a must-do if you have young children. Also has an amazing market where you can get pies, fruit and even sauces that are locally made! This is the best orchard in the DC-Baltimore Area!

-Joaquin O
#7 Shlagel Farms
12850 Shlagel Rd, Waldorf, MD 20601 | Website
We've visited Shlagel Farms for their Pumpkin Festival and most years to pick your own strawberries right here in Maryland. The hay rides are the highlight during the festival here as everyone must board to visit the pumpkin patch to find the best pumpkin.
We, of course, also love the petting zoo that is open for the festival which we found to be well-maintained and clean. They have friendly farm animals like:
Calves
Pigs
Sheep
Goats
Bunnies
Turkeys
Chickens
They do have feed available for a small fee to feed the animals as well. We love supporting this family business!
#8 Marshall Creek Farms
9048 Marshall Creek Rd, Newark, MD 21841 | Website
I wasn't expecting much when I first visited the Marshall Creek Farms in Newark with the family. It wasn't much crowded on the day we visited, and we ended up having a great time.
My son had a great time petting and interacting with all the animals and crabbing (they are on a creek). They also have ax throwing and a tire swing.
Angela (the owner) is so friendly and accommodating! Make sure that you call her and arrange a time for your visit before heading out here directly.
We spend an entire day at the farm and while the kids loved the animals, the adults had a very nice time too. I'd definitely visit here again. It's a great option if you're planning to throw a birthday party for your kid at one of the animal farms in MD.
#9 Homestead Farm
15604 Sugarland Rd, Poolesville, MD 20837 | Website
Homestead is a seasonal farm that remains closed for the winter. It's a fun place to visit as a family, as there's plenty to do here apart from petting animals.
In the right season, there's apple picking, cherry picking, pumpkin patches and so much more. They also have hay rides but it was closed on the day we went. But, there were plenty of seasonal vegetables for sale which made it worth our drive.
My kids enjoyed the food here too. They had an apple pie and cold apple cider and can't wait to go back here again and relish these.
#10 Plumpton Park Zoo
1416 Telegraph Rd, Rising Sun, MD 21911 | Website
We love this zoo! As a family with kids, I love places that we can explore without much walking. Plus they have tons of shade that make the walking experience a lot better.
It's a relatively smaller zoo but has a large variety of animals, even exotic animals. We loved checking out the bears, lions, zebras and even the koi fish!!
My daughter loved the gemstone mining experience here, as this was something none of us had ever seen before. After the tour, we also enjoyed our little picnic with the sandwiches I had packed from home.
#11 Work Horse Farm Rescue and Exotics
25883 Garey Rd, Denton, MD 21629 | Website
Work Horse Farm Rescue and Exotics has alpacas, horses, donkeys and more exotic animals like zebras, kangaroos, sloths, cabybaras and more.
My kids would pick this zoo if they could pick one to go to every weekend. And I gotta agree with them. There's something for everyone at this place. You get to see, touch and hangout with so many animals.
We went there during the summer last year and were fully occupied with the outdoor activities and tractor ride. I'd love to visit here in the winter too, to experience the indoor activities that they offer.
The staff here is super friendly too. Warms my heart to see how well the animals are been taken care of here. We definitely had a memorable trip here, and I can't wait to go back.
#12 Wild Kid Acres
731 Central Ave E, Edgewater, MD 21037 | Website
This is an amazing place to take the family. Great people with a great story, and it is very educational. I left there inspired! Visits are by appointment only, check out their FB or IG for more information on how to feed the animals or donate!

-Jonathan Schumacher
Mamas, if you're searching for summer camp options in MD this year, I'd recommend you to definitely check out Wild Kid Acres.
It's a nice, affordable animal farm that has something for everyone. It's run with passion and that reflects in their farm.
#13 Park Overlook Farm
22000 Georgia Ave, Brookeville, MD 20833 | Website
One of my friends has visited this farm for a party, and she didn't really complain so I'm tempted to check it out too.
Their party package activities include:
Pony Rides
Petting Zoos
Additional activities like crafts and games
Picnic area for kids to enjoy
You can get admission here by appointment only, so plan accordingly.
#14 Kinder Farm Park
1001 Kinder Farm Park Rd, Millersville, MD 21108 | Website
Located in Severna Park, Kinder Farm Park is spread across 200+ acres and is open year-round.
We have been frequently visiting this farm for years because there's a lot to do here.
They have a large, well-maintained playground, hiking trails, farm animals, a historical site, food pavilions and a lot more.
My kids absolutely love this place and if you ask me, it is a must-visit park.
#15 Breezy Hill Alpacas
2820 Woodbine Rd, Woodbine, MD 21797 | Website
Who would miss the chance to feed and interact with the oh-so-friendly alpacas? Not my family at least!
We visited here a couple of years ago and had a really great time. Our guide Heather was super nice and showed us the way around the farm.
My kids loved petting barn cats, goats, sheep and the stars of the show- the alpacas! They are so so soft!!!
They also have a gift shop available from where I purchased some jewelry, at a pretty sweet deal.
#16 Poplar Spring Animal Sanctuary
15200 Mount Nebo Rd M, Poolesville, MD 20837 | Website
Poplar Spring Animal Sanctuary is a refuge for farm and wild animals. The sanctuary is open by appointment only so make sure to call on 301.428.8128 before planning a trip here.
Visiting this farm was a great learning experience for me and my family. The volunteers here are really loving and caring towards these animals.
My kids found the tour informative as well as enjoyable.
We interacted with turkeys, and deer, held a chicken, or fed a groundhog by hand. Can't wait to be back!
#17 Serenity Farm at Benedict
6932 Serenity Farm Rd, Benedict, MD 20612 | Website
We went there for a weekend getaway as a family of 15 members. And we had a really peaceful stay here.
The property is quite spacious , decked with mango and coconut trees. Food was good, rooms were clean and there was ample parking space available.
The villa was well maintained and well equipped with games. It was a wonderful stay.
Your farmhouse is truly Serene as the name suggests. Peaceful, beautiful environment, greenery all around…everyone felt very happy. The farmhouse is very clean and tidy. Caretaker Natha's hospitality and affectionate inquiry during our visit was really very nice. Food and breakfast were all fresh and tasty. Thank you very much😊👍🏻

-Neeyati Sakhardande
#18 Dragonfly Acres Farm
1278 Meyers Station Rd, Odenton, MD 21113 | Website
Dragonfly Acres is located on a little Oasis in Odenton.
They offer 1.5 hour mini farm tours that is aimed to create awareness about farm animals and how to take care of them.
It's a family-run business, and all animals reside on their private property itself.
You can visit here only by prior appointment. Their 2023 Summer Camp is coming up in June, and registrations are already open for these.
#19 Painted Sky Alpaca Farm
95 Knight House Ln, Earleville, MD 21919 | Website
It is located on the eastern shore so the drive is a little too much for us, but it is worth visiting. This is the second Alpaca farm that we went to.
Our guide informed us that the best time to visit here is in the month of March so you can see the Alpacas nice and fluffy right before they get sheared.
This place is never crowded but make sure to give them a call to schedule a tour. The tour guides are all very friendly and they gave us tons of information.
They also give you a tour of the textile mill which was a first for us, so it was a fantastic experience overall for my family.
#20 Three Oaks Farms Alpacas
1437 Sharon Acres Rd, Forest Hill, MD 21050 | Website
Three Oaks Farm Alpacas is located in the heart of Harford County Maryland.
They offer farm tours, class trips and they also have a farm store.
The tours are great for nursing home residents, families, friends, animal lovers of all ages and anyone with a thirst for knowledge! It can have only up to 10 people.
Class trips are also available for Pre-School, elementary age, and middle school age children and their families!
Their farm store has high quality hats, scarves, gloves/mittens, alpaca toys, finger puppets and a lot more. The Grove at Harford is open on Saturday from 10-5 and Sunday from 11-4pm.
#21 South Mountain Creamery
8305 Bolivar Rd, Middletown, MD 21769 | Website
What an absolutely beautiful place. I came to feed the calves and they are just the cutest! Thank goodness they sell their products at my local Harris Teeter because their chocolate milk is the best on earth. On-site they have some delicious ice cream and their other dairy products for sale as well. All the staff here was very friendly and helpful. I'd come back again just to feed those sweet calves again.

-Sam Diaz
It's a cute, little dairy farm situated in Middletown, MD. My kids learned how they get the glass of milk on their breakfast table and they haven't spilled their milk ever again.
My son got to feed a baby cow, and he could not stop talking about her for weeks!
It's a very clean place, very well maintained, friendly staff and they served the most delicious ice cream I had in a long time.
#22 Milburns Orchard
1495 Appleton Rd, Elkton, MD 21921 | Website
Milburns Orchard is set to open in June this year. And my kids are already planning to have breakfast with the Easter bunny here like they did last year.
The Big Backyard at the orchard had lots of games and activities for the kids. They was hayrides available, along with a great farmyard playground where my kids visited bunnies, goats, rabbits and other barnyard bunnies.
Mobile Petting Zoos in Maryland
D&D Pony Rides
I first come to know about the D&D Pony Rides at a company picnic. The kids were entertained, while the adults were able to relax.
A petting zoo is a great idea for these events. You can even hire them for your kid's birthday parties. They're going to be a wonderful attraction for everyone at the party.
Squeals on Wheels
Squeals on Wheels is an educational, interactive and award-winning miniature mobile petting zoo serving areas within NW Washington DC, Maryland and N. Virginia.
Other Animal Options
Old Maryland Farm
Old Maryland Farm in Watkins Regional Park is a great place to see and even feed animals like chickens, horses, pigs but is actually not a petting zoo. While you are there, you can also visit the Watkins Nature Center which has live animals (including reptiles) and a playground.
Outstanding Dreams Alpaca Farm
Outstanding Dreams Alpaca Farm offers farm tours when you schedule ahead of time and you can get up close and personal with the alpacas. The owners are extremely nice and it's so nice to be able to ask questions without being in a large group.