Seneca Creek State Park, located in northern Montgomery County, has over 6,300 acres of land that run along 14 miles of Seneca Creek.
This is such an inexpensive and fun way to spend a day immersed in nature's serene environment.
We recently spent an enjoyable day relaxing as a family here so we're going to share all the fun things to do at Seneca Creek State Park – from the playground to hiking to historic landmarks to visiting the lake.
Playgrounds
After we paid our entrance fee, our first stop was a request to the Recycled Tire Playground.
The majority of the playground is made with recycled tires, along with wood and plastic. The large playground offers:
Kids swings
Tire swings
A 'bouncy spider hammock
'The 'Dragon' (a gigantic tire monster to climb on)
A tire obstacle course
A suspension bridge
Slides and rings
A 50-foot zip line
The shape of a boat is made of tires although it's filled mulch.
In the center of the playground are long picnic benches made out of recycled Goodyear tires and wood.
The ground is soft and yes, made from tires. If you plan on visiting in the summer, be mindful that the tires can get very hot.
The playground is definitely for ages five and up. Adjacent to the play area is a volleyball net, restrooms and a drinking fountain.
Hiking & Biking Trails
For the more advanced hiker, there is a 16.5-mile Seneca Creek Greenway Trail which follows the course of the Potomac River and leads you to Black Rock Mill.
We were thrilled to spot six deer during our excursion.
Other recreational opportunities include:
Cycling
Horseback riding
A ball field
And disc golf course
Historic landmarks at Seneca Creek State Park
Located within the part are several historic landmarks to see and experience including:
The Woodlands: a short self-guided trail located at the park office which interprets the life and the estate of the Clopper Family.
Grusendorf Log House: is a restored 19th century cabin and a self-guided path interpret the history of the area.
The Black Rock Mill: located on Black Rock Road, is a partially restored mill with outdoor exhibits with a history of area floods. The Seneca Creek backdrop is photo worthy.
The Seneca Schoolhouse Museum: located on Route 190 west of Seneca, is a restored 19th century one-room schoolhouse. It was originally built for the Seneca Sandstone quarry laborer children of the Seneca Sandstone quarries along the Potomac River.
It is run by a historical group and only open for school tours.
Clopper Lake at Seneca Creek State Park
The 90-acre Clopper Lake is a respite during the summer months.
Visitors can participate in:
Fishing (although that does require a Maryland fishing license)
Canoeing, kayaking & paddle boat rentals
Pontoon boat tours
The Boat Center sells fishing supplies, souvenirs, water and ice-cream. Benches are nearby for taking in the beautiful view.
Can You Swim at Seneca Creek State Park?
Swimming and wading are not permitted in Clopper Lake at Seneca Creek State Park.
The closest Maryland State Parks with lifeguarded lake swimming are Cunningham Falls State Park and Greenbrier State Park.
Wading is permitted at your own risk in Great Seneca Creek, the free flowing creek which runs the length of Seneca Creek State Park.
Picnic Shelters
Picnic goers have a plethora of choices in the park. There are 5official picnic areas with The Pines being the favorite location.
As the name states, the picnic tables are surrounded by mature pine trees. There are clusters of tables and each section has a grill. The surface is open and flat and popular due to its proximity to the boat center and playground.
The terrain to the picnic areas is accessible, but I wouldn't say it is accessible-friendly. The path to the area is narrow for wheelchairs.
MORE IN GAITHERSBURG: Sky Zone Gaithersburg: Family-Fun Trampoline Park
As for walking to the site, the terrain is uneven.
There are 6 picnic shelters available and the covered pavilions share small playgrounds. At the time of our visit, we saw a few parties and grills fired up.
Restrooms are a short distance away. Shelter use is by permit only and can be rented through the park service.
Boat Rentals
There are diffrent types of boats you can rent for hourly or daily rental.
Prices are:
Canoes and Rowboats: $12/hour or $24/2 hours
Single Kayaks: $12/hour or $24/2 hours
Tandem Kayaks: $12/hour or $24/2 hours
4 Person Pedal Boats: $12/hour
Opening times and hours of operations may vary per weather and season, you may check their website for more details.
Fees & Pricing
Weekends and Holidays, April-October:
$3 a person for Maryland residents
$5 a person for Out-of-State residents
Map of Seneca Creek State Park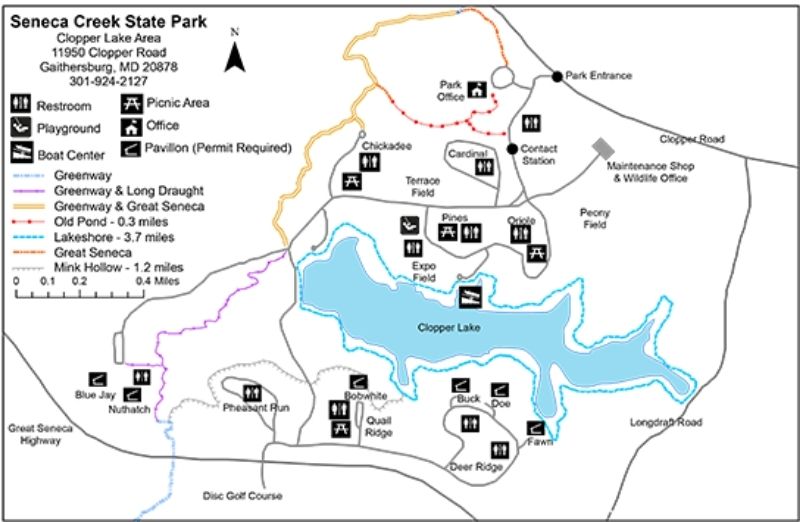 When to Go
Seneca Creek State Park is open from 8am to Sunset March through October and 10am to Sunset November through February.
Directions to Seneca Creek State Park
Seneca Creek State Park is located at 11950 Clopper Rd, Gaithersburg, MD 20878
Good to Know
There are plenty of restroom facilities throughout the park, but none of them have changing stations
There is a water fountain located outside each comfort station
The Park Office which houses a small gift shop, exhibits, auditorium and sales is open Monday to Friday from 8am to 4pm
It is a day use only park, meaning camping is prohibited
No swimming is allowed in the lake given that it is a reservoir
Hunting is permitted in designated areas of the park. While not located near the tire playground or picnic areas, you can hear the sound of rifles.
There is no charge for children in car seats.
All of Maryland's state parks are trash-free. There are no trash cans anywhere in the park.
There are biodegradable trash bags mounted to the display board here and throughout the park for use. Luckily I researched this before our visit because all the trash bags were gone at the playground entrance.
For those who prefer their feet on the ground, hiking trails are plentiful and well marked. The Schaeffer Farm Trail Area offers 12 miles of marked trails for hiking and mountain biking.
Whether you decide to hike, drive or dine in the great outdoors, you are promised plenty of shade from the trees and glimpses of wildlife along the way.