Seven Springs has something for everyone and in this Seven Springs guide we're going to cover all winter activities at Seven Springs Mountain Resort.
This fairly large resort near Pittsburgh, Pennsylvania has an excellent reputation and has so much to offer including:
❄️ Skiing
❄️ Snowboarding
❄️ Snow tubing
❄️ Snowshoe tours
❄️ Snowmobile tours
❄️ Sleigh rides
Seven Springs Snow Tubing
Tubing at Seven Springs is some of the best Pennsylvania snow tubing. Here you'll find many high-speed snow tubing lanes. Their 'magic carpet' will bring you back to the top quickly so you can get as much sliding time in as possible.
Pricing and More
The ticket for 2 hour's Tube Park is $35
You must be a minimum of 42 inches tall for snow tubing
The park timing from Monday to Friday is 1 PM to 8 PM
And on Saturday, Sunday is 9 AM to 8 PM
The tubing park is open to children ages 10 and up. If you don't have snow boots, they can be rented for $5.
Always double check the schedule before going.
Seven Springs Skiing & Snowboarding
Snowboarding at Seven Springs is definitely a unique and super fun experience.
Whether you are a child or adult, beginner or more advanced, there is plenty of skiing and snowboarding for you.
Skiing at Seven Springs
Seven Springs Resort has 33 slopes and trails, 7 terrain parks and 10 lifts to bring you up to the mountain top.
There is an average snowfall of 135″ a year, slopes with a vertical drop of 750-feet spread over 285 acres…so let's just say there is plenty of space to enjoy the snow.
Snowboarding at Seven Springs
Snowboarding at Seven Springs is a blast. They have the only 22-foot Superpipe in the East. Snowboarders enjoy the urban parks such as 'The Streets,' 'Arctic Blast,' 'Santa's Beard' and more.
The Streets was created to look like nearby Pittsburgh, Pennsylvania's architecture. This park features handrails, wallrides, stair sets and more.
At The Arctic, you can take the kids for a rip through the tunnel. At this park you'll also find small rollers, boxes and bank turns.
Visit Santa's Beard for a rope town immediately after Arctic Blast.
At The Spot, catch some air with the advanced jumps and jibs.
And if that isn't enough, you'll find several other parks with a variety of snowboarding features.
Seven Springs Ski School
Private and group lessons are available for both kids and adults. You'll definitely want to register in advance so they are ready for you and before lessons fill up.
There are multiple ski and snowboarding options based on age, level and whether you choose to ski or snowboard.
A 2-hour Private Ski Lesson for ages 5+ $335
Snowboard Group Lesson for Adults starts from $105
As pass holders, you can get 20% discount on the ski and snowboard school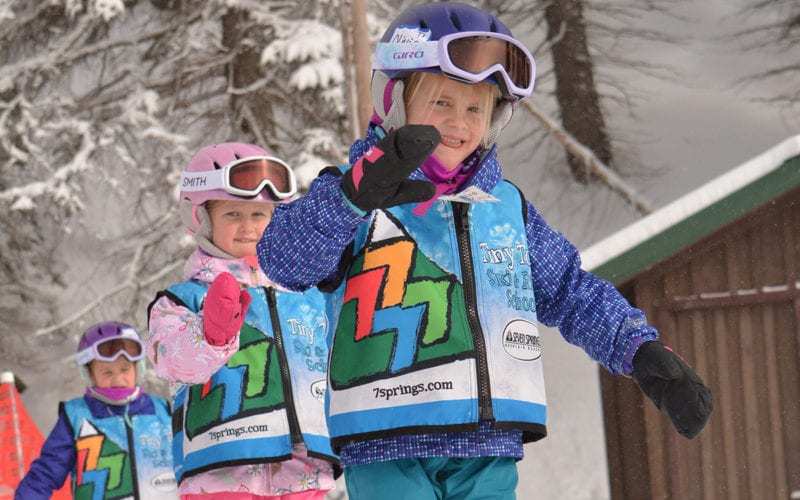 NOTE: if you need to rent equipment before lessons, Seven Springs recommends you arrive at least 40-minutes prior to the lesson start time so you can pick-up and put on your equipment in order to start on time.
For ages 16 & up, instructors can provide private or group lessons. A 90-minute group lesson is $65.
Seven Springs is also now offering private family lessons for ages 3+. You can select 1 or 2-hour lessons and the instructor can tailor your lesson to the needs of your family for up to 6 people.
It's also important to note, ff you need to take the shuttle to the Ski Center where the ski school is located, leave yourself plenty of time to wait for and ride the shuttle.
---
"We did not stay on the grounds but did snow tube and ski. The tubing was fun and the employees were nice. We did family ski lessons since it had been many years since my husband had skied and our daughters (8,6,3) and myself never have. We had Gabriel "Stoney" and Noah as our instructors. When Stoney learned we had a 3 year old he found an additional instructor to work with her one on one. All three were fabulous!

They even worked around the three year insisting on holding a snowball the whole time. They were all very positive and encouraging. The staff in the sport school rental were all so kind and willing to help. We would come back here again."

— Jessie DiMaggio, Google Reviews
---
Snowmobile Tours
Seven Spring Resort also offers Snowmobile tours, that are perfect for family or couple adventure.
For more information, visit 7springs.com or call 814-352-2223
Snowshoe Tours
Snowshoe tours allow you to explore the terrain on foot and go into areas you may not otherwise be able to. These excursions follow different trails in the area.
Create lifelong memories with your family during that perfect family vacation.
Sleigh Rides
For a unique experience, at Seven Springs Stables you can explore the Laurel Highlands on horseback or on a horse-drawn sleigh ride.
Rides are 30-minutes long, $35 per person and can include up to 6 guests.
Sleigh rides is a weather dependent activity, so get in touch with the resort before planning this activity.
More Fun (Non-Snow) Resort Activities
While you're probably considering coming to Seven Springs Resort for snow tubing, snowboarding or skiing, there are a lot of other activities you may want to do while you're there.
One of the advantages of a larger ski resort is that there are many things to keep you occupied if you aren't on the slopes.
Bear Trap Game Room
The first stop is the Bear Trap Game Room on the bottom floor of the main lodge. The 60 games include Skee Ball, Ticket Monster, Wheel of Fortune, Deal or No Deal and many others.
You can pick-up a fun card to keep track of your credits and tickets. When you're done playing you can exchange points for prizes (similar to Chuck E. Cheese).
Indoor Mini Golf
Our next stop after the game room was indoor mini-golf. Mini-golf is $8 a game for ages 3 and up.
It is a fairly basic 18 hole layout, but kids still have a ton of fun. One important note is that mini-golf does not open until noon.
Bowling
The last major attraction inside the lodge is bowling. Lanes are first come, first serve so on weekends get there early. This can be a fun way to end the day after a day on the slopes.
Indoor Pool & Hot Tubs
Behind the game room is the large indoor pool.
Children 5 and under are free with a paying adult. If you are a guest at the hotel or an all-day adventure pass holder, the pool is included in your stay.
All the regular pool rules apply like no running, no diving in shallow water, etc.
Check the weekly schedule for availability and hours as the indoor pool is open daily, weather permitting.
Rental Equipment
If you don't have the right equipment for skiing or snowboarding you have options.
First, you can pick out your own clothes and equipment at some local venues including Sports Authority, Dicks, REI, Ski Chalet and Willi's.
If you have never skied before and need help figuring out what you need, then I recommend Ski Chalet or Willi's. There you will find friendly, experienced staff members that can show you what you need.
You can even rent skis, boots and poles ahead of time if you don't want to wait until you get to the slopes.
If you do decide to rent skis at Seven Springs, you can pre-register online so that the process moves more quickly when you get to the rental center.
Where to Stay Near Seven Springs
As it turned out, it was less expensive to get a two bedroom condo than two rooms for the weekend in the lodge. It is also important to note that you need to stay two nights on peak weekends in the winter.
There are definitely advantages and disadvantages of staying in a condo versus the lodge.
Condos have full kitchens, more space, the possibility of ski in/ski out and are often quieter.
On the negative side, it is necessary to drive or take a shuttle bus to the lodge for restaurants, activities, the ski school and the Kids' Corner (day care).
If you only need one room, a lodge room is much cheaper. Definitely make your reservations as far in advance as possible as things book up quickly.
Getting to Seven Springs Mountain Resort
There are a few different route options to Seven Springs from the DC area. You can either head through Cumberland, Maryland and then north into Pennsylvania or head due North from Hagerstown, MD and then head west on the Pennsylvania turnpike.
If you need a pit stop along the way, there are a few easy options.
Frederick, MD and Breezewood, PA have convenient gas stations and just about all of the fast food chains.
Another option is the Somerset Service Plaza off of the Pennsylvania Turnpike. Where else can you find a Mommy and Me stall in a bathroom?!
Check-In & Parking
At check-in you'll be able to sit near the big gas fireplace while you wait and watch the skiers and snowboarders on the well-lit slopes.
If you are checking in around dinner time and didn't bring dinner with you, stay and have dinner at one of the lodge restaurants before you go to your room / condo. Restaurants at the lodge get busy early.
If it is early enough, and you are planning on renting equipment, do it that evening and then store your skis in the complimentary overnight ski check adjacent to the rental shop. This will save you a lot of time the next morning.
Finally, if you are staying in a condo, once you park your car, I highly recommend leaving it in that spot until you leave and taking advantage of the shuttle system.
Between snow covered roads and packed parking lots, the shuttle was definitely worth every moment.
What to Eat at Seven Springs
Seven Springs offers a lot of options when you're hungry. You find fine and casual dining options, as well as grab-n-go options as well.
FINE DINING
Helen's
Slopeside
CASUAL DINING
Bavarian Lounge
GRAB-N-GO
Gingerbread Dreams
Emo's Pit
First Tracks
The first is the restaurant at The Sporting Clays near the top of the mountain. It is casual and serves pretty standard American fare.
The best options for a quick meal between ski runs are either Gingerbread Dreams or Emo's Pit. Both have standard cafeteria fare.
In the Slopeside dining room, you'll find white table cloths as it is a fine dining restaurant. They serve American fare as well, but in a nicer atmosphere.
The nicest restaurant at the resort is Helen's. It is in a stand-alone building near the snow tubing park and looks to be a wonderful place for a date night.
The Kids' Corner
Childcare is available inside the Snowsports School and is open from 9am to 4pm. It is for children from walking to age 5. Hourly to full day options are available but you MUST make advanced reservations. The childcare gets full quickly so – call ahead.
Bottom Line
After a weekend with ski lessons, the little ones will be going up the lifts with ease and skiing down the easier slopes with confidence. The whole family won't be able to wait to go again.
Both the snow and non-snow activities make for a wonderful time, especially if stay for the weekend or longer.