Driving along Skyline Drive in Shenandoah National Parks is one of my absolute favorite things to do. It's so relaxing and has such beautiful scenery!
Sometimes though, it's fun to mix up the relaxation with a bit of adventure too. Shenandoah National Park tubing is an option that I had heard about but wasn't sure if I wanted to try.
Thankfully my family talked me into it and we've now gone a few times to explore different parts of the river and I'm so glad we did. It's definitely a relief on a hot summer day!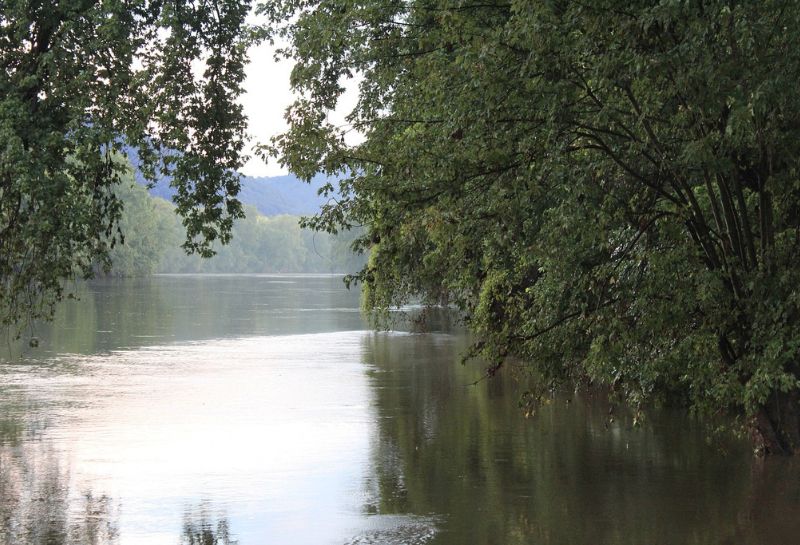 We now do this almost every year now and it ends up being like a mini vacation! We usually stay at one of the beautiful cabins (my choice) or a campground (my husband's choice) – more on that below, we spend time in nature, go on tubing trips down the beautiful Shenandoah River and explore some of the other fun activities in your area.
So whether you're interested in shorter trips and or sticking around for a few days, here I'll share all the details so you have your visit all planned for you!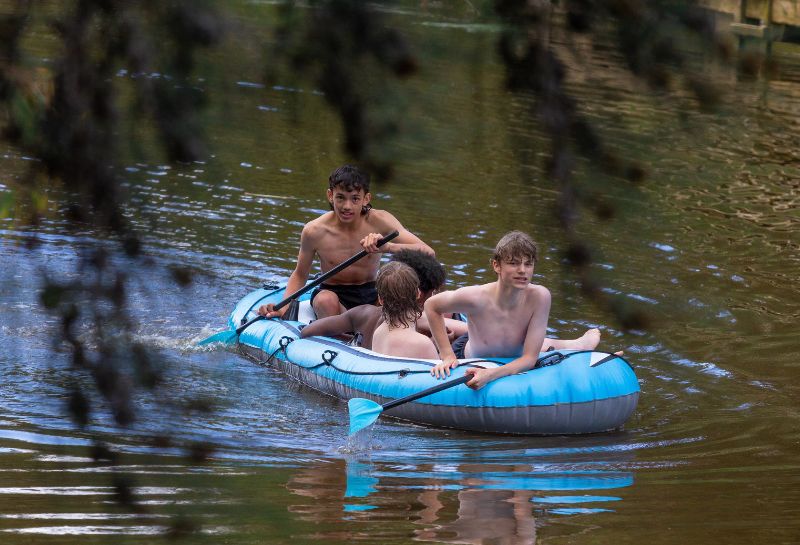 The water from the Shenandoah River comes from the Blue Ridge Mountains so it's nice, clean and fresh! Plus tubing gives you a great chance at spotting some awesome birds and wildlife like bald eagles, ospreys, beavers and deer.
It's important to note that a lot of the land along the Shenandoah River is private property, so it's important you know the right places to go if you'll be taking your own tubes (or canoes and kayaks) or to go with a local operator.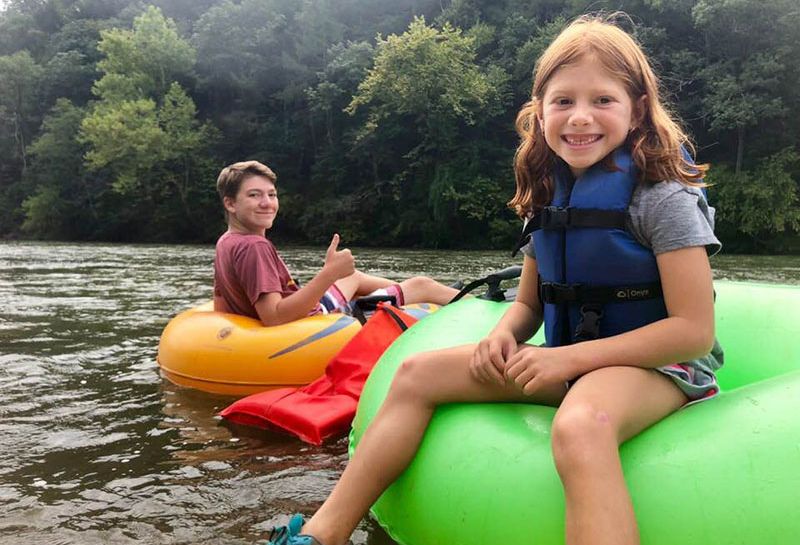 Options for Shenandoah National Park Tubing
#1 Shenandoah River Outfitters
Shenandoah River Outfitters is the closest outfitter for Shenandoah River tubing and is one of our favorite places for tube trips. We had so much fun on our float! While we went on what seemed to be one of the hottest days…
There are some deep pools as you float along that are perfect for swimming.
You can also rent one of their cooler tubes so you can can keep your snacks and drinks cool without having to hold the bag during your float (not very relaxing!).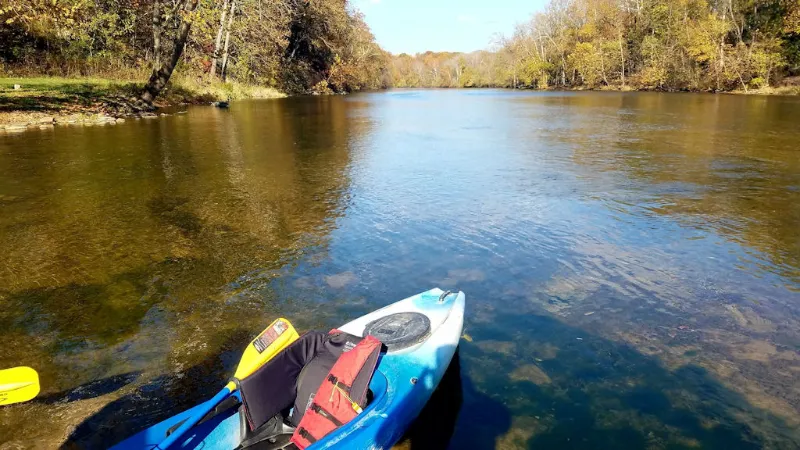 #2 Shenandoah River Adventures
Shenandoah River Adventures opens every year only during the Spring season. We went there about four months back and had a very nice and relaxing experience.
The river is very slow and it took us about two and a half hour to complete the scenic route. We were also lucky enough to spot a bunch of turtles and flying fish!
| NEXT: Tubing at Watermelon Park: Fun on The River – Full Details
#3 Front Royal Outdoors
Front Royal Outdoors will take you tubing on the South fork of the Shenandoah River and it's a great place to go! They have a 3 mile tubing section of the river, part of which includes a class II rapid towards the beginning of your journey.
The equipment that they offer are really in good condition, and they also have places to change your clothes which is very convenient.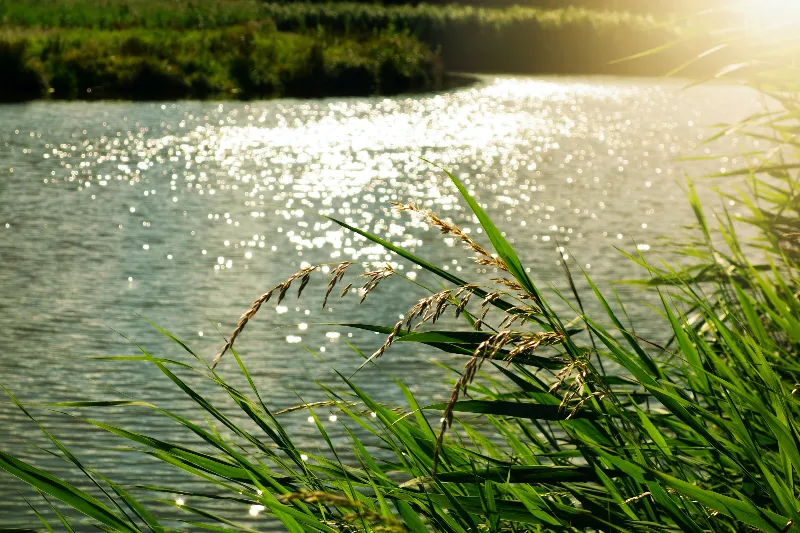 Our shuttle driver was so nice and gave us some helpful tips for our float. He could see our daughter was a little nervous for her first float and he was so kind with her to help her feel more confident.
NEARBY: White Oak Canyon Trail & Cedar Run Falls: Natural Waterslide & Trails
#4 River & Trail
Went there about six months ago, for a half-day adventure. We rented three canoes that cost us about $200.
As the facility is right on the Potomac, launching was super easy. Rapids were easy and refreshing.
Overall it makes for a fun day out on the water!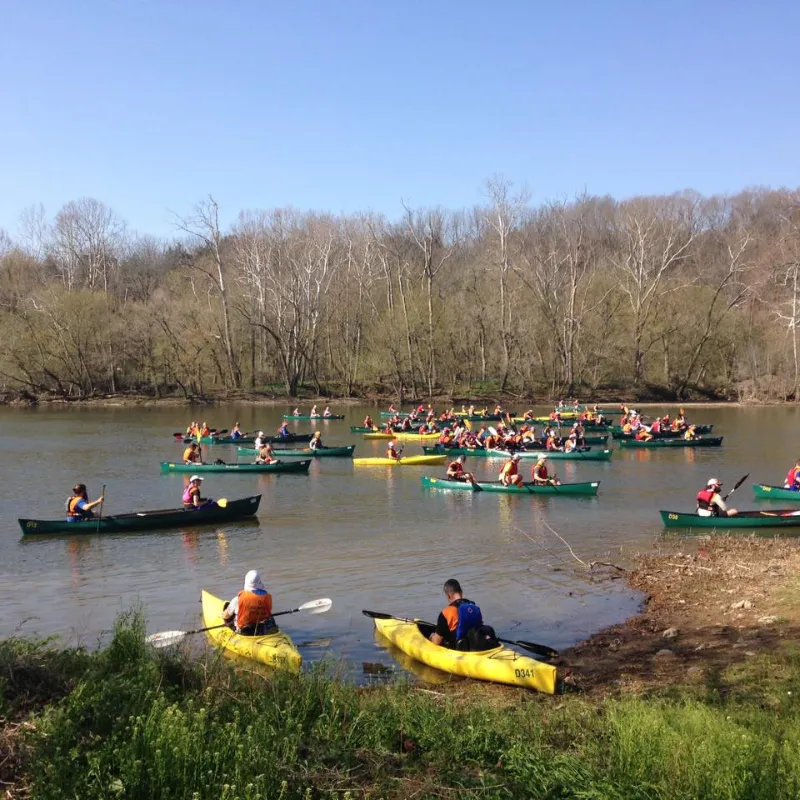 #5 Downriver Canoe Company
You can take a tube float with Downriver Canoe Company and they have a couple of options.
The first will take you down to Shenandoah River State Park and is good for seeing birds and possibly animals.
The other option will take you through George Washington National Forest. If you plan on going tubing during the week, this is the option that will be available.
During the week you can take their Hazard Mill Tour which akes about 3 hours and you'll float by Massanutten Mountain.
#6 Harpers Ferry Tubing
Harpers Ferry is a popular spot to go river tubing on the Shenandoah River. You can pick between calm waters (flat water tubing) and white water depending on your experience and who you are going with. Kids 4 and older can go tubing here in the mellow water while kids 12 and older can tube in whitewater.
Harpers Ferry Adventure Center also has packages that include ziplining and an aerial adventure park which are a fun add-on to your tubing tour!
Local tip: on Wednesdays, you can save $10 off full day tubing tips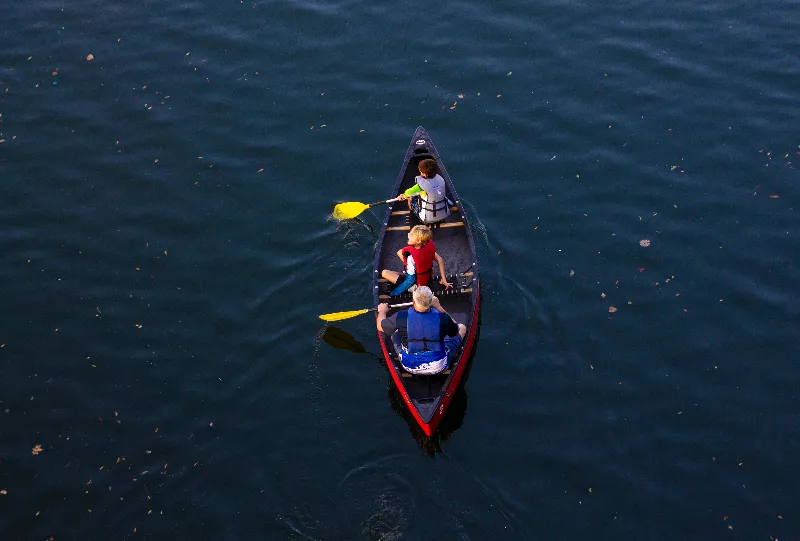 Going On Your Own
If you didn't make a reservation (or the companies are all full), one of the next best ways to still go tubing is using one of the public access points. Keep in mind, you'll need to bring your own tube and life jackets. While it may cost you a little upfront, you'll be able to go anytime you want again in the future.
You can also bring your own canoe.
| MORE WATER FUN: 15 Best Indoor Water Parks in Maryland and Virginia
Our Kids Recommendation: There are 20 public access points along the river so you have the option to plan varying distances for your float trips if you go on your own. Just make sure to avoid the private property along the west bank of the river.
When to Go
While Shenandoah National Park is open year-round, tubing isn't!
Tubing season typically starts mid to late May (usually by Memorial Day weekend)depending on the weather and goes until about mid-summer, however, some companies, like Front Royal Outdoors, begins in March.
So these months are the right time of year to go.
The weather is still cold in my opinion at that time but it's still possible to go! Another option would be to take a canoe or kayak at that time so you don't have to worry so much about getting wet (and cold!).
Where to Stay
If you're not doing a day trip, there are a few places I recommend staying depending on the type of experience you want to have.
I absolutely love staying in the cabins. A couple of our favorite are Shenandoah River Getaways (the cabin sits right on the banks of the river, so pretty!) and Shadow Mountain Escape.
Another option if you like camping is Big Meadows Campground, which is a mix of a RV and tent campground.
Last year we stayed at Yogi Bear's Jellystone Park and this place is my kids choice for sure. This is one of the best places for camping, especially if you like campgrounds with great amenities.
They have one of the area's water parks just for guests, including a 400-foot slide for young kids.
My kids loved the game room, playground and pedal boats. My husband took my son to play mini golf and my daughter and I painted pottery.
Massanutten Resort is also a great place to go when you want to go tubing on the Shenandoah River. Plus, they have tons of other kid and family-friendly activities. This is also a good place for snow tubing in the winter as well.
Water Levels
It's important to check the water levels before you go. If the water is a normal level (or even a little low), you should still be able to go tubing and enjoy your river trip. If, however, the waters are too high, it can be dangerous to go.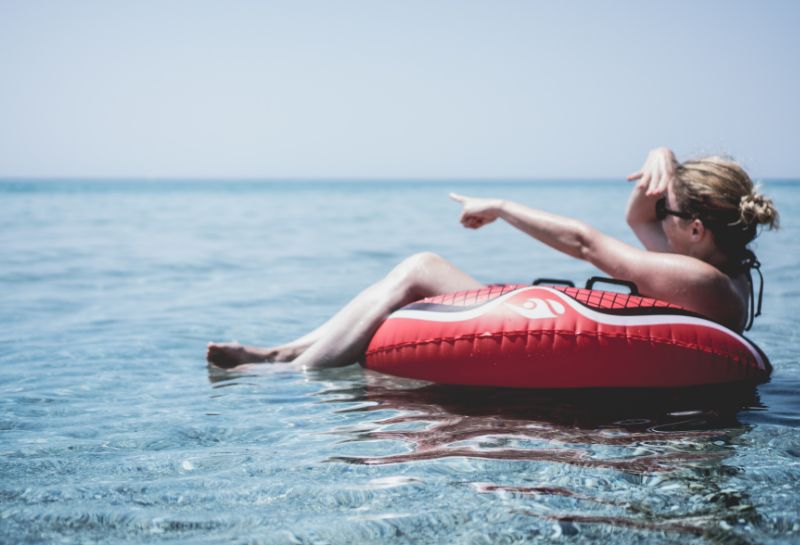 You can check the current water levels here. As the water starts to get past the normal water levels of 4-feet, you need to be more careful.
As you can probably imagine, the summer months are the busiest so you can expect more people a that time.
Other Fun Things to Do Nearby
The Shenandoah Valley Discovery Museum is a fun museum for the kids with multiple floors of unique, interactive fun.
One of the most popular things to do in the area is visit Luray Caverns but there are so many fun things to do in Luray besides just the caverns. Visiting Luray is a great way to extend your trip a bit if you don't want to go to Shenandoah National Park just to go tubing.
The Carriage Car Museum is a great place to visit, especially for kids and car enthusiasts. It's actually just one of several car museums in Virginia.
Skyline Caverns is close enough and is a good alternative to Luray Caverns. There is plenty to do to make an entire day trip to Shenandoah Caverns.
What to Bring
While the companies will provide the tube rentals and life jackets at great prices, you'll want to make sure you are well prepared for your float, especially with kids and especially when you'll be spending multiple hours on the water.
After forgetting my fair share of things the first couple of times we went, here is what I would recommend bringing:
Some snacks (for the float) and a picnic (if you'd like to stay after the float at the picnic area / picnic shelter)
Sunscreen
Water shoes (or sneakers you don't care about getting wet (flip flops, while easy, won't protect your feet)
Towel (a dry towel is ideal)
Change of clothes
You may even want to bring a fishing pole if anyone in your family wants to go fishing while at the river too. If you forget something, some companies do offer them for sale, however, as you can probably expect – you'll be paying quite a bit more!
Supply Stores
If one of the things that holds you back from tubing on the Shenandoah is equipment, there are several recommended supply stores where you can pick-up what you need. Here are some good options:
Rockfish Gap Outfitters – Waynesboro, VA
Frequently Asked Questions
Q: Can you tube on the Shenandoah River?
A: Yes! In fact, tubing is a very popular activity along the Shenandoah River. You can float down the river in inflatable tubes, whilst enjoying the scenic views around the river.
It's a very popular activity for families in the Spring and Summer seasons.
Q: Where can I tube in Shenandoah National Park?
A: Tubing is not allowed within the boundaries of the Shenandoah National Park, however, you can go for tubing trips at the private outfitters outside the park. Use the list above for great tubing locations.
Be sure to check with the local authorities before going on the tubing adventure. You'll find most companies operate from Memorial Day to Labor Day.
How do I get the best price?
If you're looking for the best price for your leisurely float on a sunny day this summer, it will be relatively similar between the providers.
If this is your first time and you're not sure where you want to go, I would recommend calling your top choices to see what options they have and ask if they have any upcoming specials. For the most part, the price is what it is as they only operate a few months out of the year.
Keep in mind, park visitors will need to pay to get into Shenandoah National Park.