Looking to find some of the best toy stores in Maryland? Here we're diving into 5 of the best independent toy stores.
If you're looking for some more unique toys in an old-school setting (smaller than the big-box stores but still a big selection), these are 5 toy stores you'll want to check out!
Here you'll find 5 independent toy stores in Maryland:
Toys Stores in Maryland
Anglo Dutch Pools and Toys
Fair Day's Play
Shananigans Toy Shop
Dancing Bear Toys and Gifts
Franklin's Toys
5460 Westbard Ave.Bethesda, MD 20816 | 301-951-0636
Hours: Monday and Wednesday – Saturday: 10am – 6pm; Sundays: 10am – 5pm; Closed on Tuesdays
Anglo Dutch Pools and Toys is a family owned and operated business that started selling pool supplies then added a toy shop. Bizarre right? – but it works.
There are tons of stuffed animals, Ugly Dolls, ballerinas, Calico Critters, puppets and Squishables.
The small selection of infant toys includes bath toys, Haba Fantasy blocks, and wooden pull animals. There is an aisle full of art books, activities, and supplies, tiny travel puzzles and games to make road tripping a little easier. Think Games are great brain teasers and also sharpen memory and motor skills.
Wooden kitchens by Alex, Le Toy Van and Melissa and Doug are all gender neutral which is nice to see. Sporting goods includes Trunki, the popular Ketler trike, John Deere bike, and a Ripstik. Train fans unite! From Brio brand to Thomas the Train and Chuggington, they all have a place here and tables for kids to have some fun.
Everything from:
Active play to outdoor play
Retro toys
Dolls & accessories
Construction and building toys
Land / sea / air vehicles
Imaginary play
Musical toys
Science & nature toys
And so much more can be found here!
"Very nice store. Was impressed with the unusually wide variety of toys, especially those with an educational aspect. Will definitely shop there again."

– Harold V.
7050 Carroll Ave. Takoma Park, MD 20912 | 301.270.4999
Hours: no indoor shopping is available due to COVID-19. Local pick-up is available Monday and Wednesday – Friday 12:30 – 5:30pm; Tuesday 2:00 – 6:45pm; Saturday – Sunday: 11am – 5:40pm.
This is an excellent, albeit a quirky, independent toy store with a wonderful owner. Staff is very kind, patient and helpful. If you're looking for a hard to find game or one from the past, this is where you should ask.
The owner has a background in child psychology, childcare and motherhood so her focus is on educational toys for kids in Maryland.
The store itself is quite small and has a mix of quality toys that is good for infants to early elementary ages. You'll find:
Various toys
Board games
Jigsaw puzzles
Science kits
Building sets
Art & craft kits
and more
High quality, fair trade, European and American made toys are easily to find here. Due to the location, parking can be a bit tricky so do give yourself a little extra time.
"Very intimate environment with a lot of cool toys, board games, and books you won't be able to find at big name stores. The owner is a very nice lady and is very knowledgeable about every product in her store. 11/10 would recommend!"

– Felton W,
5004 Lawndale Ave, Baltimore, MD 21210 | 410-532-8384
Hours: Monday – Saturday 19am – 5pm, Sunday 10am – 4pm
Shananigans is a highly rated store. It's a cute toy shop in Maryland with lots of toys and activities for kids at reasonable prices (with similar or even lower prices than some of the box stores). This is a fun spot for kids to visit as they can see and interact with lots of toys.
This is also a good place to pick-up some 'build your own' kits from Legos to wood kits to more complex models. And if you're not sure what to get, just ask and they're happy to help give you great recommendations.
If you need a toy wrapped, just ask! If the toy you want is not in stock, ask about having it ordered for you.
There is a parking lot and street parking available so you'll have no trouble finding a place to park.
"This is the best toy shop in Baltimore. Family run and, boy, they have the perfect idea for a gift every single time. Love this place!"

– Chris W.
15 E. Patrick St. Frederick, MD 21701 | 301-631-9300
Hours: Sunday – Monday: 10am – 6pm; Tuesday – Saturday: 10am – 8pm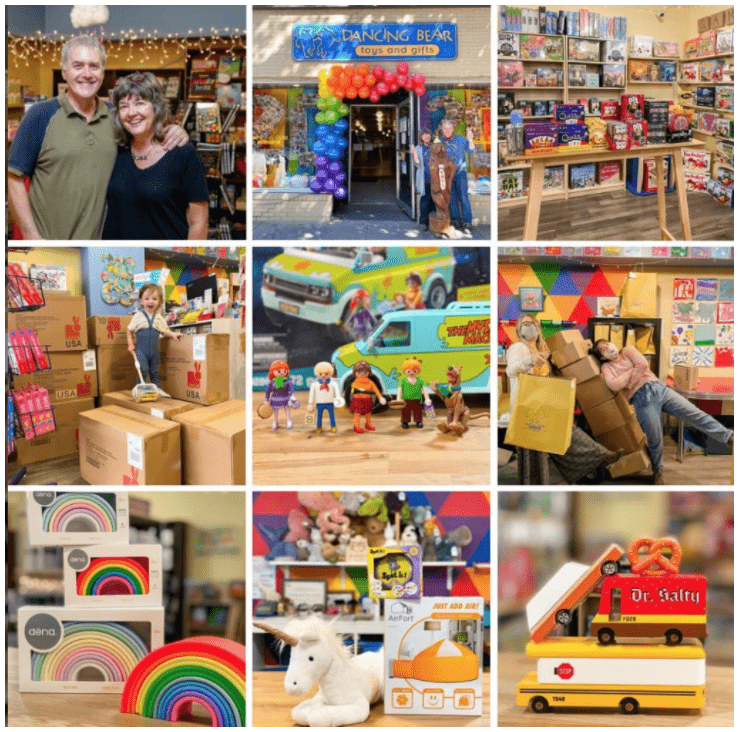 "Fun and whimsical toy store in the heart of Frederick. Lots of unique and beautiful, high quality toys that are not readily available on places like Amazon."

– Team Morris
Dancing Bear is one of the newer toy stores in Maryland, just opening in mid-2020.
Dancing Bear focuses on unplugged play. That's right, these aren't your everyday toys that need batteries. Kids can get unplugged and use their imagination. You can shop online or in store to find toys like:
Plush toys
Books
Games
Outdoor toys
Building
Crafts
Puzzles
Wood toys
Science
and a whole lot more!
"Delightfully vibrant shopping experience with staff who are friendly, helpful, and engaging. They really consider the ages of the kids and developmental aspects of childhood when making recommendations. No batteries needed at this toy shop… all high quality sourced toys. There is something in here that can capture the imagination of any kid (even your inner child too)."

– Ellie L.
558A Ritchie Hwy. Severna Park, MD 21146 | 410-544-1844
Hours: Monday – Wednesday 10am – 6pm; Thursday – Saturday 10am – 8pm; Sunday 10am – 5pm
Franklin's Toys is a great independent toy store with a selection for all ages. The owner has been in the business for 34 years and his focus is on encouraging healthy play and getting kids involved in activities that are creative and open ended.
You'll find plenty of high quality and educational toys. So if you're looking if all the typical toys the big box stores offer, this isn't the place.
They do wrap toys for free.
"Great independent toy store. They have lots of options for all ages, a good book section, community events, and offer gift wrapping. Instantly brings me back to my own childhood!"

– Kathryn R.