IKEA has just about everything you need….
Yep, IKEA Smaland (the IKEA play area) even comes with a free babysitter!
Here's what you need to know…

What is Smaland at IKEA?
IKEA Smaland is a free play area for IKEA customers. This is a great place for kids to have fun while you get to shop in peace. IKEA is an extremely family friendly retailer with many ways to entertain kids strewn throughout their stores. Most appealing for families of preschoolers and above is the free drop-off play area so that you can shop on your own.
Smaland is located just past the entrance to the store on the lower level.
What do kids get to do at the playground?
While each IKEA Smaland can very a bit, you can expect a fun playground including:
The IKEA ball pit
IKEA kid's toys to play with
Art supplies & coloring
Movies
and more
How long can children play at IKEA Smaland?
Kids are able to stay and play for free for an hour while you shop. Keep in mind, this is only 1-hour per day. The IKEA employees take care of the kids while they have fun with a variety of activities. It's like an IKEA daycare!
IKEA Smaland Age & Height Restrictions
There are just a few restrictions for the IKEA's play area to know before you go. Kid's must be:
37 to 54 inches tall

Fully potty trained (no pull-ups or diapers allowed)
Is IKEA Smaland Safe for Kids?
In our personal experience and from reviewing the security measures put in place by IKEA, we say yes!
Here are some of the security measures used by Smaland:
Non-IKEA employee adults are NOT allowed to entered the play area
A drop off system is used with a ticket and pager (which will light up when you need to return) so only the person who dropped off the child can pick them up
A child's bathroom is available inside Smaland so children will never leave the area
If your child needs you, you will be notified by page or phone
In the event of an extreme emergency, children will evacuate with the Smaland employee(s) to their designated outside location (you can inquire about this location at your local IKEA)
What is the staff to child ratio?
Important question! The maximum number of kids allowed in the play area depends on the number of staff on duty. On a quiet weekday morning, there was only one staff member which limited the space to 6 kids.
On a busy weekend, 4 staff members are on duty which allows the staff to admit 48 kids at one time.
Lines often form on the weekends for families waiting to drop off at Smaland so keep that in mind depending on when you go!
IKEA Smaland Drop-Off Hours
Typical hours for drop off play are 10am to 7:45pm Monday through Saturday and 10am through 6:45pm on Sundays.
**Please make sure to check with your local IKEA to verify current hours before going.
Parents can view the play area through the clear glass walls in case you want to check it out before deciding whether to drop your child off or not.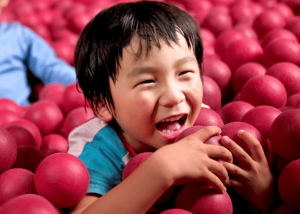 More IKEA Activities for Kids
While the drop off play area is a wonderful feature, there are many more family friendly reasons to visit IKEA.
Let's start with the restaurant upstairs that has delicious and reasonably priced food for kids and adults.
Open until 11am, you can find large breakfast plates including eggs, bacon and potatoes for only $1.99. Coffee with free refills is only 99 cents.
Kids meals for lunch and dinner are only $2.49. This includes a choice of any three items from the list of kids' offerings – Swedish meatballs, mac and cheese, yogurt, PB&J, mashed potatoes, milk, juice and cookies.
The IKEA Restaurant
Individual kid items can be purchased for 99 cents each. Food is served cafeteria style here with no "to go" options. There are no disposable plates, cups or silverware (all washable and reusable).
High chairs, booster seats and a bottle warming station are all found in the seating area.
Entertaining Kids While Eating
We all know that kids get restless before parents finish their meals when eating out. IKEA has a great solution for this. In the middle of the seating area is a kiddie corral.
This rectangular spot is a boxed in area where toys and a television sit so kids have a place to play while parents are finishing up their food.
Seating is available around the perimeter of this play area so you can eat and keep an eye on your little one at the same time.
Restrooms and Fun Spaces for Kids
IKEA provides family restrooms upstairs and downstairs which have changing tables, chairs for nursing and step stools for hand washing.
Even just shopping at IKEA provides fun spaces for kids. Scattered throughout the store are fun zones with toys for kids including a slide located between the bedroom furniture and the children's section.
There are also many areas set up to look like actual homes and rooms. My girls feel like they are in a large scale playhouse. The kids' section in particular has many fun toys to look at and try out before buying including tents, chairs, a kitchen set and many stuffed animals.
On your way out of the store one more family friendly area awaits. Just beyond the cashier station is the IKEA bistro where ice cream cones and cinnamon rolls are $1.oo each and hot dogs can be had for 50 cents each. All are hard to pass up at those prices!
The next time you are in the market for furniture, lunch or just feel like getting some shopping done by yourself, head over to IKEA for a fun filled day with the kids.